If you've been craving the richest, most decadent ice cream imaginable then this cinnamon gelato recipe is one you have to try now! The smooth creaminess of the gelato and the delicate cinnamon flavor combine to make this homemade gelato recipe one you'll make again and again.
For this recipe you'll need: whole milk, heavy cream, sugar, eggs, ground cinnamon (preferably Vietnamese), cinnamon sticks, vanilla, ice cream maker (I used a Breville)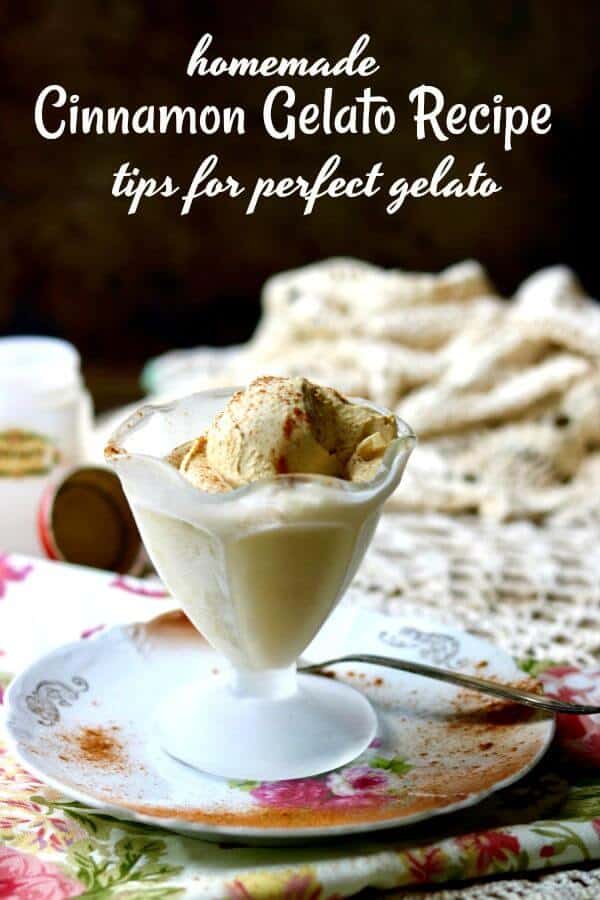 Cinnamon Gelato Backstory
I've had this recipe sitting in the queue for a while and I suddenly realized that here we were in mid-September and if I didn't get this to you now I might as well wait until next year... and that would be a travesty. You see, this cinnamon gelato recipe is exactly what you want to make to go with your apple pies and pumpkin pies this fall. It's absolutely, indescribably delicious and will make that lowly scoop of vanilla ice cream blush with shame.
The rich creaminess is your introduction to this frozen treat. Even before you taste it you can see the way your spoon slides through the tawny scoop. The cinnamon flavor is delicate and sweet at first, intensifying in flavor with every bite. It reminds me of Horchata at first but it has much more substance.
Breville sent me an ice cream maker a few months ago and I am totally spoiled now. You can read about it on my Ginger Peach Sorbet post.
You can absolutely make this cinnamon gelato recipe with ANY ice cream maker so don't worry if you don't have a Breville! Make it anyway!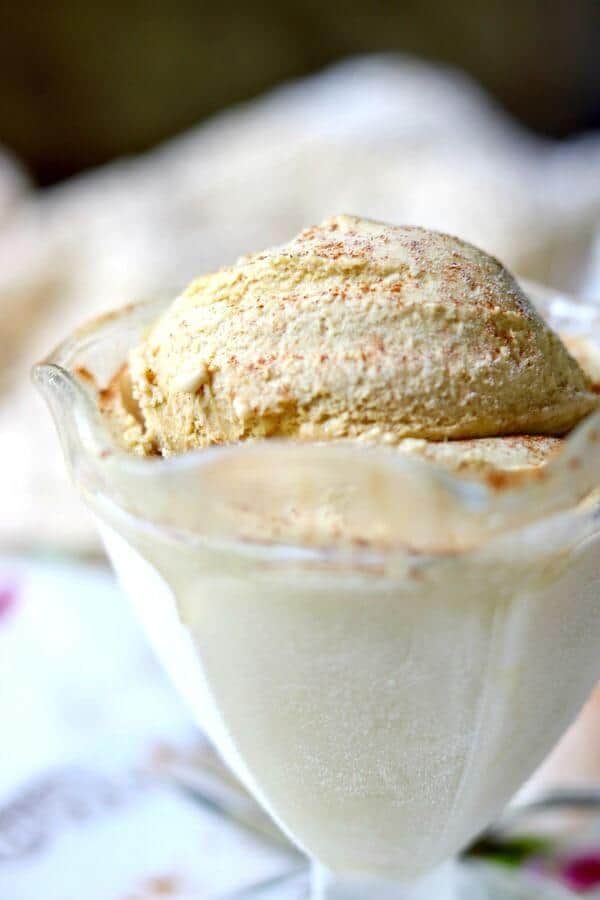 Tips for Making Homemade Gelato
So here's the thing - gelato and ice cream aren't that much different. Gelato has more milk and less fat which makes it more dense and flavorful than ice cream. Ice cream has more fat which makes it fluffier. If you want to make this into ice cream just switch the amount of milk and the amount of cream!
Always use whole milk - not skim, not 2%, not anything else.
Stop the churning process when the cinnamon gelato is thick and creamy like soft serve but not at the ice cream point yet. Freeze overnight.
Serve gelato at a warmer temperature than you would ice cream for the best flavor. About 20 degrees is right. It should still be frozen but a little softer than ice cream.
Freeze gelato in a shallow container rather than in a tall container like ice cream. An 8-inch cake pan covered with plastic wrap is perfect.
Keep in mind that your homemade gelato and ice creams do not have the stabilizers that keep commercial ice creams soft and delicious for months. You'll want to eat this within a week -- and that shouldn't be a problem!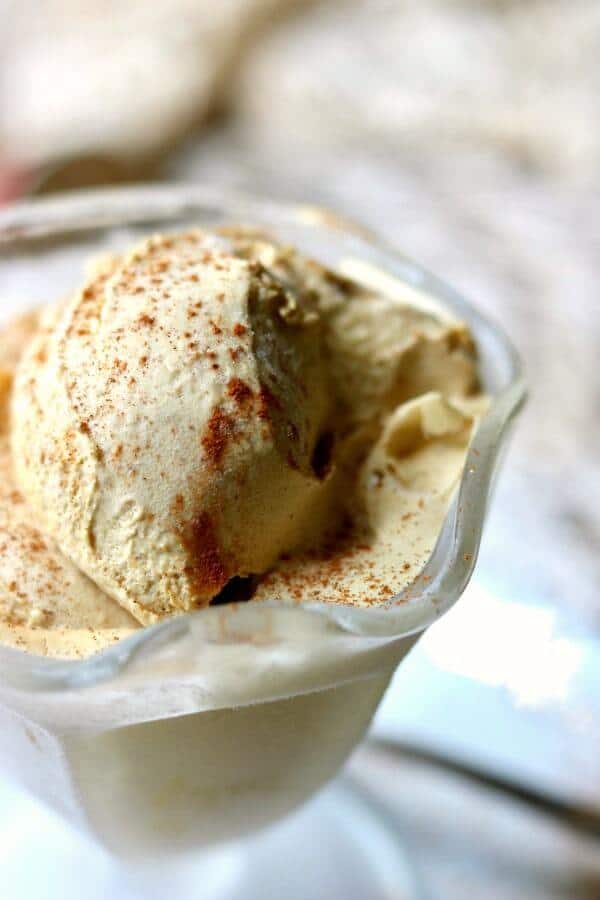 YOU MAY NEED…
The following are affiliate links. We are a participant in the Amazon Services LLC Associates Program, an affiliate advertising program designed to provide a means for us to earn fees by linking to Amazon.com and affiliated sites. Thanks so much for being a part of Restless Chipotle!
What's new? Check out my Restless Chipotle & Co. Store on Amazon where you'll find all kinds of nostalgic goodness! Thanks so much for being a part of Restless Chipotle!
I love my Breville Ice Cream Maker! It has it's own compressor built in so you don't need to freeze bowls or anything. You just set the type of frozen treat you want and let the machine create it. Vietnamese cinnamon has more flavor than the normal cinnamon you find at most grocery stores. Try it once in this homemade cinnamon gelato recipe and you'll understand!
More Homemade Ice Cream Recipes
Homemade Cinnamon Gelato Recipe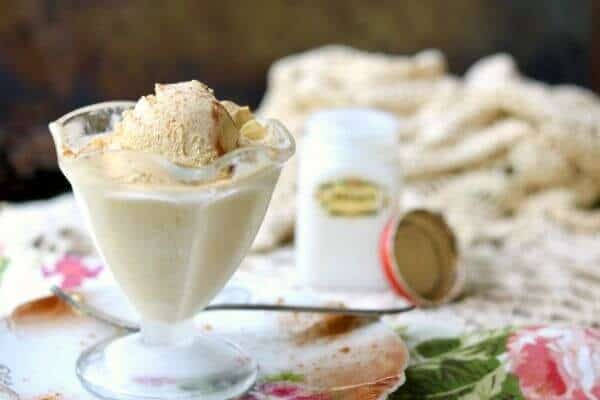 Make some time in your schedule to give this luscious homemade cinnamon gelato recipe a try. It's absolutely beautiful to look at and really, once you've eaten it, you'll be spoiled for anything else. What's your favorite ice cream flavor? Leave a comment and let me know!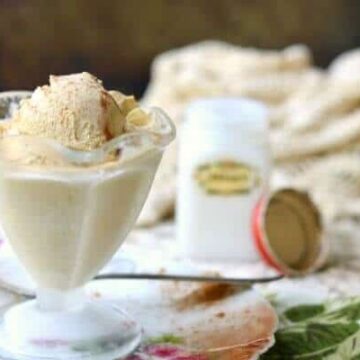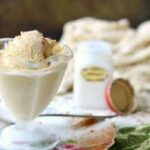 Homemade Cinnamon Gelato
Print
Save
Go to Collections
An ultra creamy homemade ice cream with lots of sweet, cinnamon flavor. Perfect for serving alongside warm apple pie! Difficulty rating: 2/10
As an Amazon Associate I earn from qualifying purchases.
Ingredients
2

cups

whole milk

1

cup

heavy cream

2

cinnamon sticks

4

egg yolks

⅔

cup

sugar

½

teaspoon

vanilla extract

1-½

teaspoons

ground Vietnamese cinnamon

,

use up to a tablespoon as desired
Instructions
Beat the egg yolks and sugar until very light and the sugar crystals can't be felt when you pinch a little between your thumb and forefinger.

Set aside.

Combine the milk, cream, and cinnamon sticks in a heavy saucepan.

Turn heat to medium high and cook, stirring occasionally, until the mixture comes to a simmer and bubbles form around the edges of the milk mixture. DO NOT BOIL.

Remove the cinnamon sticks and discard.

Add a little of the hot liquid to the egg yolks, beating constantly.

Continue to add the hot milk mixture to the egg yolks while beating - make sure the eggs don't curdle.

If you think you've curdled some of the egg pour the mixture through a strainer to catch any cooked egg.

Return the custard mixture to the saucepan and place over low heat.

Cook, stirring, until the custard coats the back of the spoon and your finger leaves a track. Make sure it doesn't boil.

Remove from heat.

Let cool to room temperature then stir in the ground cinnamon and vanilla.

Cover and refrigerate for 4 hours or overnight.

Pour the cooled mixture into an ice cream maker and churn according to manufacturer's directions. If your ice cream maker allows different settings use the "gelato" setting or slow churn setting.

Spoon into a container with a tightly fitting lid and freeze for an hour or so before serving.
Nutrition Facts
Calories:
234
kcal
|
Carbohydrates:
20
g
|
Protein:
3
g
|
Fat:
15
g
|
Saturated Fat:
8
g
|
Cholesterol:
144
mg
|
Sodium:
42
mg
|
Potassium:
112
mg
|
Sugar:
19
g
|
Vitamin A:
665
IU
|
Vitamin C:
0.2
mg
|
Calcium:
100
mg
|
Iron:
0.3
mg
Sign up for the emails and never miss another recipe!!
We'll never share your email or send you spam. Pinkie swear.
This recipe is part of Meal Plan Monday#80. Check out all the awesome recipes.