Absolutely the best homemade cinnamon rolls recipe ever - and they're Texas sized! Soft, buttery rolls have a thick ribbon of spicy cinnamon filling and a generous amount of toasted pecans. After they're baked to a golden brown (and the kitchen smells like heaven) gooey vanilla butter icing is spooned on while they are still warm then more pecans are sprinkled over the top. These cinnamon buns are crazy easy and you'll never want Cinnabon again! This post has been updated from the October 2014 version.
For this recipe you'll need: all-purpose flour, brown sugar, sugar, Confectioner's sugar, salt, yeast, buttermilk, butter, eggs, vanilla, cinnamon, chipotle powder (optional), pecans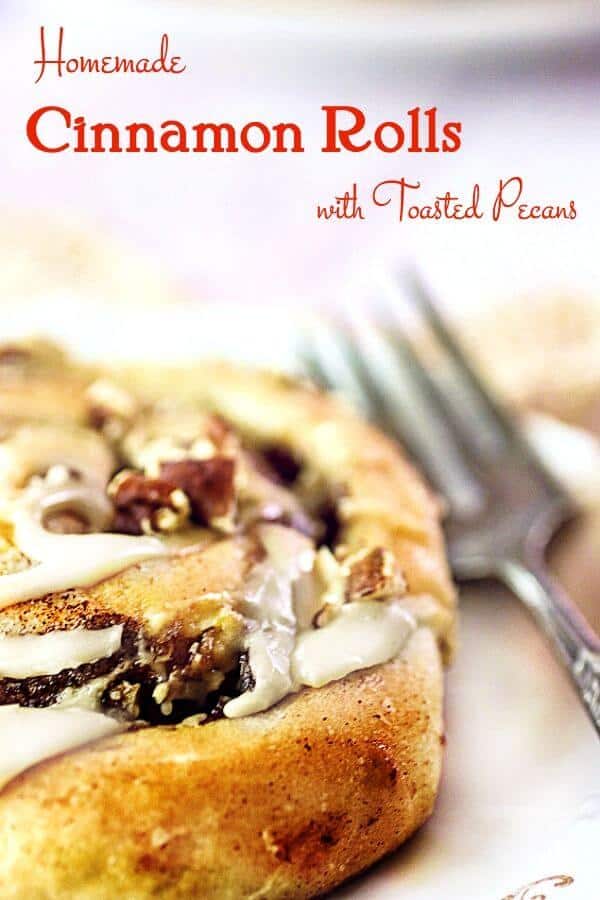 The Backstory
Is there anyone who doesn't like cinnamon rolls?
I know as soon as I say that there will be some whackadoo that pipes up and tells me how much they hate them... So I'm sure there are those sort of people. To me they sort of spell out the Roget's thesaurus version of "I love you."
Well, with these cinnamon rolls it's more like: "I love, adore, cherish, like, affect, fancy, care for, take an interest in, be partial to, sympathize with; affection; be in love with; have a love for, entertain a love for, harbor cherish a love for; regard, revere; take to, bear love to, be wedded to; set one's affections on; make much of, feast one's eyes on; hold dear, prize; hug, cling to, cherish, pet, burn; adore, idolize, love to distraction, dote on, dote upon, take a fancy to, look sweet upon; become enamored; fall in love with, lose one's heart; desire... you."
They're big as Texas, sweet as a baby kiss, and easy as pie. It's like biting into a cloud of sweet, buttery, cinnamony perfection. And there are pecans - masses of them. Chop them up but leave big chunks of pecan so that you get a good taste of it in every bite.
It's your choice. You can make those other kind of cinnamon rolls (or buy them, even) or you can make these. I suppose some of it depends on how many synonyms you have on hand to describe your loved ones.
I swear, here in Texas pecans go in everything from chicken salad to ice cream. They are just so good! We've got several native trees on our property and the nuts are so high in flavor that you wouldn't believe it. It's just a challenge to try to get them before the squirrels and worms.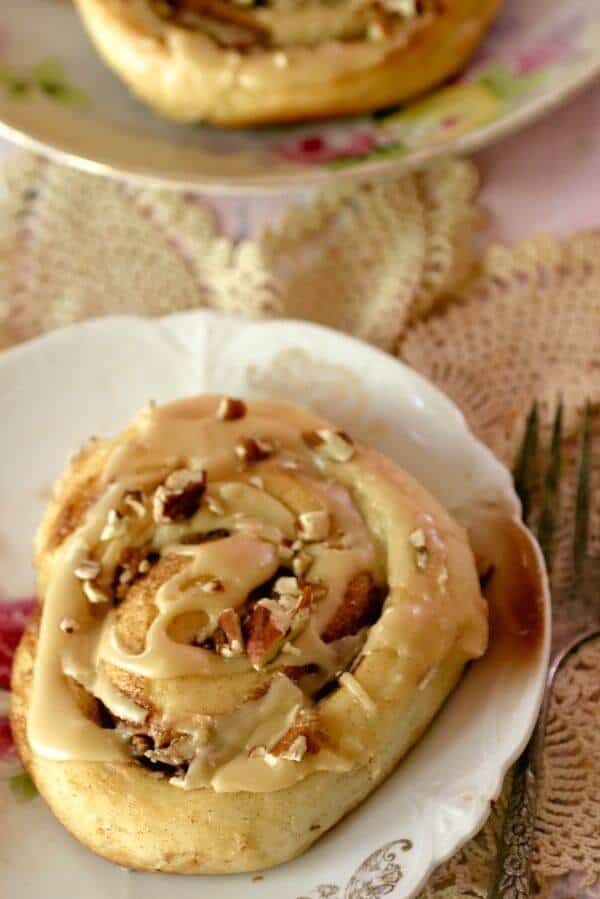 Homemade Cinnamon Rolls FAQs
Level: average - as long as you follow the instructions you'll be fine. If you need a refresher course check out my yeast baking series.
Make Ahead Cinnamon Rolls
You can make these the night before and let them rise overnight in the refrigerator. Honestly that is my preferred way to make any sort of breakfast roll because the slower rising time gives all of the flavors a chance to mellow out plus you end up serving hot rolls for breakfast and that makes you look good - real good.
How to Store Homemade Sweet Rolls
You can store these in a variety of ways -
Shape them but don't let them rise. Freeze right on the baking sheet and then, once frozen, place in a freezer safe storage back for up to 3 months. To bake, let them sit in the refrigerator overnight and bake as directed.
Make them according do directions but leave the glaze off. Let cool to room temperature and freeze. Warm up in a 375F oven and glaze as directed in the recipe.
Store them, tightly covered, at room temperature for no more than 2 days. If you spray the inside of the plastic wrap with cooking spray it won't stick to the frosting.
How do you make homemade cinnamon rolls?
It's easy to make these cinnamon rolls. In fact, you can make them with just about any bread dough that you happen to be working with (in a pinch you can even use frozen bread dough).
Roll out the dough into a rectangle.
Spread with melted butter.
Sprinkle with a mixture of sugar and cinnamon, or brown sugar and cinnamon.
Add chopped pecans.
Press down lightly to get the pecans to stick (alternatively you can knead them into the dough when you're making dough).
Starting with the edge of the dough facing you roll up like a carpet.
Pinch the seam to the roll to seal.
Slice straight down with a knife into rolls.
Place the rolls cut side down on a greased or parchment covered baking sheet.
Bake as directed.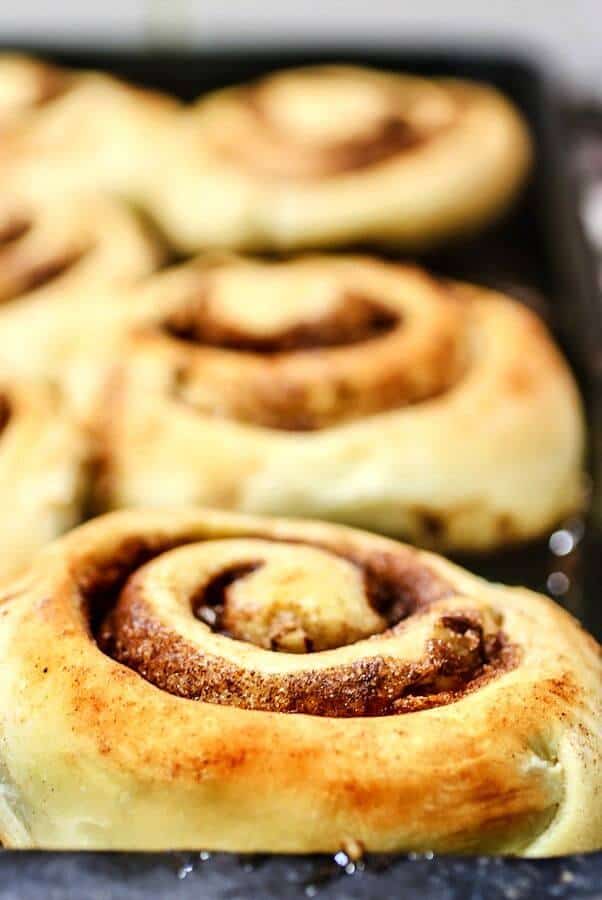 How long does it take for cinnamon rolls to rise?
About 1 hour for the first rising and 30 minutes for the second. The actual time will depend on the temperature of the room they're rising in. If you are letting them rise in the refrigerator overnight then that's the only rising time they really need.
How long will cinnamon roll dough keep in the fridge?
About 3 days if you punch it down once every 24 hours. After that it starts losing it's ability to rise.
How do you make easy cinnamon roll icing?
There are a lot of types of icing to use on cinnamon rolls. The one I share with this recipe is the easiest because it's just three ingredients.
Melt the butter in a microwave.
Add the vanilla.
Add the Confectioner's sugar and stir until smooth.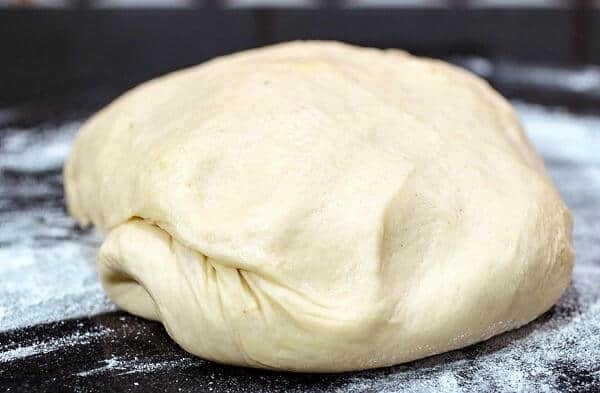 What is a good substitute for powdered sugar?
If you're out of Confectioner's (powdered) sugar you can try this easy substitute. Just blend 1-½ cups regular sugar and 1 tablespoon of cornstarch in a blender until powdered. It will take about a minute. Use as you would Confectioner's sugar.
How do you keep cinnamon rolls fresh?
Keep them tightly covered. If you won't be eating them in a day or two it's best to freeze them.
Other Sweet Roll Recipes from Restless Chipotle
If these aren't quite what you're looking for here are some more homemade sweet roll recipes you might like...
You May Need...
The following are affiliate links. We are a participant in the Amazon Services LLC Associates Program, an affiliate advertising program designed to provide a means for us to earn fees by linking to Amazon.com and affiliated sites.
What's new? A brand new store full of things to help you make the recipes, celebrate the days, and create the memories! Check out Restless Chipotle & Co. As always, thanks so much for being a part of Restless Chipotle!
I love my vacuum sealer. I can easily freeze things like these cinnamon rolls for longer periods of time without worrying about freezer burn. This vacuum sealer is compact enough for the tiniest kitchen.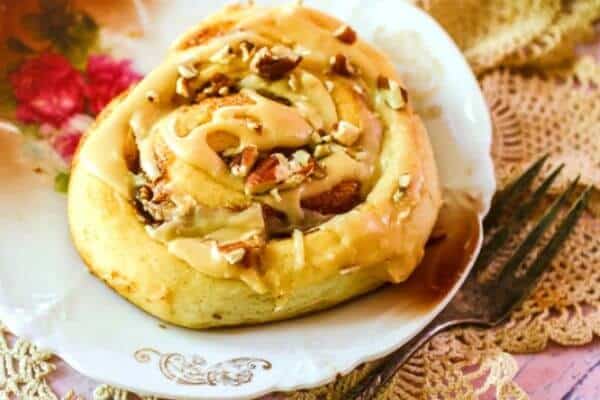 Homemade Cinnamon Rolls Recipe
These easy cinnamon rolls are about to become your family's favorite! They are so big and fluffy - fantastic on a brunch table. If you love this recipe please give it 5 stars below.
Store them, tightly covered, at room temperature for no more than 2 days. Freeze for longer storage.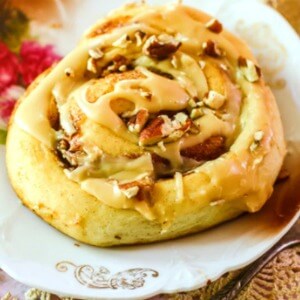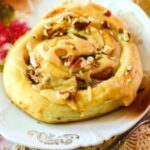 Homemade Cinnamon Rolls
Print
Add to Collection
Go to Collections
Big, fluffy homemade cinnamon rolls with toasted pecans and a thick, gooey icing - they rise overnight in the refrigerator so they're perfect for weekends!
Servings:
12
giant cinnamon rolls
As an Amazon Associate I earn from qualifying purchases.
Ingredients
Rolls
4 ½

cups

all-purpose flour

¼

cup

packed brown sugar

1 ½

teaspoons

salt

¼

cup

warm water

1

cup

buttermilk,

, warm (110F)

½

cup

unsalted butter

,

, melted and cooled to warm room temp

2

egg yolks

,

, room temperature

2

eggs

,

, room temperature

1 ½

teaspoons

vanilla extract,

(butternut flavoring is better if you can find it)
Filling
⅔

cup

packed brown sugar

2

tablespoons

cinnamon

½

teaspoon

chipotle powder

,

, optional

¼

teaspoon

of salt

½

cup

unsalted butter

,

, melted, divided use

1 ½

cups

coarsely chopped pecans

,

, toasted
Topping
3

cups

confectioner's

¼

cup

melted unsalted butter

,

,(more as needed)

2

teaspoons

vanilla extract

Cream to thin it out
Instructions
Dough
Mix warm (110F) water and sugar; stir in yeast.

Set the mixture aside for a few minutes until it begins to bubble. I know this is no longer necessary but I think it still gives better results.

Mix about 2 cups of the flour, salt, eggs, and buttermilk into the yeast mixture until smooth.

Add flavoring and butter.

Slowly add more flour until a soft dough is formed. You can do this by hand or with a heavy duty mixture and a dough hook.

Once the dough holds together turn it out on a floured surface.

Knead a few minutes until smooth and satiny, but still somewhat soft. It will feel like your earlobe if you pinch it.

Let rise for 1 hour, or until double, if you have time. If not skip this and go on to the next instruction.

Punch dough down; let rest for 5 minutes. This gets some of the elasticity out and makes it easier to roll.

Roll the dough out into a rectangle that is about ½ inch thick or a little more.
Filling
Spread the dough with ¼ cup of the melted butter.

Mix the remaining ¼ cup of melted butter, cinnamon, and brown sugar together.

Spread this over the dough and sprinkle with the pecans pressing in lightly.

Roll up as for a jelly roll and cut in 12 thick slices.

Place cut side down on a greased cookie sheet and cover well with plastic wrap.

Refrigerate overnight. You can also just let them rise for about an hour if you want to bake them immediately but they aren't as good.

Next morning place the rolls on the counter while you preheat the oven.

Bake in a 375F oven about 35 minutes or until done. Watch carefully because the sugar will make the bottoms burn if you are not careful.
Topping
While the rolls are baking mix the topping ingredients together.

Spread on warm rolls.
Notes
*Add 8 hours overnight time to the rising time if you'll let them rise overnight. For smaller rolls roll out a larger rectangle and cut into 24 rolls - half the calories. **To toast pecans place them on a heavy cookie sheet in a 350F oven for about 5 to 10 minutes stirring every minute or two until toasted. Watch that they don't burn!
Nutrition Facts
Calories:
638
kcal
|
Carbohydrates:
86
g
|
Protein:
7
g
|
Fat:
30
g
|
Saturated Fat:
13
g
|
Cholesterol:
85
mg
|
Sodium:
413
mg
|
Potassium:
167
mg
|
Fiber:
3
g
|
Sugar:
47
g
|
Vitamin A:
700
IU
|
Vitamin C:
0.2
mg
|
Calcium:
76
mg
|
Iron:
2.8
mg
Sign up for the emails and never miss another recipe!!
We'll never share your email or send you spam. Pinkie swear.