Spicy autumn flavor coupled with buttery – sweet homemade cinnamon rolls? Yes, please! Even better? They rise overnight so you can serve them fresh and hot in the morning.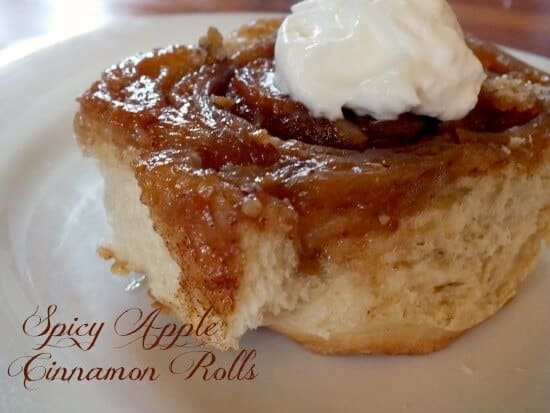 There is not much I like better than a spicy note to anything cinnamon . I adore – and I mean absolutely adore – Hot Tamales. I will sit there and eat them until my mouth goes numb. The chipotle added to the cinnamon in these rolls makes them spicy like the Hot Tamales and the smoky note is just … OK, I think fantastic is the word to use here.
Honey Crisp and MacIntoshes are plentiful in stores in the fall and fruit stands and orchards around the state may have a few, tangy heirloom apples. When they are mixed with the smoky chipotle and brown sugar they take cinnamon rolls from delicious to amazing. This is such a simple recipe to make and since you make it the night before, and let them rise overnight, you can treat your family any time you want. Served warm on that chilly autumn morning? OMG – delicious.
When I was small I lived in Pennsylvania for awhile. Back then there was a lot of open fields and old farmsteads – finding an heirloom apple tree wasn't uncommon. These old trees produced wormy apples that filled their gnarled branches and I used to wonder if the REAL Johnny Appleseed planted them. The flavor was unlike anything you could find in the store. Sweet and tangy, the apples just can't be described. Even thinking about them now makes my mouth water. It just didn't seem like there was any better treat in the world than a bite of those apples. still warm from the sun. I wish I knew what type they were. I haven't had anything like them since then.
You can do this. Just choose a tart apple and you can't miss, I promise. Just don't let them sit in the pan very long after you take them out of the oven. The caramel won't drizzle over the rolls if it cools down to much and you will have a huge mess in the pan. These will freeze fine when baked. Just freeze them right in the pan covered airtight with plastic wrap. When you are ready to serve them pop them into a warm oven for about five minutes to warm the caramel back up.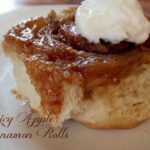 Apple Chipotle Cinnamon Rolls
Print
Add to Collection
Go to Collections
Sweet, spicy cinnamon rolls with lots of buttery flavor and a tangy apple filling are made the night before and rise in the refrigerator overnight. Hot fresh cinnamon rolls for breakfast are an easy treat.
Total Time
2
hours
30
minutes
Ingredients
3 1/2

to 4 cups all-purpose flour

1/3

cup

granulated sugar

1

teaspoon

salt

1/2

cup

water

1/2

cup

very warm milk

,

(120°F to 130°F)

1/3

cup

butter

1/2

teaspoon

vanilla

1

egg

1

cup

packed brown sugar

1/2

cup

unsalted butter

1/4

cup

maple or corn syrup

2

tart apples – peeled

,

, cored, and cut in small cubes

1/2

cup

packed brown sugar

1

tablespoon

ground roasted cinnamon

1/2

to 1 teaspoon chipotle

3

tablespoons

unsalted butter

,

, melted
Instructions
In large bowl, mix 1/2 cup of the flour, the sugar, and yeast.

Add 1/2 cup of warm water and let stand until foamy

Add milk, salt, 1 1/2 cups of the flour, vanilla, butter and egg.

Beat on low speed one minute, scraping bowl often.

Beat on medium speed for 1 minute more.

Stir in remaining flour, one cup at a time until you have soft dough that is easy to handle.

On a lightly floured surface knead the dough about five minutes or until smooth and elastic.

Place in a greased bowl that is twice the size of the ball of dough; turn to coat all sides of the dough.

Cover and let rise in a warm place for about 1 1/2 hours or until double and an indentation remains when you poke it with your finger.

Sauté the apple cubes in a little butter in a frying pan until they are tender. Set aside to cool.

Grease a 13 x 9 inch pan.

Heat 1 cup of brown sugar and 1/2 cup of butter to a boil, stirring constantly.

Remove from heat.

Stir in maple or corn syrup and cool for a few minutes.

Pour into the bottom of the greased 13 x 9 inch pan.

Mix chipotle,1/2 cup brown sugar, and cinnamon together.

Punch dough down.

On a floured surface roll out the dough into a 12 x 10 inch rectangle.

Spread melted butter mixture over dough.

Sprinkle with the sugar mixture.

Spoon the apples over the dough as evenly as possible.

Roll up tightly and pinch long edge of the dough to seal.

Cut in 12 slices and lay cut side down over the mixture in the pan.

Cover tightly and place in the refrigerator for 12 to 24 hours.

Heat oven to 350F

Uncover rolls and bake for 30 minutes, nor until tops are golden brown.

Remove from oven and turn out onto a heat proof plate.

Let pan remain over the rolls for a minute or two to ensure all of the caramel drizzles onto the rolls.

Serve warm.
Tried this recipe?
Tag me!! @Marye_RestlessChipotle
If you like Overnight Apple Chipotle Cinnamon Rolls you may also like…
Easy Overnight Pecan Sticky Buns Restless Chipotle
Noon Ragoni (Cinnamon Twist) Restless Chipotle
S'mores Cinnamon Rolls Mom on Time Out
Peach Skillet Cinnamon Rolls Lemons for LuLu
Let's Keep in Touch!