What is it about cinnamon rolls? In fact, what is it about pecan cinnamon rolls in particular?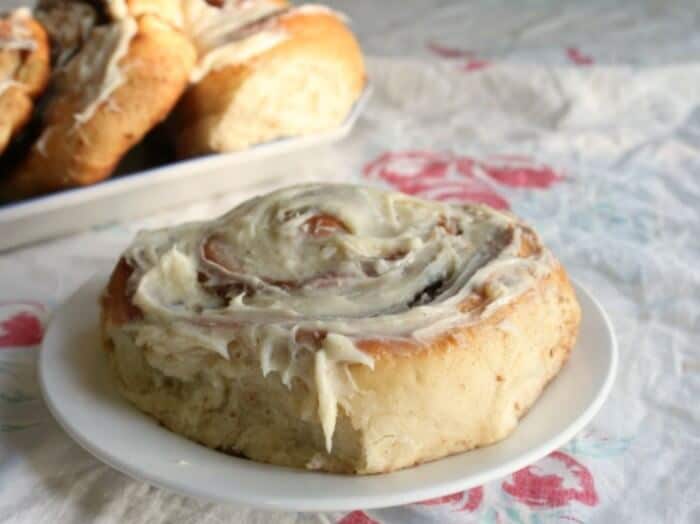 They are classic comfort food when done right but so much of the time we eat them half stale, purchased from a market. They do take a couple of hours to make but they are so delicious they are worth every minute. Yes, they are super high in calories and fat and carbs but you're not supposed to eat them every day. Save them for special times. 
I almost hated to give the nutritional information because I figure that it will scare some of you off. Make them at least once – you'll never want any other kind of cinnamon roll again. The dough is rich and just sweet enough, buttery and soft. It's rolled around a thick, spicy filling of cinnamon, brown sugar, and pecans. Once they are baked and have a chance to cool a little you add the creamiest, tangy – sweet, gooey copycat Cinnabon icing you'll ever put in your mouth. Add it thick. In fact, you  might want to double the icing recipe.

The Restless Chipotle Channel
If the pecan cinnamon rolls have cooled all the way it's best to warm them up for about 15 seconds in the microwave before you serve them. Once everyone has started to eat there will be a hushed, almost holy, silence. This is the moment to ask for anything you want – the dishes done, the house painted…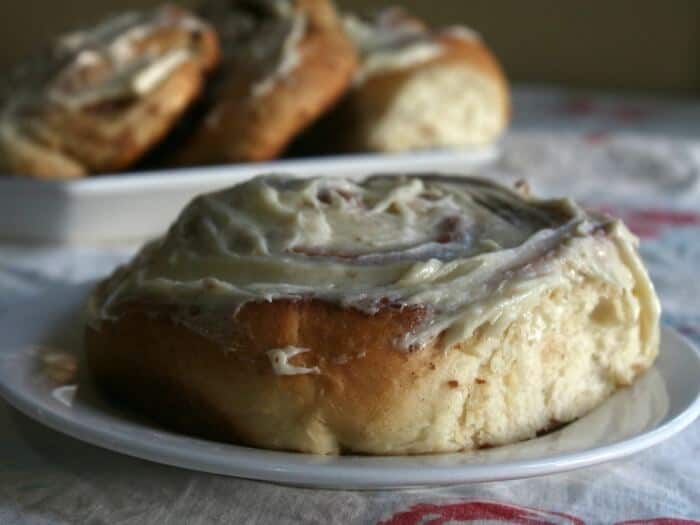 Yep, they are that good.
I have so many recipes for cinnamon rolls but this is my favorite. It always makes people's eyes light up, the aroma in the kitchen is amazing, and I happen to think they are the best I have tasted. Try them for yourself. By the way… that is a large salad plate in the picture. These are huge. You can make them smaller and get 24 out of the recipe but somehow they are not as good that way.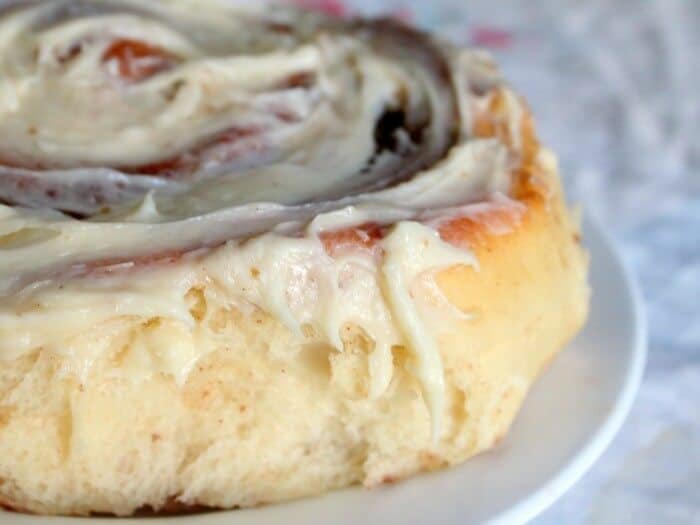 Vanilla salt is a flaked sea salt with vanilla beans in it to give it a vanilla flavor. It is not essential  but it does make a difference. The recipe includes links so you can find it easily. If you click on them and buy it I get a small commission which helps to support the blog and it doesn't cost you extra. So, thanks for helping keep Restless Chipotle up and running!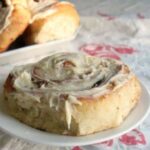 Print Recipe
Humongous Pecan Cinnamon Rolls with Kicked-Up Cinnabon Icing
Huge cinnamon rolls, stuffed with pecans and cinnamon sugar. Once they are baked to a golden brown you slather them with a rich,tangy cream cheese icing that is not too sweet - just right. These are not for everyday but special, once in awhile breakfasts and brunches!
Servings:
12
giant cinnamon rolls
Ingredients
Dough
2

tablespoons

active dry yeast

1/2

cup

warm

(110F) water

4

large eggs brought to room temperature

3/4

cup

pure cane sugar

2

cups

whole milk

, warmed to about 100F

1/2

cup

unsalted butter

, melted and cooled

1/3

cup

gluten

1

teaspoon

vanilla salt

(or Kosher salt)

7 2/3

cup

bread flour

( you may need a little less or a little more)
Filling
1/2

cup

unsalted butter

, room temperature

2

cups

pure cane brown sugar

1/4

cup

cinnamon

1 1/2

cups

finely chopped pecans

Pinch of vanilla salt

(or Kosher salt)
Icing
8

ounces

cream cheese

8

ounces

unsalted butter

Juice of 1/2 a fresh lemon

1

tablespoon

vanilla

1/2

teaspoon

vanilla salt

3

cups

(more or less) powdered sugar
If you liked Pecan Cinnamon Rolls with Cinnabon Icing you may also like…
Easy, Overnight Pecan Sticky Buns Restless Chipotle
Overnight Apple Chipotle Cinnamon Rolls Restless Chipotle
Red Velvet Cinnamon Rolls Number 2 Pencil
Pumpkin Cinnamon Rolls Sally's Baking Addiction