Cream cheese kolache are easy to make at home with this vintage recipe. Puffy, soft pillows of buttery dough are filled with a pool of rich, creamy cheesecake, then sweet crumbles are sprinkled on top. Sometimes a smidgen of fruit filling or jam is added. If you've ever had one you probably have an addiction. If you've never had one then get ready for one of the best bites you've ever experienced.
For this recipe you'll need: yeast, ground ginger, sugar, milk, unsalted butter, all purpose flour, kosher salt, instant potato flakes, eggs, egg yolk, cream cheese, cinnamon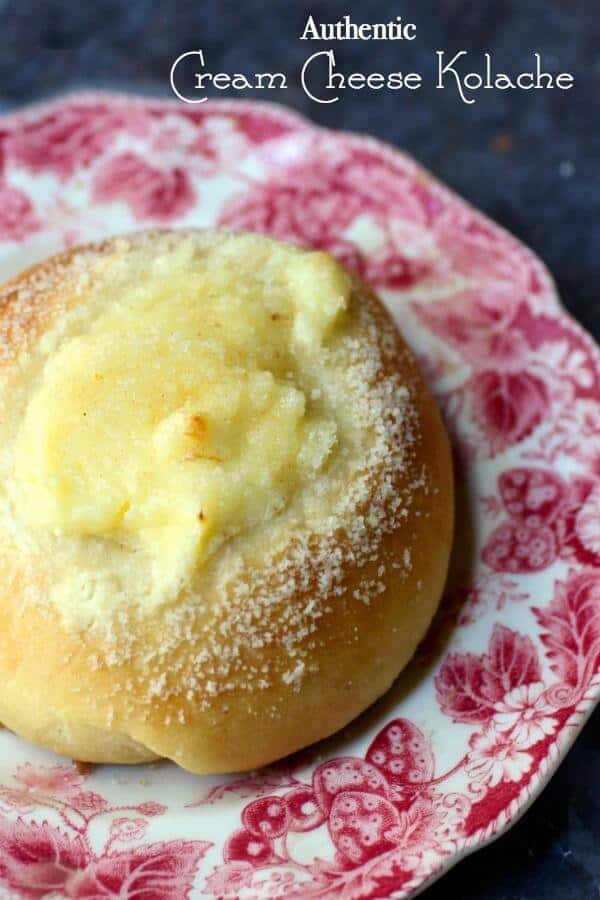 Cream Cheese Kolaches Backstory
I live exactly 58 minutes from my favorite bakery in West, Texas. 58 minutes under normal traffic and circumstances that is. I know the exact time because the minute that I am heading down I35 South I start thinking about which kind of kolache I am going to indulge in. It's all fantasy of course. Anyone who has known me longer than a minute knows that it's going to be cream cheese.
Cream cheese kolache are my favorite. If I moved to West I'd eat a ton of them. In the long run it would be totally worth the 900 deadlifts and 67 miles per day on the treadmill.
West is one of those little Texas towns you just fall in love with. In fact, I'm pretty sure you can smell kolache baking as you drive down the highway. Strolling around the tiny downtown area you may even likely catch a conversation in Czech. Many of the older residents still speak it.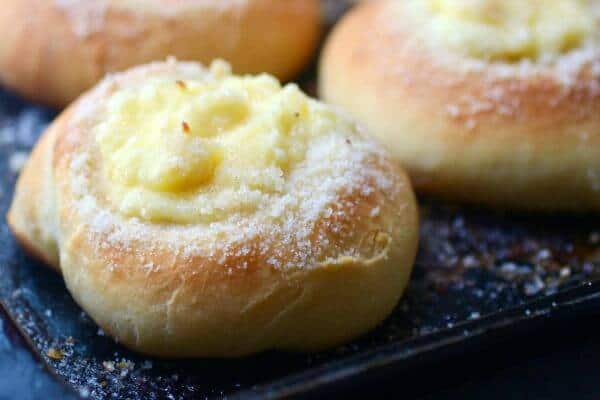 The area was settled because of the rich farmland. After a few years the Katy Railroad was built right smack through the property of a Mr. Thomas West. Mr West was the postmaster at the time. I guess it was just a no-brainer to call the town West in his honor. Especially since he'd supplied the property.
It might have been better if they'd've called it Thomas, though. People who are not from Texas get pretty confused when you tell them that West, Texas is south and maybe a little east of Dallas/Fort Worth. To get an idea of the kind of confusion I'm talking about here's a quote from the official West website. "West is home of Scott Podsednik of the Boston Red Sox. Scott grew up in Tours, five miles east of West…"
Isn't that fun? Doesn't it make you smile? Anyway…
Czech immigrants settles there and started raising their families. Big families. Pretty soon West was full of Czech culture and food. Now it's known as the Czech Heritage Capital of Texas and the home of the official kolaches of the Texas Legislature. No one drives through there without stopping for a kolache. A cream cheese kolache, preferably. And by no one I mean… me.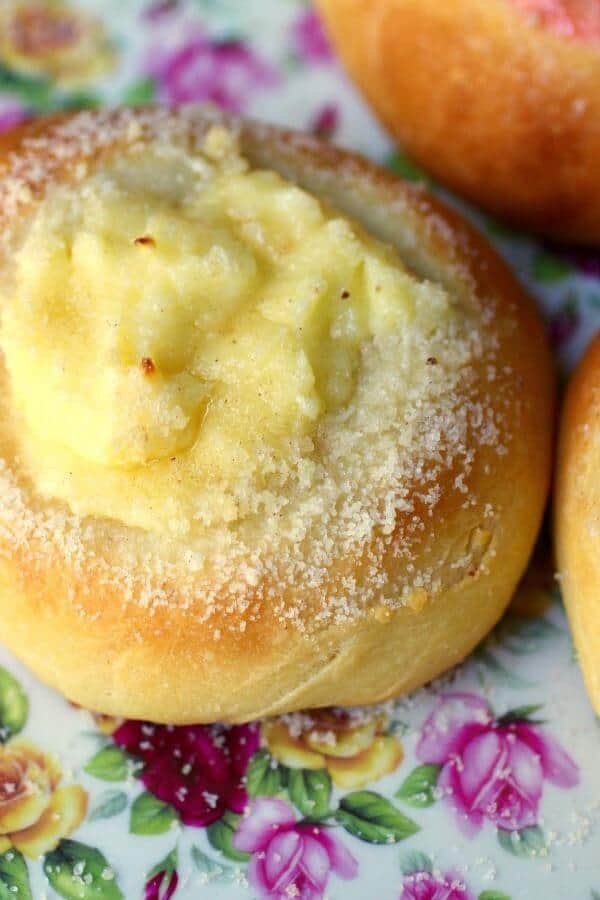 If you've tried my fruit kolaches and my sausage kolaches you know that I found the perfect kolache dough recipe in an old OLD cookbook with handwritten notes. The trick is to whip the dough at the end of the kneading time for about a minute AND to bake these in a hot oven – around 425F. You'll have the lightest, fluffiest, billowiest, most beautiful homemade kolaches in the universe.
You know… for when you get tired of sweet rolls and waffles!
YOU MAY NEED…
The following are affiliate links. We are a participant in the Amazon Services LLC Associates Program, an affiliate advertising program designed to provide a means for us to earn fees by linking to Amazon.com and affiliated sites.
Thanks so much for being a part of Restless Chipotle!
I buy a large amount of yeast at a time. A one pound bag is almost the same price as the small jar in the store! Parchment paper keeps the bottoms from burning, keeps the homemade kolache from sticking, and helps give the crust the texture that is a sign of a good cream cheese kolache.
Cream Cheese Kolache Recipe
Here's the homemade cream cheese kolache! You're family is going to love them. 🙂 Once you've made these give my giant cinnamon rolls a try!
If you love this recipe please give it 5 stars.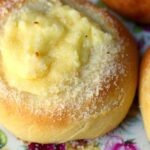 Cream Cheese Kolache: A Bite of West, Texas
Print
Add to Collection
Go to Collections
Lighter than air! Puffy pillows of a buttery, slightly sweet dough are filled with a tangy cheesecake filling and topped with cinnamon crumbles. This classic pastry is easy to make, too! You can freeze these for up to 3 months.
Total Time
1
hour
45
minutes
As an Amazon Associate I earn from qualifying purchases.
Ingredients
Kolache Dough
2 ¼

teaspoons

yeast,

or 1 packet

Pinch of ground ginger

1

teaspoon

sugar

¼

cup

warm milk

,

110F

1/2

cup

whole milk

4

tablespoons

unsalted butter

,

cut into small chunks

2 ½

cups

to 3 1/2 all purpose flour

,

about 3 if using a bread machine

1

teaspoon

kosher salt

1/4

cup

sugar

3

tablespoons

instant potato flakes

,

unflavored

1

large egg

,

room temperature
Cream Cheese Filling
8

ounces

cream cheese

1/4

cup

sugar

1

egg yolk

1/2

teaspoon

vanilla
Crumb Topping
1/3

cup

sugar

2

tablespoons

flour

1/4

teaspoon

cinnamon

1 1/2

tablespoons

melted butter
Instructions
Kolache Dough
Add the yeast, 1 teaspoon sugar, and ginger to the ¼ cup milk and set aside.

Put the 1/2 cup milk and butter in a microwave-safe bowl and heat until the butter melts.

Let cool to 110F.

It should feel comfortably warm to when you drop a few drops on your wrist.

In the bowl of a stand mixer fitted with a paddle attachment combine 2 cups of the flour with the salt, sugar, and potato flakes.

Add the yeast mixture and the cooled milk mixture and stir until blended.

Add the egg and blend it in.

Add another 1/3 cup of flour. The dough will be sticky.

Switch to the dough hook.

Add flour a tablespoon or two at a time until the dough doesn't stick to the sides of the bowl.

Knead until dough is smooth and elastic. It should be easy to handle at this point.

Knead on high for about 30 seconds to a minute.

Remove from the mixer bowl and form into a ball.

Rub the ball with melted butter then place it in a greased bowl.

Turn the ball over once.

Cover the bowl loosely with a clean tea towel.

Let it rise for 1 hour 15 minutes, or until doubled in bulk.

Punch down.

Divide the dough into 12 pieces about the size of an egg.

Roll into balls and arrange them 2 inches apart on a baking sheet lined with parchment.

Brush with butter, cover loosely with tea towels or plastic wrap, and let rise for 1 hour.

Make indentations in the buns and fill with cheese mixture.

Sprinkle with crumb mixture.

Bake at 425F for 8 to 10 minutes or until golden brown. Watch carefully.
Cream Cheese Filling
Beat together cream cheese with sugar until smooth.

Add the egg yolk and vanilla.

Beat until completely incorporated.
Crumb Topping
Combine sugar with flour and cinnamon.

Stir in the melted butter until the mixture forms crumbs.
Notes
Kolache are best the day they are made.
Nutrition
Calories:
227
kcal
|
Carbohydrates:
23.5
g
|
Protein:
4.1
g
|
Fat:
13.4
g
|
Cholesterol:
64
mg
|
Sodium:
303.9
mg
|
Fiber:
0.8
g
|
Sugar:
16.4
g
|
Vitamin A:
750
IU
|
Vitamin C:
0.8
mg
|
Calcium:
60
mg
|
Iron:
0.7
mg
Sign up for the emails and never miss another recipe!!
We'll never share your email or send you spam. Pinkie swear.