Jalapeno sausage Kolaches are pillowy puffs of soft dough filled with gooey cheese and jalapeno sausage. They are related the the fruit Kolache but are a heartier, more filling way to start the day. You might also hear them called Klobasnek or Klobasnicky. Others say that they aren't proper Kolaches at all but should be called sausage rolls. Personally, my mouth is usually too full to argue about something this delicious.
First Published: September 21, 2016… Last Updated: April 17, 2019
For this recipe you'll need: active dry yeast, sugar, ground ginger, milk, unsalted butter, egg, sugar, salt, all purpose flour, cooked jalapeno sausage links, grated cheddar cheese

When Is a Kolache Not a Kolache
When I posted my fruit Kolache recipe I had no idea y'all would pounce on it and ask for more. I promised the jalapeno sausage Kolaches recipe and so here it is.
The dough is the same basic dough with a little less sugar in it than the fruit Kolaches. As it bakes the juices from the sausage kind of seep into the dough giving it even more flavor. And, anyone with a real Texas-Czech background with tell you that these aren't Kolache at all but Klobasnicky.
Whatever. They're delicious.
Easy Breakfast on the Go
This, y'all, is a classic Texas breakfast to go. You can find jalapeno sausage Kolache in nearly every convenience store along I-35. That's not to say that you'll want to EAT them from the convenience store… just that they're there. Personally, if you're making that drive, I suggest that you stop in West. There's a large Czech community there and that's where I stop when I am headed down to Austin or where ever. You'll definitely want to eat the sausage Kolache from there!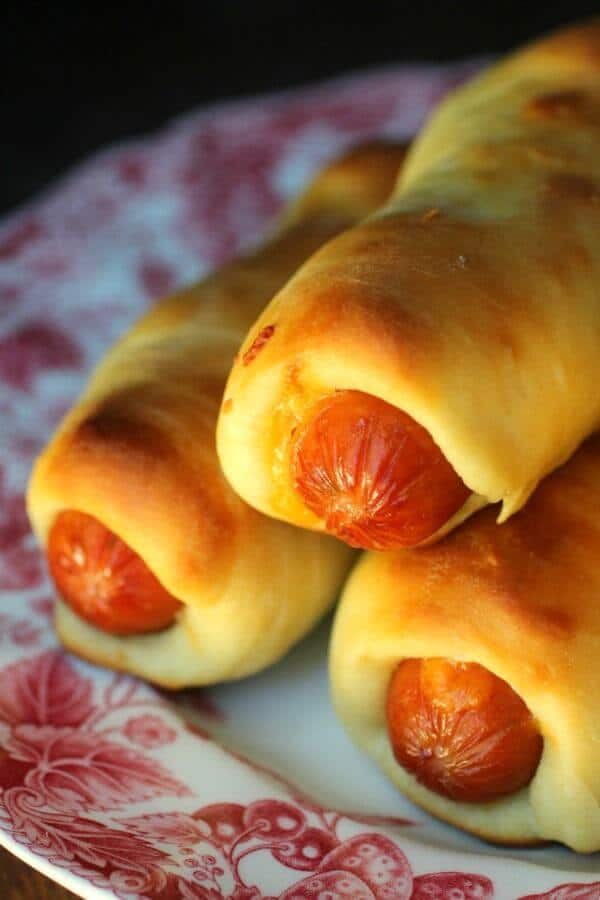 I can't remember when I had my first Kolache, I just know that since then I've loved them The dough is so pillowy soft that it's addictive. Although I normally choose the sweeter fillings there is definitely a time and a place for this savory bun!
Dallas to Austin Means a Stop in West
A few years ago my husband, daughter, son in law, and I were traveling down to Austin for the day. It was a combined business and pleasure trip so we left super early in the morning. When we got to West my husband pulled in to one of the bakeries to get breakfast. Neither my daughter nor my son in law had ever see the multitude of Kolaches that were in that place! There must have been 50 different kinds. It took us all quite a while to decide.
Tips for Making Jalapeno Sausage Kolaches
The dough is very sticky and you'll be tempted to put too much flour in. Don't do it! Your kolache will be too dense and heavy.
Also, you'll see other recipes that call for a 350F to 375F oven. The higher temperature and shorter cooking time in my recipe keeps them soft. Trust me.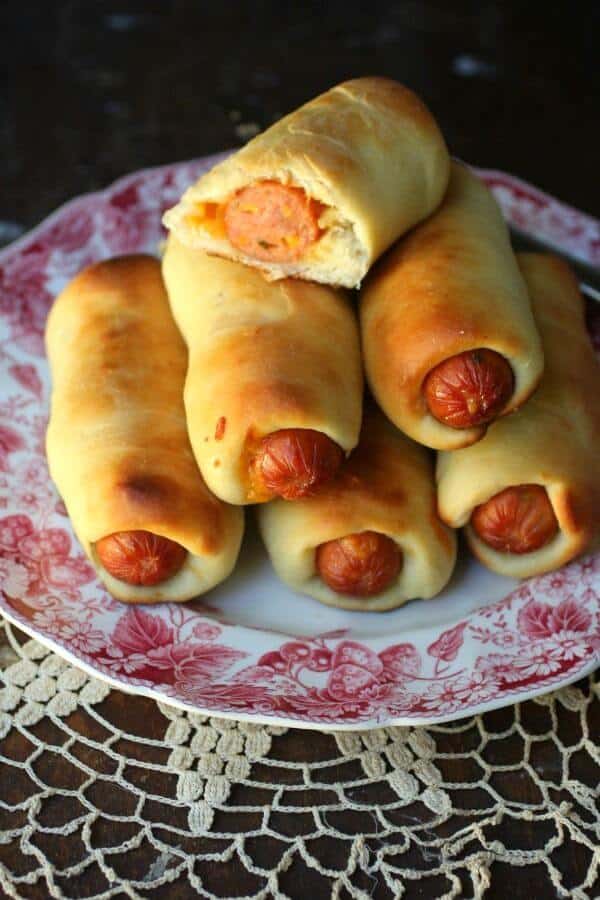 Kolache FAQs
What kind of meat is in a Kolache?
Generally some kind of sausage is the meat inside a Klobasnek, which is what a "meat" Kolache is usually called.

What is a true kolache?
Most Texans with a Czech heritage hold a distinction between a Kolache (fruit) and a Klobasnek (meat), which is a Kolache variation. A true Kolache by these standards is only filled with fruit or cheese fillings while a Klobasnek/ Klobasniky is a similar pastry filled with meat.
What nationality is a Kolache?

The Kolache originated in Eastern Europe sometime in the 1700s. The original product was a pastry filled with fruit. It came to the United States with Czech immigrants – the meat filled Klobasniky were first made by Czechs that settled in Texas.
Can you freeze Kolache/Klobasniky?
Yes, you can freeze them either baked or unbaked. If you freeze them unbaked let them thaw overnight in the refrigerator before baking.
More Homemade Breakfast Rolls
Sausage & Cream Cheese Crescents from Plain Chicken are looking like next Saturday's breakfast to me.
You may need
The following are affiliate links. We are a participant in the Amazon Services LLC Associates Program, an affiliate advertising program designed to provide a means for us to earn fees by linking to Amazon.com and affiliated sites.
What's new? Check out my Restless Chipotle & Co. Store on Amazon! Thanks so much for being a part of Restless Chipotle!
I buy a large amount of yeast at a time. A one pound bag is almost the same price as the small jar in the store! Parchment paper keeps the bottoms from burning, keeps the homemade Kolaches from sticking, and helps give the crust the texture that is a sign of a good Kolache.
Jalapeno Sausage Kolaches Recipe
Call these puffy pillows of delicious addiction Kolache or Klobasnek or Klobasniky but definitely put them on your brunch table soon! They are SO good.
If you love this recipe please give it 5 stars!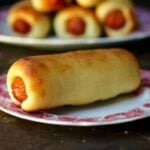 Jalapeno Sausage Kolaches/ Klobasnek
Print
Add to Collection
Go to Collections
These homemade jalapeno sausage kolaches are as good as any you'll find! Soft, slightly sweet dough, gooey cheese, spicy sausage… breakfast doesn't get better than this! Although they are often called Kolache – these meat pastries are actually Klobasnek, developed by the Czech immigrants to Texas.
Total Time
2
hours
10
minutes
As an Amazon Associate I earn from qualifying purchases.
Ingredients
1/3

cup

water 110F

1

tablespoon

yeast

1

teaspoon

sugar

1

pinch

ground ginger

2/3

cup

milk

,

110F

2

tablespoons

butter

,

, melted

1

egg

,

, room temp – beaten

¼

cup

sugar

1

teaspoon

salt

3 ½

cups

all-purpose flour

,

may need up to 4 1/2 cups

10

cooked jalapeno sausage links

10

tablespoons

cheddar cheese

,

grated
Instructions
Mix the water, yeast, teaspoon of sugar, and ginger in a small bowl.

Set aside for 5 minutes.

In the bowl of a stand mixer fitted with the paddle attachment mix the milk, melted butter, egg, sugar, and salt until smooth.

Add 1 cup of the flour and beat on low until blended.

Add in the yeast mixture and beat just until blended.

Remove the paddle attachment and replace it with a dough hook.

Knead the dough with the dough hook adding flour 2 tablespoons at a time until the dough doesn't stick to the sides of the bowl.

Knead for 3 minutes longer.

Remove the dough from the bowl and form it into a ball.

Run with melted butter and place in a greased bowl.

Cover with a clean tea towel and let rise until doubled, about 1 ½ hours.

Punch down the dough.

Divide dough into 10 portions.

Roll each into a 5-inch x 2 ½-inch rectangle.

Sprinkle 1 tablespoon of grated cheese down the center, lay a cooked sausage on top, and wrap the dough around the sausage and cheese, pinching to seal.

Place seam side down on parchment lined baking sheets and let rise 30 minutes.

Bake at 425F for 8 to 10 minutes or until golden.

Turn off oven, open door, and let rest 3 minutes more.
Notes
Kolaches are best eaten the day they are made. If you have leftovers wrap tightly and refrigerate.
Nutrition
Calories:
339
kcal
|
Carbohydrates:
39
g
|
Protein:
12
g
|
Fat:
13
g
|
Saturated Fat:
6
g
|
Cholesterol:
54
mg
|
Sodium:
487
mg
|
Potassium:
142
mg
|
Fiber:
1
g
|
Sugar:
6
g
|
Vitamin A:
5.7
%
|
Vitamin C:
0.2
%
|
Calcium:
13.7
%
|
Iron:
13.5
%
Tried this recipe?
Tag me!! @Marye_RestlessChipotle
Submit Your Own Jalapeno Sausage Kolache Images
Let's Keep in Touch!