Authentic Czech Kolache recipe is a keeper! Soft, billowy clouds of buttery, sweet dough are cupped around a sweet, fruit filling. They're easy to make and even easier to eat! Most people don't know it but these traditional Czech pastries vie with bbq and pecan pie for the title of the most beloved food in Texas.
First Published September 16, 2016...
Last Updated: 21 October 2019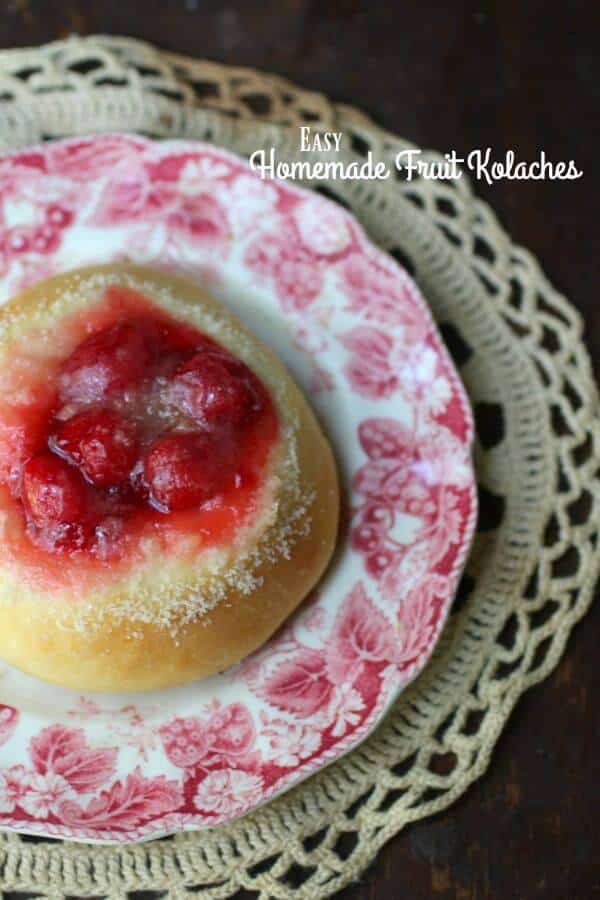 Kolache Recipe Ingredients
Active dry yeast in the packets. You can use rapid rise if you want - just make sure to add it with the flour and skip the proofing step.
Ground ginger doesn't add flavor but it does help activate the yeast.
Sugar is important because the yeast need it.
Milk is the liquid of choice - use whole milk and make sure you bring it to a warm temperature as directed in the recipe.
Unsalted butter gives the dough added richness.
Bread flour or all-purpose flour - either is fine.
Kosher salt was used in this recipe. If you use regular table cut the measurement by about ¼.
Instant potato flakes help to make the dough soft and fluffy.
Fruit pie filling - either canned or your own. If you are using homemade pie filling make sure that it is very thick.
Cinnamon for the crumb topping.
Texas's Czech Community
Most people don't think of an Eastern European community when they think of Texas.
They picture cowboys, and rich oil men with boots and big hats. You may even imagine someone like JR Ewing of the old show, Dallas.
It may surprise you that we have a huge Czech community. In fact, it's had a lot of influence on what we eat and drink. We have huge Oktoberfest celebrations complete with polkas and some of our good Texas beer.
Most of all we have kolaches.
What Is a Kolache?
To the uninitiated a kolache is nothing but a sweet roll. Once you've bitten into the pillowy, sweet softness of a good kolache you know the truth. It's not a sweet roll at all, it's a little bite of heaven.
About halfway between Dallas and Austin on I-35 is a small town named West. Yep, we have west Texas as well as West, Texas. Anyway, West is known for it's Czech bakeries and especially kolaches. Those kolaches have so many different fillings that it takes longer to decide what kind to get than it does to eat it.
How an Old Cookbook Was the Answer
The hardest thing about making these is to get the dough just right. It is super soft and for years I was frustrated because that airy, pillowy interior eluded me.
One day I picked up an old cookbook in a bookstore and the kolache recipe called for a hot oven. Back in the wood burning stove days they didn't have temperature controls.
The instructions called for a cool oven, or a hot oven or whatever. Old recipes can be confusing unless you happen to know things like a hot oven is 400F to 425F.
Most recipes call for the homemade kolache to be baked in a 375F oven.
Y'all, the first time I nervously put kolache dough in the 425F oven I worried that it would burn. I watched those kolaches through the door and when they were golden I checked the interior with my insta-read thermometer.
180 degrees which is exactly the temperature the interior of bread products should be when they're done. It only took 10 minutes!
The previous owner of the cookbook liked to make notes. She also wrote on the edge of the recipe "whip the dough to make it light".
So the second time I made these kolaches I kneaded the dough on high speed for a minute at the end of the kneading time. Worked like a charm.
These easy homemade kolaches come out perfectly every single time. The dough is fluffy, soft, and slightly sweet.
Bread flour isn't necessary, all purpose flour will do. Keep in mind that you'll get a softer, fluffier result with the bread flour, though.
Authentic Czech Kolache Recipe Tips
These soft, sweet rolls are easy to make but here are some tips to ensure success!
Make sure all ingredients are at room temperature unless otherwise directed in the recipe.
Use an insta-read thermometer to ensure your liquids aren't too hot or too cold.
You can let the dough rise overnight in the refrigerator if you want to.
Using too much flour or overworking the dough will make them tough.
Homemade kolache are best eaten the same day they are made or frozen.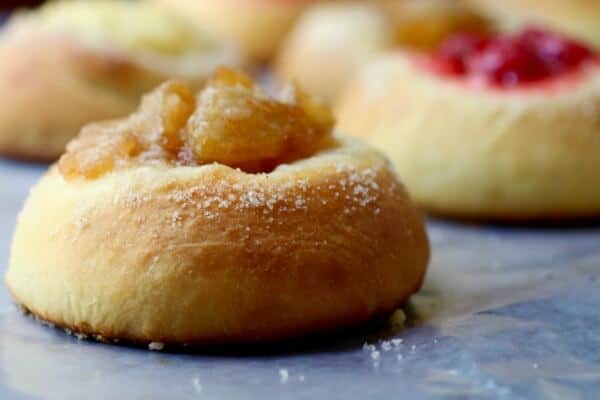 Kolache Recipe FAQs
Here are the questions I am most frequently asked about this recipe.
What is a Texas Kolache?
Kolache are Czech pastries made of a soft, sweet yeast dough that's filled with a variety of sweet fillings like poppy seed, fruit, or cheese.
Can you freeze kolache?
Yes you can! Wrap them tightly in plastic wrap, place them in a freezer container and freeze for up to three months.
What are sausage kolache called?
Sausage kolache are called klobasnek - I have a recipe for jalapeno sausage klobasnek right here!
More Great Sweet Roll Recipes
To me, there isn't anything better for a brunch or weekend breakfast than a sweet roll! Here are some you are sure to love -
Cream Cheese Kolache are easy to make at home with this vintage recipe. Puffy, soft pillows of buttery dough are filled with a pool of rich, creamy cheesecake, then sweet crumbles are sprinkled on top.
Cinnamon Rolls always makes people's eyes light up, the aroma in the kitchen is amazing, and I happen to think they are the best I have tasted.
Pecan Sticky Buns are amazing when they are fresh and warm, dripping in buttery caramel with the aroma wafting through the house and making your tummy rumble.
You May Need...
The following are affiliate links. We are a participant in the Amazon Services LLC Associates Program, an affiliate advertising program designed to provide a means for us to earn fees by linking to Amazon.com and affiliated sites.
What's new? Check out my Restless Chipotle & Co. Store on Amazon where you'll find all kinds of nostalgic goodness! Thanks so much for being a part of Restless Chipotle!
I buy a large amount of yeast at a time. A one pound bag is almost the same price as the small jar in the store! Parchment paper keeps the bottoms from burning, keeps the homemade kolaches from sticking, and helps give the crust the texture that is a sign of a good kolache.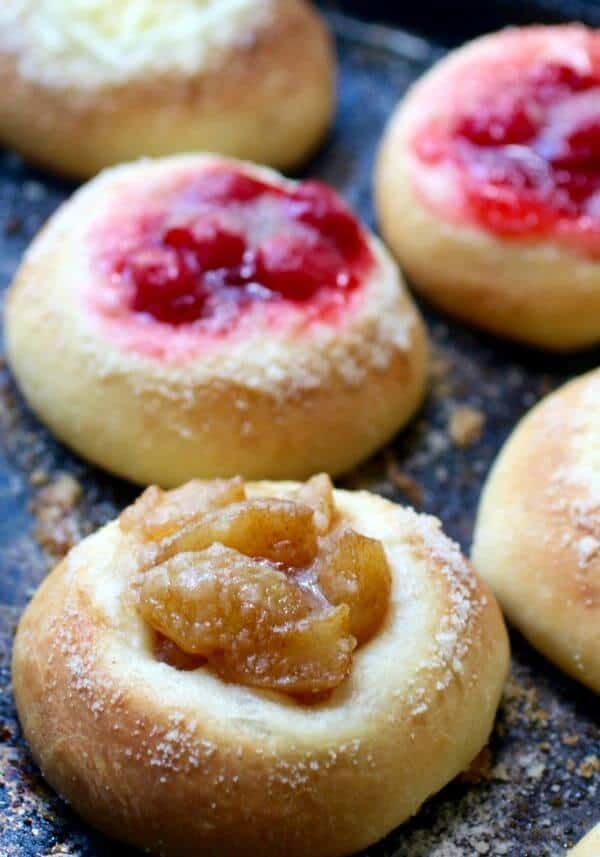 Homemade Kolache Recipe
Here's my authentic Czech kolaches recipe. I know you're going to love it as much as I do! Posipka is the correct name for the crumble on top - it gives them a nice, sweet finish!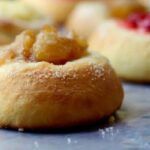 Easy Homemade Kolaches: Texas's Best Kept Secret
Print
Add to Collection
Go to Collections
A Texas classic! These easy homemade kolaches are light puffs of sweet, buttery dough filled with your favorite fruit fillings. So good! The are best eaten warm the day they are made.
As an Amazon Associate I earn from qualifying purchases.
Ingredients
2 ¼

teaspoons

yeast,

or 1 packet

1

pinch

ginger

,

ground

1

teaspoon

sugar

¾

cup

milk

,

110F, divided use

4

tablespoons

butter

,

cut into small chunks

2 ½

cups

bread flour

,

you may need up to 3 ½ cups

1

teaspoon

kosher salt

¼

cup

sugar

¼

cup

instant potato flakes

,

unflavored

1

egg

,

room temperature

1

can fruit pie filling - your choice
Crumb Topping (Posipka)
⅓

cup

sugar

2

tablespoons

flour

½

teaspoon

cinnamon

3

tablespoons

melted butter
Instructions
Add the yeast, 1 teaspoon sugar, and ginger to ¼ cup milk and set aside.

Put the remaining milk and butter in a microwave-safe bowl and heat until the butter melts.

Let cool to 110F. It should feel comfortably warm to when you drop a few drops on your wrist.

In the bowl of a stand mixer fitted with a paddle attachment combine 2 cups of the flour with the salt, sugar, and potato flakes.

Add the yeast mixture and the cooled milk mixture and stir until blended.

Add the egg and blend it in.

Add another ⅓ cup of flour. The dough will be sticky.

Switch to the dough hook.

Add flour a tablespoon or two at a time until the dough doesn't stick to the sides of the bowl.

Knead until dough is smooth and elastic, about 5 minutes. It will still be a little sticky especially on the bottom.

Remove from the mixer bowl and form into a ball.

Rub the ball with melted butter then place it in a greased bowl.

Turn the ball over once.

Cover the bowl loosely with a clean tea towel.

Let it rise for 1 hour, or until doubled in bulk.

Punch down.

Divide the dough into 10 equal pieces

Roll into balls and arrange them 2 inches apart on a baking sheet lined with parchment.

Brush with butter, cover loosely with tea towels or plastic wrap, and let rise for 1 hour.

Make indentations in the buns and fill with cheese mixture or fruit filling.

Sprinkle with crumb mixture.

Bake at 425F for 8 to 10 minutes or until golden brown. Watch carefully.
Crumb Topping (Posipka)
Combine sugar, flour, and cinnamon.

Stir in the melted butter until the mixture forms crumbs. 
Notes
Make sure all ingredients are at room temperature unless otherwise directed in the recipe.
Use an insta-read thermometer to ensure your liquids aren't too hot or too cold.
You can let the dough rise overnight in the refrigerator if you want to.
Using too much flour or overworking the dough will make them tough.
Homemade kolache are best eaten the same day they are made or frozen.
Nutrition Facts
Calories:
288
kcal
|
Carbohydrates:
45
g
|
Protein:
6
g
|
Fat:
10
g
|
Saturated Fat:
6
g
|
Cholesterol:
39
mg
|
Sodium:
321
mg
|
Potassium:
146
mg
|
Fiber:
3
g
|
Sugar:
17
g
|
Vitamin A:
320
IU
|
Vitamin C:
3
mg
|
Calcium:
33
mg
|
Iron:
1
mg
Sign up for the emails and never miss another recipe!!
We'll never share your email or send you spam. Pinkie swear.