Buttery and lightly sweetened with honey, this cornmeal yeast rolls recipe makes the perfect sandwich rolls for all kinds of meat from bbq to grilled steak. The cornmeal adds a slightly nutty flavor and unique texture to these easy sandwich rolls. Still not sure about them? You can let the dough rise overnight in the refrigerator AND they freeze well. Make them smaller for dinner rolls or appetizers, too.
For this recipe you'll need: active dry yeast, ground ginger, honey, vital wheat gluten, kosher salt, yellow cornmeal, bread flour, butter, egg
Jump to Recipe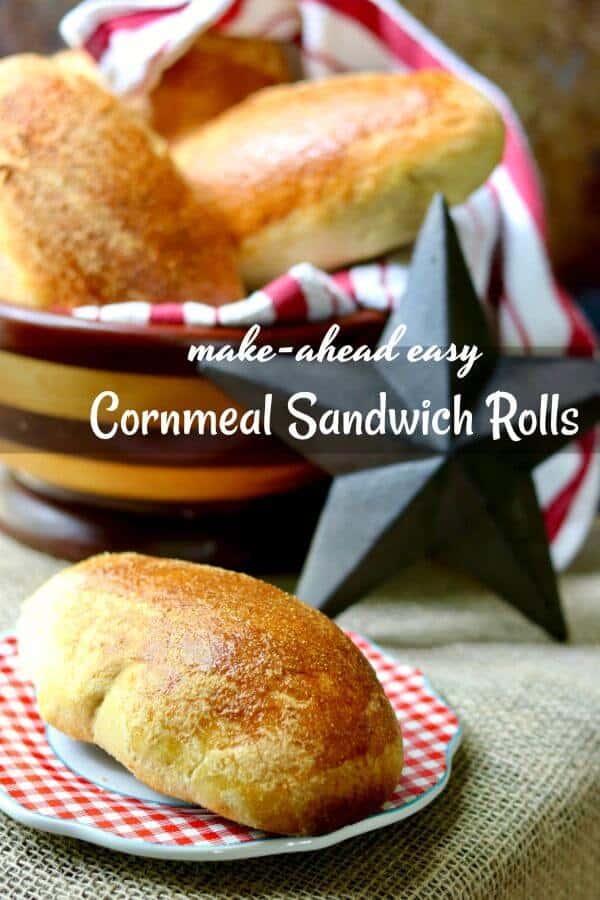 Have you ever noticed that when you go out to eat and have some sort of amazing sandwich the thing that really takes it over the top is the bread? I mean, you just don't find five star sandwiches serves on fresh from the wrapper Wonder Bread, you know?
Now, I love my Honey Buttermilk sandwich bread but I wanted something for meat. Something that would be good with everything from my husband's pretty-dang-amazing stuffed cheeseburgers to the leftover bbq I warm up for lunches on Monday. We pretty much always pick up bbq on the way home from church on Sunday and there is always some left. Perfect for chopped bbq sandwiches!
Anyway, I took a stroll through a stack of my old cookbooks and found one of my favorite dinner rolls that I'd actually forgotten about for a long time. Cornmeal dinner rolls are so good! They've always reminded me of a sunny, southern afternoon — not fancy but friendly and homely (adjective: (of a place or surroundings) simple but cozy and comfortable, as in one's own home.). Sort of like tea drunk out of a chipped Mason jar on the porch….
My aunt and uncle had a big, old foursquare house with a ginourmous porch. One of my very favorite summertime activities was sprawling across the porch swing, head propped up on the faded and musty pillows, reading the "book 'O the day". As often as not I had a glass of icy lemonade within reach.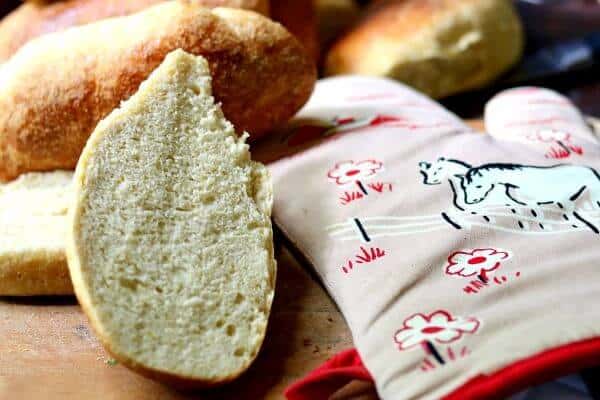 Most of my aunts and uncles were farmers and so my aunts made three hot meals a day. It was so different from my parents' corporate life and seemed so much more relaxed and happy that I decided I would grow up and farm, too. Spoiler alert- I had chickens, goats, and sheep for a couple of years — it's not easier, nor more relaxed, nor happier. Anyway, breakfast was usually bacon and eggs with crunchy toast spread with homemade jam of some sort and a glass of grapefruit juice or a half a grapefruit hiding under an inch or so of table sugar served with a serrated spoon. Lunch meant something easy served with leftover dinner rolls and my very favorite was creamed peas and potatoes served with cornbread. SOMETIMES she'd add chopped, leftover ham. The aromas of lunch would start wafting out of the open windows around mid-morning making my stomach rumble in anticipation and I'd have to concentrate that much harder on what I was reading.
Old wood, roses, dirt, and dinner – it should be made into a scented candle.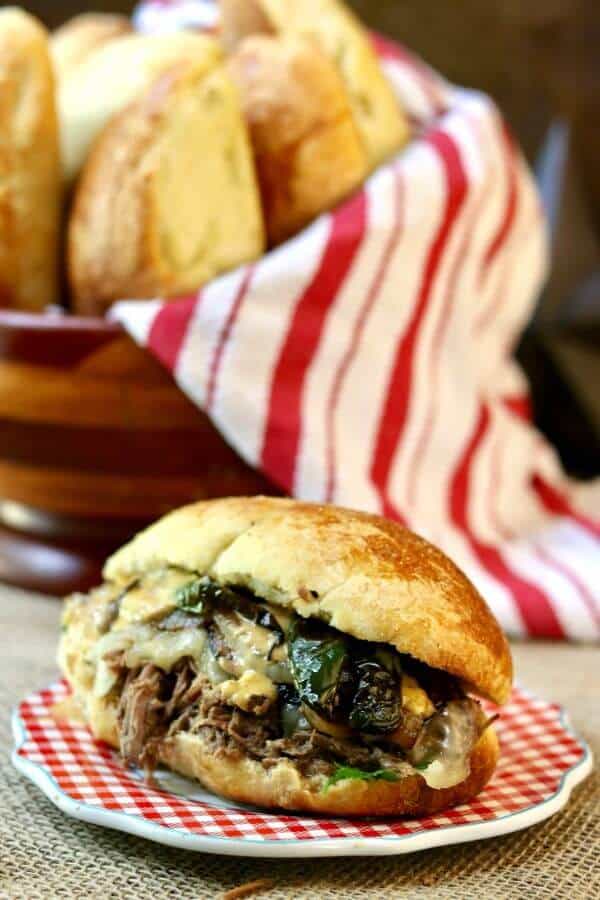 I adapted the cornmeal yeast rolls to make sandwich rolls with them. I wanted them to be less delicate so that the bread would stay together no matter how high you stacked bbq and sauce or beef and gravy. I hate being halfway through a sandwich and having the bread decide to mutiny leaving me with a dripping, half nekkid burger burning the palm of my hand, don't you?
These cornmeal yeast rolls are loyal to the end. They will NOT fall apart and will keep your sandwich (of whatever sort) firmly together while you're eating it. They're sweet enough to have a flavor of their own but not so sweet they'll mess with the other flavors of your sandwich.
If you want to make them into burger buns you'll probably get about 16. Some of y'all know that I use tin cans (cleaned and opened at both ends) for dough cutters. I use a tomato paste can for biscuits, a vegetable can for scones (14-ounce?), and a big diced tomatoes can for hamburger buns. So you should get about 16 burger buns using a cutter that size.
To make the sandwich rolls I weighed the dough and divided it in 10 equal pieces of about 5.2 ounces each (I think). Just try to keep them the same size so they bake evenly. If these are not quite what you're looking for try the Cheddar and black pepper rolls.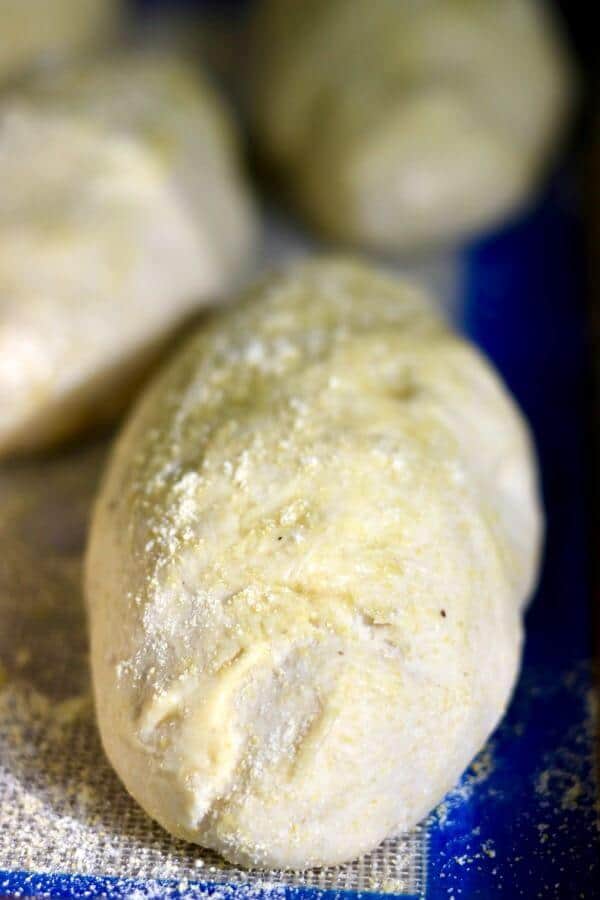 You May Need
The following are affiliate links. We are a participant in the Amazon Services LLC Associates Program, an affiliate advertising program designed to provide a means for us to earn fees by linking to Amazon.com and affiliated sites.
Vital wheat gluten is a wheat protein that helps breads and rolls rise high and fluffy. It doesn't take much! I highly recommend it, especially if your breads tend to come out coarse or dry. I go through so much yeast that I get it in a 2 pound package. I've never had it weaken on me.
Cornmeal Yeast Rolls Recipe
Cornmeal Yeast Rolls
Easy, chewy sandwich rolls with the country fresh taste of cornbread. They're perfect for burger buns or to hold bbq.
Ingredients
2

tablespoons

yeast,

, active dry

1

Pinch

ground ginger

1/4

cup

honey

,

, divided use

4

cups

water

,

,110F divided use

1/3

cup

vital wheat gluten

1/3

cup

butter

,

, melted

1 -1/2

tablespoons

kosher salt

2

cups

cornmeal

6

cups

bread flour

,

, may need a little less or a little more

1

egg yolk

1

tablespoon

water
Instructions
Add the yeast, 1 tablespoon of honey, ginger, and 1/4 cup of warm water to the bowl of your mixer.

Set aside until bubbly, about 5 minutes.

Add the remaining water, honey, and 2 cups of the bread flour.

mix until smooth.

Add the vital wheat gluten, the butter, salt, and cornmeal with the mixer on low.

with the mixer continuing to run add the remaining bread flour a little at a time until the dough pulls away from the sides of the bowl.

Knead as directed by the manufacturer, about 6 minutes, adding a little flour if necessary.

Turn the dough out on a floured countertop and knead a few strokes to make sure it's thoroughly kneaded.

Place in a greased bowl, grease the top, and cover with plastic wrap.

At this point you can leave it in the refrigerator overnight to rise.

If you aren't letting the dough rise in the refrigerator then let it rise in a warm place until doubled, about 90 minutes.

Preheat the oven to 425F.

Punch down the risen dough, shape into oblongs or other desired shapes.

brush with melted butter and let rise, covered with a tea towel, until almost double - about 40 minutes.

Mix the egg yolk with the water and brush on the rolls.

Bake for 10 minutes then brush with more of the egg yolk mixture.

Continue to bake until done, about 20 minutes more, depending on the size of the rolls.

Remove from the oven and let cool for at least 10 minutes.

Use or freeze for up to 3 months.
Nutrition
Calories:
496
kcal
|
Carbohydrates:
85
g
|
Protein:
15
g
|
Fat:
9
g
|
Saturated Fat:
4
g
|
Cholesterol:
35
mg
|
Sodium:
64
mg
|
Potassium:
193
mg
|
Fiber:
5
g
|
Sugar:
7
g
|
Vitamin A:
4.3
%
|
Calcium:
2.6
%
|
Iron:
10.7
%
If you liked this Sandwich Rolls Recipe you may also like…
Click on the image to go straight to the recipe. Texas Knot Rolls, Potato Rolls, 30 Minute Dinner Rolls