Southern chicken salad recipe is a classic, made the Texas way with cubed chicken breast, pecans, red grapes, and a little sweetened mayonnaise. It's served in small tearooms and cafes all over Texas, usually piled high on a flakey, buttery croissant and accompanied by goblets of icy cold sweet tea. If you've always had the shredded dark meat chicken salad sandwich then honey get your jaws ready because you are in for a treat!
First Published: July 30, 2017... Last Updated: June 7, 2019
For this recipe you'll need: chicken breast, chicken stock, good mayonnaise, sugar, red grapes, green onions, pecans, celery, heavy cream, croissants or soft potato rolls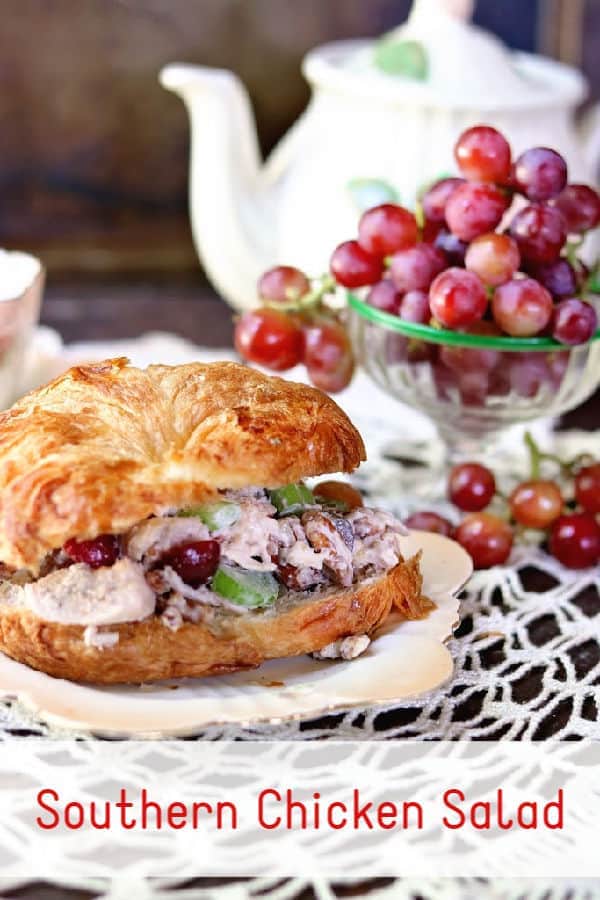 Southern Chicken Salad Sandwich
To me there's nothing quite as fancy and a really good chicken salad sandwich made in the southern style. Big pieces of cubed chicken breast, sweet red grapes, buttery, toasted pecans, and a little sugar in the mayonnaise.
Ok, maybe for some of you a lot of sugar in the mayonnaise - I like it sweet and I'm pretty sure that I put in twice the amount I'm telling you to put it.
The main thing is you can't use dark meat, you can't shred it, and dear Lord don't use salad dressing. It has to be mayo.
The More Things Change...
So in a lot of ways the South has changed over my lifetime and in a lot of ways it hasn't. Although when I was young we moved around a lot we settled down near Dallas in 1970. Texas is very conservative politically, spiritually, and socially - and, while that bothers some people, I really love it.
Why I Love the South (including chicken salad)
I love that there are certain ways to do things like taking meals to people when someone takes sick, or there's a new baby, or a death in the family. I like that there are rules and boundaries - like not calling someone on the phone between 9 pm and 9 am, or holding doors for people, or taking off your hat when you enter a building.
And I like that ladies will argue at length about what should or should not be in a good southern chicken salad recipe. It doesn't take very long before the "bless your hearts" and "her mama was always a bit... touched" start flying around.
And those are fighting words.
I like that little old ladies (which I am quickly becoming) will walk up to you in a dressing room and tell you that you look better in the red dress than in the blue one because the blue one makes you "look a mite puny, darlin".
I mean, I 'll take all the help I can get.
I love church potlucks where everyone brings what they are known for making. It's where Southern women really compete, christian or not. They could have attended church that morning, shouted A-MEN to every reference to loving your neighbor but if there's a potluck these ladies in their hats and high heels will grit their teeth and create perfection on a plate just to make sure it's the best one there. If mental fight club was a thing you'd see it at those potlucks.
It can get fierce.
Southern Chicken Salad Don'ts
There's one thing that pretty much every Southern woman I know agrees on and that is you can't make chicken salad with dark meat. Ew.
Not now. Not ever.
I think some people around here even make it with shredded chicken and get by with it as long as it's chicken breast but as far as I know cubed chicken breast is the most accepted form of chicken for a real chicken salad sandwich.
Now, you don't have to put on your fancy hat, fix your lipstick, or develop a drawl to enjoy this chicken salad sandwich but you might consider adding a scoop of macaroni salad, or even this Tex-Mex macaroni salad, next to it, maybe a pitcher of tea, and inviting someone over to share some great food and good fellowship. Porch and rockers optional.
[clickToTweet tweet="Best chicken salad sandwich recipe ever -with red grapes and toasted pecans. southern tearoom style." quote="Best chicken salad sandwich recipe ever -with red grapes and toasted pecans. southern tearoom style."]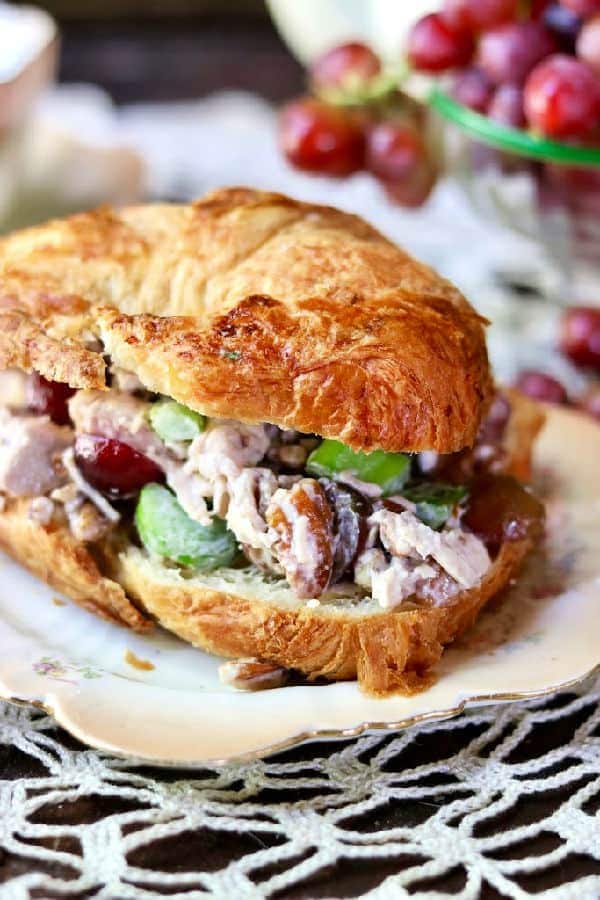 More Great Chicken Recipes
We eat chicken almost every night around here. It's crazy but it's the one thing my kids don't get tired of. Here are some of my favorite recipes.
Tips for the Best Chicken Salad Ever
Chicken salad isn't rocket science but it does take a little tweaking to get it exactly right. Here are some tips for making the perfect southern chicken salad sandwich, tea room style.
Use a sweeter bread than you normally might. Croissants and potato rolls work well but when I owned the tearoom the most popular bread to put chicken salad on was plain raisin bread - no cinnamon swirl just a plain white or wheat bread with raisins kneaded in.
Poaching the chicken in chicken stock helps it retain more flavor than if you were poaching in water.
One of the best ways to do the chicken breast is to add a bunch of chicken breast and about half the stock called for in the recipe to a slow cooker and cook it on low for about 6 to 8 hours. Let cool, cube, and freeze in recipe sized portions.
Adjust the amount of sugar you use to your own taste - I 'm telling ya I bet I put in close to ½ a cup.
You don't "have" to toast the pecans if you don't want to... but it's so much better.
Toast the pecans in a 350F oven for about 5 minutes, stirring often and watching carefully.
Make sure the grapes are the kind that are firm and sort of "pop" when you bite down on them.
Add more or less grapes to your own taste.
Same with pecans.
YOU MAY NEED…
The following are affiliate links. We are a participant in the Amazon Services LLC Associates Program, an affiliate advertising program designed to provide a means for us to earn fees by linking to Amazon.com and affiliated sites.
What's new? Check out my Restless Chipotle & Co. Store on Amazon where you'll find all kinds of nostalgic goodness! Thanks so much for being a part of Restless Chipotle!

Smoked paprika can be found in almost every grocery store but if you can't find it at yours Amazon has it.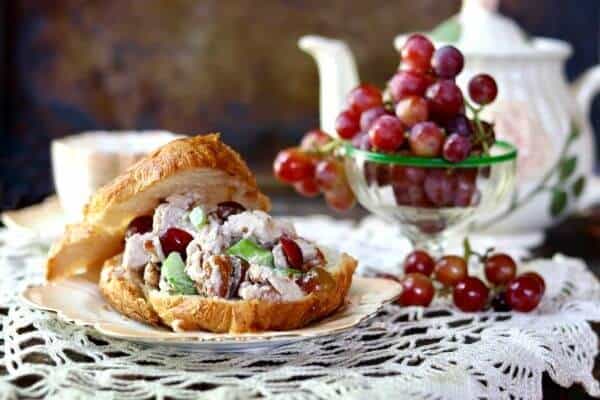 Southern Chicken Salad Recipe with Grapes and Pecans
There's no doubt in my mind that you're going to love this chicken salad recipe. It's truly the best whether you make it into a sandwich or just put a scoop on your plate.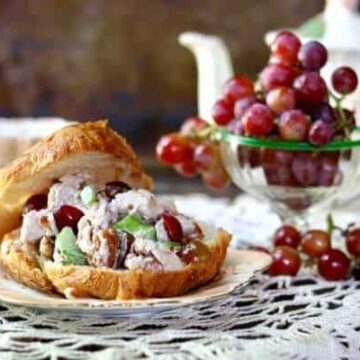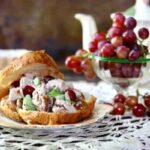 Southern Chicken Salad
Print
Add to Collection
Go to Collections
Best chicken salad recipe ever -with red grapes and toasted pecans. Made with cubed chicken breast - southern tearoom style. Serve on croissants, a bed of lettuce, or your favorite bread - try raisin bread!
As an Amazon Associate I earn from qualifying purchases.
Ingredients
1

pound

chicken breast

2

cups

chicken stock

1 ½

cups

red grapes

,

halved and make sure they are the firm ones not the soft ones

1

cup

celery

,

diced

1

cup

pecans

,

chopped and toasted

½

cup

green onions

,

sliced

1

cup

mayonnaise

¼

cup

sugar

,

or as desired

2

tablespoons

whipping cream

,

more as needed

Salt

Freshly ground black pepper

Smoked paprika to garnish

6

croissants

,

split in half
Instructions
Simmer the chicken in the chicken stock until cooked through and tender.

Remove the chicken from the stock and reserve the stock for another use.

Cool for 10 to 15 minutes.

Cube the cooked chicken and place in a bowl.

Add the grapes, celery, pecans, and green onions.

Stir gently.

Mix the mayonnaise and 2 tablespoons of the sugar.

Stir into the chicken mixture.

Add the cream if needed to thin it out a little.

Taste and add more sugar if you like it sweeter - I like mine a little sweet.

Mix in the salt and pepper.

Pile on the cut side of the bottom croissant.

Sprinkle with smoked paprika.

Top with the other half of the croissant.
Notes
Chicken salad will last several days in the refrigerator tightly covered - it doesn't freeze well.
Nutrition Facts
Calories:
766
kcal
|
Carbohydrates:
45
g
|
Protein:
23
g
|
Fat:
55
g
|
Saturated Fat:
13
g
|
Cholesterol:
109
mg
|
Sodium:
608
mg
|
Potassium:
560
mg
|
Fiber:
3
g
|
Sugar:
22
g
|
Vitamin A:
735
IU
|
Vitamin C:
4.4
mg
|
Calcium:
59
mg
|
Iron:
2.2
mg
Sign up for the emails and never miss another recipe!!
We'll never share your email or send you spam. Pinkie swear.