Summer is the time for easy recipes that you can get on the table fast. Extra points if you don't have to heat up the kitchen to do it. That's why you're going to love this classic dish.
Don't want to scroll through the page to get to the recipe? Use the table of contents to click on the section you want to go to.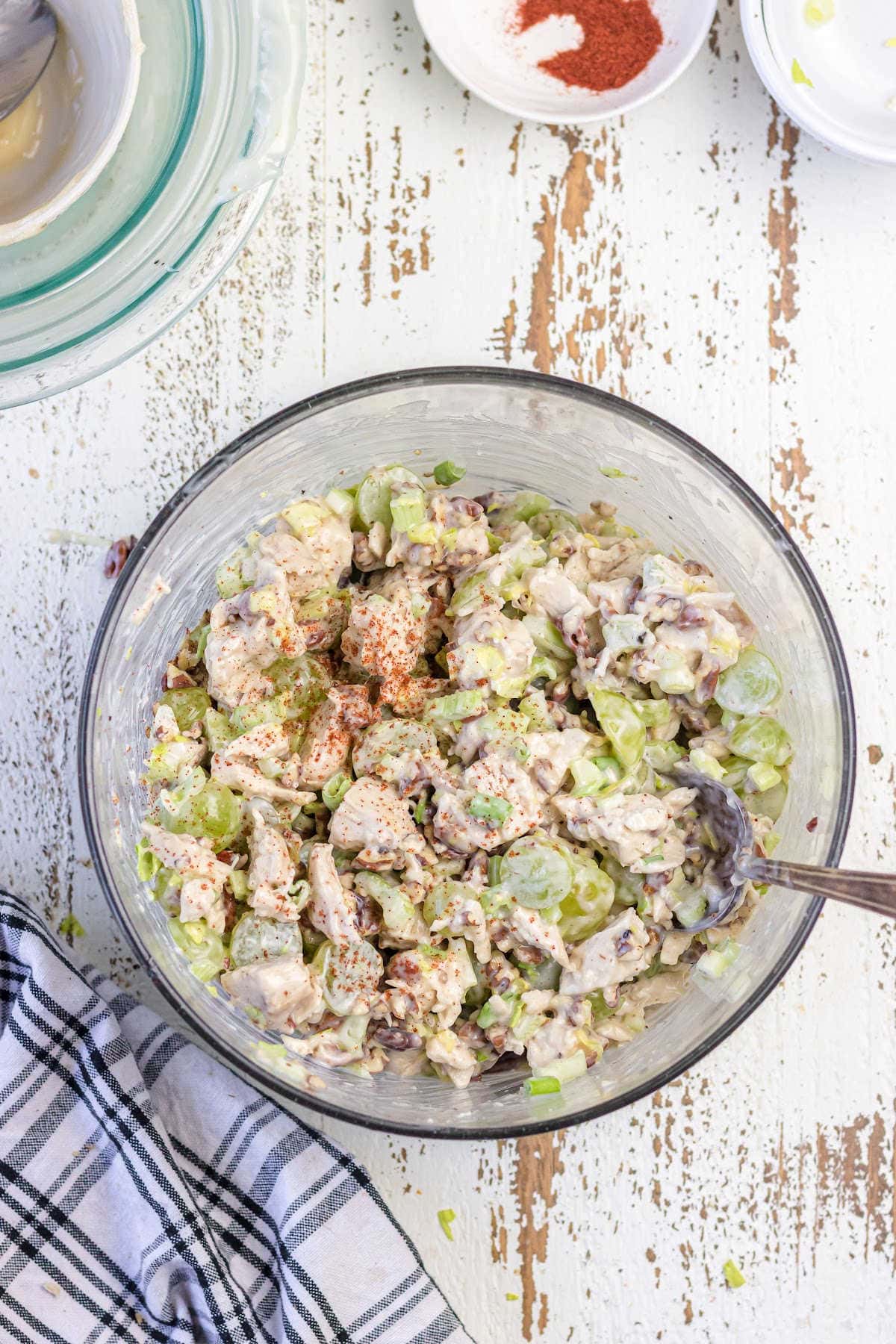 Jump to:
❤️ Why you'll love it
Chicken salad sandwiches are refreshing on a hot summer day
The perfect balance of creamy/crunchy texture and sweet/savory flavor
It's versatile—an easy meal for the week, and pretty as a picture for tea parties, showers, and church potlucks
A lot of folks say you shouldn't fuss with a classic recipe, and that for the best results, you should stick with what works.
Honestly, I kinda agree.
Well, this easy chicken salad recipe is done the right way—the real, traditional, delicious, Southern way that would make your mama and grandmama proud.
For a little something different, try this southern hot chicken salad! It's a classic!
🧾 Ingredients
This is an overview of the ingredients. You'll find the full measurements and instructions in the green recipe card (printable) at the bottom of the page.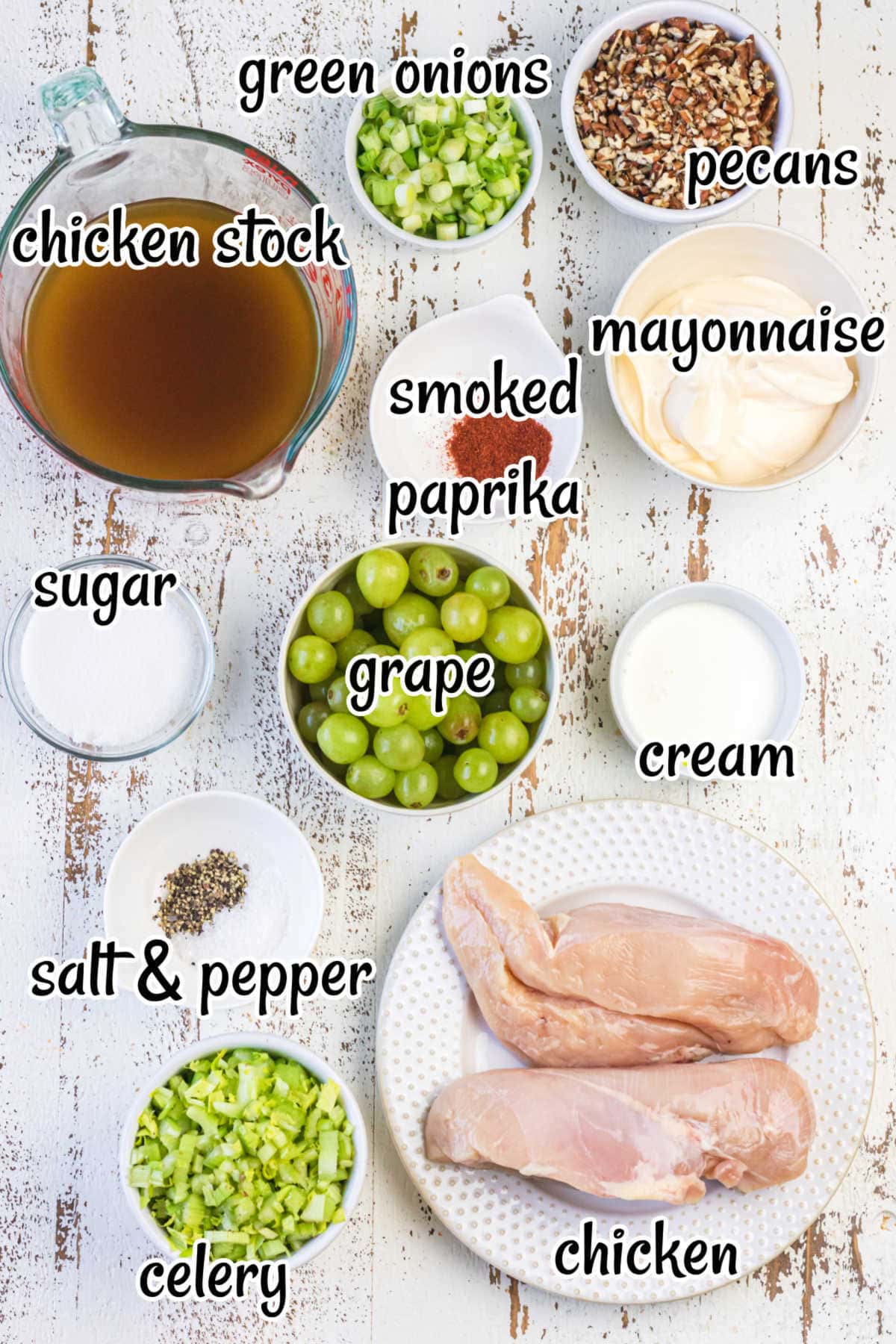 📖 Variations
This Southern chicken salad recipe is pretty much perfect, but if you get the urge to switch it up, here are some great options.
Chicken breasts are the best, but you can use a store-bought rotisserie chicken if you need to. Just save the dark meat for another time or ALL the southern great-great-grannies are going to be rolling over in their graves.
Some people like a bit of sweet pickle relish in their chicken salad. If you grew up eating it this way, don't let me stop ya now!
We prefer green onion because the flavor is more subtle. You can swap it for diced sweet or red onion if that's your personal preference.
It's not exactly a Southern-style chicken salad without pecans, but you can use toasted almonds, instead, if you have 'em in the pantry already.
Garnish with fresh parsley if you're a fan of herbs.
🔪 Instructions
This is an overview of the instructions. Full instructions are in the green recipe card at the bottom of the page.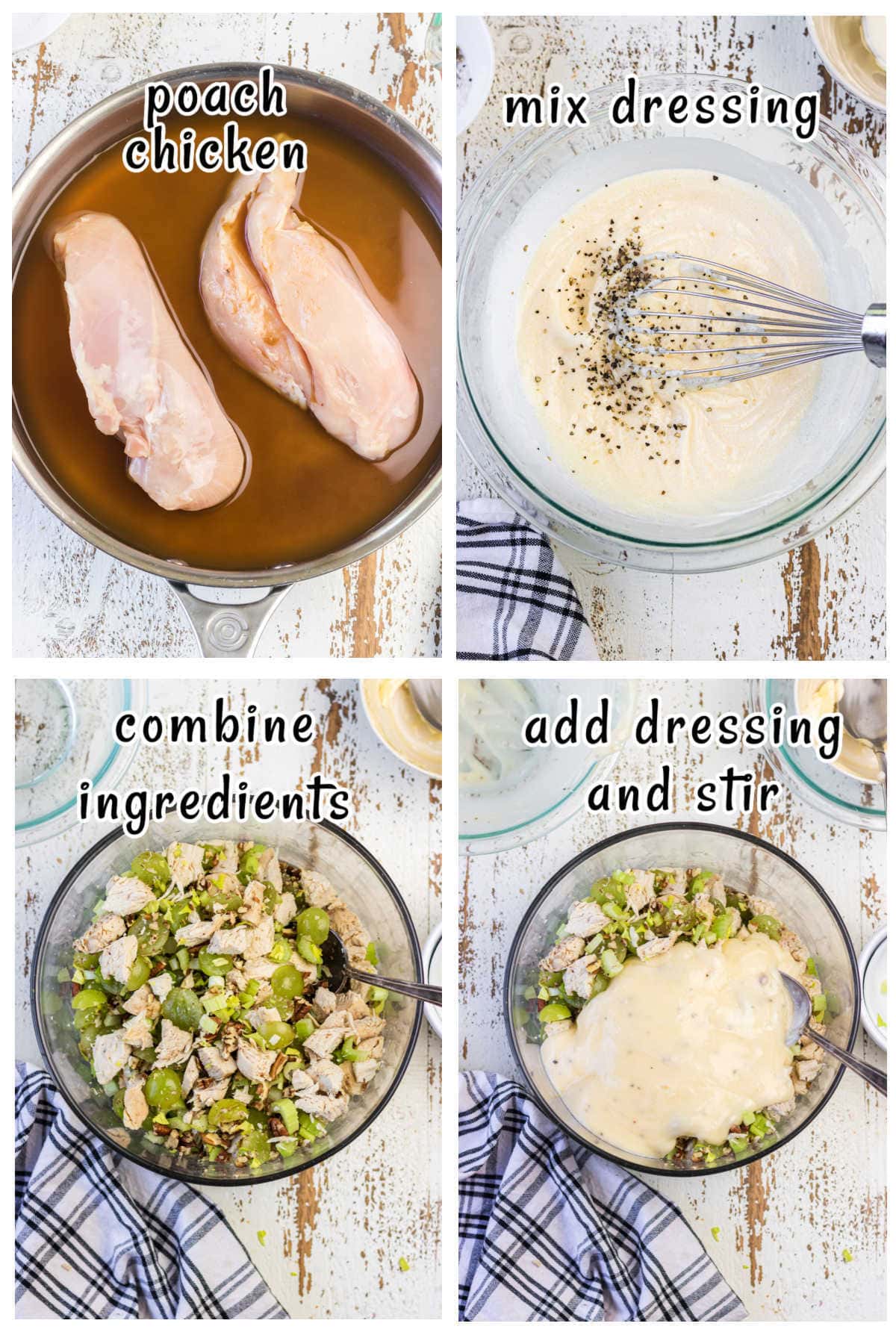 Poach chicken in chicken broth until cooked. Let cool.
Whisk together the mayo, cream, sugar, paprika, salt, and black pepper.
In a large mixing bowl, toss the remaining ingredients.
Add the dressing to the bowl and stir everything together. Southern chicken salad needs to chill in the fridge until serving time.
🥫 How to store leftovers
Leftover chicken salad is just as delicious as it is the first day! And, storing it is easy.
Cover the bowl with plastic wrap, or spoon the chicken salad into an airtight container. It'll keep in the fridge for four days before getting watery. (Plus, after that amount of time, the chicken will go bad.)
I don't recommend freezing it. There are too many components that just don't thaw well.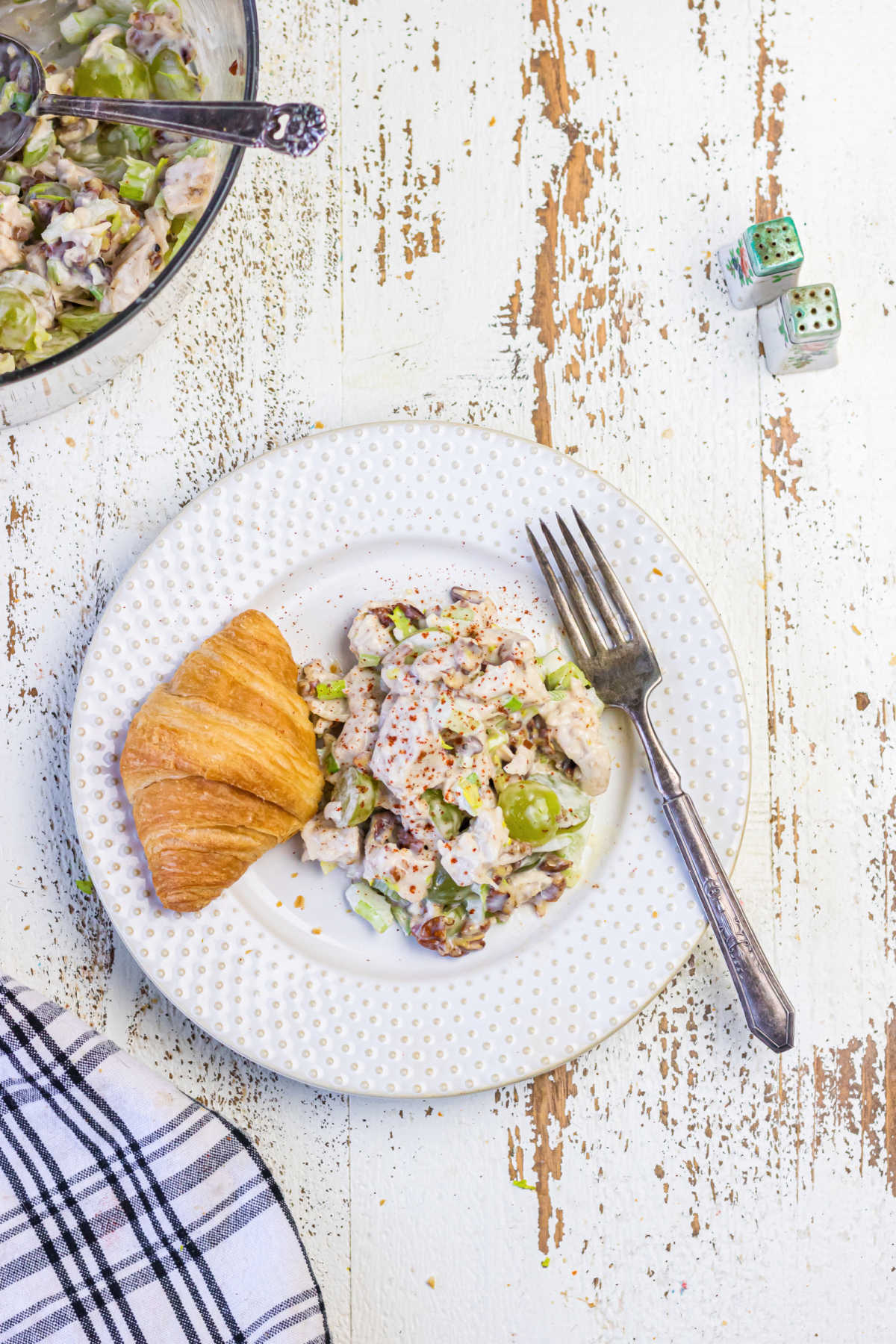 💭 Things to know
Expert Tip: Taking chicken salad to a picnic? Wondering about the best way to keep it cold? Simply place the serving bowl into a larger bowl filled with ice. You could also use an insulated cooler if you have one.
Cook the chicken in the crockpot—it'll be super tender and you don't have to fuss with the stove. Find instructions under the recipe card.
"Sandwich" the grapes between two cutting boards or Tupperware lids, and apply pressure on top with one hand. Then, use your main hand to easily slice through all of the juicy grapes at once. Quick and easy!
A true, Southern-style chicken salad recipe only uses chopped white meat (not shredded.) This provides the best flavor, perfect texture, and will earn you brownie points among all the traditionalists out there.
For the best chicken salad sandwich, choose sweeter bread. Buttery croissants, Hawaiian sweet rolls, or soft potato rolls are all great ways to complement the flavor. Whole grain bread works fine, too!
When I owned a tearoom, the most popular bread for serving traditional chicken salad was plain raisin bread! (Not cinnamon swirl.) I think it has something to do with the sweet combination of raisins and grapes.
Serve Southern chicken salad as a dip, spooned over a bed of lettuce. Don't forget an assortment of yummy crackers or bread slices!
👩‍🍳 FAQs
Can I use Miracle Whip in chicken salad?
It pains me to say this but yes... yes you can use Miracle Whip. If you must.
How long can I keep Southern chicken salad at room temperature?
Two hours maximum! Discard any chicken salad that's sat out longer than that. Better safe than sick... or sorry.
Can I use low-fat mayo?
You can if you want to, but it's not as tasty. Some people claim you can make it "healthier" by swapping the mayo for Greek yogurt. I don't trust these people and wouldn't let them near my homemade chicken salad recipe—just saying.
I've made chicken salad before and it was dry—why?
Usually, dry chicken salad indicates the chicken breast was overcooked. Poach the chicken gently in stock until it reaches 160 degrees F. Then, let it rest for 5 to 10 minutes so that the juices settle.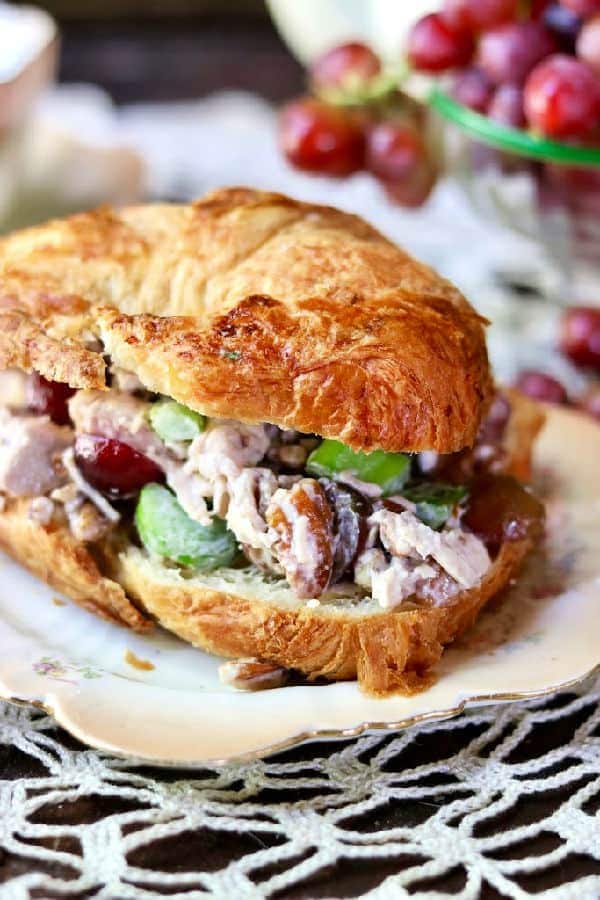 📚 Related recipes
Full of juicy apples and crunchy celery, Southern Tuna Salad tastes fabulous tucked into a lunch box or featured for an afternoon tea party.
Another Southern staple, Mom's Homemade Potato Salad is loaded with flavor, creamy texture, and (my fave) chopped hard-boiled eggs.
Deviled Ham Salad is a super versatile meal and hits the perfect notes of sweet and spicy. Serve it on rolls for lunch or as a party app—either way, it's a guaranteed hit!
🍽️ Serve with...
Chicken salad is the perfect hot weather meal. I like to keep things easy by serving things like this cool summer fruit salad and some icy cold hibiscus lemonade.
📞 The last word
This easy chicken salad recipe is a classic, made the Texas way with cubed chicken breasts, pecans, juicy grapes, and a little sweetened mayonnaise.
It shows up at just about every baby shower, bridal showers, and wedding brunches that I've ever been to.
Next time try this simple tomato sandwich!
If you click on the number of servings in the recipe card you can adjust the measurements up or down for the exact number of servings you need. Don't forget that you can click on "add to collection" to save it to your own, private recipe box!
If you love this recipe please give it 5 stars! ⭐️⭐️⭐️⭐️⭐️
📖 Recipe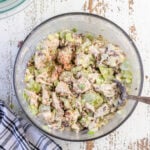 Southern Chicken Salad
Print
Pin Recipe
Save
Saved!
This delicious southern chicken salad recipe is so creamy! It's made with seedless red grapes, toasted pecans and cubed chicken breast. Nearly every southern tearoom serves a version of this recipe. Serve it on croissants, a bed of lettuce, or your favorite bread - try raisin bread!
As an Amazon Associate I earn from qualifying purchases.
Ingredients
1

pound

chicken breast

2

cups

chicken stock

1 ½

cups

seedless red grapes

,

About ½ pound. Halved and make sure they are the firm ones not the soft ones. Use green or black in a pinch.

1

cup

celery

,

diced

1

cup

pecans

,

chopped and toasted

½

cup

green onions

,

sliced

1

cup

mayonnaise

¼

cup

sugar

,

or as desired

2

tablespoons

whipping cream

,

more as needed

Freshly ground black pepper

Smoked paprika to garnish

6

croissants

,

split in half
I earn a commission from Instacart from qualifying purchases.
Instructions
Simmer the chicken in the chicken stock until cooked through and tender.

Remove the chicken from the stock and reserve the stock for another use.

Cool for 10 to 15 minutes.

Cube the cooked chicken and place in a bowl.

Add the grapes, celery, pecans, and green onions.

Stir gently.

Mix the mayonnaise and 2 tablespoons of the sugar.

Stir into the chicken mixture.

Add the cream if needed to thin it out a little.

Taste and add more sugar if you like it sweeter - I like mine a little sweet.

Mix in the salt and pepper.

Pile on the cut side of the bottom croissant.

Sprinkle with smoked paprika.

Top with the other half of the croissant.
Notes
Storage:
Leftover chicken salad is just as delicious as it is the first day! And, storing it is easy.
Cover the bowl with plastic wrap, or spoon the chicken salad into an airtight container. It'll keep in the fridge for four days before getting watery. (Plus, after that amount of time, the chicken will go bad.)
I don't recommend freezing it. There are too many components that just don't thaw well.
Tips
One of the best ways to cook the chicken breast is to add a bunch of chicken breast and about half the stock called for in the recipe to a slow cooker and cook it on low for about 6 to 8 hours.
Adjust the amount of sugar you use to your own taste.
Toast the pecans in a 350F oven for about 5 minutes, stirring often and watching carefully.
Make sure the grapes are the kind that are firm and sort of "pop" when you bite down on them.
This is best if you let it chill in the fridge for an hour or so to let the flavors blend but you can eat it right away.
You can use a store bought rotisserie chicken - just cube the breast meat and save the dark meat for another recipe.
You'll find more helpful tips and variations in the body of the post.
Nutrition Facts
Calories:
766
kcal
|
Carbohydrates:
45
g
|
Protein:
23
g
|
Fat:
55
g
|
Saturated Fat:
13
g
|
Cholesterol:
109
mg
|
Sodium:
608
mg
|
Potassium:
560
mg
|
Fiber:
3
g
|
Sugar:
22
g
|
Vitamin A:
735
IU
|
Vitamin C:
4.4
mg
|
Calcium:
59
mg
|
Iron:
2.2
mg
Nutrition information is estimated as a courtesy. If using for medical purposes, please verify information using your own nutritional calculator. Percent Daily Values are based on a 2000 calorie diet.
Sign up for the emails and never miss another recipe!!
We'll never share your email or send you spam. Pinkie swear.
✍🏻 A note from Marye...
I know y'all don't always like the stories bloggers tell so when I have one I try to put it at the very bottom so you can read or skip as you like.
This southern chicken salad is served in small tearooms and cafes all over Texas, usually piled high on flakey, buttery croissants and accompanied by goblets of icy cold sweet tea.
If you've always had the shredded dark meat chicken salad sandwich then honey, get your jaws ready because you are in for a treat!
To me there's nothing quite as fancy and a really good chicken salad sandwich made in the southern style.
Big pieces of cubed chicken breast, sweet red grapes, buttery, toasted pecans, and a little sugar in the mayonnaise.
Ok, maybe for some of you a lot of sugar in the mayonnaise - I like it sweet and I'm pretty sure that I put in twice the amount I'm telling you to put it.
The main thing is you can't use dark meat, you can't shred it, and dear Lord don't use salad dressing (Miracle Whip). It has to be mayo.
I love that there are certain ways to do things like taking meals to people when someone takes sick, or there's a new baby, or a death in the family.
I like that there are rules and boundaries - like not calling someone on the phone between 9 pm and 9 am, or holding doors for people, or taking off your hat when you enter a building.
And I like that ladies will argue at length about what should or should not be in a good southern chicken salad recipe.
It doesn't take very long before the "bless your hearts" and "her mama was always a bit... touched" start flying around.
And those are fighting words.
I like that little old ladies (which I am quickly becoming) will walk up to you in a dressing room and tell you that you look better in the red dress than in the blue one because the blue one makes you "look a mite puny, darlin".
I mean, I 'll take all the help I can get.
I love church potlucks where everyone brings what they are known for making.
It's where Southern women really compete, christian or not. They could have attended church that morning, shouted A-MEN to every reference to loving your neighbor but if there's a potluck these ladies in their hats and high heels will grit their teeth, clutch their pearls, and create perfection on a plate just to make sure it's the best one there.
If mental fight club was a thing you'd see it at those potlucks.
It can get fierce.
Now, you don't have to put on your fancy hat, fix your lipstick, or develop a drawl to enjoy this chicken salad sandwich but you might consider adding maybe a pitcher of tea and inviting someone over to share some great food and good fellowship.
Porch and rockers optional.
First published July 30, 2017. Last updated June 12, 2023 for better images and more information.