Crispy Baked Chicken Strips are as delicious as the ones at your favorite fast food spot but these are baked and not fried . So easy!
This is right up there with chicken parmesan for me!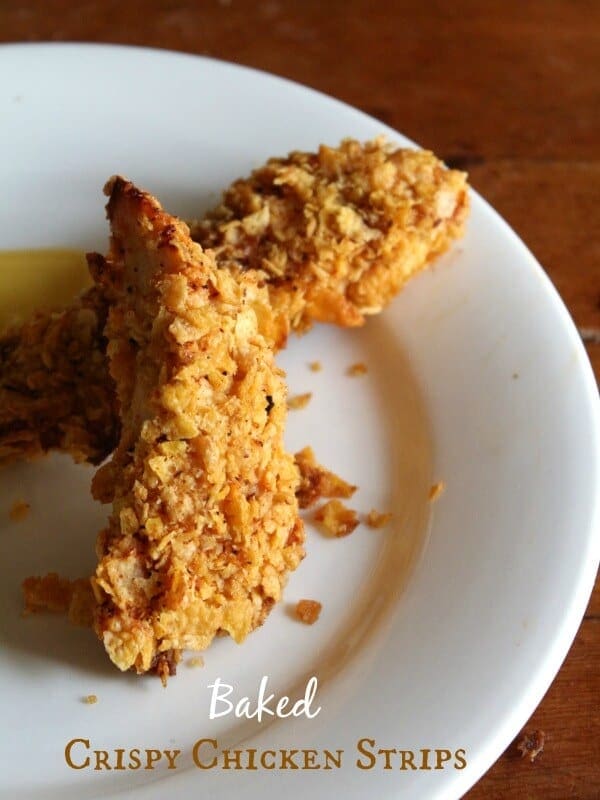 I am going to be completely honest here. I like fried food. I like it a lot. If you are going to hand me a doughnut I want one that has that greasy fried taste, the same for french fries and everything else. Do not hand me a baked thing that is supposed to be fried.
Except I might have to retract that. I might have to admit I was wrong. That's OK, I've had plenty of practice at that.
These baked chicken strips come out tender, juicy, and crispy. OMG so crispy! It's fast, too. Since you are cutting the breast into strips (you could probably use boneless, skinless thighs as well) it takes hardly any time to cook.
I have one child in particular that likes fast food. Last week we were in the store and she asked me to buy her an apple pie.
"Mom, would you buy this pie just for me?"
"I can't buy you a pie! I am a food writer! What would people think?"
"But I like store bought pie!"
"I'll tell you what -- I'll make you an apple pie. How's that?"
"No! I only like the bought kind."
"OMG I will die if anyone sees me buying a pie! I have a reputation!"
She smiled that charming smile and put the pie in the cart as I pretended I didn't see it in there. You know, like when you were a teenager and buying feminine products at the store and the cashier was a guy? A guy you knew from class?
Yeah. Like that.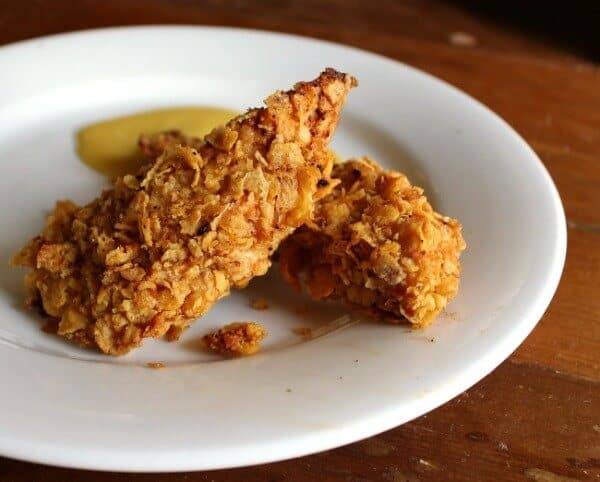 Anyway, all of that to say that this one weird child liked these crispy baked chicken strips -- and she usually only eats them from Whataburger. When she said she liked them I heard the Hallelujah chorus, saw confetti falling from the sky, and generally almost passed out.
As she would say, y'all, it's a struggle.
So when I say that this is going to be a family favorite I KNOW what I am talking about. You try these crispy baked chicken strips and let me know what you think, 'k? Try this Dr Pepper BBQ sauce as a dipping sauce!
Crispy Baked Chicken Strips
Print
Save
Go to Collections
Tender, juicy chicken breast is marinated in sour cream and spices and then breaded and baked for a healthier,tastier version of your favorite fast food chicken strips.
As an Amazon Associate I earn from qualifying purchases.
Ingredients
Marinate

1 ½

pounds

boneless

,

, skinless chicken breast

1

egg

½

cup

sour cream

2

teaspoons

garlic powder

½

teaspoon

salt

1

teaspoon

smoked paprika

½

teaspoon

chipotle powder

a couple of drops of chile sesame oil if you like it really spicy

Coating

3

cups

crushed cornflakes

1

teaspoon

salt

½

teaspoon

pepper

1

teaspoon

smoked paprika

½

teaspoon

chipotle powder
Instructions
Cut the chicken into strips lengthwise -- about 4 to 5 strips per breast.

Mix the chicken in with the marinade ingredients and let stand for 30 minutes.

Preheat the oven to 375F.

Lightly grease a cookie sheet.

Mix the coating ingredients well.

Take one chicken strip out of the sour cream mixture and shake off the excess.

Place in the coating mix until the chicken is well covered.

Put on the cookie sheet and repeat with the rest of the chicken.

Bake for 20 to 25 minutes, or until a meat thermometer reads 160 (it will continue to cook while it stands).

The outside will be golden and the inside will not be pink.

Remove from the oven.

Let stand for about 5 minutes so the meat reabsorbs juices and the coating crisps up a little.
Sign up for the emails and never miss another recipe!!
We'll never share your email or send you spam. Pinkie swear.
If you liked Crispy Baked Chicken Strips you might also like...