Spicy, smoky, homemade chili powder is like nothing you've ever tasted. It's easy to make from scratch using a mixture of dried chile peppers.
With this recipe, you can completely control both the flavor and the heat. I've even given you a list of the different types of peppers you can use and the flavors they impart to this homemade seasoning mix!
Don't want to scroll through the page to get to the recipe? Use the table of contents to click on the section you want.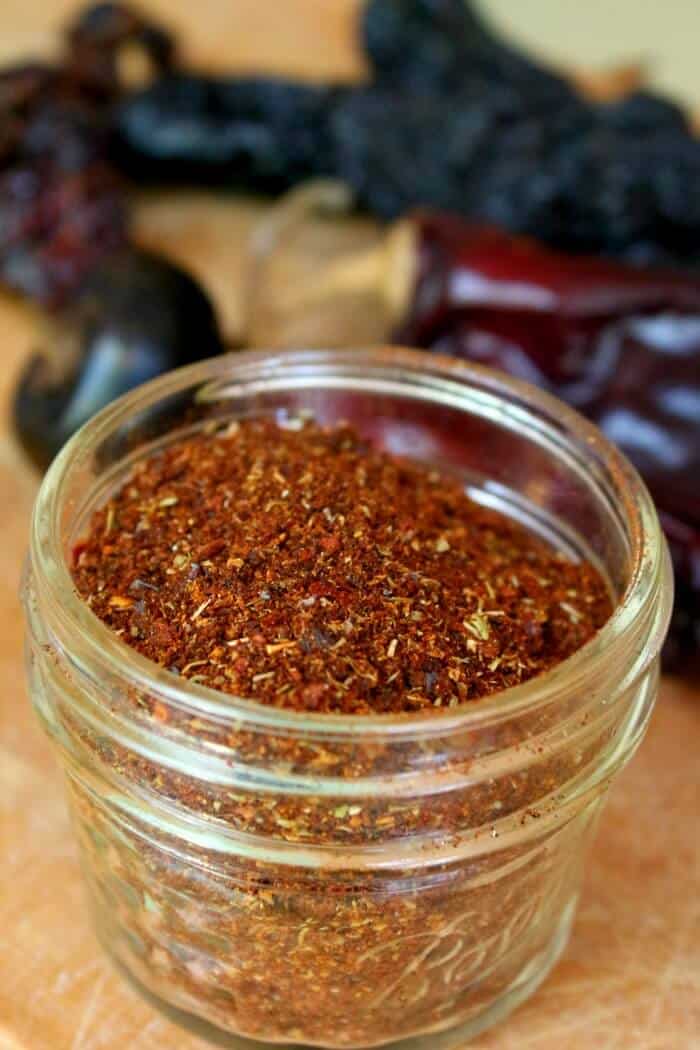 Table of Contents
🗝️ Key takeaways
Rich, smoky, and robust, authentic Texas chili powder tastes worlds better than the bland stuff you get in grocery stores.
Use it in a dry rub, homemade BBQ sauce, a big pot of chili, grilled meat, enchiladas, tacos, soups, and more—all the best things!
We'll review the many different ways to change the flavor profile of homemade chili powder to perfectly suit your taste buds. Be sure to check out the chart listing different types of chiles and how they taste.
As a primary ingredient in tons of meals, if you want to take your food to the next level, you need to use homemade Texas chili seasoning.
It's not tricky to make, and the effort is so worth it! I recommend doubling the batch and giving one away as a gift to your favorite cooking pal.
Look, once you try this homemade chili powder you won't be buying it again. You're welcome.
📖 Variations
Adjust the ratios of each spice in the recipe to switch up the flavor. I'll make it differently each time, depending on what we're in the mood for.
Cascabel adds a smoky, nutty element but doesn't alter heat level.
Habanero adds heat and a fresh, citrus flavor.
Guajillo is uniquely sweet, sort of like berries.
Chipotles are rich, fruity, and smoky. They're my favorite and a secret ingredient for a really deep, almost seductive flavor.
Ancho (from dried poblano peppers) adds a sweet, smoky kick of heat.
Here are some other ways you can make this recipe your own:
Homemade chili powder is a great time to experiment with different types of salt. Smoked salt is my pick—it's awesome!
If you want your chili powder to be spicier, leave some of the seeds in when you grind up the peppers.
Some people like to add ingredients like garlic powder, black pepper, or cocoa powder. I'm more of a chili powder purist and prefer to add other flavors later based on the specific meal.
🥫 How to store chili powder
Dried whole peppers last for a long time in an airtight container—food experts say up to five years. I buy huge amounts of them, so I speak from experience.
However, spices start to lose their potency once they're ground. After about two or three months, they only have a fraction of the flavor left.
So, the best way to preserve your chili powder blend is in a cool, dry place. I like using canning jars because the airtight seal helps it stay fresh.
Enjoy within three-ish months. If you give the chili powder a sniff (carefully) and don't really smell anything, the flavor is likely gone, too.
💭 Things to know
Expert Tip: Toasting the chiles and cumin seeds brings out their full flavor. Don't skip this step, but don't let them burn or they'll taste bitter.
Choose dried chili peppers that are still glossy and pliable. If they are too dry, they won't have any flavor.
I like to use the oven to roast multiple chiles at once. However, if I am doing just one or two, I'll use a heavy, cast-iron round griddle (a comal.)
Be careful when handling peppers—they can burn your fingers or eyes. I usually love to get my kids involved in cooking, but I do this on my own.
Shake the jar of homemade chili powder before using it to make sure the spices are evenly dispersed.
🌶️ Types of Dried Chiles for Chili Powder
This table can help you decide which peppers to add to your chili powder. Experiment with different peppers and different combinations to get exactly what you want.
| Type | Flavor Description | Scoville | Heat |
| --- | --- | --- | --- |
| Anaheim | sharp, tangy | 500-2500 | mild |
| Cascabel | smoky, nutty | 1500-2500 | mild |
| Ancho | sweet, smoky | 1000-2000 | mild |
| Pasilla | dried fruit, spice | 1000-2000 | mild-spicy |
| Mulatto | smoky, chocolaty | 2500-3000 | mild-spicy |
| Guajillo | smoky spicy raisin flavor. green tea and berries. | 2500-5000 | medium-spicy |
| Puya | smoky, fruity | 5000-8000 | spicy |
| Chipotle | smoky like a campfire | 5000 - 10000 | hot spicy |
| Pequin | smoky, fruity | 40,000-60,000 | very hot-spicy |
| Birds' Eye | fruity, black pepper | 50,000-100000 | very very hot-spicy |
| Habenero | citrus, fiery | 100000-350000 | scorching hot-spicy |
| Ghost | you can't taste anything because your tongue is burnt off. | 1 million | hell's pizza oven |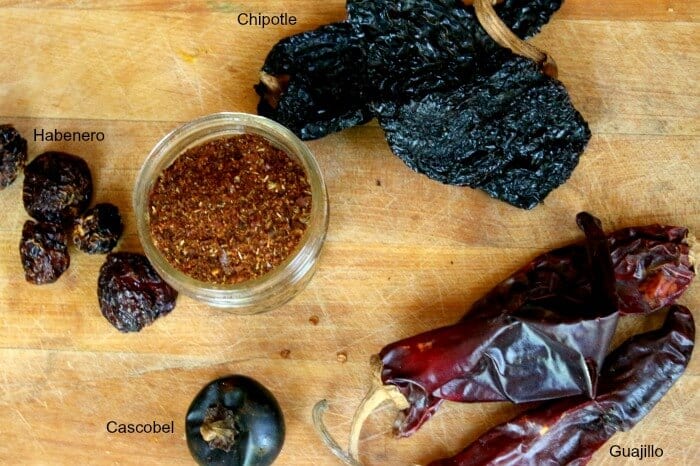 👩‍🍳 FAQs
What is chili powder?
Chili powder is a seasoning mixture that varies based on the brand or recipe. The main ingredients are usually a variety of ground, dried chiles. Often, cooks will add other Latin-American spices like Mexican oregano or cumin.
Is chili powder spicy?
It has a kick—a deliciously smoky, rich, deep kick that you can adjust to your liking. However, when mixed into a big pot of chili con carne or stirred into taco meat, chili powder isn't usually burn-your-mouth hot.
If a recipe calls for chili powder, can I use this one?
Absolutely, and your meal will be all the better for it! Trust me.
Can I use this instead of Indian chili powder?
Indian chili powder is most often pure ground chiles. The chili powder we know best in the US is a blend of chiles, cumin, and herbs. You could probably swap this for that if you want to, but it depends on the recipe.
Is chili powder gluten-free?
It's important to read the labels of commercial chili powders - some are GF and some are not. THIS chili powder recipe is completely gluten-free.
📚 Related recipes
Popeye's Seasoned Salt is an effortless way to make meats and veggies burst with flavor. With just a quick pinch, dinner is instantly tastier.
Creamy and spicy Homemade BBQ Sauce is so much better than from the store—plus, you can adjust it so that it's perfect for your tastes!
Copycat Tony Chachere's Creole Seasoning is easy to make at home and always tastes fresh. Great with chicken, grits, potatoes, and more.
🍽️ Serve with...
There are so many ways to enjoy your delicious, homemade chili powder!
📓 Meal plans in minutes
Save time in the kitchen with this simple meal planning ap. Get a 14-day free trial!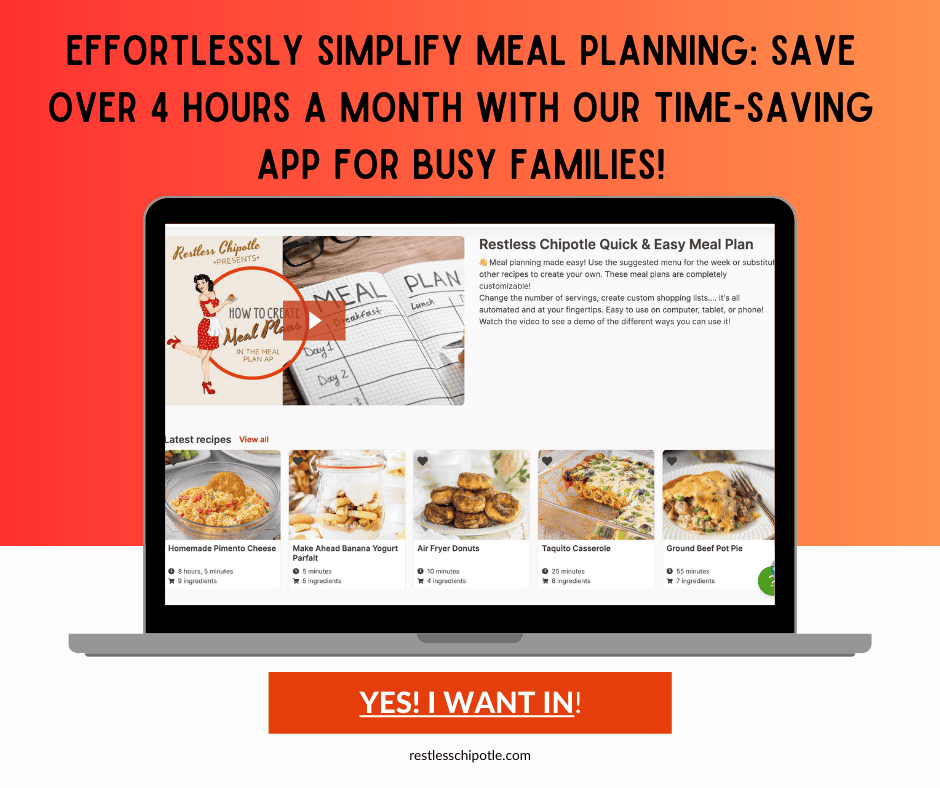 📞 The last word
There's nothing in the world like homemade chili powder! Once you try this you are going to be ruined for anything else.
Real chili powder, like what you are going to make from now on, is smoky, spicy, and layered with flavor from the use of several types of dried chiles.
If you click on the number of servings in the recipe card you can adjust the measurements up or down for the exact number of servings you need.
If you love this recipe please comment below and give it 5 stars!
📖 Recipe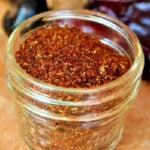 Homemade Chili Powder from Scratch
Print
Pin Recipe
Save
Saved!
Spicy, smoky, homemade chili powder is like nothing you've ever tasted. It's easy to make from scratch using a mixture of dried chile peppers.
Ingredients
2

Cascabel chilies

2

dried habenero

3

guajillo peppers

3

chipotle peppers

1

ancho chiles

2

teaspoons

whole cumin seed

1

teaspoon

dried Mexican oregeno

1

teaspoon

smoked paprika

1

teaspoon

garlic powder

½

teaspoon

roasted cinnamon

Pinch of white stevia powder

,

optional
I earn a commission from Instacart from qualifying purchases.
Instructions
Preheat the oven to 350°F.

Place all of the peppers in a single layer on a heavy baking sheet.

Bake for 5 minutes, or until you can smell the chiles and they are hot when you touch them. Don't over-bake them.

Let the chiles cool and remove the seeds.

Save the seeds for seasoning other things.

Toast the cumin seed in a heavy skillet or on a comal. Let the skillet get hot.

Add the cumin seed and heat for up to 1 minute, stirring constantly.

The cumin should change color but don't let it burn.

Add the cooled chiles and cumin seed to a blender.

Blend on high until the ingredients are powdered.

Add the remaining ingredients and blend.

Store tightly covered in a cool,dark pantry.
Notes
Storage:
Store in a glass jar with a tightly fitted cover in the pantry. Shake before using.
Tips
Choose dried peppers that are glossy and still pliable. If they are too dried out they won't have any flavor.
Always keep them in an airtight container and they'll keep for a long time. I buy crazy huge amounts of them.
Keep your chili powder in a cool dry place. I like to keep it in canning jars because I think that the glass keeps it fresh.
If you are looking for a really neat homemade gift try a jar of this with a little raffia bow on it. Get ready, because once you start using this people are going to be asking how you make your chili.
You are instructed to toast the chiles and cumin seed. If I am doing several chiles, like in this recipe, I'll use the oven and watch them carefully. If I am doing just one or two I will use a heavy, cast-iron round griddle, also called a comal.
You'll need the comal to toast the cumin seeds, too. The toasting is an important part of getting the full flavor of the ingredients.
Always shake the jar of homemade chili powder before using.
You'll find more helpful tips and variations in the body of the post.
Nutrition Facts
Calories:
30
kcal
|
Carbohydrates:
6
g
|
Protein:
1
g
|
Fat:
1
g
|
Saturated Fat:
1
g
|
Sodium:
8
mg
|
Potassium:
145
mg
|
Fiber:
3
g
|
Sugar:
4
g
|
Vitamin A:
1993
IU
|
Vitamin C:
2
mg
|
Calcium:
7
mg
|
Iron:
1
mg
Nutrition information is estimated as a courtesy. If using for medical purposes, please verify information using your own nutritional calculator. Percent Daily Values are based on a 2000 calorie diet.
Sign up for the emails and never miss another recipe!!
We'll never share your email or send you spam. Pinkie swear.
First published July 17, 2014. Last updated for editorial improvements September 11, 2023.