If you have never had real, homemade chili powder from scratch you haven't had chili powder. I am not talking about buying tired herb powders at the grocery store, either. I am talking about toasting a mixture of dried chiles and whole spices, then grinding them into a vibrant mixture that is so good you almost want to eat it with a spoon. I literally have mixed this with butter and spread on bread.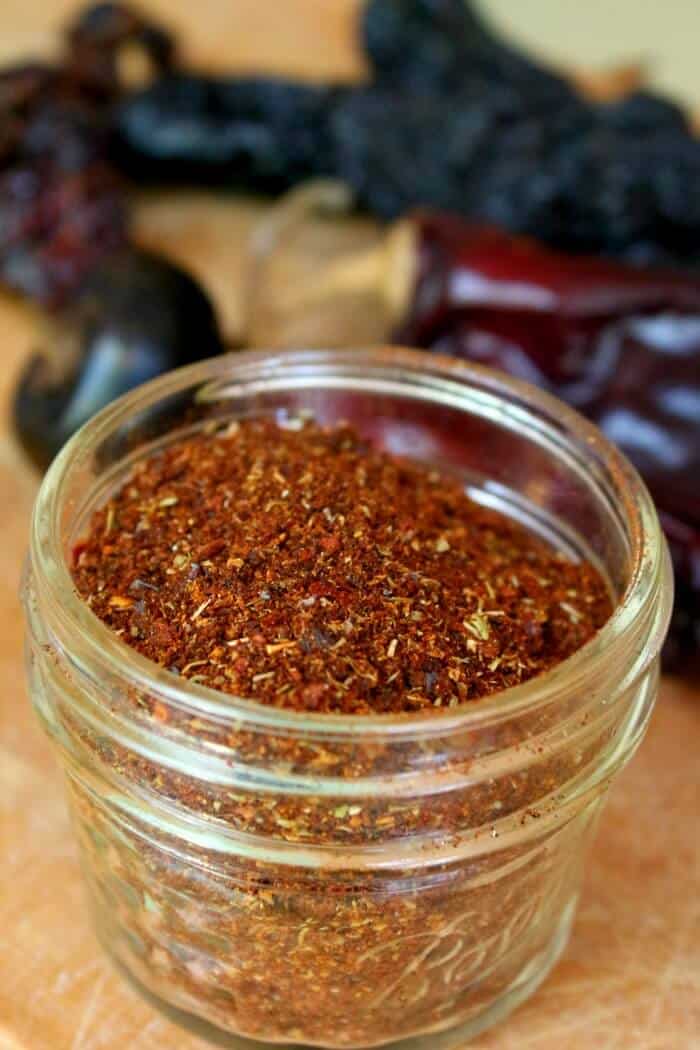 I am not kidding — this stuff is good. Do not dump cayenne and cumin into a jar and call it homemade chili powder, y'all. It's just….
Well, bless your heart, don't do it. Real chili powder, like what you are going to make from now on, is smoky, spicy, and layered with flavor from the use of several types of dried chiles.
Here is what I use and why. Once you get some experience you can experiment with other combinations.
Cascabel – Doesn't add much heat but the cascabel pepper has a smoky, nutty flavor that adds depth to the chili powder.
Habenero – Hot Damn! The habenero peppers are in here for the heat but they also add a fresh, citrus flavor.
Guajillo – Alton Brown described it best when he called it a spicy raisin. Guajillo chiles are not very hot but they have a green tea and berry flavor that adds a uniquely sweet flavor to the chili powder.
Chipotle – Chipotles are rich, fruity, and smoky. They are (obviously) my favorite because they add a seductive, sexy flavor to all kinds of foods and the heat doesn't smack you in the face. It twines around you seductively, warming and gentle until it gets comfortable and then it opens up with a fiery kiss you'll remember forever
Ancho – Sweet, smoky goodness with a kick of heat, ancho peppers are the dried form of Poblanos. These may or may not be in my chili powder, depending on my mood.
I don't always use the same peppers in the same ratios when I make my homemade chili powder seasoning – it kind of depends on the flavor I want. This is my foundation chili recipe and it's what I use most often. If you want your chili powder to be a little hotter leave some of the seeds in when you grind it, otherwise save the seeds to be used in anything you'd use crushed red pepper in.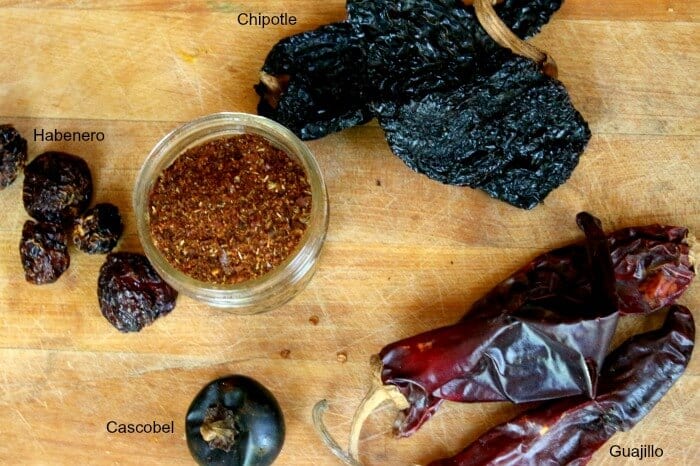 Choose dried peppers that are glossy and still pliable. If they are too dried out they won't have any flavor.
Always keep them in an airtight container and they'll keep for a long time. I buy crazy huge amounts of them.
Keep it in a cool dry place. I like to keep it in canning jars because I think that the glass keeps it fresh.
If you are looking for a really neat homemade gift try a jar of this with a little raffia bow on it. Get ready, because once you start using this people are going to be asking how you make your chili.
You are instructed to toast the chiles and cumin seed. If I am doing several chiles, like in this recipe, I'll use the oven and watch them carefully. If I am doing just one or two I will use a heavy, cast-iron round griddle, also called a comal.
You'll need it to toast the cumin seeds, too. The toasting is an important part of getting the full flavor of the ingredients. Look, once you try this homemade chili powder you won't be buying it again. You're welcome.
YOU MAY NEED…
The following are affiliate links. We are a participant in the Amazon Services LLC Associates Program, an affiliate advertising program designed to provide a means for us to earn fees by linking to Amazon.com and affiliated sites.
What's new? A brand new store full of things to help you make the recipes, celebrate the days, and create the memories! Check out Restless Chipotle & Co. As always, thanks so much for being a part of Restless Chipotle!
If you have trouble finding the chiles you can get them on Amazon. If you can't find one kind just substitute with another type of dried chile. 🙂 Here are the guijillo chiles and you'll find many more types as well.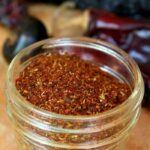 Homemade Chili Powder from Scratch
Print
Add to Collection
Go to Collections
Spicy, smoky, homemade chili powder is like nothing you've ever tasted. Homemade chili powder is inexpensive and delcious!
As an Amazon Associate I earn from qualifying purchases.
Ingredients
2

cascabel peppers

2

habenero peppers

3

guajillo peppers

3

chipotle peppers

1

ancho pepper

2

teaspoons

whole cumin seed

1

teaspoon

dried Mexican oregeno

1

teaspoon

smoked paprika

1

teaspoon

garlic powder

1/2

teaspoon

roasted cinnamon

Pinch of white stevia powder

,

optional
Instructions
Preheat the oven to 350°F.

Place all of the peppers in a single layer on a heavy baking sheet.

Bake for 5 minutes, or until you can smell the chiles and they are hot when you touch them. Don't over-bake them.

Let the chiles cool and remove the seeds.

Save the seeds for seasoning other things.

Toast the cumin seed in a heavy skillet or on a comal. Let the skillet get hot.

Add the cumin seed and heat for up to a minute, stirring constantly.

The cumin should change color but don't let it burn.

Add the cooled chiles and cumin seed to a blender.

Blend on high until the ingredients are powdered.

Add the remaining ingredients and blend.

Store tightly covered in a cool,dark pantry.
Tried this recipe?
Tag me!! @Marye_RestlessChipotle
If you liked Homemade Chili Powder from Scratch you may also like…
Cuban Picadillo Restless Chipotle
Cocoa Cardamom Steak Rub Restless Chipotle
Included in Meal Plan Monday #77 from SOuthern Bite

Let's Keep in Touch!