This hearty, midwestern style chili soup recipe is budget friendly but sure doesn't taste like it! It has so much flavor you'll be proud to take it to the church potluck. It's very different from the Texas style chili you might be used to but once you try it you'll be hooked. You may know it as cowboy soup.
Last Updated: 25 Sept 2019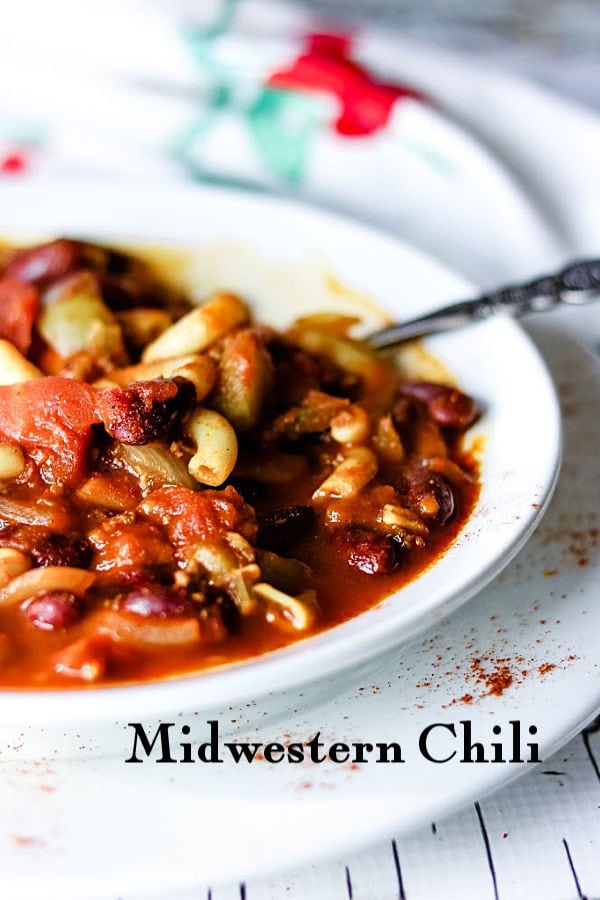 Chili Soup Ingredients
Y'all, I'm sharing a recipe that's near and dear to my heart. I think you'll love it, too. Here's what you'll need –
Ground beef used is 90/10. I like to use a low fat ground beef because the soup doesn't develop a greasy layer. Use what you like.
Kidney beans should be precooked. I use dark red, canned kidney beans. Be sure to rinse and drain them before using.
Green Bell pepper adds fresh vegetable flavor. You could use red or yellow peppers if you like.
Onion used in this recipe is a white onion because it has a stronger flavor. You can use yellow if you prefer.
Celery is optional but I think it adds to the bright, fresh flavor of this soup.
Canned stewed tomatoes are different than just canned tomatoes. They are a little sweeter and fresher tasting. You can substitute regular tomatoes in a pinch but it's much better with the stewed tomatoes.
Vegetable juice cocktail (V-8 or similar) is what I use as the liquid because it adds flavor and nutritional value.
Chili powder is used sparingly. This is not a spicy, Texas style chili. Try my homemade chili powder.
Cumin is just regular ground cumin.
Macaroni that my mom always used was the elbow macaroni but I use small shells sometimes, too.
Comfort Food for Fall
This midwestern style chili soup is more tomato-y and has a thinner sauce, more like a broth. The chili is less pronounced and the flavors are fresher; bell peppers, onions, tomatoes… Each spoonful is full of vegetables, macaroni, beef, and kidney beans for a hearty meal that is somewhere between a soup and a stew.
My mom had a tradition of making this on the first cold day of fall. Even when I was married and in my own home she'd call me up to tell me that she had a big pot of chili on the stove and I should bring the kids over.
That's one of the hardest things about losing someone who cooked for you. You all of a sudden realize that no matter what you do you'll never taste that dish again. Oh, you may replicate it but it's never going to taste exactly the way your mom, grandma, or aunt made it. I don't know if you've experienced that but there are times when it leaves me with a deep longing that I just have to work through.
We always called it chili but recently my cousin remembered it being called cowboy soup. Either way it's delicious!
Chili Soup (Cowboy Soup) Recipe Tips
You really don't need much else on the table when you serve this; maybe a loaf of sour dough to soak up the broth. Another really quick and easy meal is this slow cooker meatballs recipe – no need to precook the meatballs!
This chili will be better the second day – you can leave it in the fridge for up to 4 days.
It freezes well so you might as well make the biggest batch of it that you can.
You can also adjust the amounts of the ingredients to make it stretch further, or use less meat and more beans, or whatever you like.
Make it on top of the stove or in the slow cooker – if you're making it in the slow cooker you really only need to cook it on low for 2 hours or so – then leave it on warm.
Chili powder varies from manufacturer to manufacturer and even from batch to batch. Always taste as you go.
Always rinse and drain the beans before using.
Chili Soup FAQs
Here are the most commonly asked questions about this recipe. If you don't find the answer to yours here leave a comment below or email me – I'll get back to you as soon as I can!
Is chili a Soup?
Since it doesn't have broth or stock it's not normally considered a soup. This chili soup recipe does have a tomato based broth so it kind of straddles the fence between a chili and a soup.
What is the best secret ingredient for chili?
The best secret ingredient for chili is a good, homemade chili powder!
How long should chili cook?
Chili soup should cook at least 45 minutes at a simmer so the flavors can blend. Long slow cooking isn't necessary here because it's not a true chili. A true chili needs about 6 hours on a low simmer.
Do you drain the beans for chili
Canned beans should be drained and rinsed.
How to Make Chili Soup Step By Step
This is a simple soup to make because you are basically just adding cooked ingredients and simmering.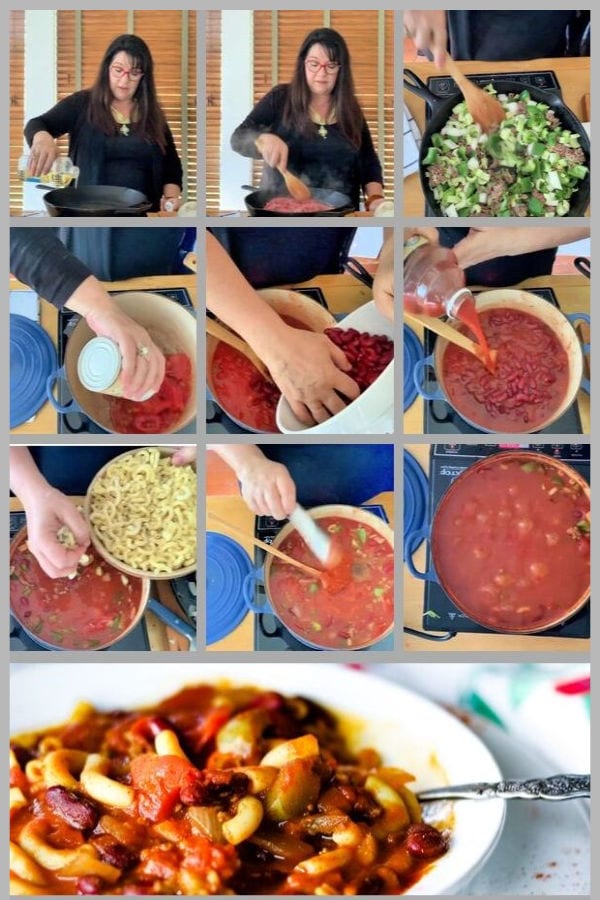 More Comfort Food Recipes
Comfort food is the best because it usually serves up some memories right along with every bite. Here are some more of my favorites – I hope they'll be your favorites, too!
You May Need
The following are affiliate links. We are a participant in the Amazon Services LLC Associates Program, an affiliate advertising program designed to provide a means for us to earn fees by linking to Amazon.com and affiliated sites.
What's new? Check out my Restless Chipotle & Co. Store on Amazon where you'll find all kinds of nostalgic goodness! Thanks so much for being a part of Restless Chipotle!
The main thing you need to create this chili soup recipe successfully is a good, heavy stock pot! I like my Le Creuset – although I'd prefer this gorgeous red one!
Chili Soup Recipe
This? It's my go to comfort food. So, you can argue that this isn't real chili if you want but while you do…
I will be finishing off your bowl.
If you click on the number of servings in the recipe card you can adjust the measurements up or down for the exact number of servings you need.
If you love this recipe please give it 5 stars! ⭐️⭐️⭐️⭐️⭐️