Homemade saltine crackers are quick and easy, taste better than ANY store bought soda crackers ever, and best of all they are very inexpensive to make.Ok, I'll admit that I also like the fact that I can make them in any shape I want to. There's nothing like really pretty crackers to go with a huge, steaming bowl of homemade soup!
To make this homemade saltine crackers recipe you will need: flour, baking powder, butter, milk, coarse salt crystals, egg, heavy cookie sheet, cutters in any shape desired or a pizza wheel for easy cutting.
If you are in a hurry click here to go straight to the recipe.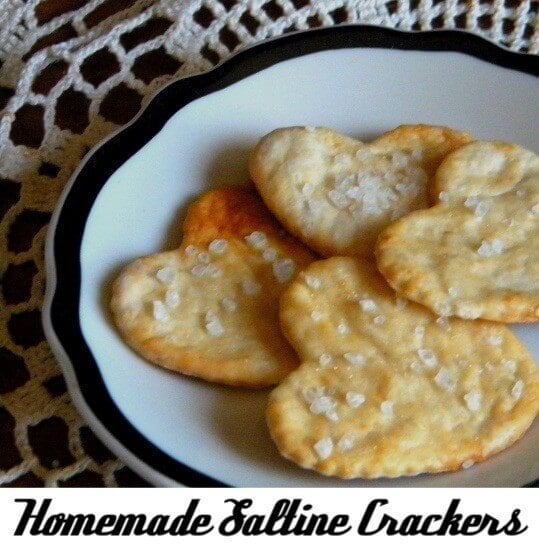 Do you call them soda crackers or saltine crackers? My mom called them soda crackers so I always thought it was a Midwest thing (she was born in Michigan) but I've read recently that they are saltines in the United States and soda crackers in Great Britain. Personally I don't care what they are called, hand me a stick of butter and a plateful of crackers and I'll be happy. Serious comfort food for me!
Crackers have had a place in history since well before the Israelites headed out of Egypt with all of their earthly goods and a couple of matzahs. There were variations on that theme fore centuries but it was in 1801 that crackers were named.  Josiah Bent of Massachusetts was baking biscuits one day when he got distracted. By the time he returned to his oven the biscuits were crispy. Not wanting to admit that he screwed up Josiah called them crackers because of the crackling sound they made. And that, my friends, is how crackers came to be — the result of one man's pride.
Of course those crackers of long ago were nothing like their bland namesakes that line the store shelves today. Once you get this recipe down you will never, I repeat never, want to go back. You can vary the flour, herbs, and other ingredients to get unique cracker flavors.
Yum.
You can cut these homemade saltine crackers into animal, fish or any shapes you like with small cookie cutters. And you might try adding finely grated cheese with your dry ingredients for homemade Goldfish… 😉
These crackers are fabulous, and they will last a long time, but they do require airtight storage or they will lose their crispness. Zipper bags are o.k. but for the best storage get a good quality, air tight food grade storage container.
The following are affiliate links. If you click through and buy something I get a small commission which is used for keeping the blog up and running.Thanks so much for being a part of Restless Chipotle!
I collect vintage cookie cutters. Every time I am at an antique or thrift store and I see one I pick it up.I used a scalloped heart cutter for these. I looked and the closest I could find were these from Wilton.

Wilton 2308-4441 Nesting Heart Cookie Cutters, Set of 4
This pretzel salt works as well on homemade Saltine Crackers as it does on pretzels!

Salt, Pretzel Cut-1Lb-Larger and Lighter Crystals than other Salts
Here's that saltine cracker recipe!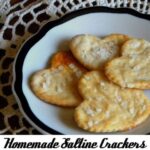 Saltines
Crispy and buttery - these homemade saltines are so good you will never buy them again.
Ingredients
4

cups

flour

(all purpose, bread, whole wheat or a mixture- be creative)

1

Tablespoon

Baking Powder

1/4

cup

unsalted butter

1 1/3

cup

whole milk

Salt crystals for sprinkling

1

egg yolk + 1 tablespoon water OR 1 egg white + 1 tablespoon water

, beaten together for egg wash.
Instructions
Mix together the flour, baking powder, and butter .

If you are adding seasonings mix those in with the dry ingredients.

Cut butter into flour mixture until it forms coarse crumbs.

Add the milk and knead to form a ball.

Divide in 4 parts and roll out paper thin on a floured surface. The thinner they are the crisper they will be.

Cut the dough into squares (a pizza wheel works great for that!)

Place on an ungreased cookie sheet and prick all over with a fork.

Brush with the egg wash and sprinkle with salt (or cracked pepper ..or..)

Bake at 325 until golden brown..about 15- 20 minutes. (check after 10 minutes)
Recipe Notes
The yield of this recipe is largely dependent on how you cut the crackers. The nutrition information is based on cutting them into 36 large crackers.
If you liked this homemade saltine crackers recipe you might also like…
Sour Cream and Onion Crackers PreMeditated Leftovers
Homemade Rustic Crackers Catch My Party