Homemade saltine cracker recipe, also called soda crackers, is quick and easy, tastes better than ANY store bought crackers ever, and best of all, are very inexpensive to make. Ok, I'll admit that I also like the fact that I can make them in any shape I want to. There's nothing like really pretty crackers to go with a huge, steaming bowl of homemade soup!
To make this homemade saltine cracker recipe you will need: flour, baking powder, butter, milk, coarse salt crystals, egg, heavy cookie sheet, cutters in any shape desired or a pizza wheel for easy cutting.
A Cracker Recipe by Any Other Name…
Do you call them soda crackers or saltine crackers? My mom called them soda crackers so I always thought it was a Midwest thing (she was born in Michigan) but I've read recently that they are saltines in the United States and soda crackers in Great Britain. Personally I don't care what they are called, hand me a stick of butter and a plateful of crackers and I'll be happy. Serious comfort food for me!
History of Crackers
Crackers have had a place in history since well before the Israelites headed out of Egypt with all of their earthly goods and a couple of matzahs.
There were variations on that theme fore centuries but it was in 1801 that crackers were named. Josiah Bent of Massachusetts was baking biscuits one day when he got distracted. By the time he returned to his oven the biscuits were crispy.
Not wanting to admit that he screwed up Josiah called them crackers because of the crackling sound they made. And that, my friends, is how crackers came to be — the result of one man's pride.
Of course those crackers of long ago were nothing like their bland namesakes that line the store shelves today. Once you get this recipe down you will never, I repeat never, want to go back. You can vary the flour, herbs, and other ingredients to get unique cracker flavors.
Yum.
Saltine Cracker Recipe FAQs
You can cut these homemade saltine crackers into animal, fish or any shapes you like with small cookie cutters. And you might try adding finely grated cheese with your dry ingredients for homemade Goldfish… 😉
These crackers are fabulous, and they will last a long time, but they do require airtight storage or they will lose their crispness. Zipper bags are o.k. but for the best storage get a good quality, air tight food grade storage container.
Wondering about saltine crackers? Wonder no more – here are answers to the most frequently asked questions –
Are Saltine Crackers Bad for You?
No, actually they are good for settling your stomach if you are nauseated. Of course, if your doctor has asked you to lower your salt intake you may want to stay away from them. Here's what Medline has to say about it…
Why Are There Holes in Saltines?
You poke holes in them before baking to keep the crackers from bubbling up – it keeps them crisp.
How do you store saltine crackers?
Store crackers in an airtight bag, or glass or plastic container in a dark, cool pantry. Homemade saltines may get soft and need to be crisped up a few minutes in the oven.
How do you crisp up crackers?
Preheat the oven to 400F and spread the crackers in a single layer on a heavy cookie sheet. Bake for 3 to 5 minutes, watching carefully.
What is the difference between saltine crackers and soda crackers?
Absolutely nothing. They are different names for the same thing. A saltine, or soda, cracker is made from flour, baking soda, and salt along with a few other ingredients that may vary from recipe to recipe.
Tips for Making Homemade Saltine Crackers
Looking for some insider tips for making those old fashioned soda crackers you've been craving? Here they are –
Experience Level: Intermediate -Some baking experience required
Use all-purpose flour. Bread flour has too much protein and the texture won't be right.
Throw away the scraps of dough after cutting – they will be tough if you re-roll them.
Cut saltine crackers into uniform shapes so that they cook evenly. A cookie cutter is great for this.
You don't have to prick the crackers as much as the store bought ones but a few well placed jabs with a fork or toothpick will help them bake crisp.
Leave a little room between each cracker when you bake to keep them crispy all over.
Bake the crackers on an ungreased cookie sheet. There's enough butter in the crackers to keep them from sticking once they've baked completely… or…
Roll out and bake the crackers on parchment paper.
Store in an airtight container. Homemade crackers can get soft easier than commercial crackers, so…
Crisp them up in the oven for a few minutes if necessary.
A quick brush of egg white wash (egg white + 1/2 teaspoon of water beaten) will help salt and other toppings stick.
Once the crackers begin to brown watch them carefully!
They are done when they are a golden brown on the edges and will crisp as they cool.
You May Need
The following are affiliate links. We are a participant in the Amazon Services LLC Associates Program, an affiliate advertising program designed to provide a means for us to earn fees by linking to Amazon.com and affiliated sites.
What's new? Check out my Restless Chipotle & Co. Store on Amazon! Thanks so much for being a part of Restless Chipotle!
I collect vintage cookie cutters. Every time I am at an antique or thrift store and I see one I pick it up.I used a scalloped heart cutter for these. I looked and the closest I could find were these from Wilton.

Wilton 2308-4441 Nesting Heart Cookie Cutters, Set of 4
This pretzel salt works as well on homemade Saltine Crackers as it does on pretzels!

Salt, Pretzel Cut-1Lb-Larger and Lighter Crystals than other Salts
Cracker Recipe? You Need Soup Recipes, Too!
I don't have tons of homemade cracker recipes posted but I do have a few –
Animal Crackers
Graham Crackers
Homemade Saltine Cracker Recipe (Soda Crackers)
I just love these homemade crackers, fresh out of the oven, with a bowl of soup. They are buttery and crispy – so good!
If you love this recipe please give it 5 stars!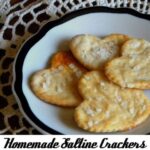 Saltines
Print
Add to Collection
Go to Collections
Crispy and buttery – these homemade saltines are so good you will never buy them again.
As an Amazon Associate I earn from qualifying purchases.
Ingredients
4

cups

flour

,

(all purpose, bread, whole wheat or a mixture- be creative)

1

Tablespoon

Baking Powder

1/4

cup

unsalted butter

1 1/3

cup

whole milk

Salt crystals for sprinkling

1

egg yolk + 1 tablespoon water OR 1 egg white + 1 tablespoon water

,

, beaten together for egg wash.
Instructions
Mix together the flour, baking powder, and butter .

If you are adding seasonings mix those in with the dry ingredients.

Cut butter into flour mixture until it forms coarse crumbs.

Add the milk and knead to form a ball.

Divide in 4 parts and roll out paper thin on a floured surface. The thinner they are the crisper they will be.

Cut the dough into squares (a pizza wheel works great for that!)

Place on an ungreased cookie sheet and prick all over with a fork.

Brush with the egg wash and sprinkle with salt (or cracked pepper ..or..)

Bake at 325 until golden brown..about 15- 20 minutes. (check after 10 minutes)
Notes
The yield of this recipe is largely dependent on how you cut the crackers. The nutrition information is based on cutting them into 36 large crackers.
Nutrition
Calories:
67
kcal
|
Carbohydrates:
11
g
|
Protein:
1
g
|
Fat:
1
g
|
Saturated Fat:
1
g
|
Cholesterol:
4
mg
|
Sodium:
4
mg
|
Potassium:
60
mg
|
Fiber:
0
g
|
Sugar:
0
g
|
Vitamin A:
55
IU
|
Calcium:
27
mg
|
Iron:
0.7
mg
Sign up for the emails and never miss another recipe!!
We'll never share your email or send you spam. Pinkie swear.
Share Your Images