This spiced apple rings recipe just couldn't get any easier! Tangy apples are peeled, cored, and sliced into rings then simmered in a bright red simple syrup made with cinnamon candies. This old fashioned holiday recipe takes just minutes to make – sliced pears can be substituted for the apples. Updated from the original October 2017 version. Last updated November 2018.
For this recipe you'll need: Cinnamon candies, tart apples that hold their shape, whole cloves, guijillo pepper -optional, lemon juice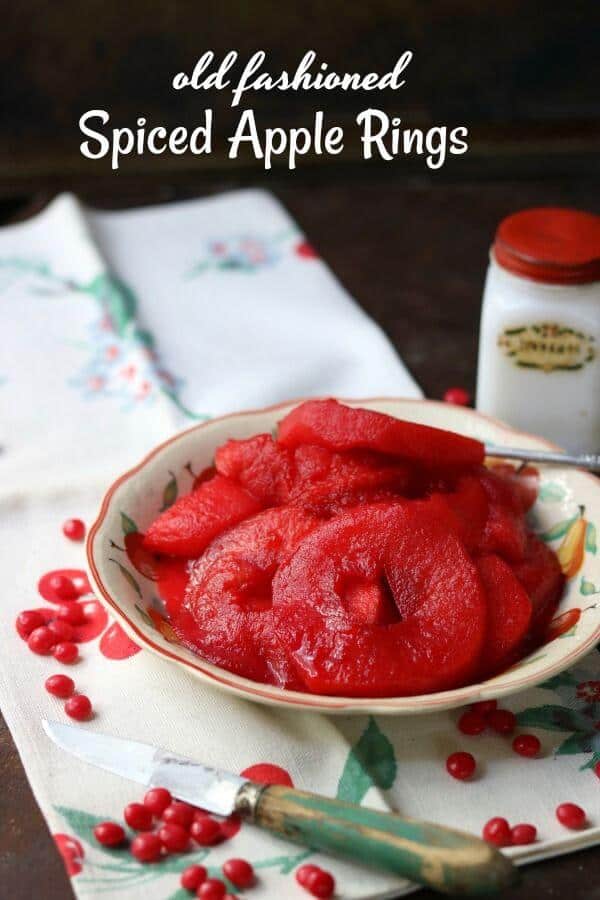 Spiced Apples Backstory
There are admittedly a lot of ways to make a cinnamon spiced apple rings recipe but I think mine is the easiest. It just takes a few minutes and once you've made them you can keep the bright crimson spiced apples in a jar in the refrigerator for up to a week, or in a freezer container for several months. I wouldn't try to can this particular recipe, though. There isn't enough acid to do it safely.
So every fall when I was growing up my mom would make these old fashioned spiced apple rings. Sometimes she made them with pears depending on what we had more of.
The fruit turned a beautiful crimson color as it simmered and soaked up the spicy-sweet cinnamon candy syrup. The pears were most often cut in half, cored, and simmered that way. Mom would put a little scoop of cottage cheese or cream cheese in the center of each pear and it was SO pretty on our holiday table!
The candied apple rings were usually just fished out of the syrup and placed in a relish dish to be passed as an accompaniment to turkey or pork. I'd often sneak into the refrigerator and grab a slice out of the jar – not realizing that the rosy syrup left a telltale stain on my finger tips.
Cinnamon Apples FAQs
Recipe rated: Easy
How do you make cinnamon apple rings?
Peel and core apples; slice into rings
Drop in lemon juice to keep from darkening
Melt the candies in the amount of water called for in the recipe
Add the apples
Add the spices
Simmer 15 minutes
Put in storage container and refrigerate overnight
How do you keep cut apples from turning brown?
Lemon juice will help cut apples to maintain their original color. In this candied apple rings recipe the lemon juice is mixed with water and you just dip the rings in the lemon water for a few minutes.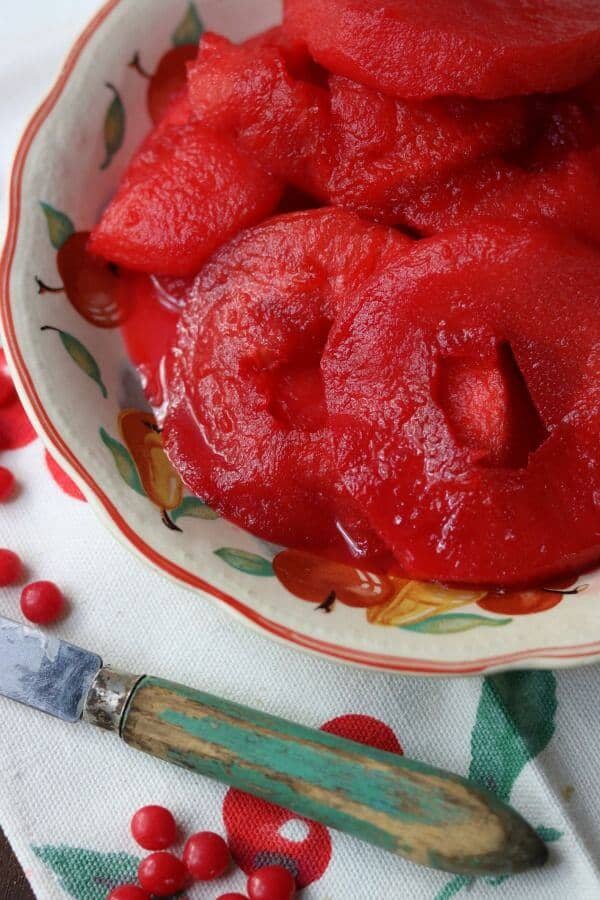 Tips for Making Spiced Apple Rings
These are one of the easiest recipes I know of to make AND get the most "ooohs" and "aaaahs" from. Here are a few things to keep in mind –
Use firm fleshed, tart apples like MacIntosh, Honey Crisp, or Granny Smith
Watch the candies carefully as you melt them down. You don't want them to stick and burn.
The longer the apples (or pears) sit in the red syrup the more flavorful they will be.
Keep them in glass storage containers – they will dye plastic and I think it gives it a weird taste.
Use toothpicks to stick the spiced apple rings to a ham when you are cooking it and use the syrup in the glaze.
If you happen to overcook the fruit don't worry about it – process it in the food processor for apple (or pear) sauce.
Save the red cinnamon syrup in the refrigerator. You can reuse it to make more spiced apple rings OR you can use it in cocktails and sweet sauces. Better yet – try this candy apple pie!
These are so good with a scoop of cinnamon gelato.
YOU MAY NEED…
The following are affiliate links. We are a participant in the Amazon Services LLC Associates Program, an affiliate advertising program designed to provide a means for us to earn fees by linking to Amazon.com and affiliated sites. Thanks so much for being a part of Restless Chipotle!
I love glass for food storage! It doesn't stain, it doesn't hold odors, and it keeps the food tasting good without allowing the garlic butter to mix with the sugar syrup – if you know what I mean.
More Apple Recipes
Make this easy spiced apple rings recipe tonight!
Click To Tweet
There are plenty of apple recipes here on Restless Chipotle – here are a few of my favorites!
If you're watching your sugar intake you might like this healthier cinnamon apple recipe from Minimalist Baker.
Spiced Apple Rings Recipe
Once you see how quick and easy these are you'll want to keep some on hand all the time! Try leftovers in this recipe for Ham Sliders. Incredible!
Love this recipe? Give it 5 stars!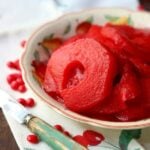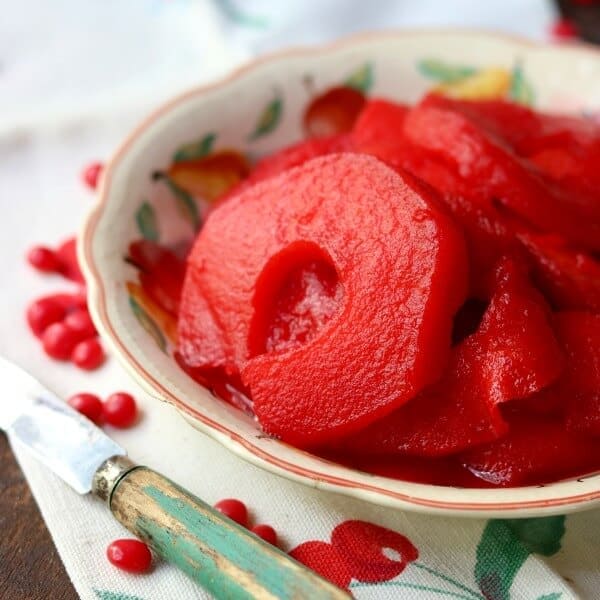 Spiced Apple Rings
Print
Add to Collection
Go to Collections
Full of sweet, spicy cinnamon flavor these old fashioned apple rings are the perfect accompaniment to pork and turkey. Let them sit in the syrup at least overnight for the best flavor.
As an Amazon Associate I earn from qualifying purchases.
Ingredients
1/4

cup

lemon juice

,

keeps apples from darkening

2

pounds

apples

,

, MacIntosh - Granny Smith - Honey Crisp - any firm fleshed apple that holds its shape when cooked

3

cups

water

,

, divided use -more if needed

2

cups

cinnamon candy

,

, Red Hots or Cinnamon Imperials - any hard cinnamon candy

1

tablespoon

whole cloves

2

cinnamon sticks

1

guijillo chile

,

, optional
Instructions
Add the lemon juice to 2 cups of water.

Peel and core apples - slice into 1/2 inch thick rings.

Drop the apple rings in the lemon juice as you finish each one.

Heat 1/2 cup of the water and the cinnamon candies in a saucepan.

Stir often until the candy is completely melted, adding water as needed to keep the syrup from getting thick.

Add the guijillo chile (optional), whole cloves, and cinnamon sticks.

Drain the apple rings and pat dry.

Gently stir in the apple rings.

Cover and simmer, stirring occasionally, for 15 minutes or until apples are tender.

Add the rings to a storage container and cover with the cooking syrup.

Cover tightly and refrigerate overnight. Remove the cloves and cinnamon sticks before using.

Store unused apple rings in the refrigerator.
Notes
  You can use pears instead of apples - if you use very tangy apples add 1/4 cup of sugar to the water with the red hots.  
Nutrition
Calories:
217
kcal
|
Carbohydrates:
58
g
|
Protein:
0
g
|
Fat:
0
g
|
Saturated Fat:
0
g
|
Cholesterol:
0
mg
|
Sodium:
5
mg
|
Potassium:
121
mg
|
Fiber:
2
g
|
Sugar:
48
g
|
Vitamin A:
1.2
%
|
Vitamin C:
6.3
%
|
Calcium:
1
%
|
Iron:
0.8
%
Tried this recipe?
Tag me!! @Marye_RestlessChipotle
Included in Meal Plan Monday#83 Link up… Check out all the cool recipes!
Let's Keep in Touch!