Red Hots candy apple pie tastes just like an old-fashioned candy apple! Spicy, sweet, cinnamon syrup bathes tangy Granny Smith apples to create an unforgettable dessert everyone loves. Buttery lattice crust lets the vibrant color shine through.
First Published: August 19, 2015... Last Updated: June 12, 2019
Ingredients for this recipe: pie dough (double it), apples, cinnamon candies (like Red Hots), apple juice, Fire Ball Whiskey (optional), cinnamon, flour, sugar, lemon juice, butter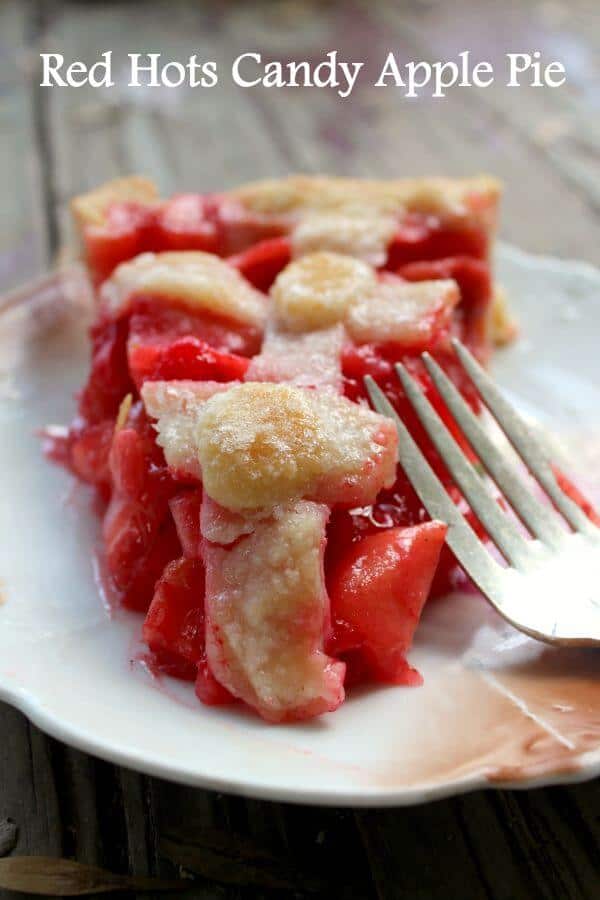 Pie That Tastes Like a Candy Apple!
I used to love getting candy apples on Halloween. Back when I was a kid there wasn't so much worry about someone tampering with the treats and we used to head out with pillowcases to get as many sweets as possible.
One neighbor always invited us in for cider and fresh-out-of-the-fryer donuts. I loved stopping there, smelling the good smells in her house, and feeling very grown up sipping the cider and eating the donuts. You'd think she'd be my favorite stop -- but you'd be wrong.
Oh so wrong.
My favorite stop was another house. We'd ring the door bell and she would come swishing out in a dress, high heels, and an apron. In her hands was a big silver tray covered with bright, shiny red candy apples.
The glaze on the apples was reflected in the silver and the silver tray reflected back on the coating on the apples. We'd thank her hurriedly and move away from her door just enough to let the other kids get their treats.
In that moment, with the stars twinkling in the crisp autumn sky, we'd bite through the red candy layer with a delicate crunch and right into a mouth puckering Macintosh. Each bite was a combination of sweet, spicy, tangy, sour, crispy, crunchy goodness.
And then they were gone for another year.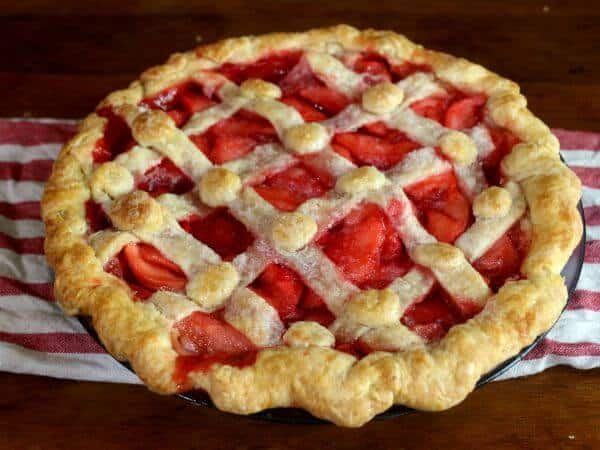 Candy Apple Pie Brings Back Memories
I've tried and tried to replicate her recipe as I remember it but I can't. I think it was a magical combination of ingredients plus velvety darkness with bright stars plus childhood that made them so good.
I've found that things taste significantly better in memory then perhaps they did in actuality.
This Red Hot candy apple pie has those flavors but it goes one more step and surrounds that spicy tangy sweetness with a flaky, buttery crust.
I use a combination of apples because I think it gives the pie a better flavor. MacIntosh, Granny Smith, Honeycrisp, Jazz.... whatever I can find. The main thing is to always use at least a couple of Granny Smiths.
This is the best apple pie ever and the secret is a little bit of Fireball Whiskey that I snuck in to amp up the cinnamony flavor. Shhh.
I have been informed that this pie is to be part of our Thanksgiving dessert table this year. AND every year.
It is truly addictively good and the color is just beautiful.
Apple Pie FAQs
Apple pie is one of the most basic types of pastry and most people have tons of different ideas about what makes a good one. Here are some of the most commonly asked questions -
Can you freeze apple pie filling?
You sure can. Apple pie filling can be made, cooled to room temperature, and frozen for up to 9 months. You an also freeze the unbaked or baked pie. I like to freeze the filling because it takes up less room.
Can you make this pie the day before?
You can make an apple pie the day before serving as long as you bake it, refrigerate it, and then warm it up in the oven before serving. Don't make a pastry ahead of time without baking it - it will get soggy.
Can apple pie sit out overnight?
You can keep baked apple pie, covered, at room temperature for about 2 days.
More Great Pie Recipes
Who doesn't get all warm and comfy when they think about a slice of pie? Here are some of my favorites!
You'll find more pies and pastries in the Pie Category of the blog. Take a look and, if you can't find what you're looking for, shoot me an email! Also - if you are interested here's information about homemade canned pie filling.
Red Hots Candy Apple Pie Recipe
A warm slice of this pie with a scoop of my cinnamon gelato oozing down the sides? Heaven, I tell ya... heaven.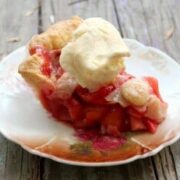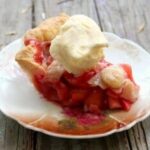 Candy Apple Pie
Print
Add to Collection
Go to Collections
Tangy apples are bathed in a brightly colored sauce made of cinnamon candies and then nestled in a buttery crust, and baked until the components come together to create this beautiful pie.
As an Amazon Associate I earn from qualifying purchases.
Ingredients
Dough for 1 double crust pie

8

apples

,

(a mixture of different types gives the best flavor - use at least part Granny Smith)

⅓

cup

Red Hots Candy,

or Cinnamon Imperials

½

cup

apple juice

1

tablespoon

FireBall Whiskey

,

optional

¾

cups

sugar

1

teaspoon

cinnamon

1

tablespoon

all-purpose flour

1

teaspoon

lemon juice

1

tablespoon

butter
Instructions
Preheat oven to 350ºF.

Peel, core, and slice apples - set aside.

In a large saucepan, combine cinnamon candies, apple juice, Fireball, and sugar.

Heat over medium heat, stirring constantly until the cinnamon candies dissolve completely.

Add the sliced apples to the pan and simmer over medium-low heat for about 10 minutes, or until the apples just start to soften.

Strain the apples, reserving the liquid.

Allow to cool to room temperature.

Whisk the flour, cinnamon, and lemon juice into ½ cup of the liquid.

Heat, stirring constantly, until slightly thickened.

Place a rolled out pie crust in the bottom of the pie pan.

Fill with the apples.

Pour the thickened liquid over the top.

Dot with butter.

Add the top crust and seal the edges.

If not using a lattice crust cut vents in the top.

Bake at 350F for 50 minutes, or until apples are tender and juices are thick and bubbly.

Remove from the oven and cool.
Nutrition Facts
Calories:
416
kcal
|
Carbohydrates:
74
g
|
Protein:
3
g
|
Fat:
13
g
|
Saturated Fat:
4
g
|
Cholesterol:
4
mg
|
Sodium:
189
mg
|
Potassium:
252
mg
|
Fiber:
6
g
|
Sugar:
45
g
|
Vitamin A:
140
IU
|
Vitamin C:
8.7
mg
|
Calcium:
21
mg
|
Iron:
1.4
mg
Sign up for the emails and never miss another recipe!!
We'll never share your email or send you spam. Pinkie swear.
Share Your Own Images