No one can resist this sweet, buttery, streusel-topped Dutch Apple pie! This easy recipe always comes out just right with a lavish layer of crumble over tender autumn spiced apples. If you've wondered how to make that perfectly crumbly crumb topping you'll find the secret right here.
For this recipe you'll need: unbaked pie crust, apples, sugar, flour, ground cinnamon, ground cloves, lemon juice, butter, brown sugar

FAQs
Here are the most commonly asked questions about this recipe. If you don't find the answer to yours here leave a comment below or email me - I'll get back to you as soon as I can!
Experience level: Easy
What is the difference between a Dutch apple pie and an apple pie?
The main difference between the two is the topping. An apple pie usually has a pastry crust on top but a Dutch apple pie is covered with a crumbly streusel made of butter, flour, sugar, cinnamon, and sometimes nuts or oatmeal.
Is Dutch apple pie really Dutch?
Well... it's Dutch because it became popular with the Pennsylvania Dutch but it likely is a variation of a French apple pie.
How do you make crumb topping?
You can make it by hand or with a food processor. If you make it with a food processor be careful not to over blend it. At the most basic you blend flour, sugar, and butter with your fingers until it becomes crumbly - be sure it's not too wet. Sprinkle that over your apple pie filling before baking. Some people add chopped nuts, oatmeal, cinnamon, or other spices as well.
What are the best apples for this recipe?
The flavor is definitely dependent on the apples! I like to use a combination of apples to get the most flavor. Choose a mixture from the following varieties:
HoneyCrisp
MacIntosh
Granny Smith
Braeburn
Winesap
Jonathon
Jazz
How do you reheat?
Put it in the oven at 350F for about 10 to 15 minutes. It's just that easy!
How do you know when it is done?
The fruit will be tender if you stick a knife into them and you'll see the filling bubbling up through the streusel.
What Kind of Apples to Use
The crumble topping, meltingly tender apples, and all of that cinnamon flavor call me from where ever I am to take one. more. bite. I just can't resist a good apple crumble pie!
But, let's face it, some have more flavor than others. The trick to all of that flavor is a combination of apples rather than using just one type.
Use whatever tangy apples you have available. I personally like a mixture of Honey Crisp, Pink Lady, Braeburn, and Granny Smith.
Experiment with combinations to find the perfect one for your tastes and then be sure to write it down!
You can certainly use all one type of apple but the flavor is a little more flat and "eh". I promise you, if you're looking for something that will win a blue ribbon at the state fair you want to use a mixture of apples.
I even like to use a combination of apples in desserts like this Apple Whisky Bundt cake. It really makes a difference!
Find more information about the different flavors of apple varieties in this article from the University of Illinois
How to Make Dutch Apple Pie (Apple Crumble Pie)
Have you ever made a streusel (crumble) topping and had it flatten out in the oven? Yep, me too. Here are some tips to ensure that that never happens again!
Use ice cold butter. Cube it and put it in the refrigerator until you are ready to use it.
Mix your dry ingredients together and then add the butter, squeezing it and blending it in with your fingers.
Continue to blend the butter cubes into the dry ingredients until it forms a solid mass that crumbles apart when you squeeze it a little.
Experiment with spices like cinnamon, cloves, nutmeg, and ginger to see if you like a little spice in there. I have been known to add a pinch of chipotle.
Finely chop pecans, walnuts, sunflower seeds, or old fashioned oats to add in with the dry ingredients.
Once you've made the streusel pop it in the freezer for 10 to 15 minutes before adding it to the top of the pie.
Once the crumble topping is on the pie bake it immediately.
Step By Step Images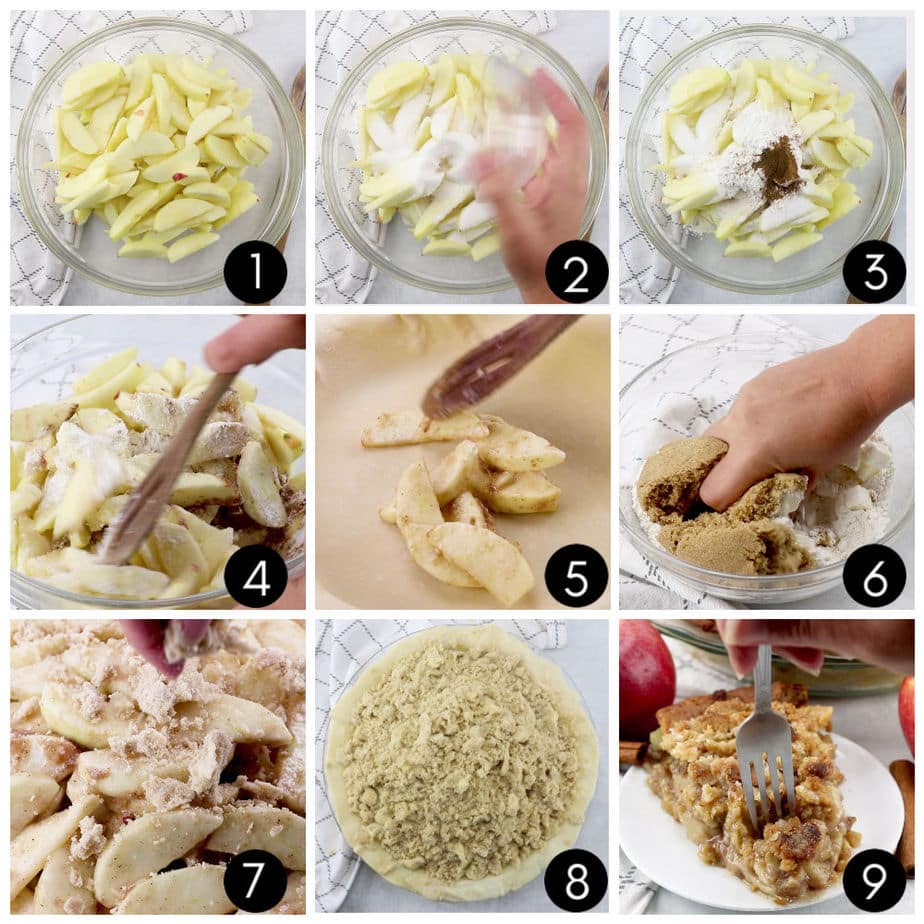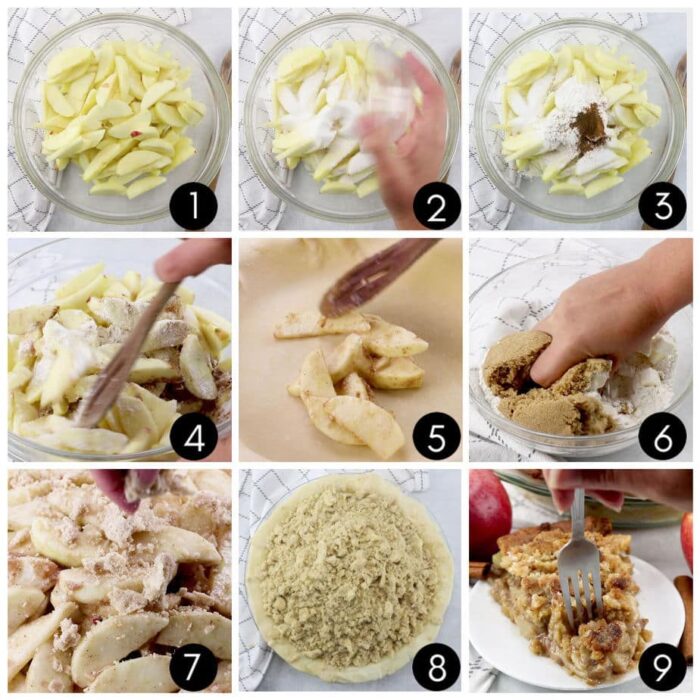 Peel, core, and slice apples.
Add sugar.
Add flour, cinnamon, cloves, and salt.
Stir in vinegar and mix well.
Put in unbaked crust.
Mix butter, brown sugar, and flour together until crumbly.
Spoon over apples.
Sprinkle with sugar and bake.
Enjoy!
You Might Need…
The following are affiliate links. We are a participant in the Amazon Services LLC Associates Program, an affiliate advertising program designed to provide a means for us to earn fees by linking to Amazon.com and affiliated sites.
What's new? A brand new store full of things to help you make the recipes, celebrate the days, and create the memories! Check out Restless Chipotle & Co. As always, thanks so much for being a part of Restless Chipotle!
I love enamelware. It fits perfectly with my retro 1930s kind of country kitschy style. This enamelware pie plate is likely to last forever so it's a good thing it's pretty! They do have it in other colors.
More Old Fashioned Pie Recipes
Who doesn't love pie? Here are some of my favorite pie recipes -
Red Hots Candy Apple Pie - Cinnamon and spice plus a gorgeous crimson color! Perfect for the holidays. If you like Red Hots candy you'll love this.
Swedish Apple Pie - Similar to this recipe but the crumble is different and there's bright citrus in the filling.
Bourbon Apple Pandowdy - A Pandowdy is kind of like a pie and a cobbler mixed together... but different, too. This one is baked in an iron skillet.
Dutch Apple Pie Recipe
I love this! Whether you call it Dutch Apple or Apple Crumble pie, it makes the house smell so good - there's no candle that can match it. Give it a try and see if you don't love it as much as I do.
If you love this recipe please give it 5 stars!
Dutch Apple Pie Recipe
Print
Add to Collection
Go to Collections
Crumbly, buttery, and sweet! This Dutch Apple pie recipe has the perfect crumbly streusel topping and it is so easy to make! The secret to the crunchy crumbly topping? Sprinkling a little white sugar over it before it bakes.
As an Amazon Associate I earn from qualifying purchases.
Ingredients
Pie
1

inch

pie crust,

unbaked 9-inch

8

cups

apples

,

sliced, cored, and peeled - a mixture of granny smith, honey crisp,pink lady, etc works best

1/2

cup

sugar

1/4

cup

flour

1/2

teaspoon

ground cinnamon

1/4

teaspoon

ground cloves

1

tablespoon

cider vinegar

,

adds more flavor
Topping
1/2

cup

butter

,

, diced and chilled

1

cup

flour

2/3

cup

brown sugar

,

packed

2

tablespoons

sugar

Pinch

Salt
Instructions
Pie
Heat oven to 400°F.

On a floured surface roll dough into a circle roughly 2 inches bigger than a 9-inch pie plate.

Place the pastry in the pie plate, pressing down slightly.

Put the pastry lined pie plate in the freezer while preparing apples.

In a large bowl toss the apples and everything else that remains except the topping ingredients.

Remove the pie plate from the freezer. Spoon apple mixture into the pastry lined pie plate, mounding the apples up in the center.
Crumb Topping
Use your fingers to mix the butter, flour, brown sugar, and salt until it is a mass that crumbles when you squeeze it.

Sprinkle it on top of the filled pie.

Sprinkle with the 2 tablespoons of sugar.

Bake 40 to 55 minutes or until pie crust and crumb topping are deep golden brown and filling begins to bubble.

Transfer to cooling rack to cool before serving.
Notes
What are the best apples for pie?
The flavor of any apple pie is definitely dependent on the apples! Use a combination of sweet and tangy apples to get the most flavor. Choose a mixture from the following varieties:
HoneyCrisp
MacIntosh
Granny Smith
Braeburn
Winesap
Jonathon
Jazz
Nutrition
Calories:
482
kcal
|
Carbohydrates:
77
g
|
Protein:
4
g
|
Fat:
18
g
|
Saturated Fat:
9
g
|
Cholesterol:
30
mg
|
Sodium:
111
mg
|
Potassium:
199
mg
|
Fiber:
4
g
|
Sugar:
46
g
|
Vitamin A:
420
IU
|
Vitamin C:
5.8
mg
|
Calcium:
33
mg
|
Iron:
1.8
mg
Sign up for the emails and never miss another recipe!!
We'll never share your email or send you spam. Pinkie swear.