Everyone needs a homemade gingerbread recipe in their collection. This old-fashioned, spicy, moist cake is super-easy and full of complex flavor but basic enough to handle any topping or sauce you want to put on it. There is nothing quite so indulgent in the fall as a warm square of gingerbread with maybe a swirl of whipped cream on top.
OK, a swirl of whipped cream dusted with nutmeg. There.
I haven't made gingerbread in a very long time — and when I say very long I really mean decades. Literally decades. I don't even know why. I love it so much I could eat it every day. I could go through an entire pan by myself… OH! Now I remember why I don't make it!!!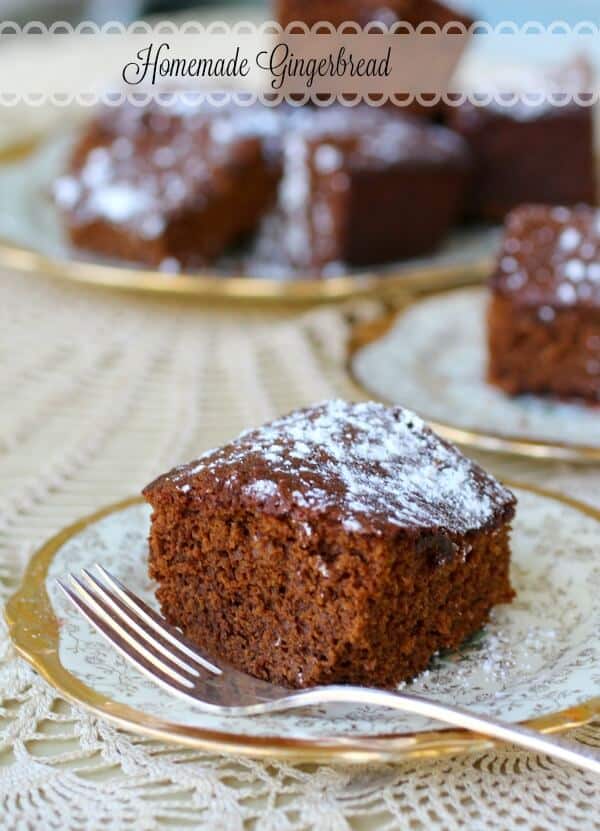 I don't know, there's something about homemade gingerbread that just makes the world right. I associate it with the smell of burning leaves, crisp apples, and bonfires even though only the bonfire is common here. Still, in all of the reading I have done warm gingerbread is served on chilly autumn days so I have Louisa May Alcott and L.M. Montgomery to thank for my preconceived notions about this stuff.
I was the only child of older parents and I read a lot. I didn't connect with kids my age for the most part because I was around adults all the time. My parents were in their 40s when I was born so all of their friends were empty-nesters. I was precocious, had an extensive vocabulary, and other kids were noisy — they scared me. I had just one friend at a time, depending on where we lived. I am still reserved in person, not because I am stuck up I am just painfully shy. Anyway, I spent my time reading and would go through at least a book a day. Sometimes more.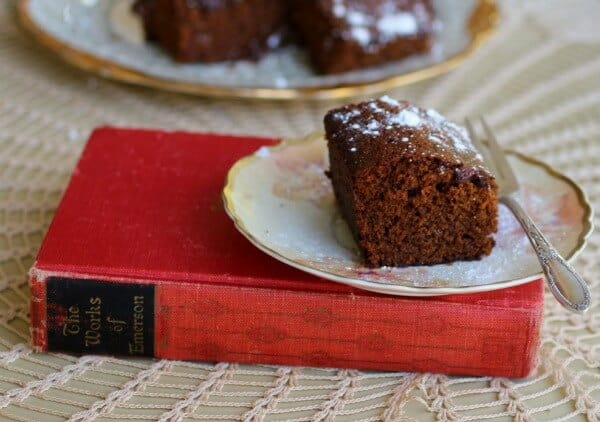 About the time I entered fourth grade I discovered Victorian authors of both fiction and nonfiction. Alcott, Whitman, Montgomery, Austen, the Brontes, Hardy, Barrett-Browning, Thoreau… I eagerly devoured everything I could find. By the time I was in seventh grade I had moved on to early 20th century authors and more social commentary and existentialist writings. Oddly enough the Victorian fiction shaped my inner ideas of what was important but the 20th century fiction shaped the protective shell I covered myself in as a teenager. And sorry, that is way off the subject.
Gingerbread. :::makes note to go take ADD meds before moving on to client work)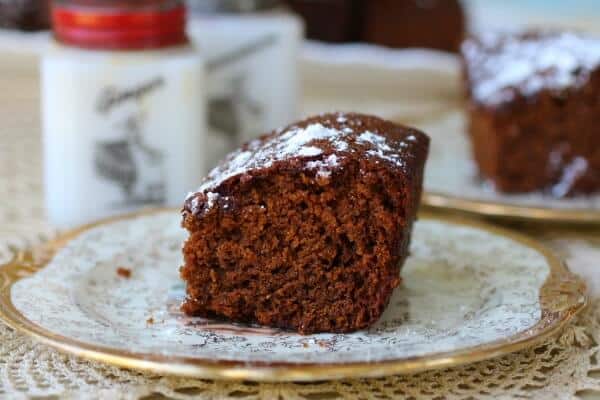 This homemade gingerbread recipe is a little spicier than most because… well, if you've known me more than a couple of days you'll know how much I love my spice! I added cardamom to give it an added layer of orangy-spicy goodness and the coffee just kind of pulls it all together. You'll understand when you smell it baking! Be sure not to over-bake it because it does dry it out. Check at 35 minutes then check it every 2 or 3 minutes after that.
I adapted this recipe from 1975 Farm Journal's Country Fair Cookbook. I personally don't consider this vintage but a lot of you will… lol!
The following is an affiliate link. If you click through and buy I will get a small commission which is used to help keep the blog up and running. Thank you so much for being a part of Restless Chipotle!
If you can't find roasted cinnamon locally check out the link below. It adds to the unique flavor of this gingerbread recipe but you can substitute regular cinnamon if you like.
Mccormick Gourmet Saigon Cinnamon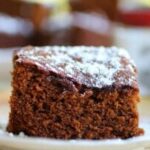 Homemade Gingerbread Recipe
Print
Add to Collection
Go to Collections
An old fashioned, homemade gingerbread recipe that will make your house smell like fall. This is a dark, spicy recipe that is wonderful plain or topped with ice cream, whipped cream, or your favorite sauce.
As an Amazon Associate I earn from qualifying purchases.
Ingredients
2 1/2

cups

flour

1 1/2

teaspoons

baking soda

1 1/2

teaspoons

ground ginger

3/4

teaspoon

roasted cinnamon

1/2

teaspoon

cardamom

1/8

teaspoon

ground chipotle

,

(more if you like it spicier)

1/2

teaspoon

Kosher salt

1/2

cup

unsalted butter

1/2

cup

sugar

1

egg

1

cup

Grandma's Molasses or other unsulphured type

1/2

cup

strong

,

, hot, black coffee
Instructions
Preheat oven to 350F.

Grease a 9x9-inch baking dish and set aside.

Sift the flour, baking soda, ginger, cinnamon, cardamom, chipotle, and salt.

Set aside.

Cream the butter and sugar together until light and fluffy.

Add the egg and beat well.

Beat in the molasses.

Add the dry ingredients alternately with the hot coffee, beginning and ending with the dry ingredients.

Spoon into the prepared baking dish.

Smooth the top and bake for 45 minutes or until done.
Sign up for the emails and never miss another recipe!!
We'll never share your email or send you spam. Pinkie swear.
If you liked this homemade gingerbread recipe you may also like…
Gingerbread Loaf Tastes of Lizzy T
Gingerbread Muffins Sallys Baking Addiction