One bite of this spicy, moist cake and you'll swear you're settled in Grandma's cozy kitchen enjoying her prizewinning recipe!
The aromas of cloves, ginger, and cinnamon drift through the house while this is baking making is seem like a holiday no matter what day of the year it is.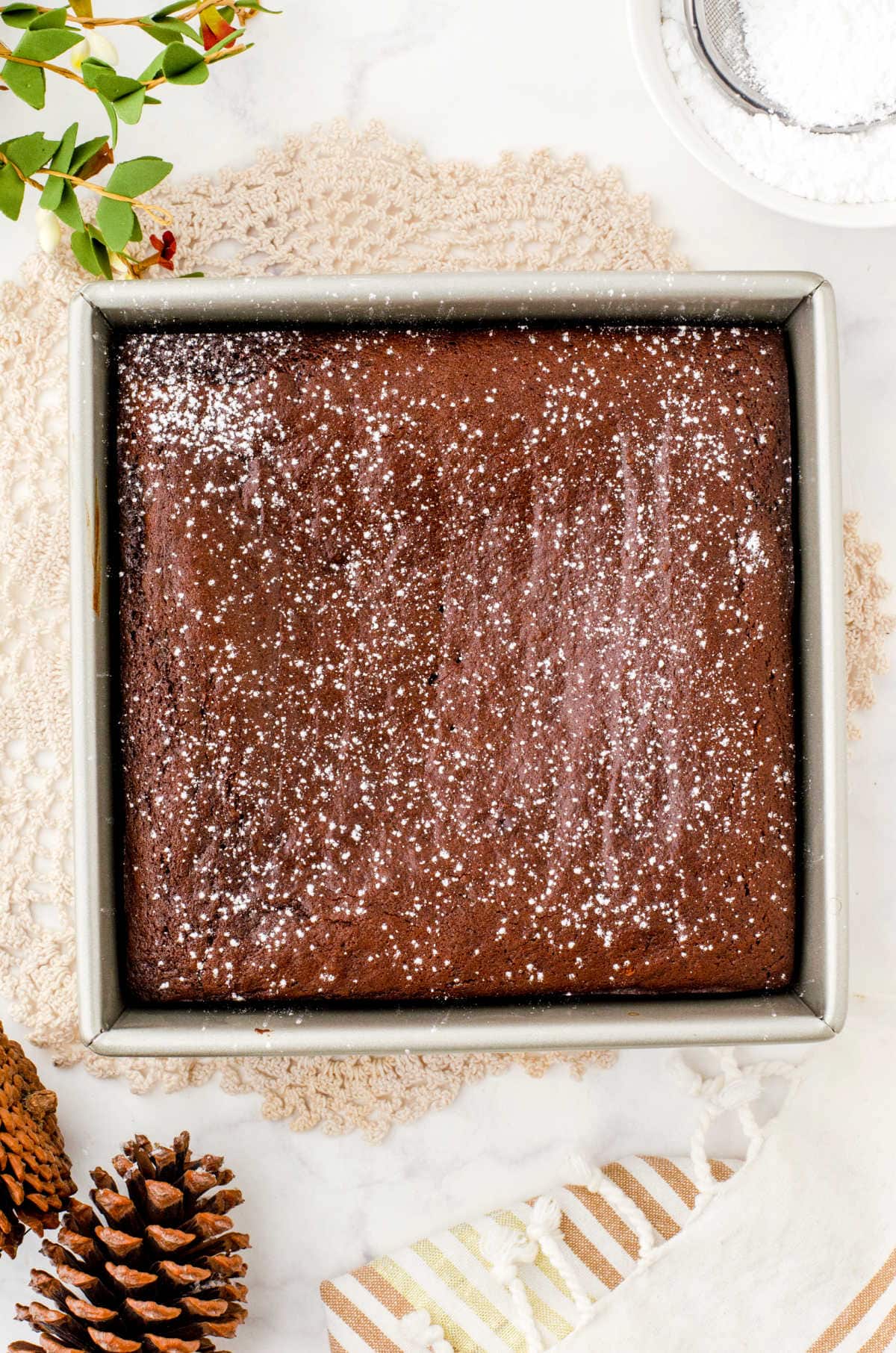 Jump to:
🗝️ Key takeaways
Old-fashioned gingerbread cake is moist and spicy.
It's the perfect snack cake! Light enough for breakfast, but sweet enough for an evening dessert. I love this in the afternoon with a cup of coffee.
Be sure that you use an unsulphured molasses like "Grandma's Molasses" for this cake.
This classic gingerbread recipe will instantly transport you to Christmas time as a child. Made easily with robust molasses and seasonal, warm spices, it's the perfect, cozy treat—no matter if you're a pro baker or a first-timer!
🧾 Ingredients
This is an overview of the ingredients. You'll find the full measurements and instructions in the green recipe card (printable) at the bottom of the page.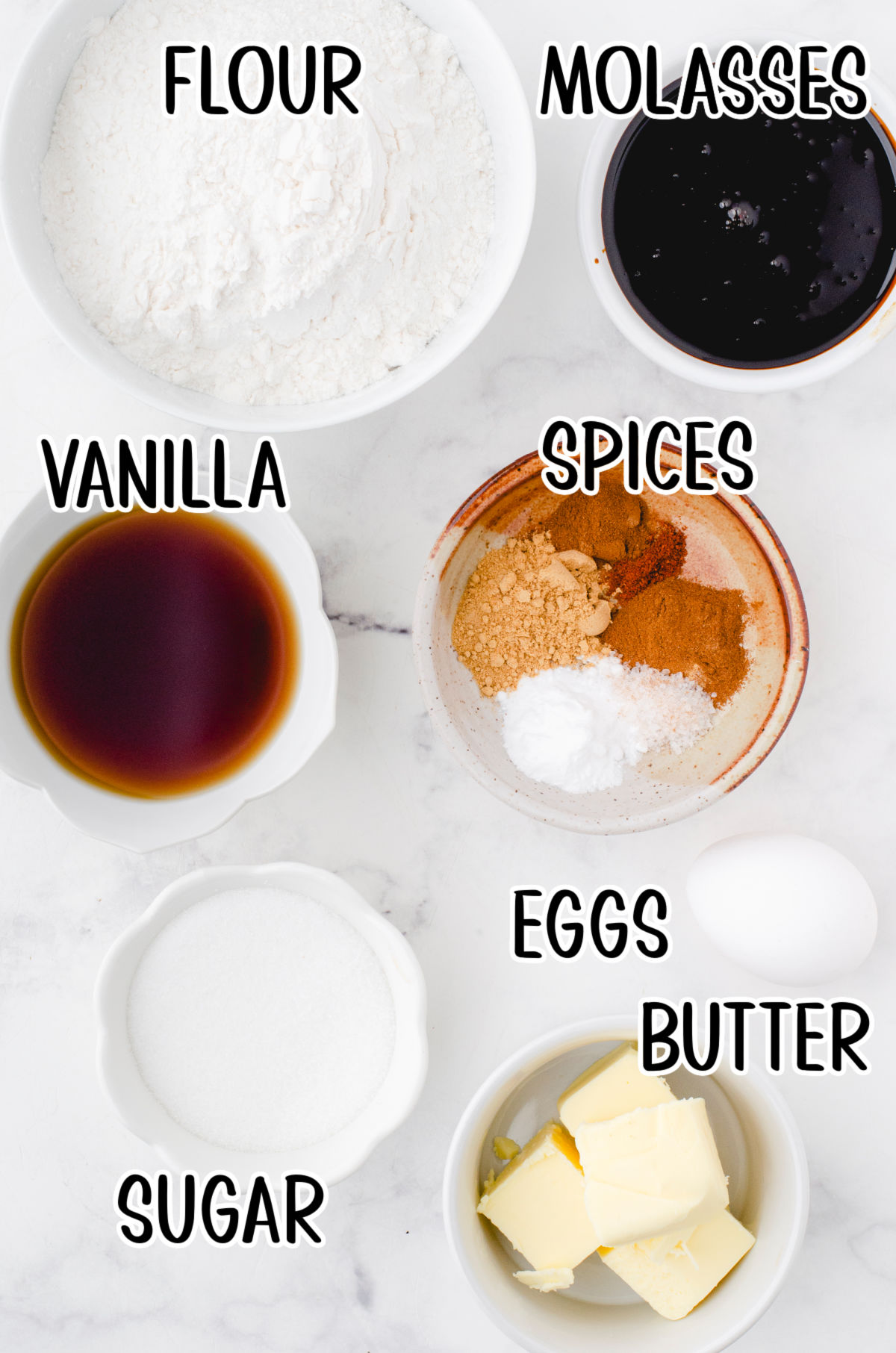 Types of cinnamon
There are several types of cinnamon and each has a different flavor. Experiment to see which you like best. I love the Korintje cinnamon in this recipe!
Name
Flavor
Best in
Origin
Ceylon cinnamon
floral, light, fruity, subtle
custards, fruit butters, elegant desserts, French toast
Sri Lanka
Saigon cinnamon (sometimes called Vietnamese cinnamon)
spicy, rich, sweet
cinnamon rolls, coffee cake, donuts, pumpkin pie spice
Vietnam
Cassia cinnamon (normal cinnamon)
sweet,
delicate spice
baked goods, this is the cinnamon you probably have in your cupboard
China
Korintje cinnamon
rich, spicy, hints of clove and pepper
chai, chutney, curries, holiday treats
Indonesia
Roasted cinnamon
rich, deep, warm, toasty
baked goods, chili, hot cocoa, cocktails,
usually made from Ceylon or Cassia
📖 Variations
Though I prefer the flavors of Vietnamese or roast cinnamon, you can experiment with different types to find your favorite! Any variety will work in this recipe.
A little bit of grated fresh orange zest is a delicious complement to the homemade gingerbread flavors! About a tablespoon or so is perfect.
Mix in some finely chopped candied ginger for an extra pop of flavor.
The coffee flavor isn't very strong with all the fragrant spices in this cake recipe. However, if you loathe coffee and are one of those people who can taste a drop of it in anything, substitute it for water.
Make old-fashioned gingerbread loaves by portioning the batter evenly between two prepared 9" loaf pans. I like to eat one loaf and either wrap and freeze or gift the other!
Garnish with some simple powdered sugar over top—that's all this perfect recipe needs! Though, I won't turn down a dollop of whipped cream or a scoop of vanilla ice cream, either!
Some people like gingerbread with cream cheese frosting and caramel sauce, too. In your own kitchen, you can do anything you please!
🔪 Instructions
This is an overview of the instructions. Full instructions are in the green recipe card at the bottom of the page.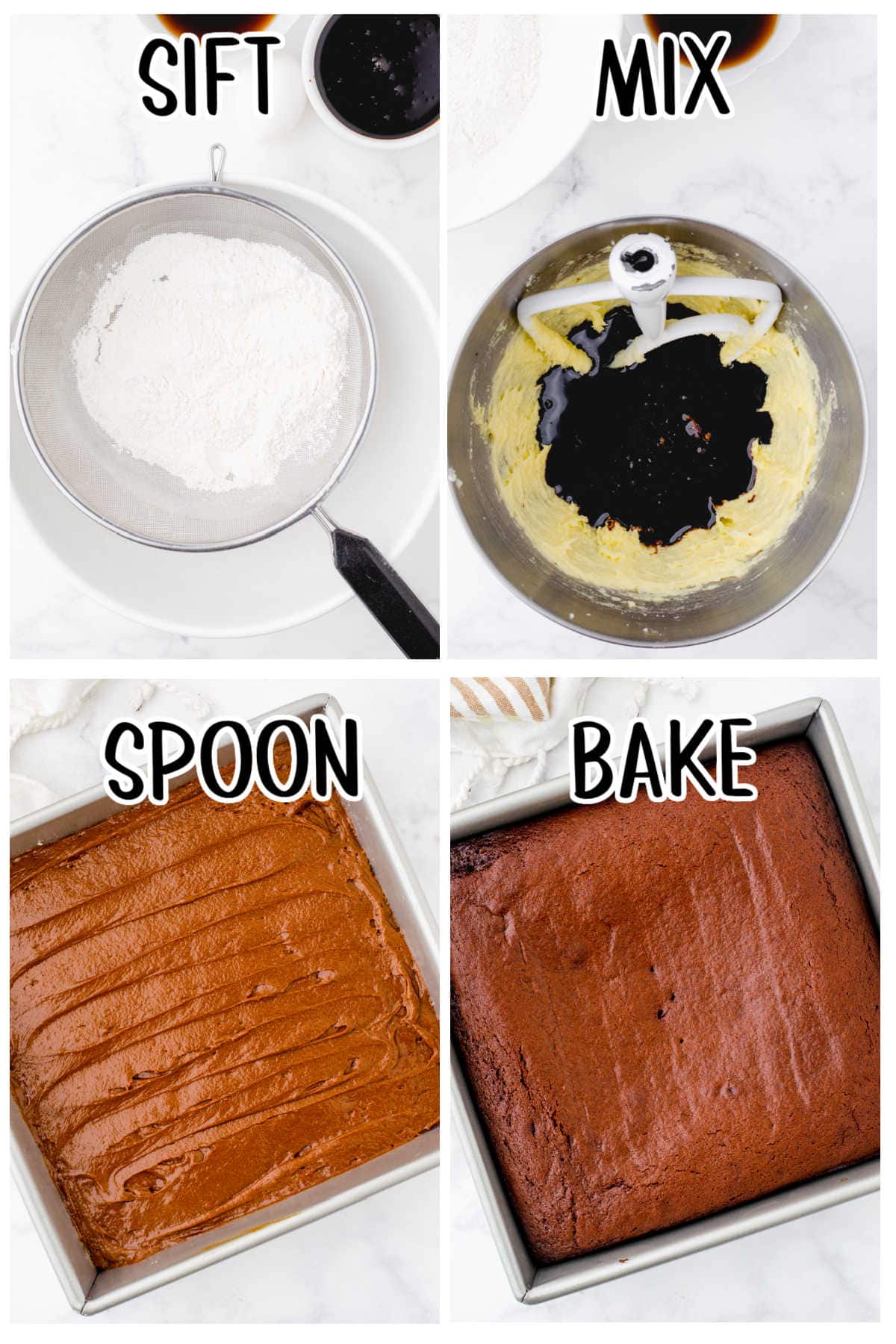 Sift the dry ingredients into a large bowl (except the sugar.)
In a separate bowl, with the paddle attachment, mix the butter, sugar, eggs, and molasses. Add the flour mixture and coffee to the wet ingredients, alternating between the two.
Pour batter into a prepared pan.
Bake and let cake cool on a wire rack.
I like to enjoy the gingerbread slightly warmed (a few seconds in the microwave does the trick!) However, you can also enjoy it at room temperature.
🥫 Storage
You can store leftover gingerbread tightly covered at room temperature for about two days.
Some people are tempted to pop extras in the fridge, but that can dry the gingerbread out more quickly.
Freeze
This old-fashioned gingerbread recipe freezes really well—for up to three months, actually! Wrap it tightly in plastic wrap, then a layer of aluminum foil to protect it from absorbing any funky freezer odors.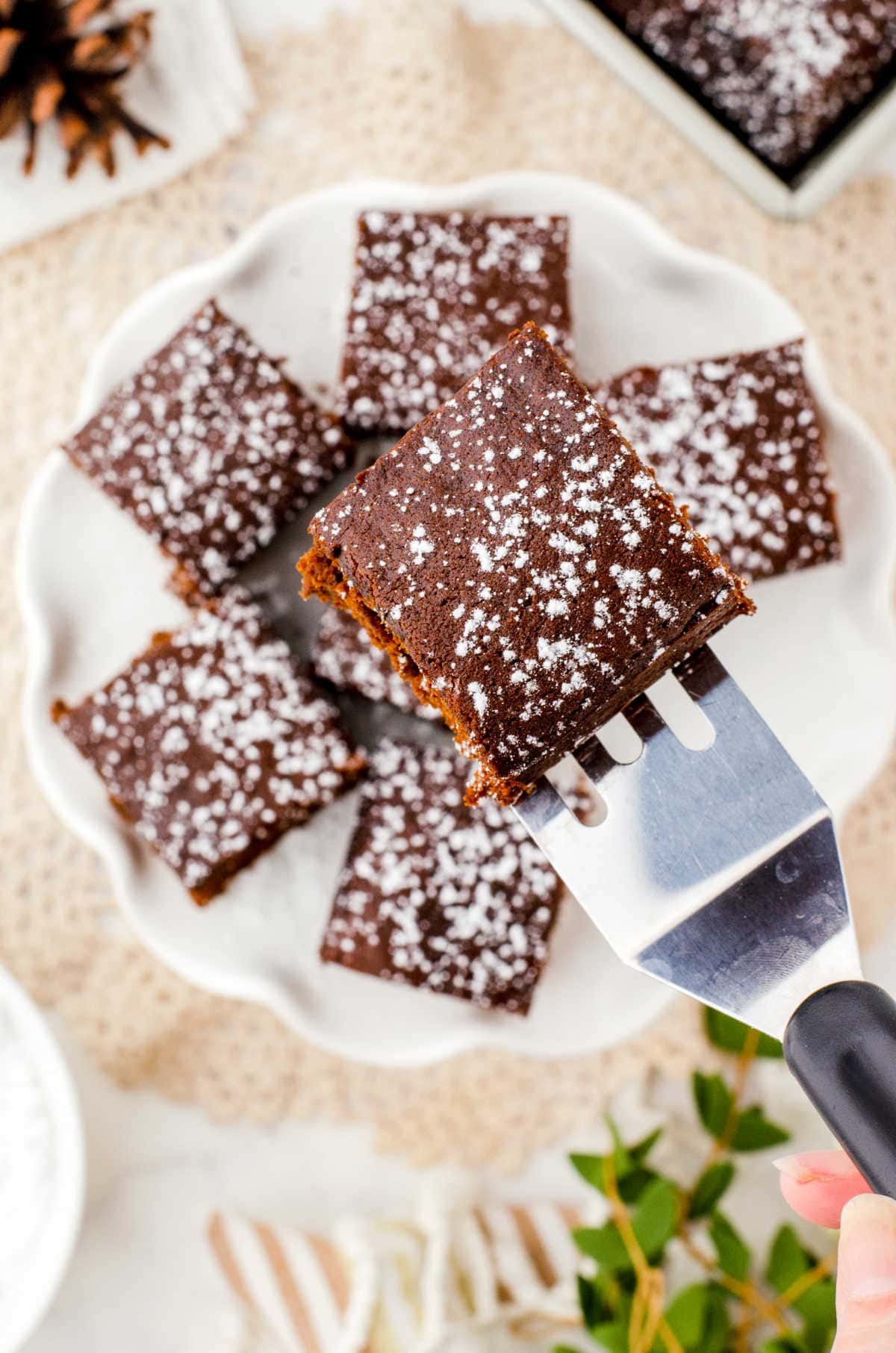 💭 Things to know
Expert Tip: Make sure the molasses is unsulphured, or you'll be sorry when you take the first bite! I like the flavor of Grandma's molasses best.
Line your baking pan with parchment paper, leaving enough to hang over the edges of the pan. This way, you can easily lift your cake up and out of the pan for pretty presentation, if you prefer!
Don't swap the brown sugar for white. While usually, you can, since we already have molasses in the recipe, the flavor would be too intense.
The chipotle powder and cardamom aren't traditional but I love the spice and flavor that they add! Leave them out if you're boring... just kidding! But, they do enhance the spices of gingerbread in my opinion.
Always use fresh spices! A good rule of thumb is if they've been in the pantry for longer than six months, you're due for a replacement!
Watch carefully not to over-bake the gingerbread because it does dry out quickly.
Check it at 35 minutes with a toothpick in the center of the cake, then every 2-3 minutes after that.
To prevent overbaking after you remove the gingerbread from the oven, immediately place the pan on a cooling rack so that the bottom of the pan/cake can begin to cool off.
👩‍🍳 FAQs
What is unsulphured molasses?
Unsulphured molasses has no additives. Molasses with sulphur in it can taste really chemically, and in traditional gingerbread we want the delicious flavor of molasses to shine! Any type of molasses can be sold with or without sulphur, so read the bottle carefully.
Which kind of molasses is best?
Use an unsulphured molasses like "Grandma's Molasses".
Can I use treacle, instead of molasses?
In this recipe, I wouldn't recommend it! Treacle, or golden syrup, is kind of like molasses, but it doesn't deliver the same deep, rich flavor as dark molasses, like Grandma's blackstrap.
Can I make a house with this gingerbread?
Nope, similar flavor, but different structurally! This old-fashioned recipe produces a "quick bread" or cakey texture. If you want to build a gingerbread house, you need to use gingerbread cookies—for which your gingerbread men will thank you!
From where does gingerbread get its name?
Gingerbread originally came from an Old French word, gingebras, which referred to preserved ginger. It's also related to the French pain d' epices, which is spice bread, as well as German Pferrerkuchen and Lebkuchen.
What does gingerbread taste like?
Oh, it tastes like the flavors of Christmas! If that's not specific enough for ya, it kind of reminds me of pumpkin pie but minus the pumpkin. It has similar spices, but goes heavier on ginger and molasses—the perfect winter dessert!

This gingerbread recipe has the fluffy, soft texture of a spice cake. Don't confuse it with gingerbread cookies, which are small, flat, and, well, if you don't know what a cookie is, you're missing out!
📚 Related recipes
Full of fragrant spice, Gingerbread Waffles are perfect for a cozy fall brunch—FYI, they're irresistible with maple syrup and cinnamon apples!
Delicious baked or fried, Homemade Gingerbread Doughnuts are sweet, spicy, soft, and totally perfect for breakfast—I'll take a dozen, please!
These Gingerbread Snowball Cookies are a classic holiday dessert. They're buttery, crumbly, and rolled in sweet powdered sugar—we won't tell when you lick it off your fingers!
🍽️ Serve with...
Any of these easy toppings would be perfect on top of a square of warm, spicy gingerbread. Or, just dust with powdered sugar!
📞 The last word
I adapted this recipe from 1975 Farm Journal's Country Fair Cookbook. I personally don't consider this vintage but a lot of you will.
Be sure to add a dollop of fresh whipped cream to the top - yum!
If you click on the number of servings in the recipe card you can adjust the measurements up or down for the exact number of servings you need.
If you love this recipe please give it 5 stars! ⭐️⭐️⭐️⭐️⭐️
📖 Recipe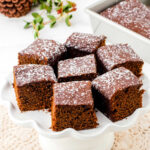 Old-fashioned Gingerbread (Cake)
Print
Pin Recipe
Save
Saved!
An old fashioned, homemade gingerbread recipe that will make your house smell like fall. This is a dark, spicy cake that is wonderful plain or topped with ice cream, whipped cream, or your favorite sauce.
As an Amazon Associate I earn from qualifying purchases.
Ingredients
2 ½

cups

All-purpose flour

1 ½

teaspoons

Baking soda

1 ½

teaspoons

Ground ginger

¾

teaspoon

Cinnamon

½

teaspoon

Cardamom

⅛

teaspoon

Ground chipotle

,

(more if you like it spicier)

½

teaspoon

Kosher salt

½

cup

Butter

½

cup

Sugar

1

Egg

1

cup

Grandma's Molasses

,

or other unsulphured type

½

cup

Coffee

,

extra strong, hot, and black
I earn a commission from Instacart from qualifying purchases.
Instructions
Preheat oven to 350F.

Grease a 9x9-inch baking dish and set aside.

Sift the flour, baking soda, ginger, cinnamon, cardamom, chipotle, and salt.

Set aside.

Cream the butter and sugar together until light and fluffy.

Add the egg and beat well.

Beat in the molasses.

Add the dry ingredients alternately with the hot coffee, beginning and ending with the dry ingredients.

Spoon into the prepared baking dish.

Smooth the top and bake for 45 minutes or until done.
Notes
Storage:
Cover with plastic wrap or place in an airtight container and store at room temperature 2 or 3 days.
Freeze for up to 3 months.
Tips:
Try different types of cinnamon and see what you like best. I like Vietnamese cinnamon and roast cinnamon the best.
Use fresh spices. If you've had yours in the pantry for more than 6 months throw them out.
Make SURE the molasses is unsulphured or you will be sorry the first time you take a bite.
Be sure not to over-bake it because it does dry it out.
Check at 35 minutes then check it every 2 or 3 minutes after that.
You'll find more helpful tips and variations in the body of the post.
Nutrition Facts
Calories:
283
kcal
|
Carbohydrates:
50
g
|
Protein:
3
g
|
Fat:
8
g
|
Saturated Fat:
5
g
|
Polyunsaturated Fat:
0.5
g
|
Monounsaturated Fat:
2
g
|
Trans Fat:
0.3
g
|
Cholesterol:
34
mg
|
Sodium:
311
mg
|
Potassium:
455
mg
|
Fiber:
1
g
|
Sugar:
29
g
|
Vitamin A:
263
IU
|
Vitamin C:
0.02
mg
|
Calcium:
68
mg
|
Iron:
3
mg
Nutrition information is estimated as a courtesy. If using for medical purposes, please verify information using your own nutritional calculator. Percent Daily Values are based on a 2000 calorie diet.
Sign up for the emails and never miss another recipe!!
We'll never share your email or send you spam. Pinkie swear.
First published October 29, 2015. Last updated September 21, 2023 for updated editorial content.