This easy, homemade gingerbread donuts recipe is full of holiday flavor! Molasses, dark brown sugar, and plenty of ginger give these donuts (or doughnuts – depending on where you're from!) that classic gingerbread flavor while the lemon glaze balances the sweet with a little tangy goodness. If you prefer not to fry them they are just as good baked in a donut mold! This recipe was originally published in June 2007 – the post, the recipe, and images have all been updated.
For this recipe you'll need: dark brown sugar, eggs, molasses, sour cream, baking soda, baking powder, ground ginger, salt, cloves, cinnamon, nutmeg, all-purpose flour, Confectioner's sugar, lemon juice, lemon zest, cream, oil for frying (I use peanut oil which I feel is best for frying as long as there are no allergies)
Jump to Recipe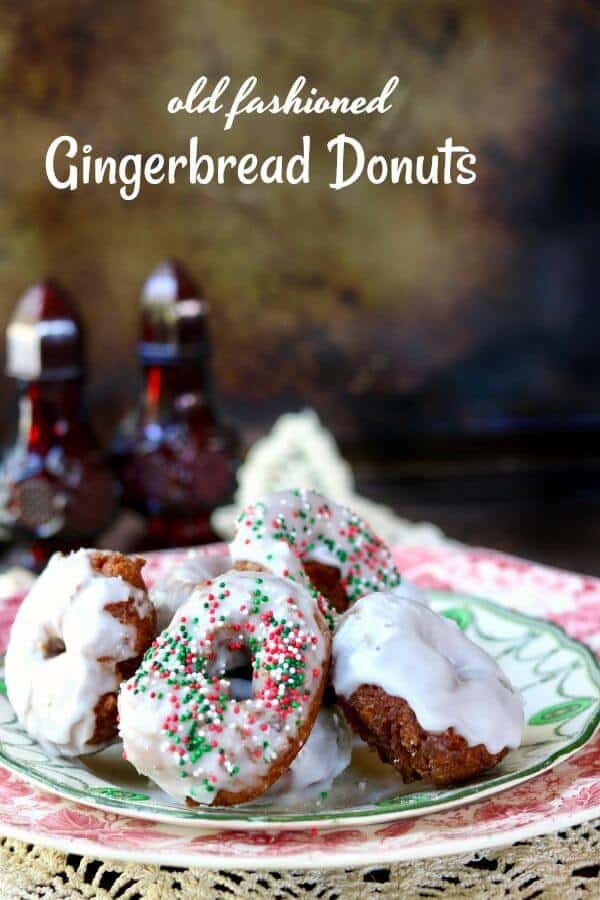 Gingerbread donuts are easy to make and delicious for autumn and winter treats – especially served still warm from the fryer with a cup of hot chocolate or coffee! Since they are old fashioned cake donuts they just couldn't be easier!
This recipe has been on Restless Chipotle since before it was Restless Chipotle! It's one of the first recipes I ever published and I had honestly forgotten about it. I mean, there are over 1000 recipes here (some are unpublished still) and I can't remember every single one. Sometimes my very favorite recipes get forgotten about which is sad.
When the weather gets chilly I start thinking about gingerbread! That had me going through the archives and I came across this recipe and realized that it had been way too long since I made these homemade cake donuts with all of the flavor of the holidays stirred right in.
I like to deep fry donuts because I think they have a better texture but you can bake these if you want to. Just shape them and bake at 350F for about 20 minutes. They may lose their shape a little but hey – it happens to all of us eventually, right?
It is 70 degrees and sunny with bright blue skies as I write this. The leaves on the trees are beginning to turn a little and the yellowish-green is vibrant against the blue of the sky outside my kitchen window. Despite the warmth outside the house is chilly and I have a small fire going in the kitchen fireplace to keep me company as I work. The stillness of the house on a Monday morning after a weekend of everyone being home is unnerving sometimes and the little crackles and pops from the fireplace break up the silence and make me feel cozy.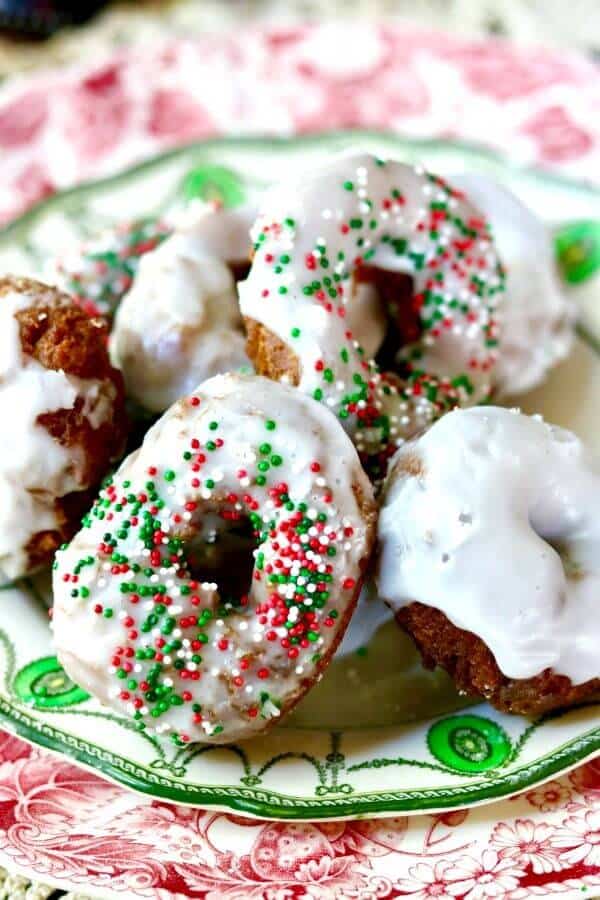 That probably sounds ridiculous when I've just mentioned that it is 70 degrees BUT this is Texas AND it was sleeting on Friday. I swear I thought the kids were lying to me until I went outside for myself. It didn't last long but it's the first time I can ever remember it sleeting or snowing in October here. There were temperatures in the 40s a few times last week and once this old house cools down it can feel pretty chilly until May or June.
Thus the fire.
Gingerbread is just one of those things that's cozy. I guess the new-old term is hygge? Hygge is the Danish term for that feeling you get when you're wrapped in a blanket watching it snow outside… or curled up on the couch in front of the fire reading your favorite book.
If hygge has a flavor I guess gingerbread would be it, don't you think?
Tips for Frying Perfect Cake Donuts
There are a few tricks and tips that will help you achieve the perfect cake donut every single time:
Always cut the dough straight down – do not twist the cutter.
Make sure the oil is hot. 370F to 375F is usually best.
Don't overload the fryer. Fry a few at a time – no more than 2 for a small fryer.
Flip the donuts as they rise to the top and are light golden on the underside but don't over-fry them or they will be tough and dry.
Use the softest dough possible. Refrigerate it as needed to keep it workable.
Use clean oil – peanut oil is best if you don't have allergies. Change it after every 2nd or 3rd frying session or when it starts to darken.
Hold the fryer basket up over the fryer to let the finished donuts drain for a few minutes before removing them to drain on absorbent paper.
Donuts are best served immediately or frozen. They get stale very fast.
YOU MAY NEED
The following are affiliate links. We are a participant in the Amazon Services LLC Associates Program, an affiliate advertising program designed to provide a means for us to earn fees by linking to Amazon.com and affiliated sites.
Thanks so much for being a part of Restless Chipotle!
This is the deep fryer I have and it's held up well for almost 10 years so far! It's a good size so if you are making fried food for more than one or two people you don't have to stand at the fryer for hours. The idea of hygge is fascinating to me and I'm spending time this year getting to know more about the concept – if it sound like something you're trying to do you might like How to Hygge
If hygge has a flavor I guess gingerbread would be it, don't you think?
Click To Tweet
Homemade Gingerbread Donuts Recipe
Cake donuts are so easy and my sour cream gingerbread donut recipe is no exception! These easy, homemade donuts freeze really well for up to 3 months. Just leave the glaze off and when you're ready to serve them warm them up for about 10 minutes in a 375F oven.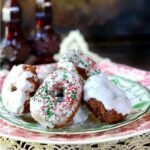 Gingerbread Doughnuts
Print
Add to Collection
Go to Collections
A spicy sweet donut that is great on a crisp autumn day. Wonderful with coffee, tea, or a glass of cold milk. If you prefer not to fry you can bake the donuts at 350F for 20 minutes.
Servings
12
-24 depending on size
As an Amazon Associate I earn from qualifying purchases.
Ingredients
Gingerbread Donuts
1/2

cup

dark brown sugar

,

, firmly packed

1

egg

,

, beaten

1/2

cup

molasses

1/2

cup

sour cream

1/2

teaspoon

baking soda

2

teaspoons

baking powder

3

teaspoons

ginger

1/2

teaspoon

salt

1/2

teaspoon

cinnamon

1/4

teaspoon

cloves

Pinch

nutmeg

,

, freshly grated

2 1/2

cups

flour

,

, you may need a little more
Lemon Glaze:
1

cup

confectioners sugar

1

tablespoon

cream

1

teaspoon

lemon juice

1/2

teaspoon

lemon zest
Instructions
Gingerbread Donuts
Combine all the donut ingredients except flour and stir well.

Add just enough flour to make a soft dough, it should leave the sides of the bowl and be JUST firm enough to shape.

Roll out lightly on a floured counter (well floured, this is sticky dough) and cut with a doughnut cutter.

Fry in deep, hot oil (360F) turning once.

Drain on paper towel or brown paper bags.

Repeat with all of the dough, and then fry the doughnut holes.
Lemon Glaze
Mix all of the glaze ingredients together until smooth.

Glaze doughnuts while warm.
Notes
You will probably do best with frying them 3-4 at a time, depending on the size of your fryer. The doughnuts will be dark brown because of the molasses. You may also bake them at 350F for 20 minutes if you like.
Nutrition
Calories:
238
kcal
|
Carbohydrates:
50
g
|
Protein:
3
g
|
Fat:
2
g
|
Saturated Fat:
1
g
|
Cholesterol:
20
mg
|
Sodium:
165
mg
|
Potassium:
331
mg
|
Sugar:
29
g
|
Vitamin A:
100
IU
|
Vitamin C:
0.3
mg
|
Calcium:
82
mg
|
Iron:
2.1
mg
Tried this recipe?
Tag me!! @Marye_RestlessChipotle
IF YOU LIKED THESE GINGERBREAD DONUTS YOU MAY ALSO LIKE…
From left to right: fruit kolache, Texas sized Cinnamon Rolls, Gingerbread Waffles
Included in Meal Plan Monday #86-Check out the great recipes this week!
Let's Keep in Touch!