Is there anything more delicious than homemade donuts?
No, no there's not.
Don't want to scroll through the page to get to the recipe? Use the table of contents to click on the section you want.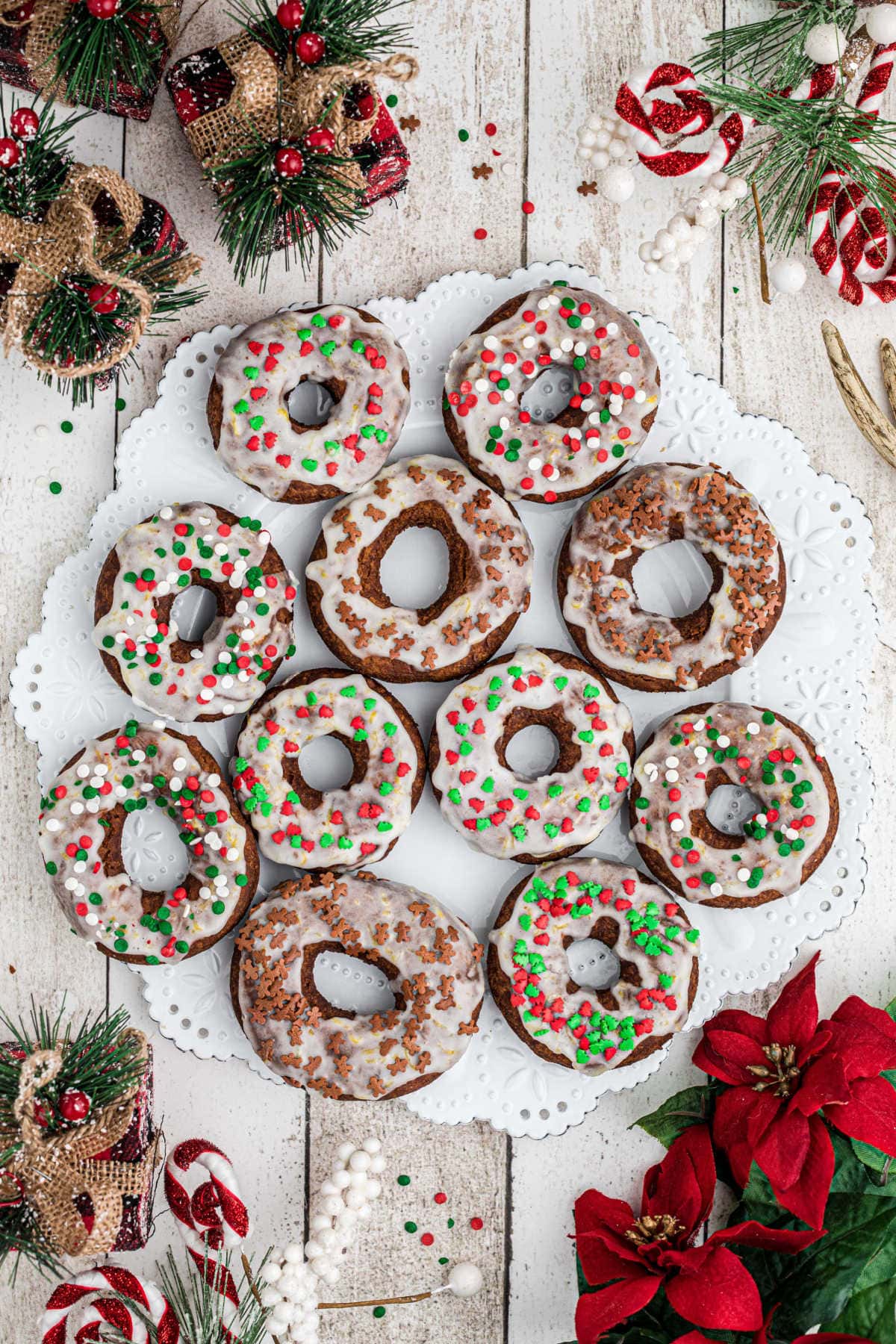 Jump to:
🗝️ Key takeaways
Gingerbread donuts are old-fashioned cake donuts that go great with a morning cup of coffee!
I love these in the fall and winter - they're so cozy and delicious.
Read through the post to find tips, FAQs, and easy instructions for frying or baking.
Homemade gingerbread donuts taste as good as the holiday season feels! With a sweet, tangy, and cinnamon-spicy flavor, you can enjoy the magic of Christmas morning in every festive bite.
🧾 Ingredients
This is an overview of the ingredients. You'll find the full measurements and instructions in the green recipe card (printable) at the bottom of the page.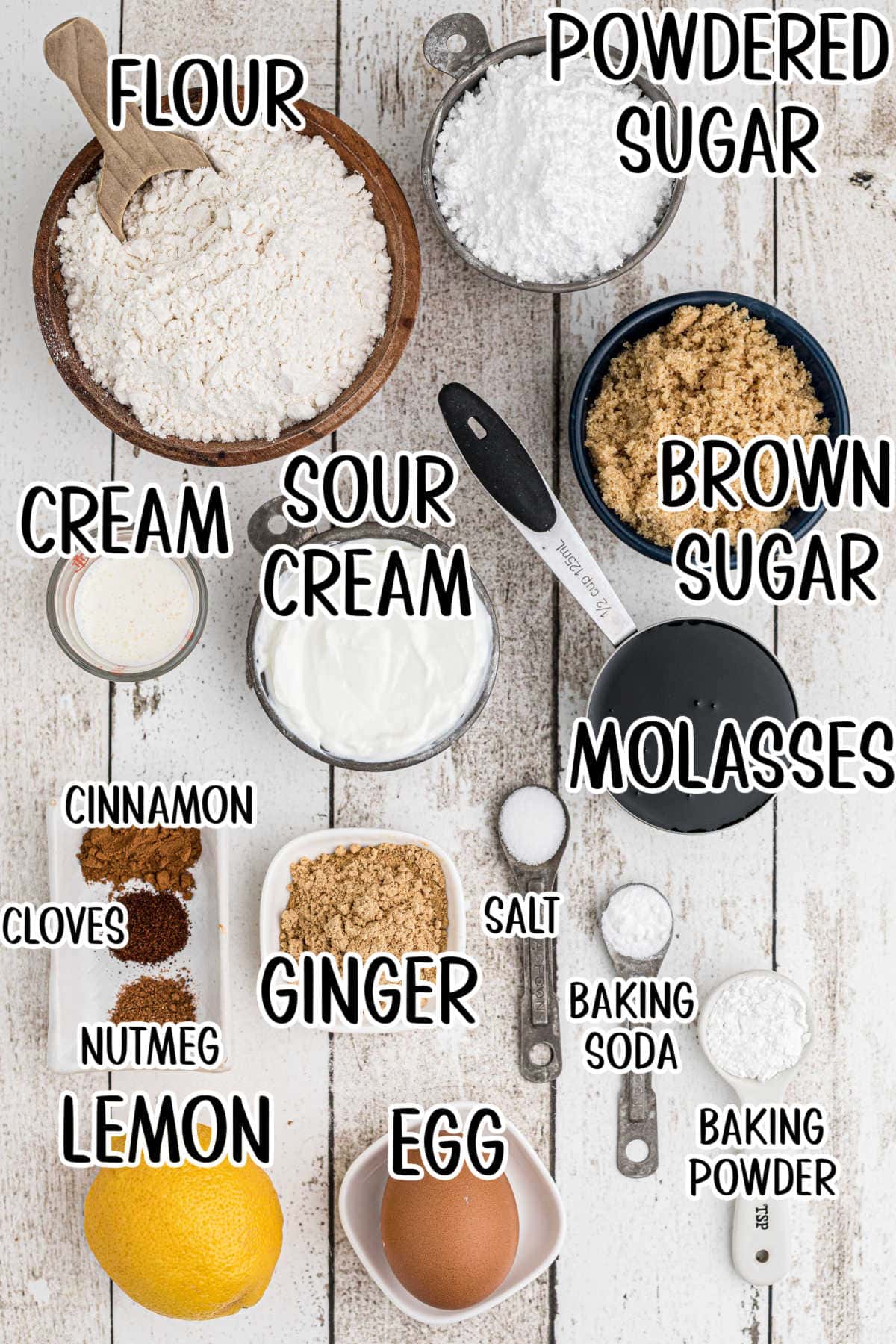 📖 Variations
Not a fan of molasses? Substitute it for maple syrup!
Feel free to choose your favorite type of cinnamon—my preferred variety is Vietnamese.
A pinch of cardamom in the donut batter adds a delicious citrus flavor that goes perfectly with the lemon glaze.
You can use ground nutmeg, but the autumn spice is so much more flavorful when grated fresh!
If you're not a fan of lemon, use vanilla extract for a mild, sweet glaze.
Run out of cream for the glaze? No worries—you can use some melted butter instead.
Toss the warm doughnuts in a cinnamon sugar mixture before glazing for an extra pop of Christmas flavor.
After glazing, add some festive sprinkles. Or, tint half the glaze in a holiday red and drizzle it over top with a pastry bag!
Use a mini donut pan to make fun, bite-sized gingerbread mini donuts!
To air fry the donuts, preheat the air fryer to 350 degrees F. Brush some melted butter over both sides of the donuts and cook them for eight minutes in batches.
🔪 Instructions
This is an overview of the instructions. Full instructions are in the green recipe card at the bottom of the page.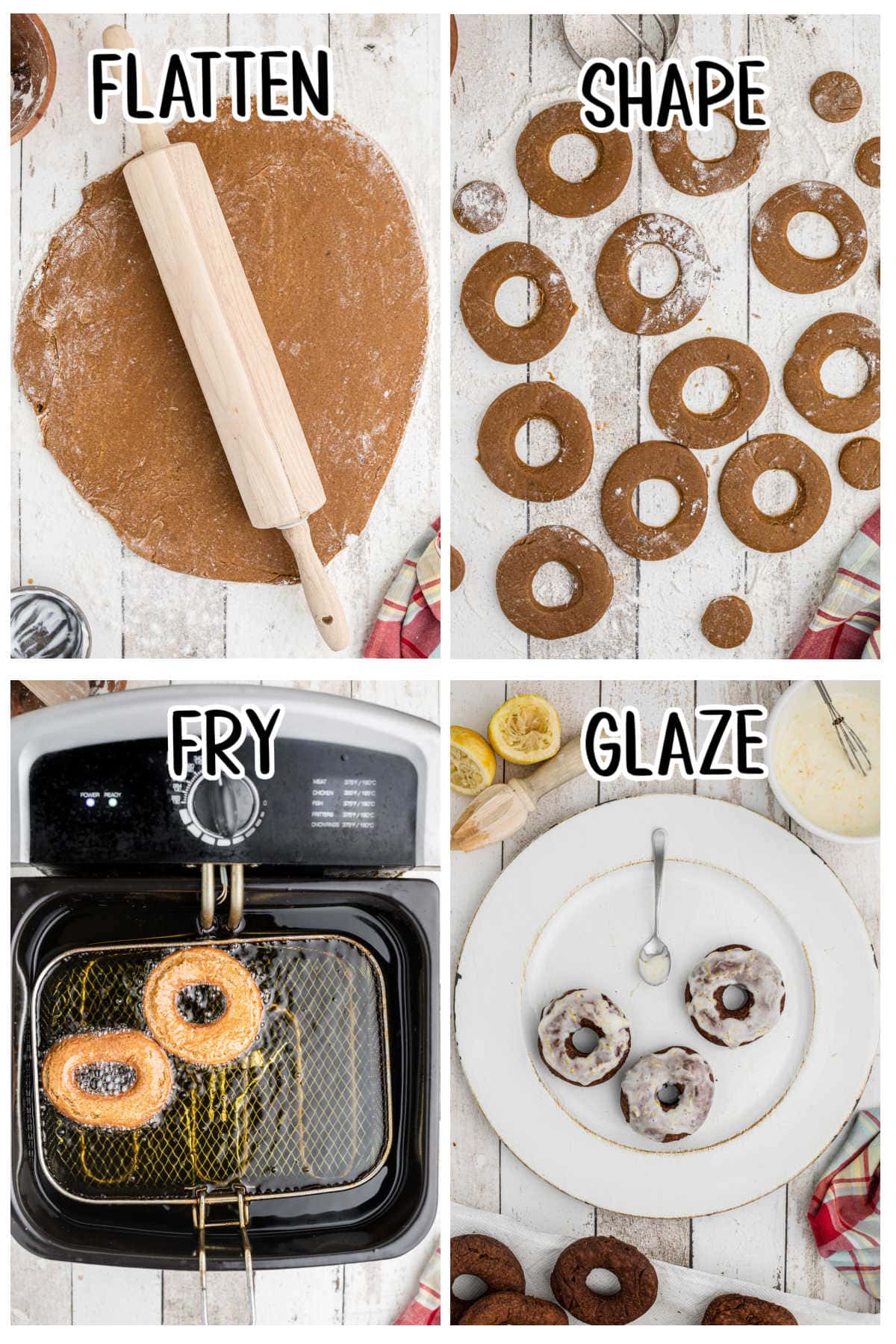 Combine the dry ingredients with the wet ingredients and flatten.
Use a doughnut or cookie cutter to shape the dough.
Fry the donuts and drain them on paper towels.
With a spoon or piping bag, apply glaze to warm donuts and enjoy!
🥫 Storage
Whether fried or baked, gingerbread doughnuts taste best warm, just after glazing. I recommend gobbling them down on the same day you make them. And, with hints of cinnamon and ginger wafting temptingly through the house, that's never an issue!
However, if you have leftover donuts, store them in an airtight container in the freezer. They keep well for up to three months. If you know ahead of time that you're going to freeze some, leave the glaze off.
You can thaw and warm frozen gingerbread donuts in your air fryer or the oven for a few minutes until heated to your liking.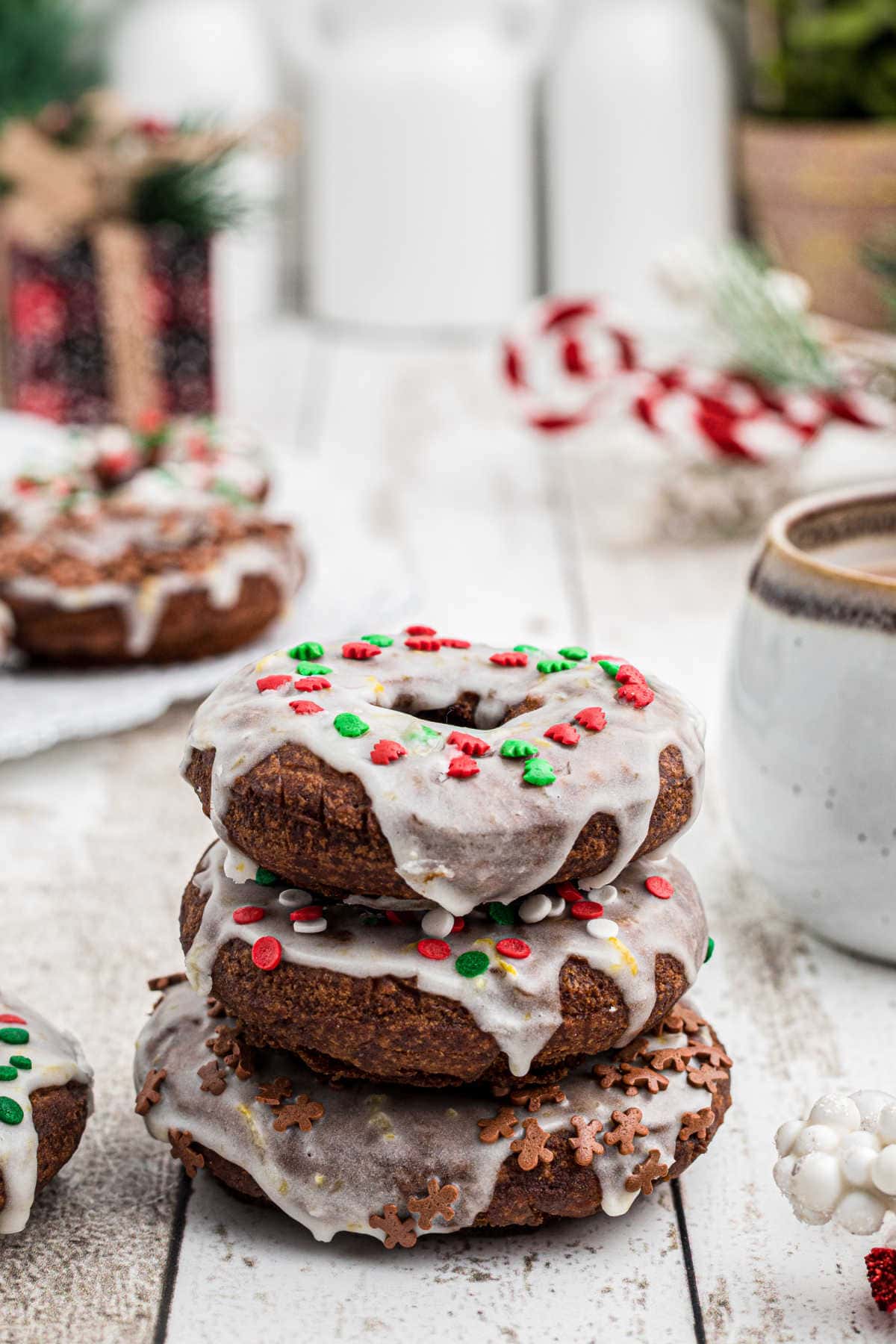 💭 Things to know
Expert Tip: Be sure to use unsulphured molasses—this is super important! Blackstrap molasses will taste terrible.
As the primary flavoring component of gingerbread, use a new container of ground ginger if at all possible. For best results, avoid the ancient, stale mini-jar hiding in the back of your pantry.
Full-fat sour cream keeps your homemade donuts nice and moist. Don't swap it for low-fat, fat-free, or yogurt.
For really fluffy donuts, use as soft of dough as possible. You can put it in the refrigerator if it gets hard to handle. Do whatever it takes not to add any more flour than needed.
Just like when you're making biscuits, don't twist the cutter around the doughnut. Simply press straight down, then lift straight back up.
When it comes to the greased donut pan, anything you prefer is fine. Coconut oil, butter, and nonstick cooking spray all work great.
However, when frying the donuts, use oil with a high smoke point. My preference for frying is peanut oil. (Vegetable oil doesn't withstand as high of temperatures, but you can use it if allergic to peanuts.)
Be extremely careful when using an electric fryer. Make sure your kids and pets stay out of the kitchen—you can never be too safe!
For best results, keep your frying oil around 370-375 degrees F.
Don't overload the fryer, as it can reduce the temperature and your doughnuts will be soggy. Only fry a few at a time—two or so, if they're full-size.
Flip your gingerbread doughnuts as they rise to the top. They should be a light golden color.
Change the oil as it gets dark. This will keep your doughnuts tasting fresh and clean, rather than murky and burned.
Hold the fryer basket over the fryer for a bit to let the finished donuts drain. Then, set them on paper towels to absorb the remaining oil.
For the glaze, use freshly squeezed lemon juice! And, don't skimp on the zest. It makes a difference!
Sift the powdered sugar before stirring it into the glaze for an extra smooth finish with no lumps.
👩‍🍳 FAQs
Okay, is it "donut" or "doughnut?"
It's actually both! Either spelling is accepted, it usually just depends on where you're from!
Can I use white sugar instead of brown sugar?
Brown sugar provides more flavor than white and is best in this recipe, so I wouldn't swap it!
Is a silicone donut pan or a metal donut pan better?
It depends! They both have pros and cons. Silicone donut pans are flexible which makes removing the donuts very easy. Metal donut pans are better at conducting heat and may bake your donuts more evenly. At the end of the day, whichever you can get your hands on will work fine!
Can I use this dough to make gingerbread cookies?
Nope! This blend of ingredients is specially formulated as a gingerbread donuts recipe only—and, it tastes best that way! If you're looking for Christmas cookies, might I suggest these?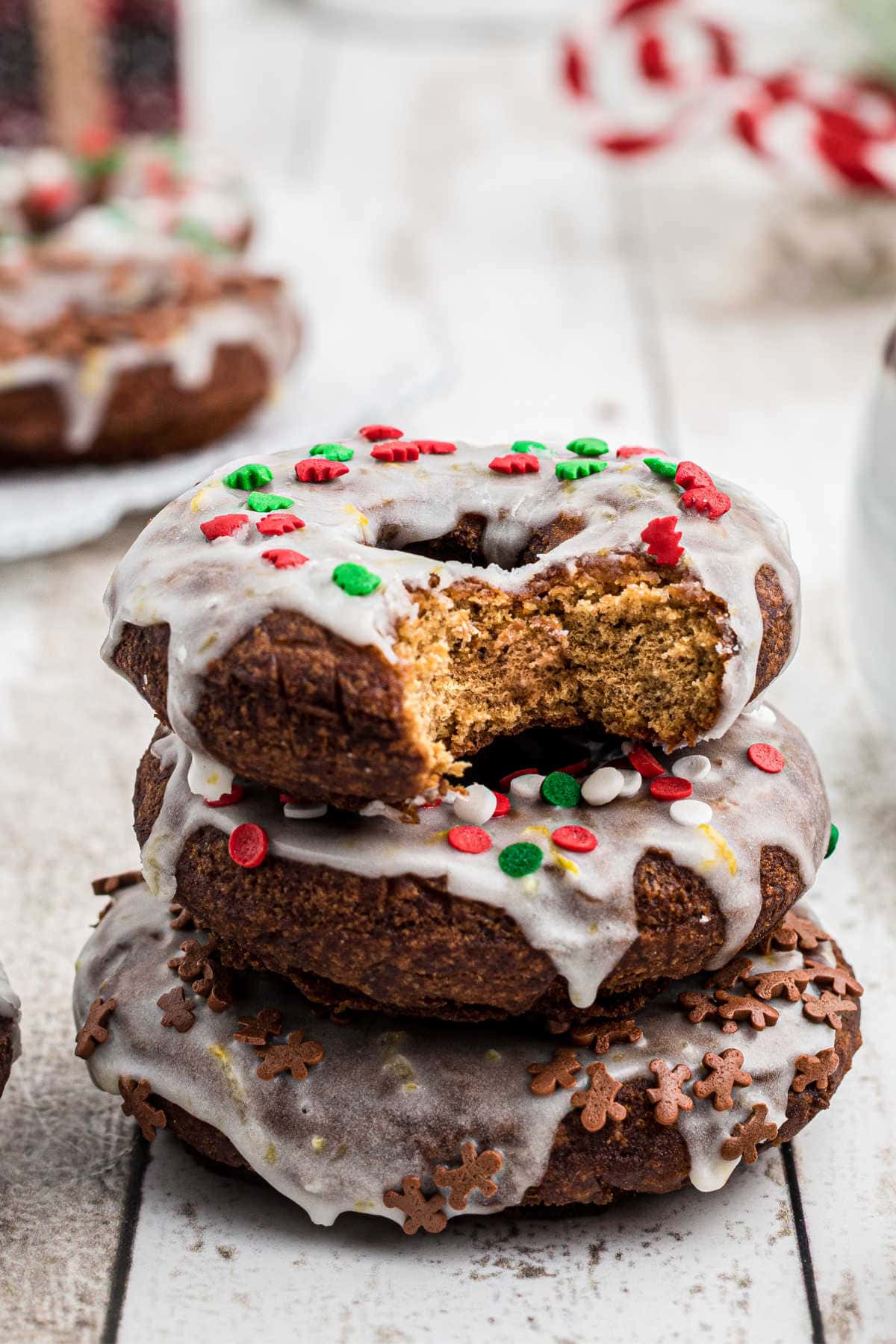 📚 Related recipes
🍽️ Serve with...
I love these gingerbread donuts for fall and winter brunches!
🥄 Restless Chipotle recommends
The following are affiliate links. We are a participant in the Amazon Services LLC Associates Program, an affiliate advertising program designed to provide a means for us to earn fees by linking to Amazon.com and affiliated sites.
You'll need the following items to make this recipe successfully:
📞 The last word
Gingerbread donuts are full of spicy flavors that will sweep you through fall and winter like your favorite, soft flannel jammies and woolly socks. Dark gingerbread cake is topped with a puckery lemon glaze for a cornucopia of sweet, tangy, goodness no one can resist.
If you click on the number of servings in the recipe card you can adjust the measurements up or down for the exact number of servings you need.
If you love this recipe please give it 5 stars! ⭐️⭐️⭐️⭐️⭐️
📖 Recipe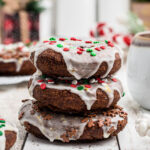 Gingerbread Doughnuts
Print
Pin Recipe
Save
Saved!
Gingerbread donuts are spicy and sweet cake donuts with a tangy lemon glaze. Wonderful with coffee, tea, or a glass of cold milk. If you prefer not to fry you can bake the donuts at 350F for 20 minutes.
As an Amazon Associate I earn from qualifying purchases.
Ingredients
Gingerbread Donuts
½

cup

brown sugar

,

dark, firmly packed

1

egg

,

beaten

½

cup

molasses

,

unsulphured

½

cup

sour cream

,

regular not low fat

½

teaspoon

baking soda

2

teaspoons

baking powder

3

teaspoons

ginger

,

ground

½

teaspoon

salt,

kosher

½

teaspoon

cinnamon

,

ground

¼

teaspoon

cloves

,

ground

Pinch

nutmeg

,

freshly grated

2 ½

cups

flour,

you may need a little more
Lemon Glaze:
1

cup

confectioner's sugar

1

tablespoon

cream

,

heavy cream or half and half

1

teaspoon

lemon juice

½

teaspoon

lemon zest
I earn a commission from Instacart from qualifying purchases.
Instructions
Gingerbread Donuts
Combine all the donut ingredients except flour mixture and stir well.

Add just enough flour to make a soft dough, it should leave the sides of the bowl and be JUST firm enough to shape.

Roll out lightly on a floured counter (well floured, this is sticky dough) and cut with a doughnut cutter.

Fry in deep, hot oil (360F) turning once.

Drain on paper towel or brown paper bags.

Repeat with all of the dough, and then fry the doughnut holes.
Lemon Glaze
Mix all of the glaze ingredients together until smooth.

Glaze doughnuts while warm.
To Bake
Shape the donuts and lay them on a well greased cookie sheet or in a donut pan.

Bake for 20 minutes, or until done.
Notes
Storage
Donuts are best fresh from the fryer.  If you have leftover donuts, store them in an airtight container in the freezer. They keep well for up to three months. If you know ahead of time that you're going to freeze some, leave the glaze off.
Tips 
Always cut the dough straight down - do not twist the cutter.
Make sure the oil is hot. 370F to 375F is usually best.
Don't overload the fryer. Fry a few at a time - no more than 2 for a small fryer.
Flip the donuts as they rise to the top and are light golden on the underside but don't over-fry them or they will be tough and dry.
Use the softest dough possible. Refrigerate it as needed to keep it workable.
Use clean oil - peanut oil is best if you don't have allergies. Change it after every 2nd or 3rd frying session or when it starts to darken.
Add the glaze while they are still warm.
Scroll up in the body of the post for more tips, FAQs, and variations.
You'll find more helpful tips and variations in the body of the post.
Nutrition Facts
Calories:
238
kcal
|
Carbohydrates:
50
g
|
Protein:
3
g
|
Fat:
2
g
|
Saturated Fat:
1
g
|
Cholesterol:
20
mg
|
Sodium:
165
mg
|
Potassium:
331
mg
|
Sugar:
29
g
|
Vitamin A:
100
IU
|
Vitamin C:
0.3
mg
|
Calcium:
82
mg
|
Iron:
2.1
mg
Nutrition information is estimated as a courtesy. If using for medical purposes, please verify information using your own nutritional calculator. Percent Daily Values are based on a 2000 calorie diet.
Sign up for the emails and never miss another recipe!!
We'll never share your email or send you spam. Pinkie swear.
📓 Meal plans in minutes
Save time in the kitchen with this simple meal planning ap. Get a 14 day free trial!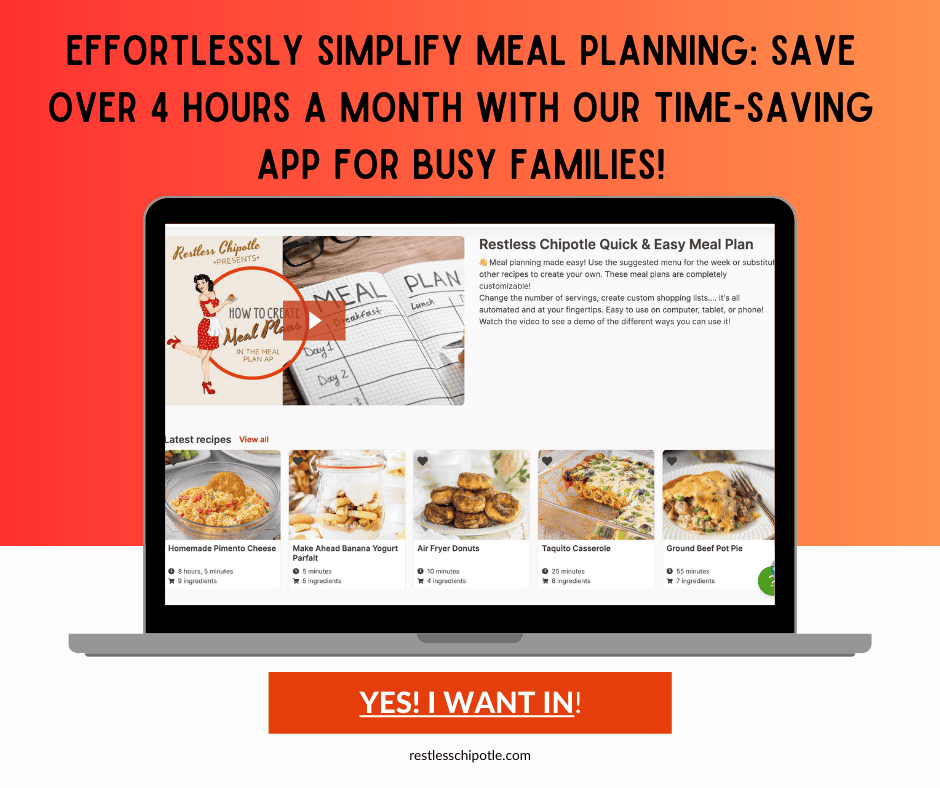 First published October 2007. Last updated October September 4, 2023 for editorial improvements.