Apricot and white chocolate scones for breakfast makes winter go away for me. Apricot is such a sunshiny flavor and I can never resist white chocolate anyway.
Scones are my favorite quick breakfast bread. Biscuits and muffins are ok, don't get me wrong, but they just don't make me smile the way scones do. There's just something about he buttery, delicate crumb. In order to really master that texture you need to be sure to let them rest for 30 minutes before you bake them. The gluten in the flour will relax and the scone will taste much better.
The time is worth it, believe me!
Have these with a cup of Earl Grey creme tea (Teavana) on a rainy afternoon and your day will automatically get much better. These are great for afternoon snacks with an Earl Grey Vanilla tea, or for breakfast..or..you know…just whenever you need about a thousand extra calories for the day.
Don't subsititute low fat milk or margarine. It will make a big difference and you will not be happy with the finished product. Here's the thing — I once had someone email me because one of my recipes was "nasty". I asked what they had used, because the recipe was always delicious as far as I knew. She said she had substituted splenda for the sugar, margarine for the butter and fat free milk for the milk. If I may be allowed a small soapbox for a moment…. my philosophy is that it is much nicer to eat one bite of something really good that a whole plateful of something mediocre. I do not believe natural fats are bad for you unless you pair them with lots of chemicals and hormones.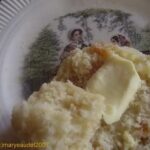 Apricot and White Chocolate Scones
Print
Add to Collection
Go to Collections
Delicious, buttery scones with the flavor of apricot and white chocolate in every bite. These are a great breakfast, brunch, or afternoon snack!
As an Amazon Associate I earn from qualifying purchases.
Ingredients
1

c

dried apricots diced

1

cup

white chocolate chopped

,

(if you use chips, chop them a bit smaller than they are)

3 1/2

c

unbleached white flour

2

tablespoons

baking powder

1/2

cup

unsalted butter

pinch of salt

3/4

cup

sugar

1 1/3

cup

whole milk

2

egg yolks beaten

,

(optional, for glazing tops)
Instructions
Preheat oven to 400F.

Sift flour, baking powder, and salt together.

Mix in sugar.

Rub butter into flour mixture with your fingers until it is crumbly like you would for pie crust.

Do allow there to be some bigger pieces of butter in the dough.

Add the white chocolate chips and the apricots.

Add the milk all at once and mix to make a soft dough that holds together.

Turn out on a floured surface and knead gently just until dough holds together. It will be sticky.

Pat out to about 3/4 inch thick and cut with a large biscuit cutter. I use the mouth of a cup , which gives me just the size I want - about 3 1/2 inches across.

Brush tops with egg wash and sprinkle with sugar crystals.

Place on parchment or silpat lined baking sheet.

Allow to stand for 10 minutes.

Bake at 400 for 12-15 minutes or until golden. Remove from oven and allow to cool slightly, about 10 minutes.
Sign up for the emails and never miss another recipe!!
We'll never share your email or send you spam. Pinkie swear.