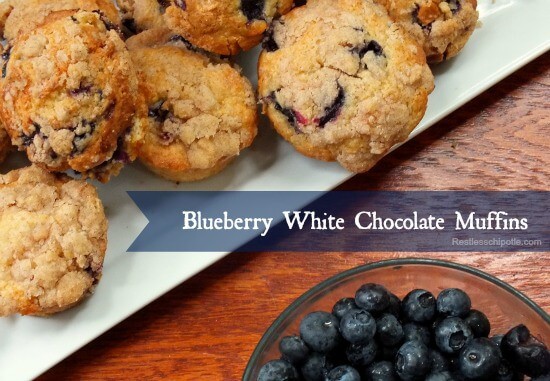 Two of my favorite flavor in the world are white chocolate and blueberries. I like them separately of course but when they are together?
Amazing.
These muffins are full of both. Big, melty white chocolate chunks and sweet blueberries are nestled in buttery muffins with a crunchy streusel on top. Every bite is full contrasting textures and flavors. When you make these your entire house is going to smell amazing. Really amazing.
I have always loved blueberry anything. When I was about four my dad and I were headed out of town on a plane. It was early in the morning and as we drove to the airport I asked dad if we would have breakfast on the plane.
"Probably."
"I want blueberry pancakes!" I said, jumping in my seat. Those were the days before seatbelts were required.
He smiled and shook his head,"They don't do blueberry pancakes on planes."
I just grinned and said, "They will for me, Daddy!"
I think he sighed. I don't remember. What I do remember is that they served blueberry pancakes on that flight.
So, these aren't pancakes but they are muffins and they are amazing. The crumb is tender and so buttery it's unbelievable. The streusel gets crunchy and crumbly and the white chocolate and blueberries just dance along on your taste-buds like a team from a 1930s musical. Addictive, delicious, simple, and they freeze well.
Now is the time for fresh blueberries so don't wait too long to get these blueberry white chocolate muffins on the table.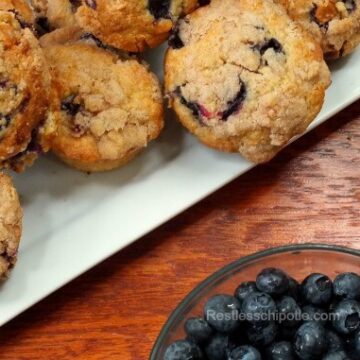 Blueberry White Chocolate Muffins
Print
Add to Collection
Go to Collections
Rich and buttery muffins bursting with ripe blueberries and melting white chocolate chips with a crispy crumbly streusel topping
As an Amazon Associate I earn from qualifying purchases.
Ingredients
Muffins
Topping
⅓

cup

granulated sugar

¼

cup

flour

¼

teaspoon

cinnamon

⅛

teaspoon

ginger

¼

cup

unsalted butter
Instructions
Before You Begin
Preheat oven to 375F.

Put paper liners in muffin cups or use the silicon liners that are available.
Muffins
Combine flour, sugars, baking powder, salt in a bowl.

Stir in milk, egg, butter,lemon peel and vanilla.

Fold in the white chocolate and blueberries.

Spoon into muffin cups.
Topping:
Combine the dry topping ingredients in a bowl.

With cold fingers rub butter into dry ingredients until the mixture is crumbly and looks like coarse crumbs.

Sprinkle the topping on the muffins.

Bake for 20-25 minutes or until a wooden pick inserted in center comes out clean.

Cool in pans for 5 minutes.

Serve warm
Notes
Freeze well for up to 3 months.
Sign up for the emails and never miss another recipe!!
We'll never share your email or send you spam. Pinkie swear.