Super moist blueberry muffins have a sweet flavor with just a touch of vanilla. Buttermilk keeps these classic gems tender and delicious!
Old fashioned buttermilk blueberry muffins are super moist and have a sweet berry flavor with just a touch of vanilla. Not too sweet, this classic recipe will be a favorite in your house from now on!
For this recipe you'll need: flour, sugar, baking powder, salt, buttermilk, egg, vanilla extract, fresh blueberries, paper liners. If you don't have buttermilk you might want to try these blueberry white chocolate muffins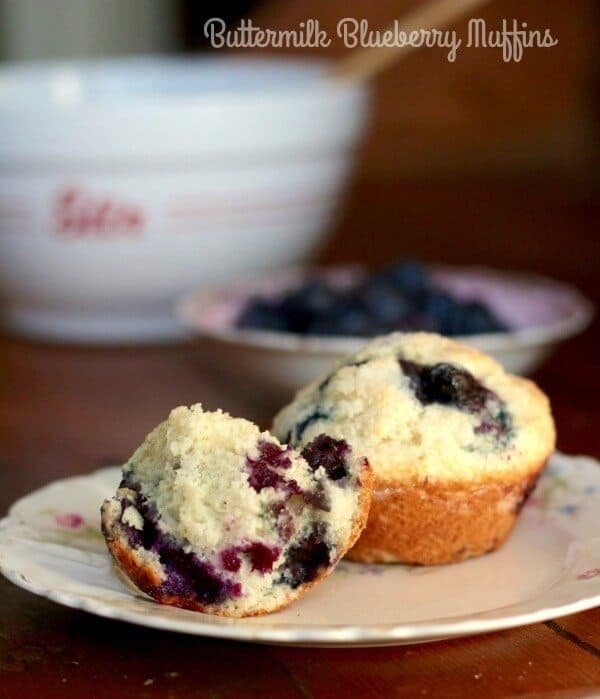 Blueberries are probably my favorite fruit and these buttermilk blueberry muffins are probably the most used blueberry recipe in my house. They aren't fancy but they have a simple, old fashioned flavor and texture that I love -- and I think you will, too.
I don't know about you but I really, really, REALLY hate those huge muffins at the store. They are light and cakey. I think they just use their leftover cake batter to tell you the truth. They should be labeled cupcakes!
Anyway, they are probably the size of three normal homemade cupcakes and I am sure that the calorie count is right up their with the national debt. It's CRAZY. Old fashioned muffins are lightly sweet and just a little dense. They were never meant to be a dessert!
These muffins are a variation of the recipe in my 1943 Rumford Cookbook. Back then you had one recipe for muffins and you tweaked it to create however many varieties you wanted. People didn't really need 500 recipes for cookies because they used the same one and just changed flavors.
I definitely think there's a place in our world for things like Reese's stuffed chocolate chip cookies wrapped in peanut butter cookie dough and bacon. I mean, we are a society that liked decadence in most forms. However, there's also a place for these forgotten favorites because they are just so... humble.
And I think our world could use a little more humble.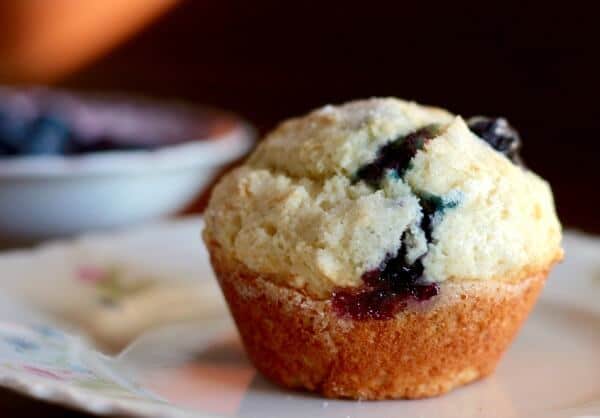 The modern world is a complex place. There are no easy answers. There's no Andy Griffith or Barney Fife to fix our problems with a few thoughtful words.
I live in Dallas. I have a friend that lives in Baton Rouge. My brother lives near Ferguson. No doubt some of y'all live in these areas or similar ones. It breaks my heart to watch the news. At church on Sunday we had a guest speaker who spoke about reconciliation. He talked about how reconciliation starts with "Me". He talked about how as individuals we need to reconcile with our families, our neighbors, and God. He talked about sharing a meal with others in our community --people who maybe have a different spiritual belief, a different culture, or a different political view.
I've thought a lot about that. I work at home, I go to church, and honestly the few people I talk to in real life are either my family or very close friends who share my basic beliefs. I am extremely shy and introverted -- it can be difficult for me to talk to people I don't know. Yet, our world needs me (and you) to step out of our "normal" and just reach out to someone we don't know with maybe a tray of blueberry muffins and a smile.
In some ways the Internet has made the world very small but in others it has created an environment where we never have to deal with other people. When we know each other as individuals then it becomes much harder to hate.
Maybe, just maybe sharing some muffins could be the key.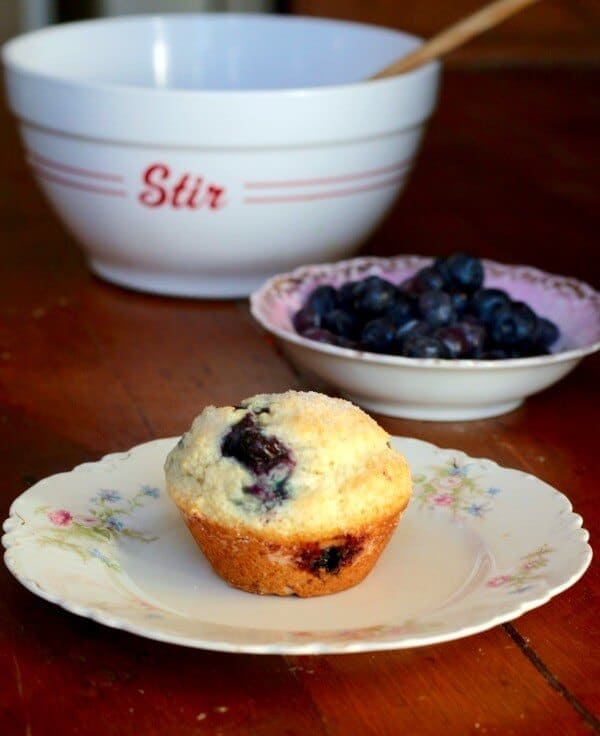 The following are affiliate links. If you click through and buy something I will get a small commission used for keeping the blog up and running smoothly. Thank you for being a part of Restless Chipotle!
If you are making the muffins to share these pretty muffin liners work great. I love the shabby chic patterns!

For home use I LOVE reusable liners!
Here's the buttermilk blueberry muffins recipe. Make a batch and share with someone. 🙂

📖 Recipe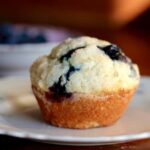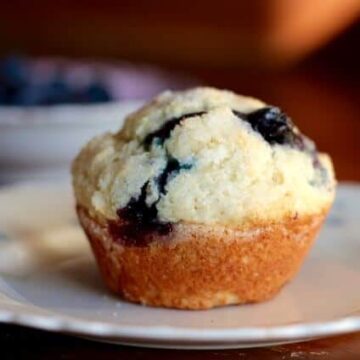 Buttermilk Blueberry Muffins
Print
Save
Saved!
Super moist blueberry muffins have a sweet flavor with just a touch of vanilla. Buttermilk keeps these classic gems tender and delicious!
Ingredients
2

cups

flour,

reserve ¼ cup

¾

cup

sugar

21/2

teaspoons

baking powder

½

teaspoon

salt

¾

cup

buttermilk

1

beaten egg

¼

cup

unsalted butter

1

teaspoon

vanilla extract

2

cups

fresh blueberries

Sugar
I earn a commission from Instacart from qualifying purchases.
Instructions
Preheat oven to 375F.

Dust the fresh blueberries with the ¼ cup flour.

Set aside.

Put paper or silicone liners in muffin cups or spray with baking release spray.

Combine remaining 1-¾ cups flour, sugar, baking powder, and salt in a bowl.

Stir in buttermilk, egg, butter, and vanilla extract.

Fold

in the floured blueberries and any remaining flour with them.

Spoon into muffin cups.

Sprinkle a little white sugar on the tops if desired.

Bake for 20-25 minutes or until a wooden pick inserted in center comes out clean.

Cool in pans for 5 minutes.

Turn out to cool completely.
You'll find more helpful tips and variations in the body of the post.
Nutrition information is estimated as a courtesy. If using for medical purposes, please verify information using your own nutritional calculator. Percent Daily Values are based on a 2000 calorie diet.
Sign up for the emails and never miss another recipe!!
We'll never share your email or send you spam. Pinkie swear.
If you liked these Buttermilk Blueberry Muffins you may also like...