Slice into this moist pumpkin spice bread with a sweet bourbon glaze and get in the mood for the fall season! This loaf is perfect for holiday giving AND year round eating! Freezes well.
No matter the temperature in your area this time of year, grab a sweater and get the fireplace started because it's about to feel (and taste!) like fall!
Table of Contents
🗝️ Key takeaways
This easy pumpkin quick bread recipe stays moist for days thanks to the addition of buttermilk and cooking oil.
Perfect for Fall and Winter whether you're grabbing a quick breakfast or handing the kids a quick after-school snack.
A pinch of chipotle powder enhances the pumpkin spice (cinnamon, cloves, and ginger) and adds a little smoky kick to each bite. Try it!
This easy pumpkin bread recipe makes a delightful dessert, an awesome afternoon snack, and a great gift idea—holiday or housewarming.
🧾 Ingredients
This is an overview of the ingredients. You'll find the full measurements and instructions in the green recipe card (printable) at the bottom of the page.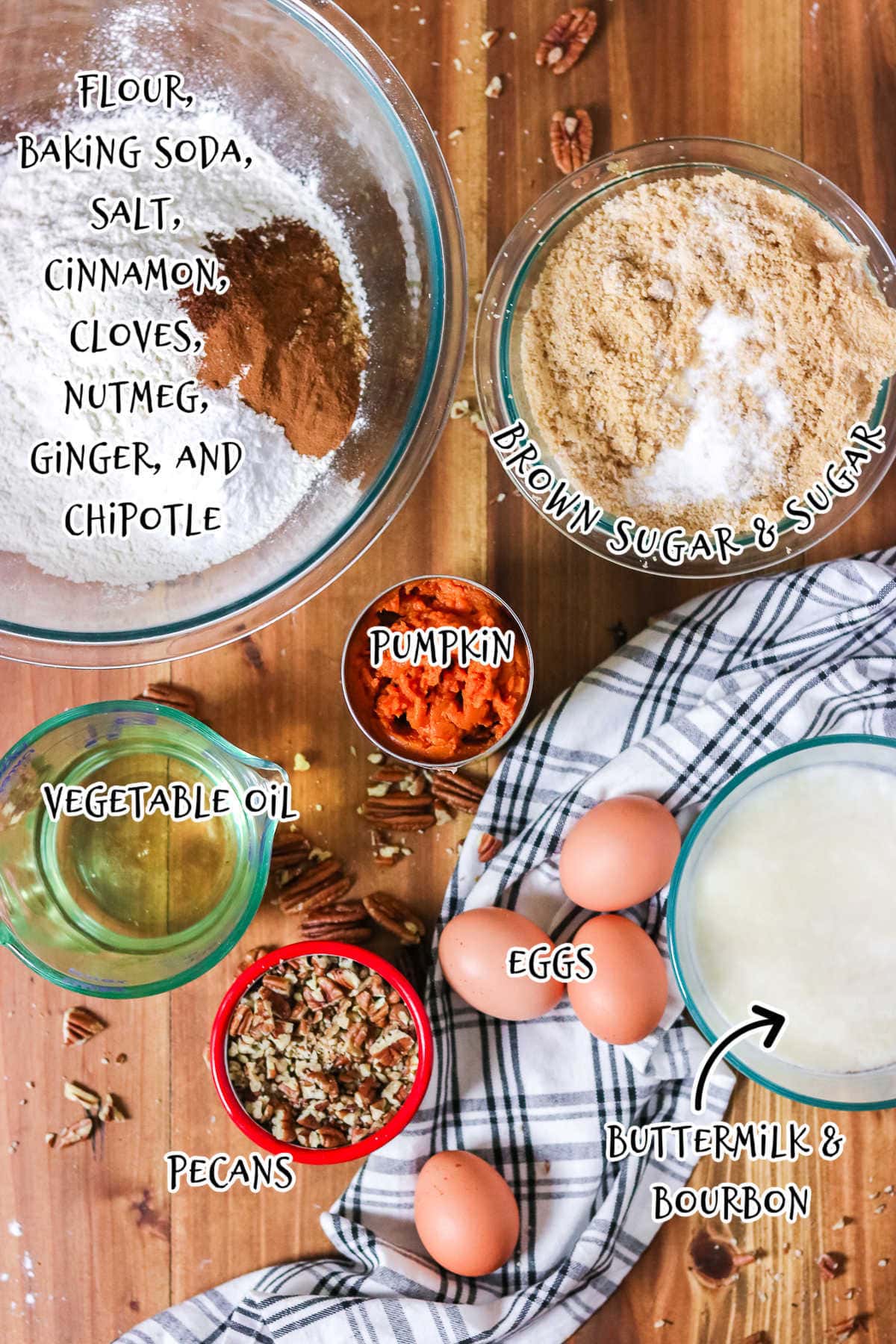 📖 Variations
This simple recipe requires minimal effort and is a family favorite as written. However, if you want, there are plenty of ways to change it up!
Light, neutral oil (peanut, canola, or vegetable oil) works best in this recipe to create a moist texture, but you could use browned butter.
Out of buttermilk? Don't sound the alarms! Check out these buttermilk alternatives, instead.
Swap the bourbon for water, milk, ginger ale, or apple/orange juice in both the glaze and the bread. Though you won't taste the flavor in the pumpkin bread, your glaze may taste like whichever substitute you use.
During pumpkin season, you can use fresh pumpkin, cooked and cooled, or a can of pure pumpkin from the store.
Instead of pumpkin, use mashed Hubbard squash, acorn squash, or sweet potato puree for a similar but just as delicious loaf!
Some people like to add cream cheese frosting to their pumpkin bread. It makes it taste similar to pumpkin cake—I won't say "no" to that!
🔪 Instructions
This is an overview of the instructions. Full instructions are in the green recipe card at the bottom of the page.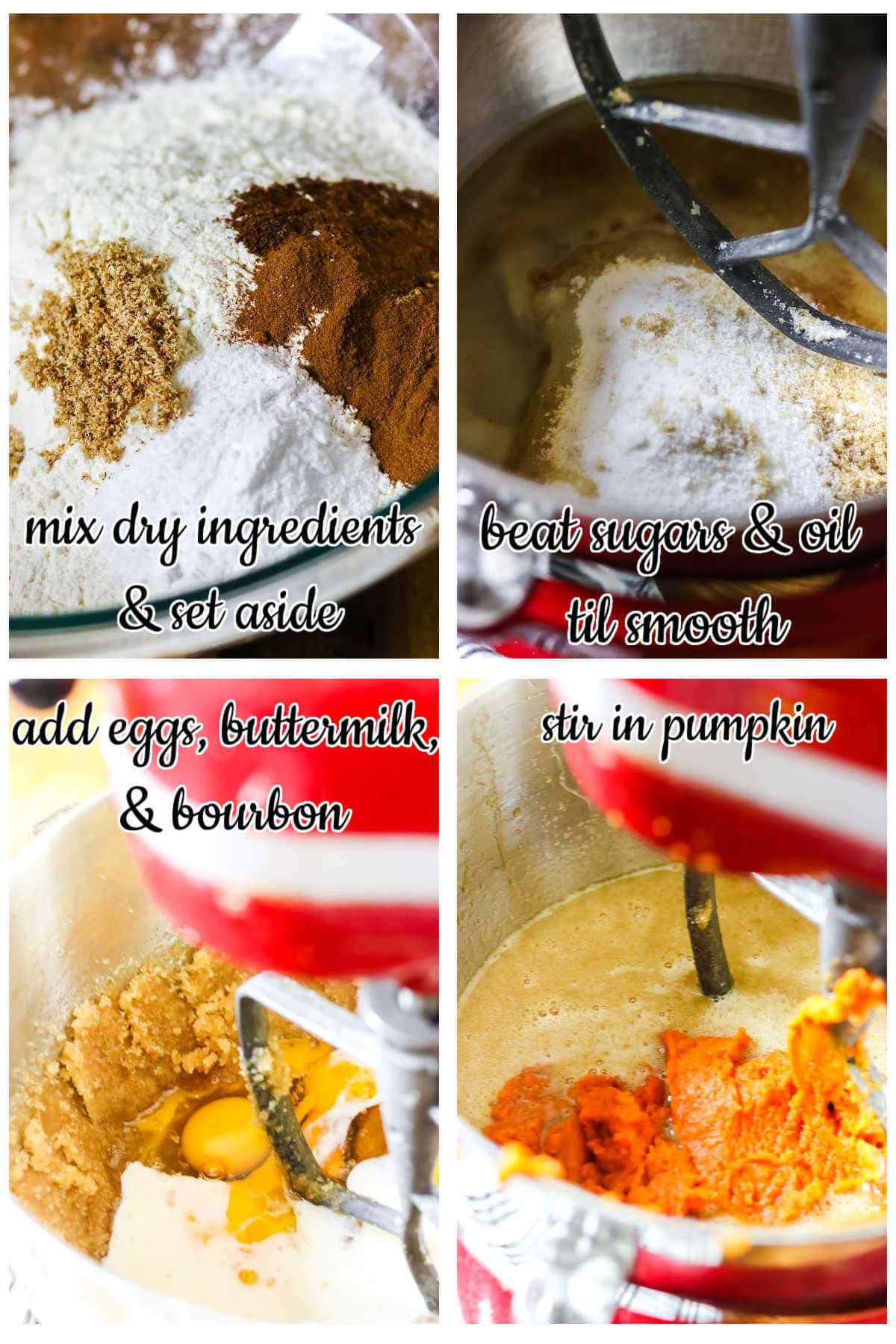 Mix the dry ingredients in a large bowl.
Beat the brown sugar, white sugar, and oil until smooth.
To the mixer, add large eggs, buttermilk, and bourbon.
Stir in the pumpkin purée.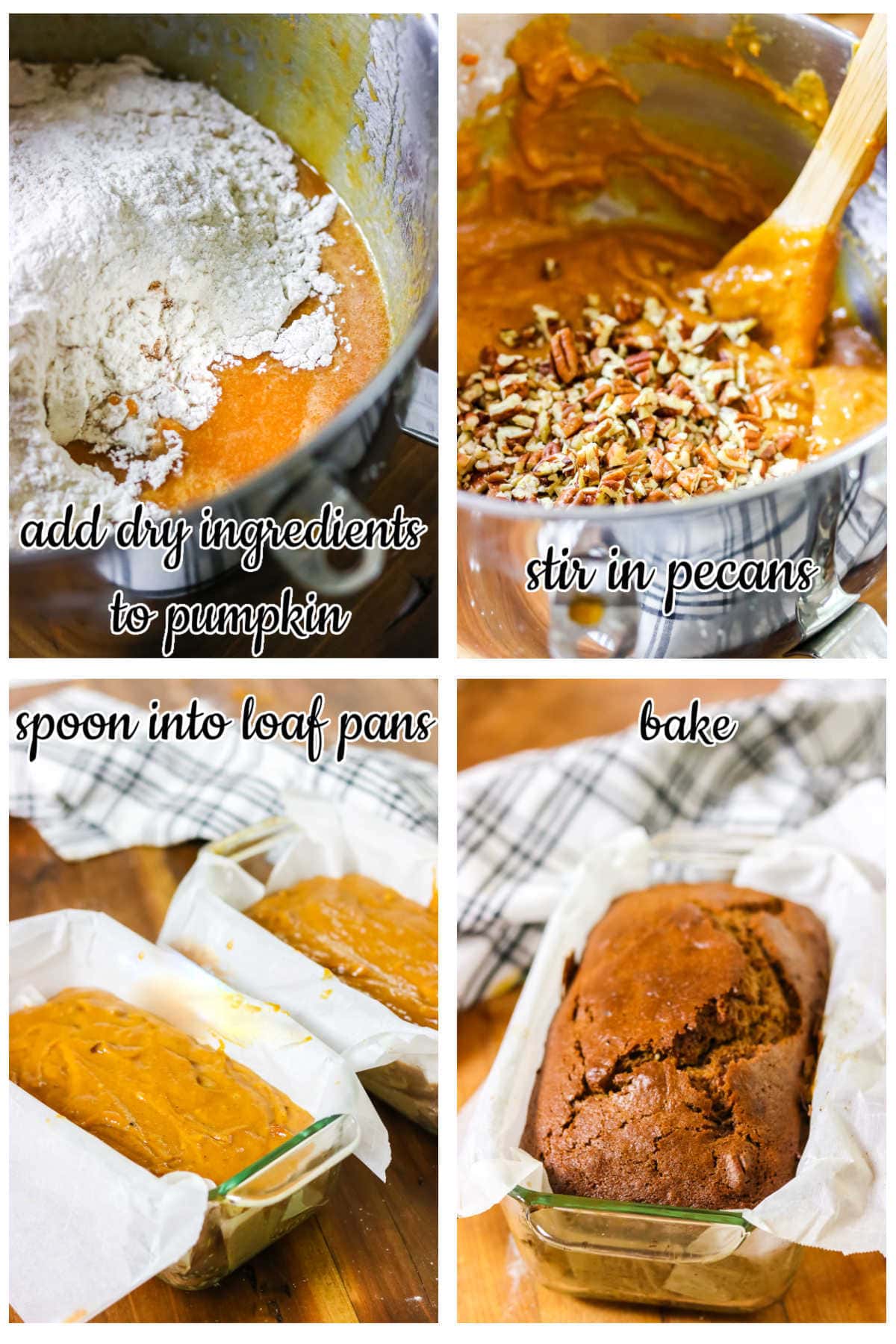 Add the flour mixture to the pumpkin puree/wet ingredients.
Stir in the pecans.
Pour batter into prepared loaf pans.
Bake and cool on a wire rack.
🥫 Storage
Personally, my family thinks this moist pumpkin bread is even more flavorful the next day. It's one of my favorite recipes to prep the evening before a special fall tradition, like pumpkin carving!
How to store pumpkin bread
Wrap the pumpkin loaf in plastic wrap and store it at room temperature for up to 3 days.
If any slices manage to remain later than that, toss them in the freezer!
How to freeze pumpkin bread
This is the best pumpkin bread recipe because, not only does it freeze well, but it's super easy to prepare for freezing, too!
Simply wrap your pumpkin bread (leftovers or whole loaves) tightly in plastic, then in a layer of aluminum foil. This adds a double layer of protection so your quick bread stays fresh tasting.
You can also slice the loaf and separate the pieces with parchment paper before wrapping. This allows you to pull out one slice at a time.
Whenever a pumpkin craving arrives, you've got the solution right in your freezer!
Some people like to vacuum seal the pumpkin bread before freezing it.
If you do so, just make sure not to pull out all of the air, otherwise, your tasty pumpkin bread will crumble into pieces! So sad!
You can freeze the bread for up to three months. Thaw in the refrigerator before warming it in the microwave, or enjoy it at room temperature.
🎥 Video
Click on the image to watch me make this recipe from start to finish with extra tips! (Video opens in a new tab).
💭 Things to know
Expert Tip: The measurement for 2 cups mashed/cooked pumpkin is about the same as a 15 oz can of puree. Use either! However, fresh pumpkins carry more liquid than canned, which could alter the results, so drain them thoroughly.
Measure your ingredients carefully.
If you're using homemade pumpkin puree place it in a colander set over a bowl. Let it drain overnight if you have the time.
To dry the pumpkin more quickly, heat it over low on the stove to let some moisture evaporate. Stir occasionally so it doesn't burn!
Don't buy pumpkin pie filling! It's loaded with sugar and other spices and usually sits right next to the pumpkin puree in the store. It can be confusing, especially if you send your hubby to the store!
Use an electric mixer or a stand mixer, whichever you have.
Remember the mixing rules! You can usually beat eggs/sugar/butter at a higher speed and for a longer period of time.
However, after adding the flour to the wet ingredients, you only want to mix on low speed until it's just combined.
Line your pan with parchment paper, leaving some hanging over the edges. That way, you can use the paper to lift your pumpkin bread out of the pan after baking—and, that's one less dirty dish to wash!
Your pumpkin bread is fully cooked when it reaches 200 degrees F on an instant-read thermometer, or when a cake tester/toothpick inserted into the middle comes out clean.
Watch the pumpkin bread carefully while it cooks, especially if you use a different pan than suggested, as cook times will vary.
Always cool cakes and loaves fully before wrapping and storing them.
👩‍🍳 FAQs
Can I use maple syrup or honey instead of sugar?
Nope, don't swap the sugar out. Maple syrup and sugar both add sweetness, but the similarity stops there. Sugar is essential in this recipe, and syrup won't replicate it!

I'd recommend making the maple glaze mentioned in the variations heading if you want more maple flavor.
I only have olive oil, can I use that instead of vegetable?
I don't recommend it, but it won't ruin your loaf. However, the olive flavor may come through a bit. Plus, olive oil is typically more expensive than vegetable, and since you need a whole cup of oil in this recipe, I'd save the good stuff for when you actually want to taste the savory flavor!
How do I adjust the bake time for muffins or mini loaves?
Bake for 20 minutes and check to see if they're done. Then, if they need more time, check every 5 minutes until they're baked through.
How do I prevent my loaf from sticking to the pan?
Here are my favorite ways to prepare a pan. Use whatever you prefer:
1) Mist with nonstick spray.
2) Use a pastry brush to apply some melted butter.
3) Rub a little cold butter or shortening on the pan.

Do you have to let this bread rise?
Nope! It's a quick bread so cooks sort of like a cake or banana bread. Once you pour the batter into the greased loaf pan, pop it in the hot oven!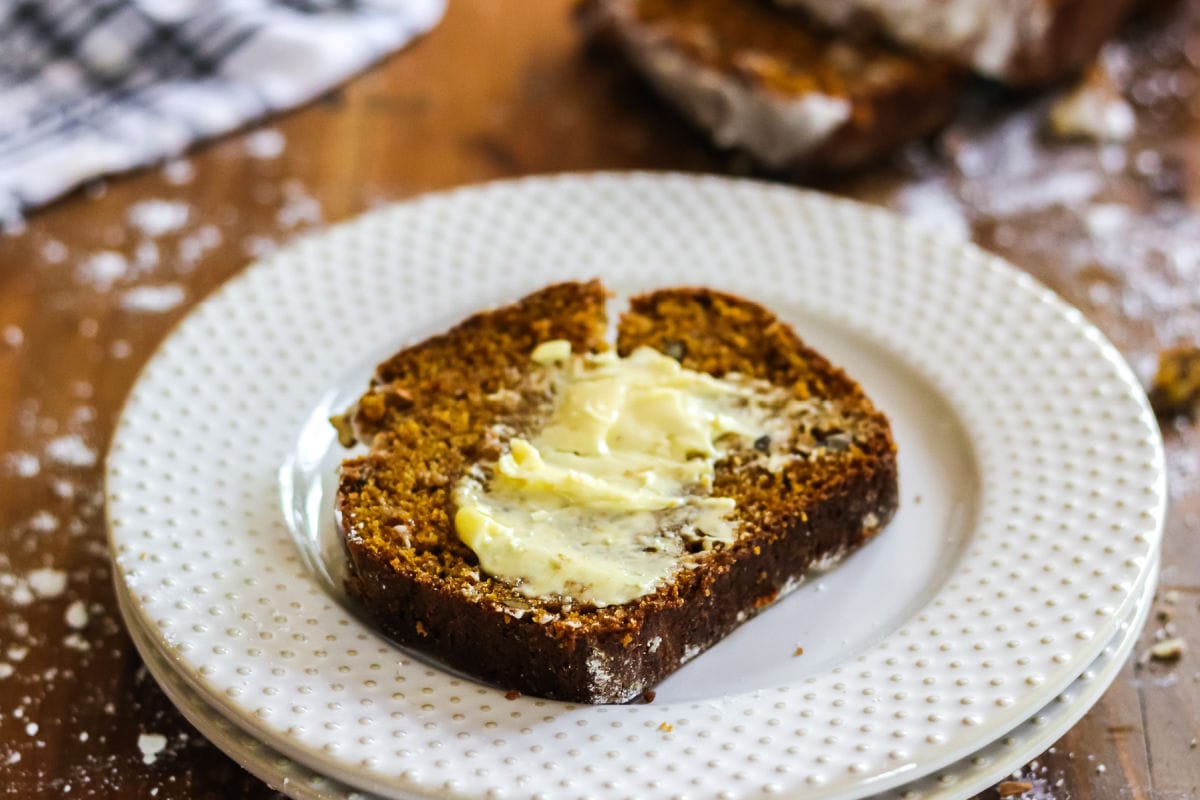 📚 Related recipes
📞 The last word
One bite of this bread and a cup of coffee makes me long for cooler weather, flannel shirts, and Hallmark movies! It's easy to make and freezes so well that it would be a shame not to make 2 or 3 loaves.
If you click on the number of servings in the recipe card you can adjust the measurements up or down for the exact number of servings you need.
If you love this recipe please give it 5 stars! ⭐️⭐️⭐️⭐️⭐️
📖 Recipe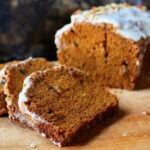 Pumpkin Spice Bread Recipe
Print
Pin Recipe
Save
Saved!
Slice into this moist pumpkin spice bread with a sweet bourbon glaze and get in the mood for the fall season! This loaf is perfect for holiday giving AND year round eating! Freezes well.
Ingredients
1

cup

cooking oil

,

be sure to use a light flavored oil such as peanut oil (if there are no allergies) or vegetable oil

1 ½

cups

brown sugar

1 ½

cups

sugar

4

large eggs

,

lightly beaten

½

cup

buttermilk

¼

cup

bourbon

,

or substitute an equal amount of water or buttermilk.

2

cups

mashed cooked pumpkin

,

about 1 15-ounce can or equivalent in homemade puree (about 2 cups)

3 ½

cups

all-purpose flour

2

teaspoons

kosher salt

2

teaspoons

nutmeg

1 ½

teaspoons

baking soda

2

teaspoons

cinnamon

1

teaspoon

cloves

½

teaspoon

ginger

½

teaspoon

chipotle

,

optional

1

cup

pecans

,

chopped
Glaze (optional)
1

cup

confecioner's sugar

2

tablespoons

bourbon

,

or enough to make a thick glaze. You can use cream if you want to.
I earn a commission from Instacart from qualifying purchases.
Instructions
Grease and flour 2 loaf pans. Set aside.

Add the cooking oil, brown sugar, and sugar to the bowl of a stand mixer.

Beat

on medium until well mixed and the sugar starts to dissolve.

Add the eggs, buttermilk, and bourbon.

Beat

on medium until very smooth.

Stir in the pumpkin.

Set aside.

Mix dry ingredients.

Stir the dry ingredients into the wet ingredients quickly, just until blended. Don't overmix.

Spoon into the prepared loaf pans and bak for 1 hour 10 minutes, or until a toothpick inserted in center comes out clean.

Glaze while slightly warm if desired.
Glaze
Mix the bourbon and the confectioner's sugar until smooth, adding the bourbon a little at a time.

Spoon over pumpkin bread.
Notes
This was made in  5-inch x 10- inch sized loaf pans. (Pyrex 1.5 quart)
Storage:
Wrap the pumpkin loaf in plastic wrap and store it at room temperature for up to 3 days. If any slices manage to remain later than that, toss them in the freezer for up to 3 months!
Tips:
Don't use the pumpkin pie filling that has all of the sugar and stuff in it. You want pure pumpkin puree.
2 tablespoons of pumpkin pie spice can be used in place of the spices in this recipe.
Use whatever kind of loaf pan you have - it doesn't have to be glass.
Let cool completely before storing.
This can be made ahead, wrapped in plastic wrap and stored at room temperature for 2 days. Freeze for longer storage.
To make muffins or mini-loaves bake for 20 minutes and then check every 5 minutes until done.
The bread is done when the interior registers 200F on an instaread thermometer stuck in the center OR a cake tester or toothpick inserted in center comes out clean
It's better the second day.
You'll find more helpful tips and variations in the body of the post.
Nutrition Facts
Serving:
1
slice
|
Calories:
385
kcal
|
Carbohydrates:
57
g
|
Protein:
4
g
|
Fat:
15
g
|
Saturated Fat:
1
g
|
Cholesterol:
1
mg
|
Sodium:
338
mg
|
Potassium:
134
mg
|
Fiber:
2
g
|
Sugar:
38
g
|
Vitamin A:
3826
IU
|
Vitamin C:
1
mg
|
Calcium:
36
mg
|
Iron:
2
mg
Nutrition information is estimated as a courtesy. If using for medical purposes, please verify information using your own nutritional calculator. Percent Daily Values are based on a 2000 calorie diet.
Sign up for the emails and never miss another recipe!!
We'll never share your email or send you spam. Pinkie swear.
What's new? Check out my Restless Chipotle & Co. Store on Amazon where you'll find all kinds of nostalgic goodness! Thanks so much for being a part of Restless Chipotle!
First published March 2008. Last updated August 17, 2023 for editorial improvements.