Knowing how to measure ingredients accurately is one of the most important cooking techniques to learn, and learn well.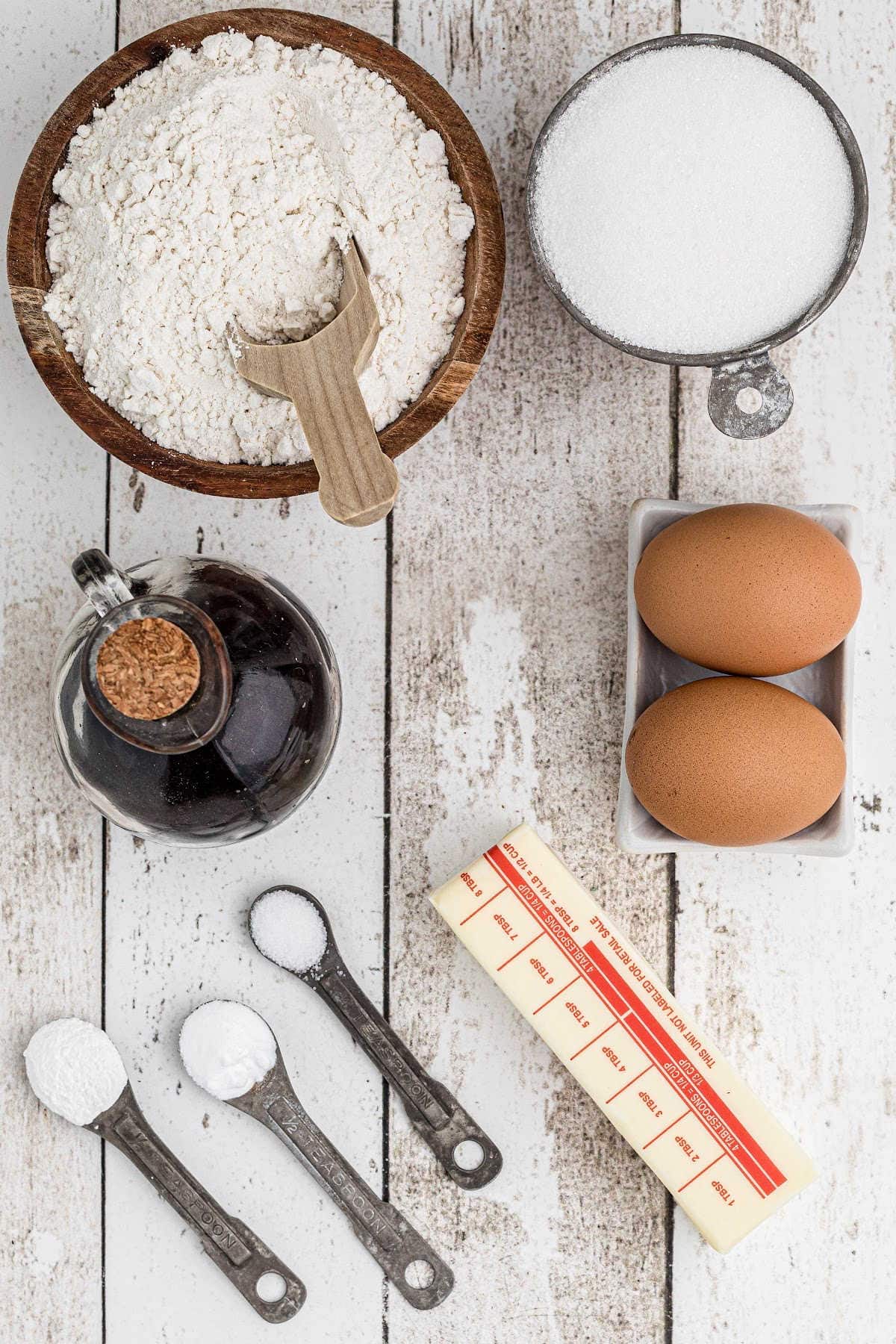 Table of Contents
Why you need this
Without proper measurements your recipe will just not work. An extra tablespoon of flour can make an otherwise perfect cake heavy and dry. An extra teaspoon of liquid can make a frosting runny and impossible to spread.
The right measuring cup and the correct measurement may mean the difference between chewy and hard as a rock in even the most wonderful chocolate chip cookie recipe.
Getting the right amount is the difference between dinner rolls and pancakes!
It may seem like a small thing but the attention to this detail is primary.
The best way to be completely accurate in your measurements is to use a kitchen scale and cook by weight but most people in the United States measure by volume, using cups, tablespoons, and teaspoons.
Most American recipes are written using this method.
Creating successful recipes is not difficult when you start with accurate measures and the proper tools.
Tools for measuring ingredients
You'll need a few things specifically for measuring ingredients.
Measuring cups and spoons are inexpensive and come in a variety of designs, colors, and prices.
Choose something that you can use easily and that you are comfortable holding. It's also a good idea to have two sets of measuring cups and spoons.
Cups
1 cup
¾ cup
⅔ cup
½ cup
⅓ cup
¼ cup
It's nice to have clear measuring cups with cups and ounces marked on them for measuring liquids and others for measuring dry ingredients. It makes it easier to be accurate with liquid measures.
However, you can measure liquids in cups meant for dry ingredients. They are the same measurement. 1 cup = 1 cup whether it's milk or flour.
If you do a lot of baking of bread and other foods that use larger measures it is nice to have a 2 cup measure as well.
Spoons
1 tablespoon
½ tablespoon
1 teaspoon
½ teaspoon
¼ teaspoon
The following are nice to have but not really necessary
1 ½ tablespoons
1 ½ teaspoons
⅓ teaspoon
⅛ teaspoon
Generally speaking, you shouldn't measure your ingredients with a teaspoon or tablespoon from your flatware set. These are not standard sizes and will not measure accurately.
Abbreviations
For the record, many recipes use a capital T when they mean tablespoons and a lowercase t when they mean teaspoons.
Example
3 t = 3 teaspoons
3 tsps = 3 teaspoons
3 T = 3 tablespoons
3 Tbs = 3 tablespoons
C = cup
How to measure dry ingredients
When measuring dry ingredients like all purpose flour, sugar, spices, and leavening (baking powder, baking soda) you'll want to lightly fill the measuring cup with a spoon without packing the ingredient in.
Next, use the back edge of a knife to cut across the top of the measuring cup (or spoon) parallel to the surface. This quick technique will take off any excess and keep the measurement accurate.
For spices, herbs, and other ingredients that come in small containers just use the pour spout to fill the measuring spoon. You can also pour the item out into a clean bowl and fill your measuring spoon from the bowl. Once you are done use a funnel to put the remainder back in its jar.
You may see this referred to as the dip and sweep method because you dip the cup into the flour bin and sweep the excess off the top.
The thing is, when you actually dip the cup into the flour it will get packed in and you will end up with more flour than the recipe calls for. Just lightly spoon the ingredient into the measuring cup and level it off.
There are a few exceptions to this.
For example, brown sugar should be packed down hard enough into the measuring cup that it holds its shape when turned out into the bowl of ingredients.
| | |
| --- | --- |
| Ingredient | How to Measure |
| brown sugar | pack in the cup tightly |
| granulated sugar | scoop |
| flour (all kinds), cocoa powder, powdered sugar, etc. | spoon flour lightly into measuring cup & level off with the back of a knife |
| breadcrumbs | scoop |
| baking powder/baking soda | scoop |
A note about yeast
When I first started baking bread a packet of yeast equaled 1 tablespoon. In many old bread recipes you'll see notations like 1 packet of yeast or 1 tablespoon.
At some point in the early 2000s companies downsized the yeast packets to 2 ¼ teaspoons - just under a tablespoon.
This has caused tons of frustration between readers and recipe creators like myself because my recipes are ALL based on the old measurements.
Here's the deal, y'all. It doesn't matter. You can use 1 packet or 2 ¼ teaspoons or a tablespoon and (wait for it) it won't make a dang difference!
I hope that clears things up.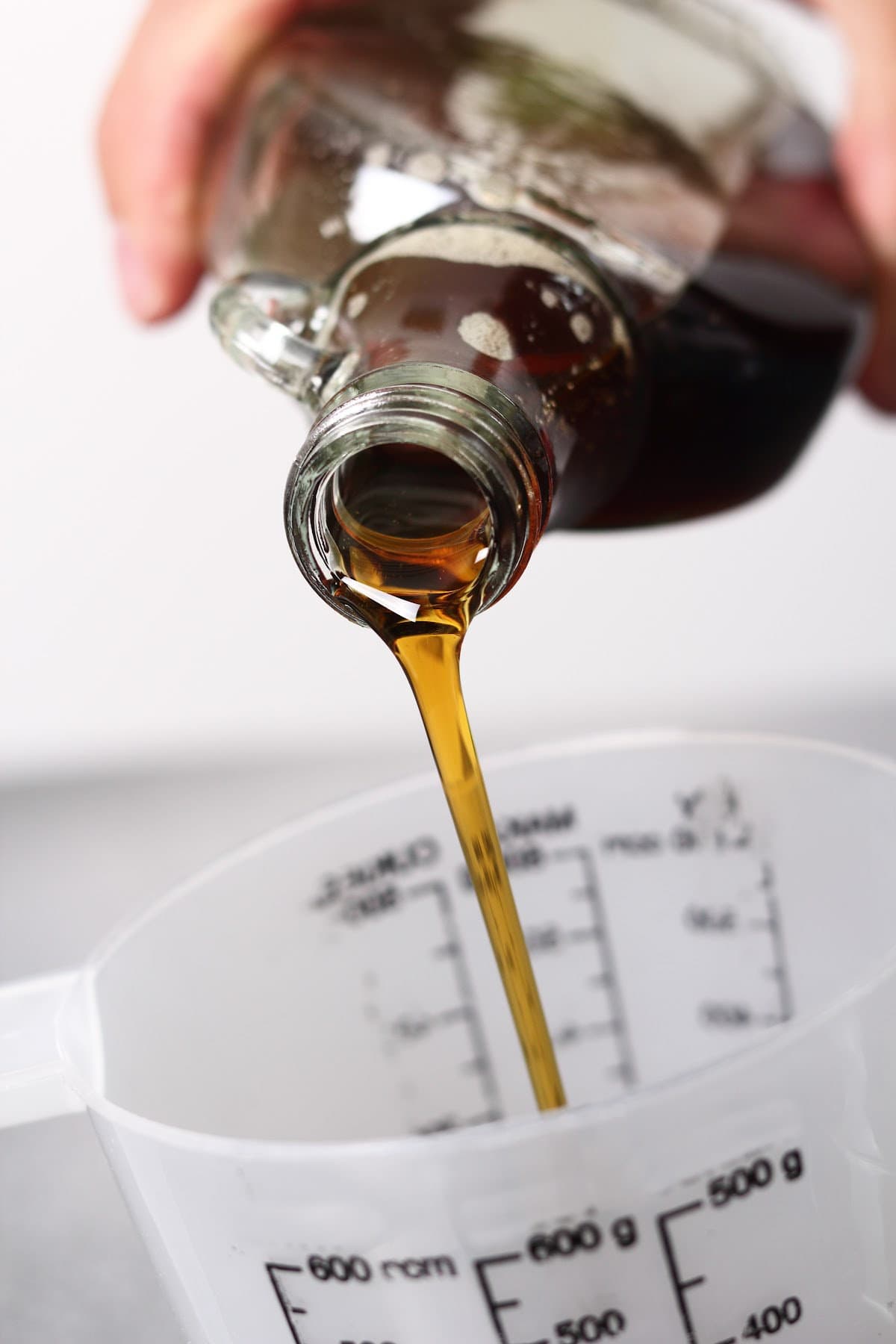 Liquid measures
Liquid measuring cups are clear and have the measurements marked on the side for both cups and ounces.
You don't necessarily need more than one cup for liquid measures. Just make sure that the measurements are clearly marked and that there is a spout or dip in the cup for easy pouring.
If you are only going to have one liquid measuring cup a two or four cup measure is best.
To measure liquids you will pour the liquid into a clean measuring cup, set it on a flat surface and bend down to put the top of the liquid at eye level. Make sure that the surface of the liquid is exactly at the measurement mark that your recipe calls for.
By having it at eye level you can easily see if you have a little too much or need to add a little more.
Don't try to hold it up to your eye – your hands will not be steady and you won't get an accurate measure. Set it on the counter and bring your face down to the cup.
Equivalent measures
Sometimes you don't have the right measuring tool. Take a cup for example - if you don't have a measuring cup you can measure 16 tablespoons of the ingredients and that will be equivalent to a cup.
| Measure | Equivalent |
| --- | --- |
| 1 tablespoon | 3 teaspoons |
| ¼ cup | 4 tablesppons |
| ⅓ cup | 5 tablespoons + 1 teaspoon |
| ½ cup | 8 tablespoons |
| 1 cup | 16 tablespoons |
| 1 liquid ounce | 2 tablespoons |
| 8 liquid pounces | 1 cup |
| 2 liquid cups | 1 pint |
| 2 liquid pints | 1 quart |
| 4 liquid quarts | 1 gallon |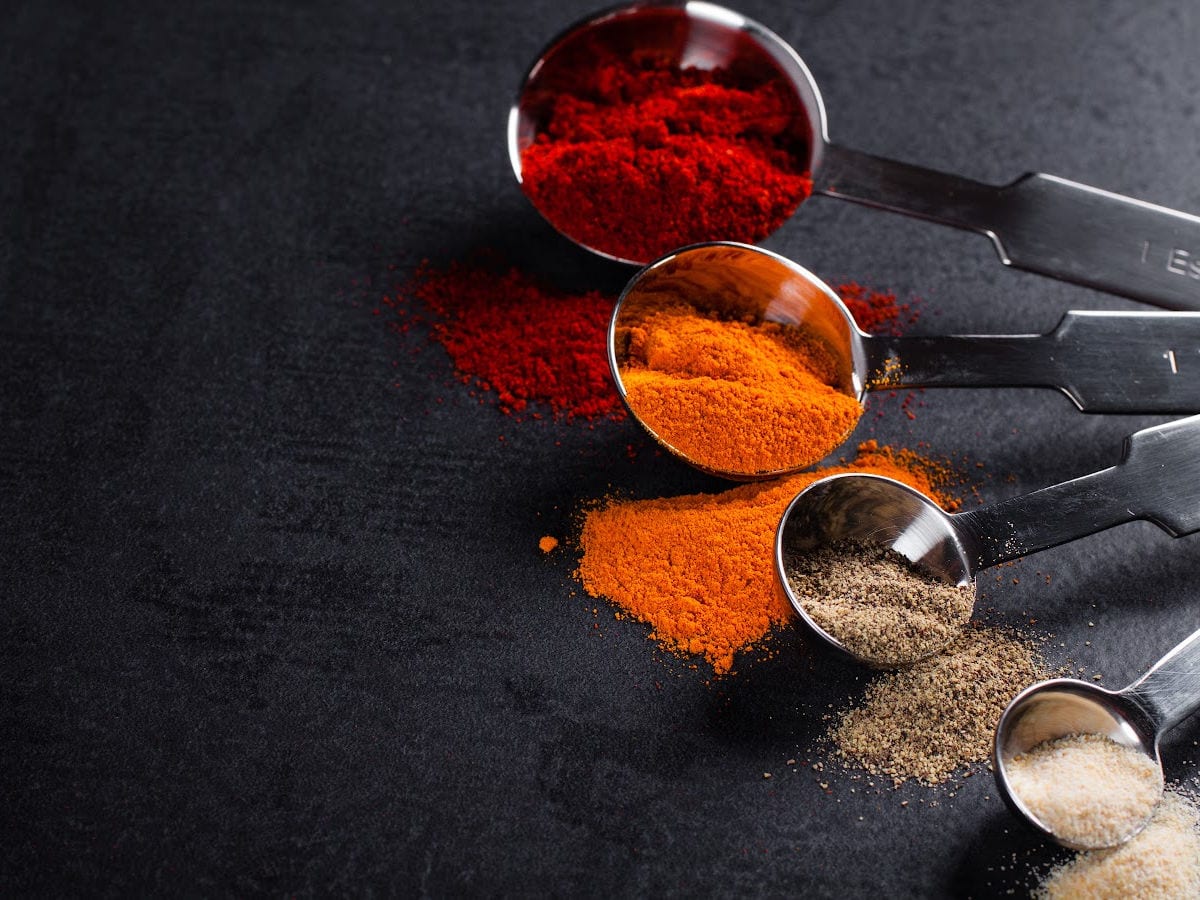 Glossary of measuring terms
You might come across a few terms besides cups, tablespoons, and teaspoons when measuring. This glossary should help.
Dash – A dash is about 2 drops of a liquid or ⅛ teaspoon of a dry ingredient.
Lightly packed – Fill the measuring cup up with the ingredient and then press down gently – the ingredient will not hold its shape when it is turned out from the cup.
Firmly packed – Fill the cup and then press firmly. The ingredient will hold the shape of the cup when turned out of it.
Glug – Often used in old recipes, a glug is the sound that a liquid makes when it comes out of a bottle. One glug means to stop pouring when you hear that first "glug" sound, two would allow for two glugs, etc.
Heaping – A heaping teaspoonful or cupful is one that is rounded on the top and overflowing. You don't level off the ingredients.
Pinch – As much as will fit between your index finger and thumb.
Scant – A scant cup of something means to make it slightly less than the full cup.
Splash - A splash is just a quick pour - about a teaspoon to a tablespoon.
FAQs
How to measure ingredients without measuring cups
If you have measuring spoons you can use tablespoons. 4 tablespoons equals ¼ cup and so on. If you don't have anything you can use a teacup (not a coffee mug!). A teacup is pretty close to ½ cup. For liquids you can use a pint Mason jar, which is 2 cups. Half a jar would be one cup and so on. This is NOT an accurate way to measure but it usually works pretty well in a pinch.
How to measure without measuring spoons
If you have average size hands you'll find that a half cup is the size of a tennis ball, ¼ cup is the size of an egg, a tablespoon is a mound in the center of your palm about the size of a quarter, and an ice tea spoon is about the size of a measuring teaspoon. Again, this is not completely accurate but is doable.
How to measure coffee
Coffee is made with 2 tablespoons ground coffee for every 6 ounces of water. You'll measure the ground coffee using the scoop method.
How to measure peanut butter
Spoon peanut butter and other things with similar consistency (shortening, butter, etc) into the correct size measuring cup, packing down as you go to remove any air pockets.
How to measure sticky ingredients
First, spray the proper size measuring cup with no-stick cooking spray. Now, add the sticky ingredient (honey, corn syrup, etc). When you add it to the recipe all of the sticky liquid will slide right out.
How to measure ingredients like chocolate chips or peanuts
Ingredients like m&ms (chocolate chips, nuts, etc.) are measured using the scoop method. You can scoop them into the measuring cup or pour them in. Fill the cup right to the top.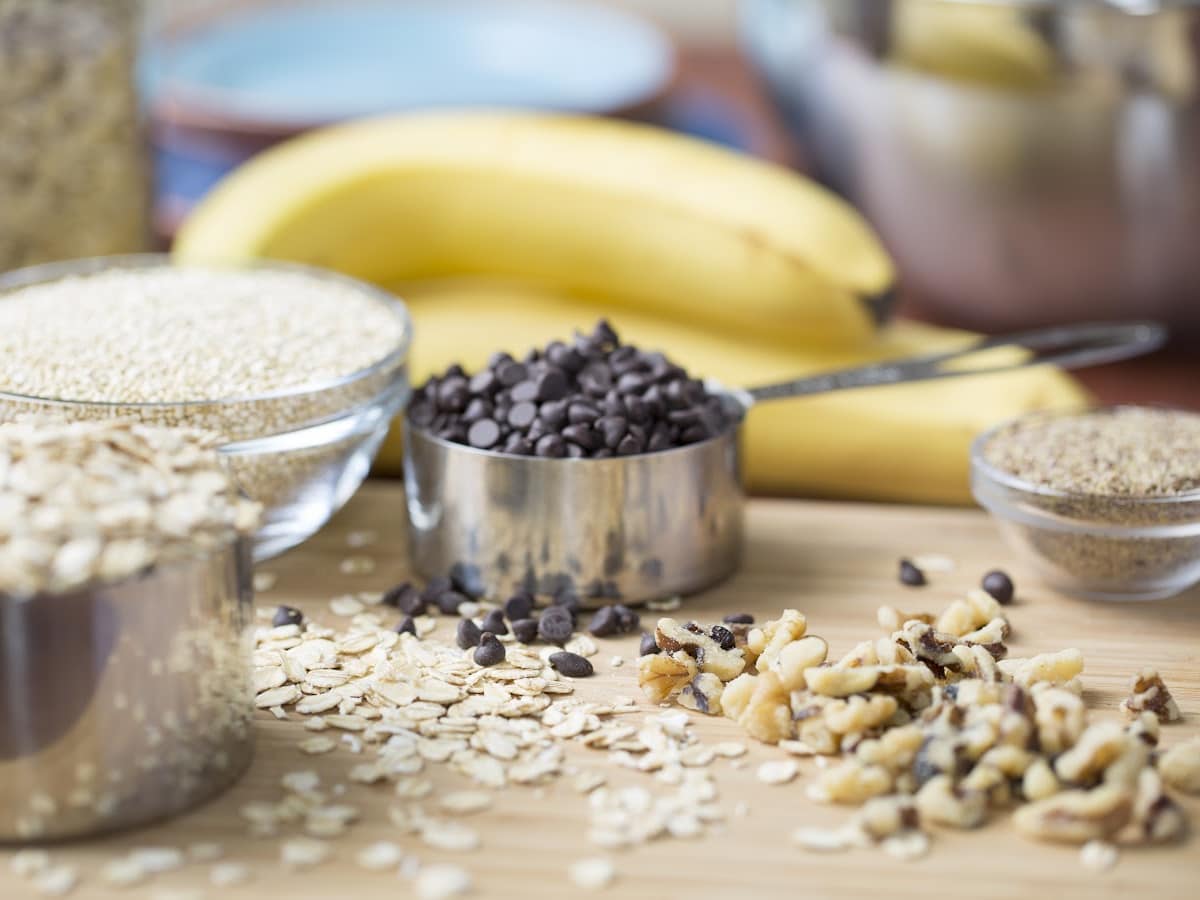 Thing to know
While measuring ingredients isn't difficult there are a few things that can be challenging to the novice cook.
Here are some tips to help you measure like a professional chef.
Always measure the oil before measuring syrups or honey. The oil residue will make thick syrup will slide right out.
If your recipe doesn't call for oil you can still either spray the measuring cup with nonstick spray or oil it lightly.
Don't measure over your mixing bowl. If a little extra falls out of your cup the proportions can be off. Measure over a clean bowl and pour any excess back into the bin or container.
Measure butter by the lines on the outside of the wrapper. 1 line equals 1 tablespoon and 1 stick equals one half a cup.
Measure shortening and lard by packing it into the measuring cup. Be sure to press out any air pockets each time you add a spoonful of shortening (or lard) to the cup. It should hold its shape when turned out.
Shredded cheese, coconut, chopped nuts, fresh herbs, and chopped vegetables are most often lightly packed into the measuring cup.
Brown sugar is most often firmly packed into the measuring cup. When you turn it out it will keep its shape.
Measure flour by spooning lightly into the cup and not shaking or packing it down in any way. Level the top off lightly with a butter knife held flat.
Measure sifted flour by placing the measuring cup in a large, clean bowl and sifting flour into the measuring cup until it is full. Level it off lightly. Pour any unused flour back into the container.
🥄 Restless Chipotle recommends
The following are affiliate links. We are a participant in the Amazon Services LLC Associates Program, an affiliate advertising program designed to provide a means for us to earn fees by linking to Amazon.com and affiliated sites.
Practice what you've learned
There are tons of recipes here on Restless Chipotle and there's no better way to remember information than to practice with it!
Measure like a pro
While exact measurements will not make every recipe a gourmet's delight it will ensure that your recipes are successful as long as you follow the other instructions carefully.
If your cakes always seem to come out heavy then you may be adding too much flour by inaccurate measurement. Try it one more time with sifted flour and a light hand and see if the results aren't much better.
Do you use measuring cups or a kitchen scale? Leave a comment below and let me know.