Buttermilk pancakes stacked high on a plate, still steaming from the griddle, with a pat of golden butter slowly dribbling down the sides as it melts... is there any other breakfast that pulls you in to a big old bear hug as much as this? But... there's a secret to the light, fluffy texture and I'm sharing it today!
Ingredients for this recipe: all-purpose flour, sugar, baking powder, baking soda, kosher salt, eggs, buttermilk (bulgarian style is best), vanilla, butter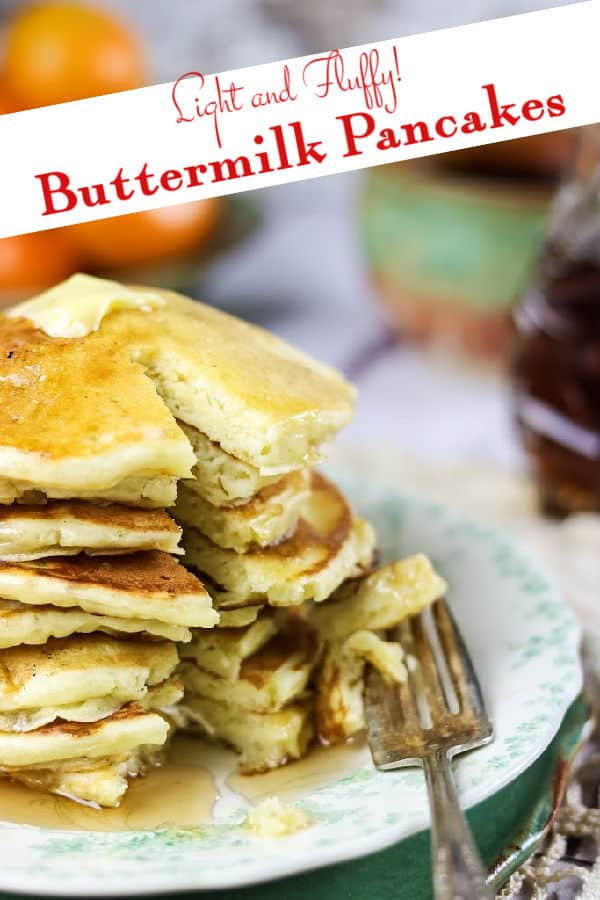 Fluffy Pancakes for a Cozy Country Breakfast
There's just something about a big stack of homemade buttermilk pancakes, isn't there?
Everyone has their own kinds of memories but for me pancakes will forever be associated with the beach.
Whenever we went to the beach when I was a kid we'd stay at this one scrungy (a word I made up) hotel across the street from the beach... and next door was an equally scrungy diner that had the most heavenly pancakes on Earth.
Maybe in the entire universe - I'm not sure. I haven't been everywhere... yet.
Anyway, the pancakes were stacked high and there were at least 9017 syrups to choose from. Again - my memory may be causing me to exaggerate a tiny bit - it was a long time ago.
From that time until now every pancake molecule that has gone into my mouth has been judged against those fluffy stacks of buttermilk pancakes. And, my friends, this is as close as it gets.
Homemade Buttermilk Pancakes FAQs
Here are the answers to the most frequently asked questions about buttermilk pancakes and how to make them.
Can you freeze pancakes?
You sure can! I like to put a little square of waxed paper or parchment between each pancake before freezing. It makes it easy to separate them.
Can you make pancakes without buttermilk?
Sure. Just replace the buttermilk in this recipe with milk and use all baking powder instead of baking powder and baking soda.
How do you make fluffy buttermilk pancakes?
Be sure not to over-mix the batter and make sure that the leavening is fresh.
Can you make pancakes without eggs?
Yes but keep in mind they won't be as fluffy. You can try using 1/4 cup applesauce, pumpkin puree, or banana per egg called for in the recipe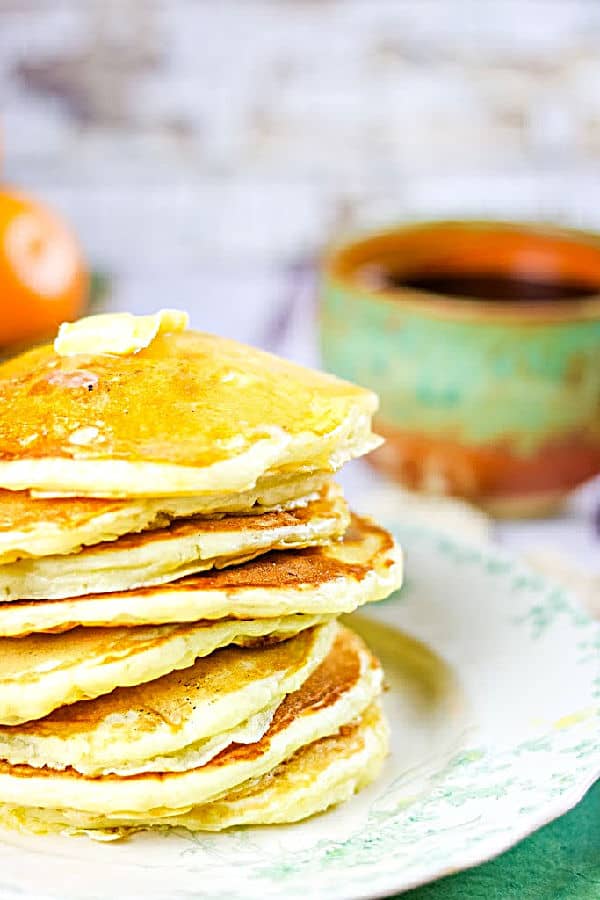 Buttermilk Pancakes Recipe Variations
So here's the great thing about pancakes - you can stir in almost anything you want and make them even better. Here are some of my favorites.
Fresh blueberries - the easiest way to add these is to sprinkle them on the top of the pancake just before flipping. That way there's no raw batter around the berries - especially if they are frozen.
Dried cherries - these give the pancakes a sweet-tart burst of flavor.
Crispy bacon - bacon goes in everything and pancakes are extra yummy with crumbled bacon added.
Sprinkles - sprinkles make everything a party!
Chocolate chips - who's not going to love the idea of chocolate for breakfast?
Raisins - add extra sweetness to the pancakes.
Unsweetened Kool Aid - sprinkle some in the batter and stir it in to add fruity flavors to your pancakes - but use a fruit syrup ... maple syrup is not great with these.
Chopped strawberries - bring a fresh, sweet berry flavor but go easy on them. Too many will mess up the batter.
Use part Red Velvet cake mix for part of the flour.
Tips for the Best Homemade Buttermilk Pancakes Ever
So pancakes are really easy to make but there are certain things... certain little tips that experienced pancake makers know that maybe you don't... Well, now you do.
Check the baking soda and baking powder for freshness. The pancakes won't rise if the leavening is old and weak.
If you live in a high altitude you'll need to make adjustments - this is a good article about high altitude cooking.
If you have time hold the leavening out of the mixture but add everything else. Let it stand for 10 minutes to allow the gluten to relax - then mix the baking powder and baking soda with about a tablespoon of water until dissolved. Add it in to the batter, stirring well and cook immediately.
Do not use a milk + vinegar or milk + lemon juice mixture. Use real buttermilk. Please.
Don't over-mix the batter - it should be lumpy.
Make sure the griddle is very hot. A few drops of water will "dance" across it. Please note... this is figurative... if you're expecting the cha-cha you're going to be disappointed.
Set the heat to medium.
Once the edges are dull looking and bubbles are breaking on the top flip the pancake - this takes a little practice to get it just right.
Only flip the pancakes once.
Keep warm in the oven until you've got them all done.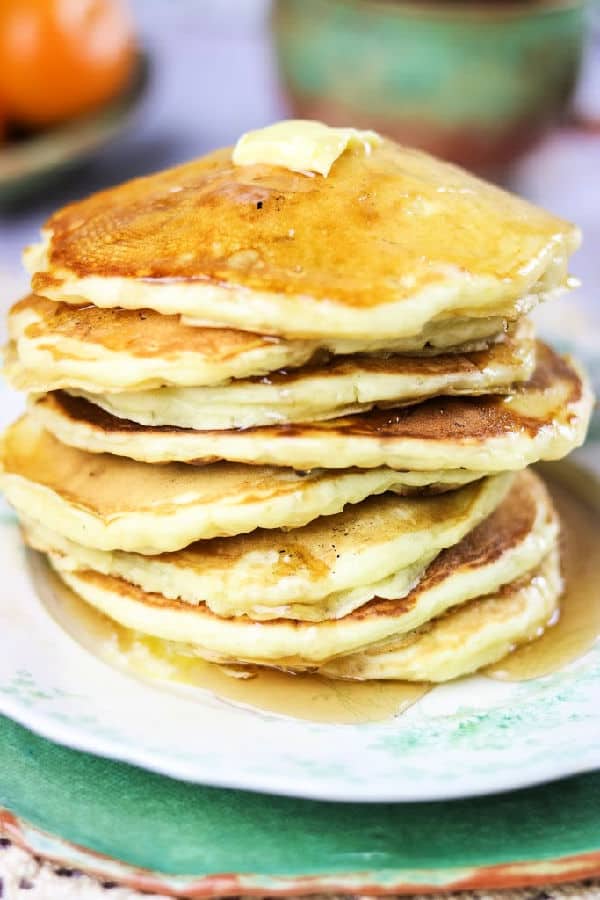 More Great Breakfast Recipes
I love breakfast! Here are some of my favorite breakfast recipes here on Restless Chipotle.
Buttermilk Pancakes Recipe
Gather the family around the table and have a big family breakfast one day a month or as often as you can. Relax, talk, sip coffee, and just enjoy being together and eating stacks of these fluffy pancakes!
Maybe add a few waffles for good measure?
If you click on the number of servings in the recipe card you can adjust the measurements up or down for the exact number of servings you need. Don't forget that you can click on "add to collection" to save it to your own, private recipe box!
If you love this recipe please give it 5 stars! ⭐️⭐️⭐️⭐️⭐️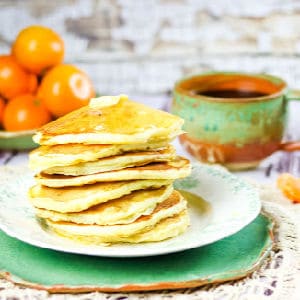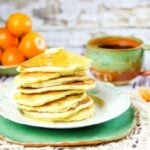 Buttermilk Pancakes Recipe
Print
Add to Collection
Go to Collections
Light and fluffy buttermilk pancakes are full of country flavor! The secret is letting the batter sit for 10 minutes or so before you add the leavening.
As an Amazon Associate I earn from qualifying purchases.
Ingredients
3

cups

all-purpose flour

2

teaspoons

sugar

1

teaspoon

kosher salt

1

quart

buttermilk

,

Bulgarian style preferred

2

eggs

,

beaten

1/3

cup

butter

,

melted - may use part bacon grease.

½

teaspoon

vanilla

1

tablespoon

baking powder

1

teaspoon

baking soda
Instructions
Lightly brush the griddle with oil.

Whisk the flour, sugar, and salt together in a bowl - set aside.

Whisk the buttermilk and the eggs until well blended.

Beat in the melted butter.

Add the buttermilk mixture to the flour mixture - blend gently.

Blend the baking powder and baking soda with a little water until dissolved - gently stir into the batter.

Heat the griddle until a drop of water bounces across it - about 375°.

Ladle about ¼ cup of batter on the griddle in a circle. Repeat with more batter making sure that there's enough room that the pancakes don't touch.

When bubbles break on the surface and the edges have a dull shine go ahead and flip the pancakes.

Remove from the griddle and keep warm in a 200° oven until it's time to serve them.
Notes
To freeze pancakes - let cool to room temperature. Place a piece of waxed paper between each pancake. Place in a freezer container and freeze for up to 3 months.
Nutrition
Calories:
322
kcal
|
Carbohydrates:
43
g
|
Protein:
10
g
|
Fat:
12
g
|
Saturated Fat:
7
g
|
Cholesterol:
33
mg
|
Sodium:
634
mg
|
Potassium:
374
mg
|
Fiber:
1
g
|
Sugar:
7
g
|
Vitamin A:
430
IU
|
Calcium:
210
mg
|
Iron:
2.3
mg
Sign up for the emails and never miss another recipe!!
We'll never share your email or send you spam. Pinkie swear.