Blueberry blue cornmeal pancakes are the perfect breakfast when you want hearty country fare that is also unique and different. After all, these things are blue. Really blue.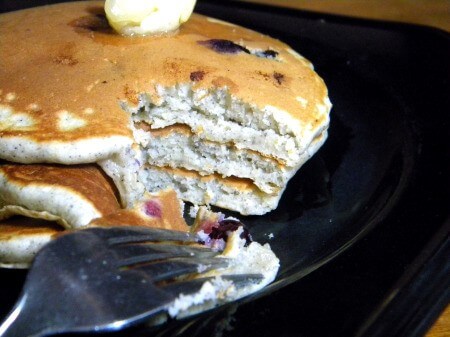 Blue cornmeal can be found on Amazon (link below recipe) or at most health food stores. It has a sweet flavor that's a little different from regular cornmeal. And of course, it's blue. Sometimes it's almost purple but I usually find that it's sort of a blue gray.
I was paging through my Mesa Grill cookbook and happened to notice the blueberry blue cornmeal pancakes in the back. I am always looking for something a little different to make for breakfast and this seemed like a perfect solution. I make pancakes a lot and I hate to make the same ones over and over.
By the way...if you don't have the Mesa Grill cookbook - get it. Go on over to Amazon right now. I love that cookbook and I am constantly using it for inspiration.
Don't get me wrong, we love pancakes. You can't beat them for filling up a couple of teen age boys with stomachs that extend  down through their legs somehow. I know that I have never seen THAT graph in health class but I am sure it is so. I have one that can eat 14 or more 8" whole grain pancakes at one sitting. You try filling him up sometime. And, go figure, he is 5 ' 11" and battling to get up over 125 lbs.
I served them with honey butter and maple syrup. I liked the honey butter on them but the kids just don't think a pancake is quite right without syrup. The flavor of these is sweet and nutty, with the slight grittiness you would expect from good cornmeal.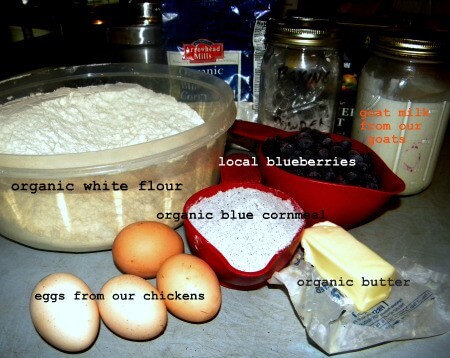 I added lemon zest after I had tasted and decided it needed a little bit of something. So..no lemon in the picture. Just in the pancakes. I used goat milk because we raise dairy goats. You use whatever kind of milk you like. Probably not zebra milk though..not sure on that one...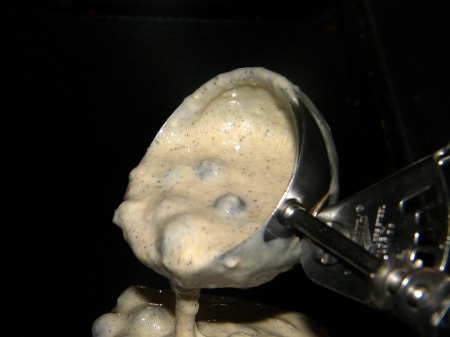 One thing I got used to using when we had the tea room was the graduated scoops. It makes it so easy to make uniform cookies, pancakes, and everything. Just be sure not to get cheap ones... they break really easy. A restaurant supply shop is the best, and possibly most inexpensive place to get them.
Here it is..the most crucial moment....shhhhh....the flip.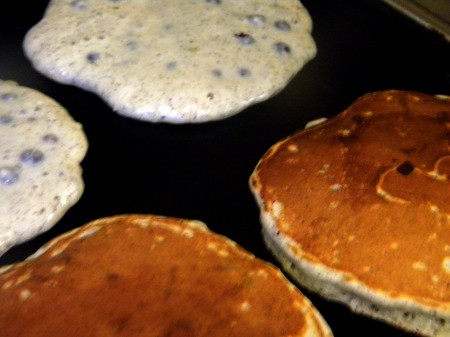 Perfect. It's all in the wrist.
And of course...when all was said and done...These flapjacks made the cut. Look!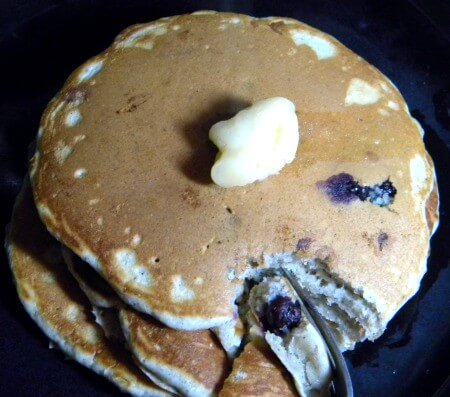 And....Houston....We ....Have....Lift-Off!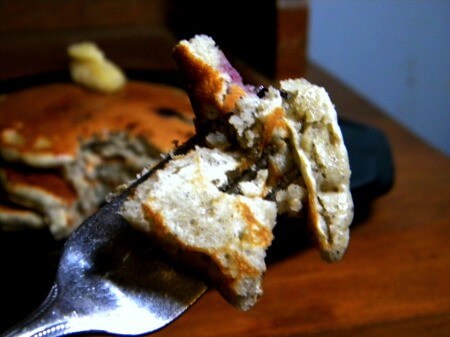 Blueberry blue cornmeal pancakes were really that good. So...I bet you are all drooly and ready for the recipe now, right?
Blueberry Blue Cornmeal Pancakes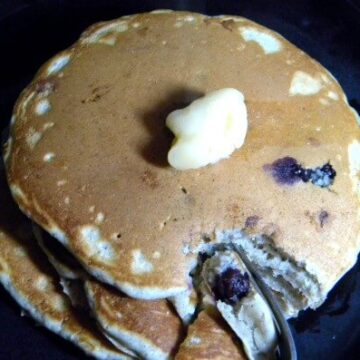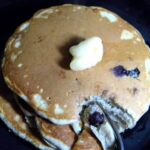 Blueberry Blue Cornmeal Pancakes
Print
Add to Collection
Go to Collections
Light and fluffy pancakes with the nutty flavor of blue cornmeal studded with ripe, juicy blueberries and just a twist of lemon.
As an Amazon Associate I earn from qualifying purchases.
Ingredients
3

cups

of flour

1

cup

organic blue cornmeal

4

teaspoons

baking powder

2

teaspoons

kosher salt

½

cup

sugar

4

eggs

3

cups

milk

¼

cup

unsalted butter

,

, melted

2

cups

blueberries

Grated zest of one lemon
Instructions
Preheat your griddle

Mix the dry ingredients

Whisk eggs, milk, and melted butter together until well blended

Add wet to dry and stir quickly to blend. Batter will be lumpy

Fold in blueberries

Scoop by ¼ cup measure onto a hot griddle

Cook until bottom is golden and bubble form and break on the top

Flip and cook until done
Sign up for the emails and never miss another recipe!!
We'll never share your email or send you spam. Pinkie swear.
If you liked blueberry blue cornmeal pancakes you might also like:
 Rainbow pancakes for St Patrick's Day  Restless Chipotle
Vegan Oreo pancakes The Minimalist Baker
Banana pancakes Once Upon a Chef