Tender on the inside and crispy on the outside, these cornmeal waffles really hold up to whatever you want to put on them!
Blue cornmeal waffles are crispy on the outside with a light and fluffy inside. They're a gorgeous gray blue color from the use of native blue corn and the flavor is as hearty and wholesome as a country breakfast can be. These blue corn waffles are a fun addition to any meal and are especially good when you have that one child that needs a little creative encouragement to eat. Or add it to your perfect patriotic summer brunch with this red, white, and blue bundt cake for dessert!
Ingredients for this recipe : flour, blue cornmeal, sugar, baking powder, baking soda, salt, eggs, buttermilk, butter
First Published: July 27, 2017... Last Updated: June 1, 2019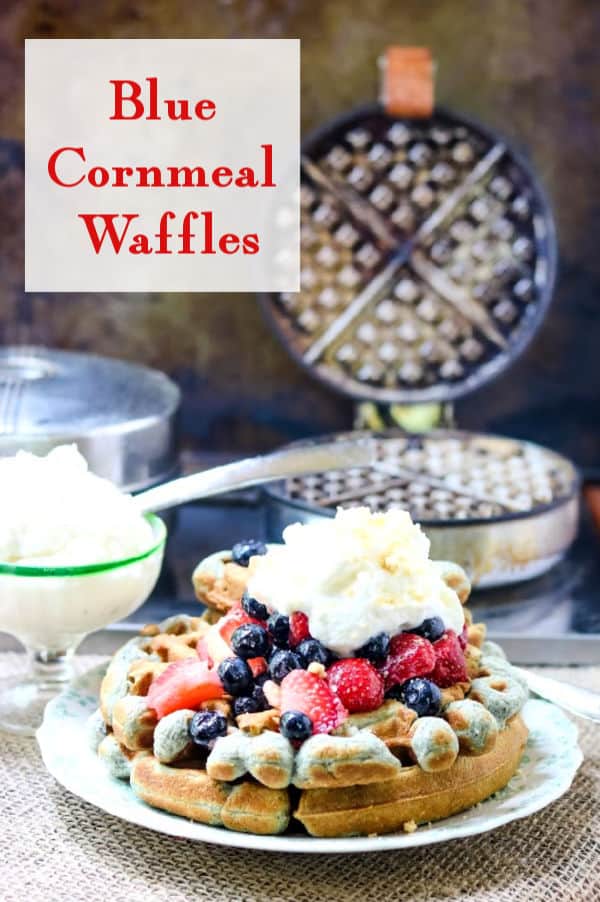 Table of Contents
Blue Cornmeal Waffles Backstory
My husband had to work the Fourth of July so instead of having our traditional cookout we had friends over for a patriotic brunch. If you're going to have a patriotic brunch you need to have red, white, and blue which made this blue cornmeal waffles recipe a no brainer. I was going to make my blueberry white chocolate muffins but I just didn't get the time for everything I had planned. Anyone relate?
Anyway, everyone loved these blue cornmeal waffles!
You bite into the waffle and the first texture is a delicately crispy crust which gives way to a fluffy crumb. If you are a texture freak then you have to try these... but that's just the texture. Blue cornmeal has a distinctively different flavor than yellow cornmeal - I think it's a little sweeter, a little nuttier, and maybe a little hard to describe.
Blue cornmeal tastes like late summer to me - all golden and full of ripe flavor, bursting with happy memories. If there's a flavor for that these waffles are it.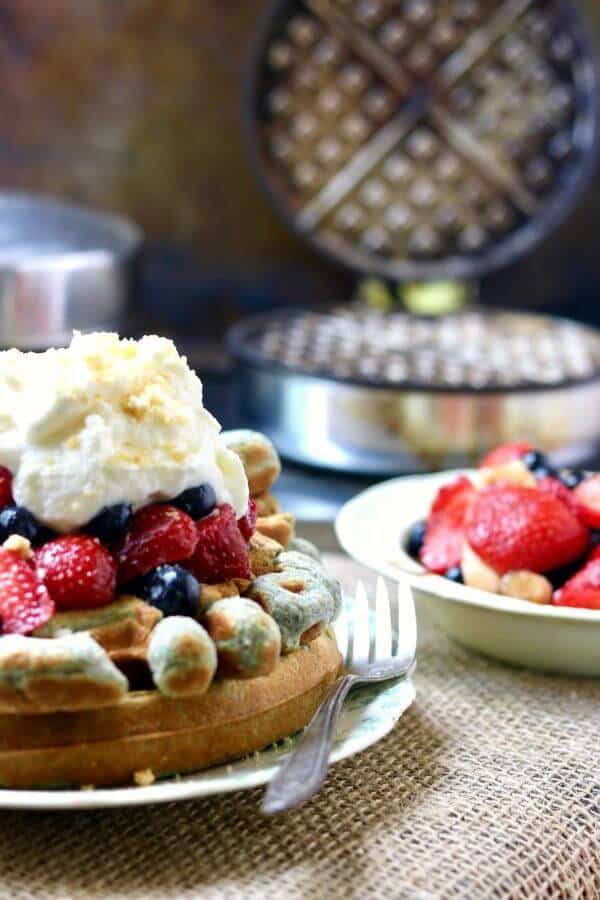 Vintage Waffle Maker Traditions
Waffles were a rarity when I was growing up. Whenever I saw that my mom had pulled out the old waffle maker I knew not to go to far!
My mom's waffle maker was old then and now I guess it's a bit of a dinosaur. It's got a fabric cord and carved wooden handles plus beautiful Art Deco designs on the top of the waffle irons. She'd gotten it in the early 1930s and she used it right up through all of my growing up years. I have it because it looks cool but I don't use it. Although to be honest, I doubt that it's been used more than 30 or 40 times in the past nearly 90 years!
I thought I got a better picture of it but apparently this is the best I have.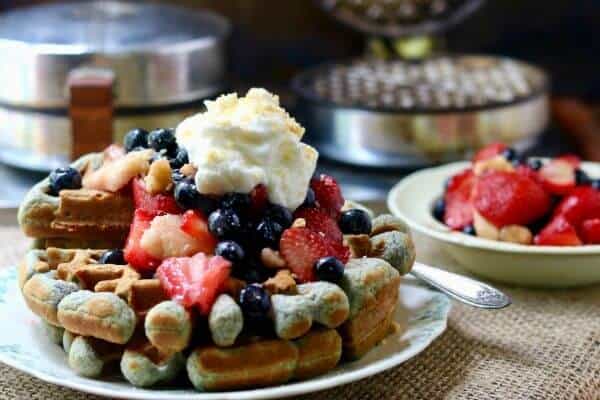 What's Blue Cornmeal?
Blue corn is usually grown in the southwestern United States and has a nuttier flavor than yellow or white corn. When it's raw it's actually a gray color. Nutritionally blue corn and blue cornmeal are similar to white or yellow varieties.
The USDA has made an effort to include this traditionally, Native American food in the various programs it offers as a way to support the cultural connection with the past. Because of things like this I think there is more awareness of these unique flavors than ever before.
Blue cornmeal isn't hard to find in most places. You may need to look at a natural foods store like WholeFoods or Sprouts if your grocer doesn't carry it. You can get it on Amazon - I'll leave a link below. I got mine at a local Mennonite community just north of Waco.
Every time I drive down to Austin, and this last year it seems like I did that a lot, I stop in to this community to eat at the restaurant (the poblano soup!) and then do a little shopping at the shops. I've come home with some amazing local cheese as well as freshly ground flours and meals.
When I go I try to pick up enough to last me until the next trip and then I keep it in my freezer.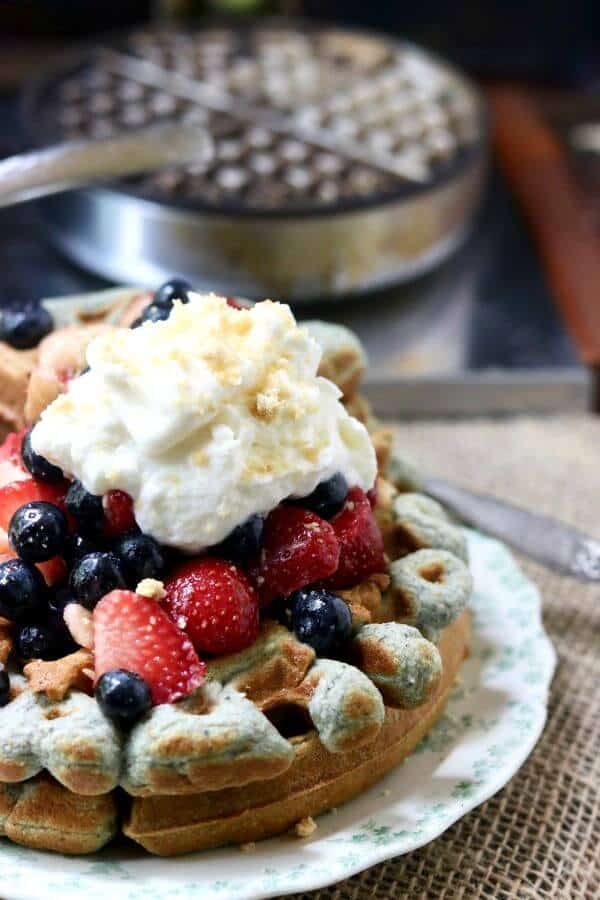 Tips for Perfect Blue Corn Waffles
These unique, cornmeal waffles are easy to make but read over these tips to make it a no-fail deal.
Separate the eggs when they're cold and then let them come to room temperature. This way they'll separate easier and the yolk will be less likely to leak into the white.
Egg whites won't whip up if you have even a smidge of fat on the bowl or beater. I rinse my bowl and beater with vinegar just to cut any possible fat and give it an extra boost from the acid.
If you under beat the egg whites they will be too loose. If you over beat them they'll be clumpy. Beat them just until you can pull the beater straight up and a stiff peak forms on the egg white.
Fold in just half the egg whites at first. This helps loosen the batter up and the rest of the whites go in without deflating.
Let the waffle iron get hot! It can take as long as 30 minutes so read your manufacturer's instructions.
Keep the finished waffles on a rack in a warm oven until ready to serve. If you stack them they'll get soft.
Waffles freeze very well. Just put a square of waxed paper between them then place in a freezer bag. They'll be fine for up to three months.
You can substitute yellow or white cornmeal if you can't find blue but it will be a different flavor. I'd suggest using my regular cornmeal waffle recipe.
It's perfect for a 4th of July breakfast!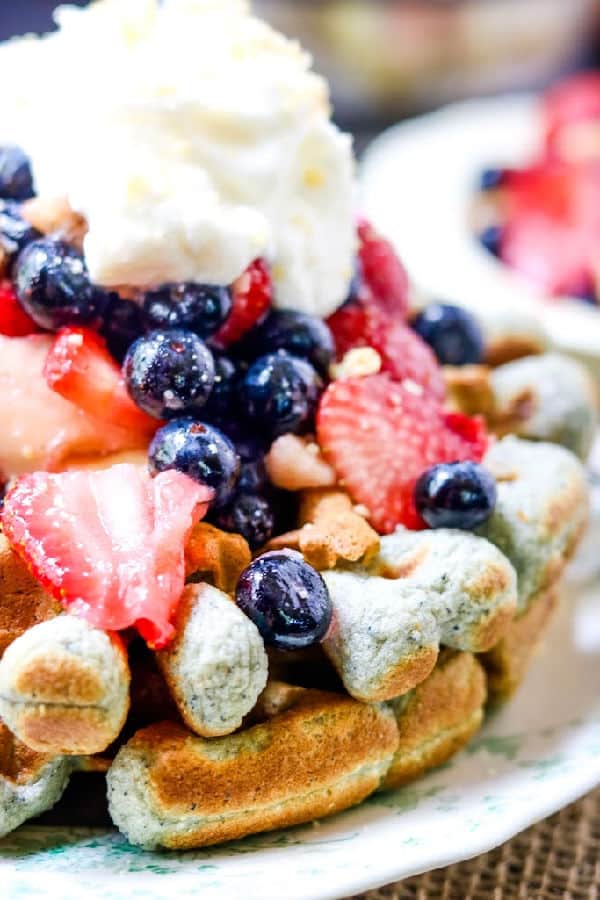 More Brunch Recipes
Maybe it's just my opinion but brunch is one of the best things about being alive. I don't eat breakfast often but I rarely pass up a chance for a gorgeous brunch! Here are some of my favorite brunch recipes - I hope you like them, too.
You may need…
The following are affiliate links. We are a participant in the Amazon Services LLC Associates Program, an affiliate advertising program designed to provide a means for us to earn fees by linking to Amazon.com and affiliated sites.
What's new? Check out my Restless Chipotle & Co. Store on Amazon! Thanks so much for being a part of Restless Chipotle!
If you can't find blue cornmeal locally you can order it from Amazon. Not only is it pretty but it's got a unique flavor that's a little sweeter than regular cornmeal.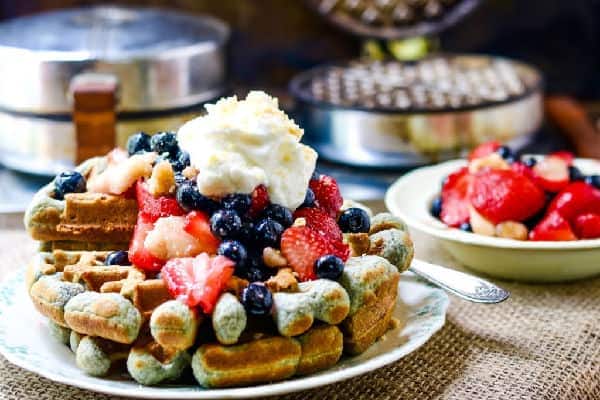 Blue Cornmeal Waffles Recipe
Here's the recipe for the blue corn waffles. Hey, if you make it shoot an image and tag #restlesschipotle in it on instagram... and if you love this recipe please give it 5 stars.
📖 Recipe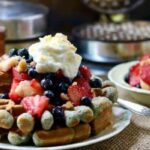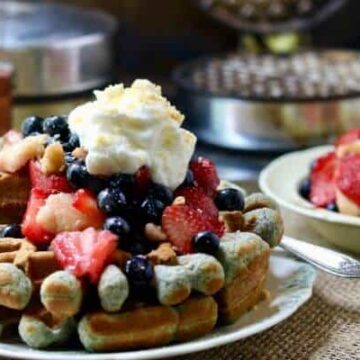 Blue Cornmeal Waffles
Print
Save
Saved!
Tender on the inside and crispy on the outside, these cornmeal waffles really hold up to whatever you want to put on them!
Ingredients
1

cup

flour

1

cup

blue cornmeal

2

teaspoons

baking powder

1

teaspoon

baking soda

½

teaspoon

salt

½

teaspoon

lemon zest

3

eggs

,

, separated and room temperature

1

pinch

cream of tartar

2

cups

buttermilk

½

cup

butter

,

,melted
I earn a commission from Instacart from qualifying purchases.
Instructions
Mix the flour, cornmeal, baking powder, baking soda, salt, and lemon

zest

. Set aside.

Separate the eggs carefully and set the yolks aside.

Whip the egg whites with the

cream

of tartar until they hold stiff peaks. Set aside.

Beat

the egg yolks with the buttermilk and butter until well mixed.

Add the yolk mixture all at once to the cornmeal mixture and mix quickly - just until batter is smooth.

Fold

in half the beaten egg whites to loosen the mixture up.

Carefully

fold

in the remaining egg whites.

Pour about ¾ cup of the batter onto the hot waffle iron and bake according to manufacturers instructions. The exact amount you need will depend on the actual waffle maker you use.
Notes
yellow cornmeal may be substituted for the blue cornmeal.
You'll find more helpful tips and variations in the body of the post.
Nutrition Facts
Calories:
297
kcal
|
Carbohydrates:
30
g
|
Protein:
7
g
|
Fat:
16
g
|
Saturated Fat:
9
g
|
Cholesterol:
98
mg
|
Sodium:
471
mg
|
Potassium:
306
mg
|
Fiber:
2
g
|
Sugar:
3
g
|
Vitamin A:
545
IU
|
Vitamin C:
0.2
mg
|
Calcium:
127
mg
|
Iron:
1.7
mg
Nutrition information is estimated as a courtesy. If using for medical purposes, please verify information using your own nutritional calculator. Percent Daily Values are based on a 2000 calorie diet.
Sign up for the emails and never miss another recipe!!
We'll never share your email or send you spam. Pinkie swear.