Or gingerbread waffles for an autumn breakfast - either way they are an out of the ordinary treat.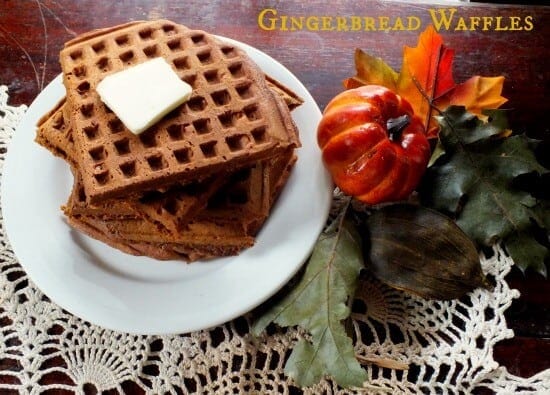 I have always loved gingerbread. Maybe it started with the million times I made my parents read the Gingerbread Man to me... maybe it was the Hansel and Gretel story... Maybe it was the gorgeous Christmas windows in John Wanamaker's in downtown Philadelphia that depicted Victorian ladies rolling out gingerbread for excited children. And they really moved.
O.k... here it is. I am a sucker for Christmas windows - especially animated Christmas windows. At least once during Christmas vacation I was invited to take the train to work with my dad. That meant an hour sitting on a chair while my mom created ringlets, followed by rigorous inspection of my cleanliness, a frilly dress, coordinating stockings, coat (red!) , hat, scarf, mittens, shiny black patent Mary Janes (the shoes not the drug), and a pair of red boots pulled over my shoes. Once out the door Dad and I headed for the train station and waited for the train.
I loved riding that thing. I don't know what it was like now but as a little girl I can remember velvet seats, and a chubby conductor who wore a blue uniform and white gloves, had big brass buttons down his front and called me "Little Miss" and my dad "Mr. Morris". It didn't take very long to get to the city where Dad's office building was. The streets and sidewalks were busy and there were huge banks of gray snow along each side. The pretzel vendors weren't out that early which always disappointed me. We'd stroll through the snow , each step crunching, and each breath billowing dragon smoke. Sometimes we chatted about everything and sometimes we just walked in silence as everyone else rushed past. When Dad and I were together time slowed to our pace - we owned it. If you are young you might not remember these but my dad's building had one of those revolving doors that went round and round. I was terrified of those doors - I always felt like I was going to be caught in them. My dad always lifted me up so he could carry me through.
The minute you stepped in to the pie shaped compartment of the door you could feel the warmth radiating out of the building. The lobby was huge and we always grabbed a cheese Danish to share for breakfast and coffee for dad, hot chocolate for me. Then a quick chat with the doorman, a few steps across the shiny marble and up the elevator to his floor. I'd draw quietly while he handled his morning stuff and then we'd head out for lunch. It was the purply, pinky evening that I waited for. Once the sun went down we walked down the streets, looking in the bright Christmas windows of the stores, eating hot pretzels and mustard, and always ended up at Wanamakers. I think it was that store that had an entire floor of animated Christmas displays and you walked around and looked at everything.
There was a bakery that we'd stop at on the way back to the train station. I almost wanted to stand outside because every time a customer came out a burst of warm, gingerbread scented air came out with them. There was something about standing in the cold, dark evening and being bathed with bursts of scent and heat at unpredictable intervals. Warm gingerbread in hand we headed for the train and ate it to the last crumb before we ever got home.
How to Make Gingerbread Waffles
O.k. enough rambling... waffles. Mix the spices into the dry ingredients. I added ancho and a pinch of cayenne to this because I like spicy gingerbread. You can leave that out if you prefer.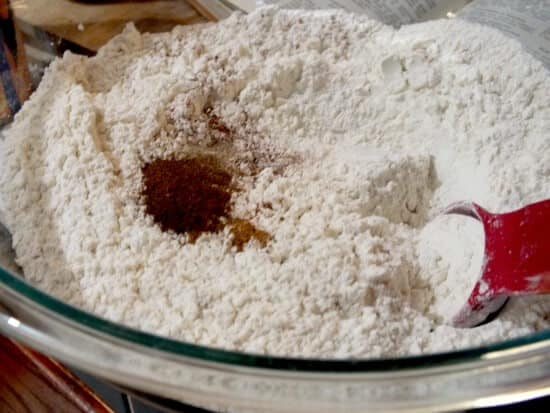 The batter for these gingerbread waffles is thick. If you want to lighten it up you can separate the eggs and beat the whites until stiff and then fold them in last.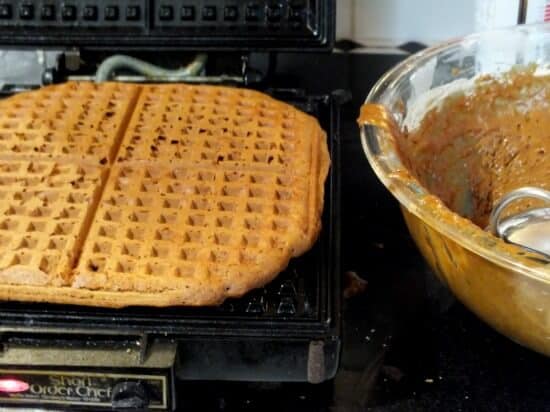 I like maple syrup on them but lemon curd, cream cheese, or fried apples are all good, too. In fact they make a great dessert waffle with vanilla ice cream.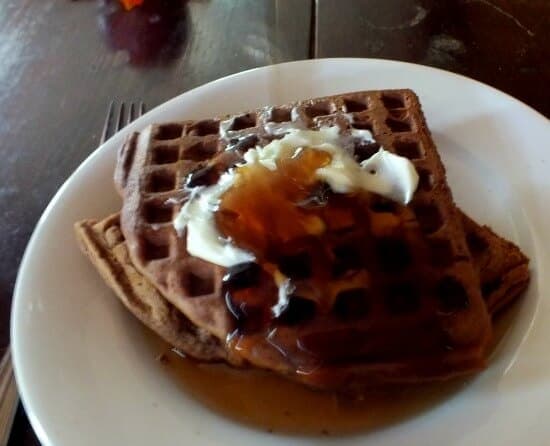 I can't take you back to experience that moment but I can share the flavor in a unique way with these gingerbread waffles. Give them a try.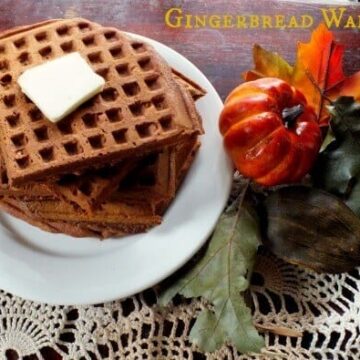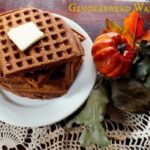 Gingerbread Waffles
Print
Save
Go to Collections
Perfect for the first chilly day in the fall, these spicy waffles are filling and delicious. Serve them with melted butter, hot maple syrup, sliced apples, and bacon for a breakfast everyone will love.
As an Amazon Associate I earn from qualifying purchases.
Ingredients
¼

cup

unsalted butter

,

, melted

⅓

cup

brown sugar

½

cup

molasses

2

eggs

1

cup

buttermilk,

(or ½ cup buttermilk and ½ cup coffee)

½

teaspoon

vanilla

2

cups

flour

1

teaspoon

baking powder

½

teaspoon

baking soda

1

teaspoon

ginger

½

teaspoon

ground ancho chile

1

teaspoon

cloves

1

teaspoon

ginger

1

teaspoon

salt
Instructions
Preheat your waffle maker.

Mix the dry ingredients.

Mix the wet ingredients.

Stir them into the dry ingredients, just until well blended - don't overmix

Ladle onto your waffle iron and bake until they stop steaming.

Remove and serve immediately or keep warm in a low oven.
Sign up for the emails and never miss another recipe!!
We'll never share your email or send you spam. Pinkie swear.