This simple guide will introduce you to the most popular types of whisks, the best uses for each, and the technique for use.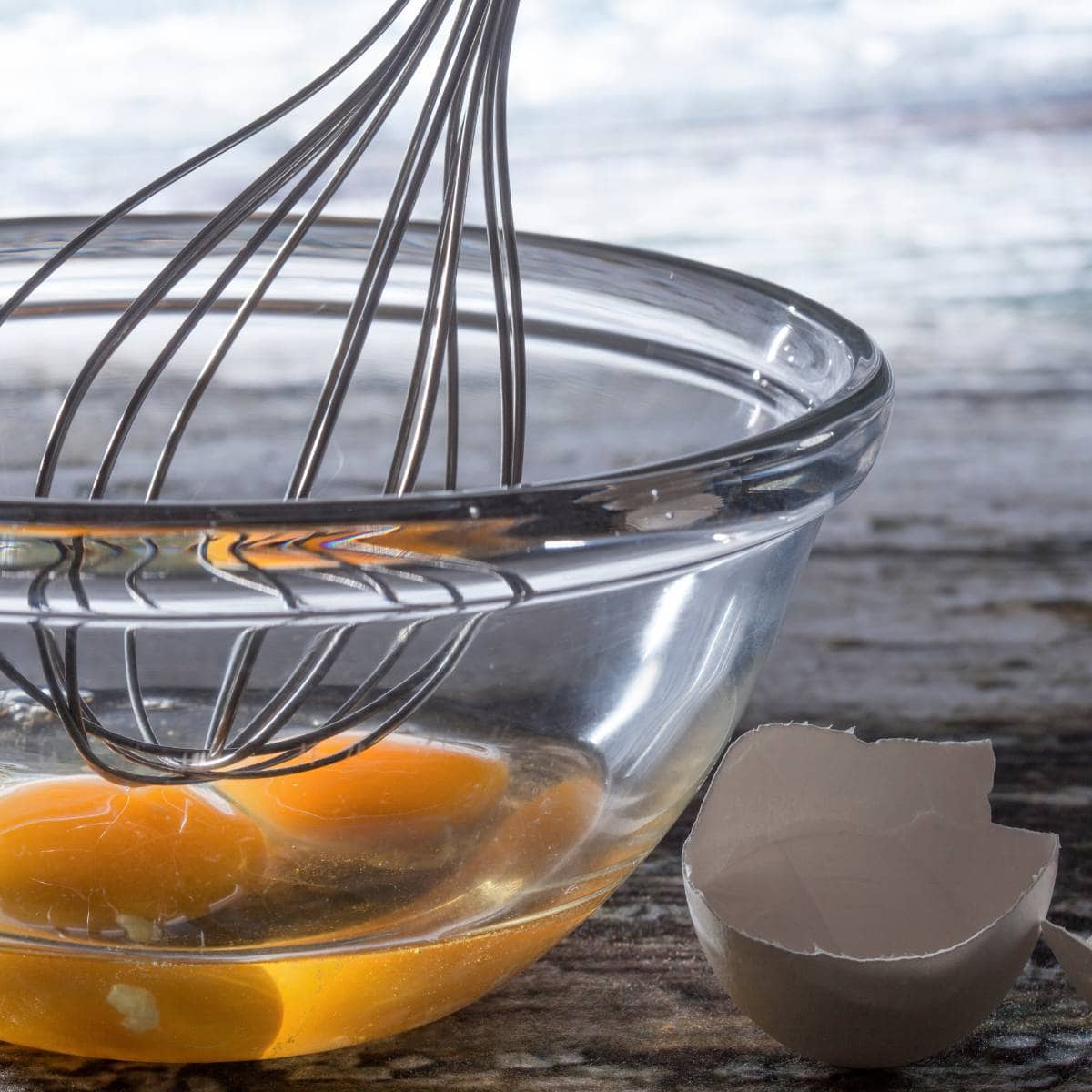 Table of Contents
❤️ Why we love them
An inexpensive and simple piece of equipment that's easy to store and to use
Super fluffy scrambled eggs
Technique is easily learned - and who doesn't want to feel like Julia Child in the kitchen?
Wire whisks are essential kitchen tools made up of wires attached to a handle. The shape of the wires will determine how the whisk is meant to be used and what it can do.
The wires allow you to mix ingredients together quickly as well as incorporate air into them.
Most whisks looks a lot like the beaters on a hand mixer but the results are much lighter and fluffier.
🤔 Different types of whisks
Like most kitchen utensils there are many types of whisks in different sizes and shapes. They may even be made from different materials.
Each has a slightly different use. The best whisks for mixing scrambled eggs might not work for a light meringue.
The following are affiliate links. We are a participant in the Amazon Services LLC Associates Program, an affiliate advertising program designed to provide a means for us to earn fees by linking to Amazon.com and affiliated sites.
Ball whisk
The balls on the bottom of the wires are weighted and easily get into the corners and edges of pans. They vibrate with use so whisking is accomplished more quickly.
Great for scraping flat surfaces like an iron skillet. Use the ball whisk for:
Balloon whisk
The balloon whisk has wire loops that are bent to be round on the bottom and attached back into the handle.
It's an all-purpose whisk that can be used for almost anything except very heavy batters. The balloon shape is extra helpful when beating eggs.
Use for:
Beverage/ Bar whisk
The wires in a bar whisk can be squared at the bottom or rounded like a balloon whisk. Use this tiny whisk for:
Coil whisk
This whisk is shaped something like a spring or a honey dipper. It will not add air to mixtures - it's just for mixing ingredients.
Danish dough whisk
The dough whisk has a sturdy handle and easily mixes the heaviest of bread doughs and thick mixtures to get them ready for kneading. It's also great for folding egg whites into batters.
pancake batter
cookie dough
Flat whisk
This type of whisk is not good for whipping or aerating mixtures.
Use for:
French whisk
A French whisk is great for:
sauces
salad dressings
whipping air into eggs for omelets
Thermometer whisk
The thermometer allows you to monitor the temperature of the food you're working with - perfect for custards, sauces, and candies of all kinds.
Whisk with a ball
If you've seen the shaker bottles for protein shakes you are somewhat familiar with this type of whisk. It does what a balloon whisk does but aerates more efficiently.
Use for:
whipping cream
whipping egg whites
aerating batters
You can also buy just the ball part to drop into jars, bottles, and cups. Add a cover and shake vigorously for perfectly mixed and aerated ingredients.
Electric whisk
An electric whisk works beautifully in light liquids but don't try to use it in thick batters. It's just not created for that. At that point you'll want to use an electric stand mixer or a hand-held electric mixer.
Use for:
milk frother
protein shakes
mash small amounts of soft ingredients (for baby food, etc.)
💭 Things to know
Expert Tip: Do not use a stainless steel or metal whisk on a non-stick pan. It will scratch the coating off. Always use silicone whisks in these pans.
In my opinion stainless steel whisks hold up the best over time.
Some people like a silicone-coated whisk but I don't care for them. As they get older I've had the the silicone slough off into my batter.
Stainless steel wires hold up better than other types.
Your whisk will last longer if you hand wash it and dry it standing up (whisk side up) so that no water gets trapped anywhere.
If you have carpal tunnel it will be better for you to use the back-and-forth technique rather than the circular technique. Or, use an electric whisk!
Be aware that very inexpensive whisks may have thin wires and lower quality workmanship. Depending on how you'll be using it look for thicker wires and a comfortable grip.
🌪️ Why it works
The way a whisk works is by creating a vacuum. When the whisk is moved through the liquid it creates a vacuum behind each wire.
Air fills the vacuum and is then incorporated into the liquid. The more wires a whisk has the more vacuums are created and therefore the better the whisk is for creating foam and volume.
🥣 How to use a whisk
The whisk is used by holding the handle comfortably in the hand, with the whisk at an angle to the bowl. Use a small, circular stroke that originates from the elbow. Sometimes you'll use a back-and-forth movement.
The movements should not be controlled by the wrist.
The whisk should barely be lifted from the mixture and the rhythm should be steady. As the volume of the mixture increases, the size and speed of the strokes should increase as well.
If you are whisking egg whites you will get the best volume if you use a copper bowl and allow the egg whites to come to room temperature.
The copper reacts with the egg whites and helps stabilize them as well.
Using a wire whisk is easy and results in higher, lighter cakes and other baked goods.
It's a technique that almost anyone can master with just a little practice.
🧑🏻‍🍳 History of the whisk
Food historians believe that the whisk developed in medieval times in the kitchens of the wealthy.
Cooks found that using bundled twigs helped them to stir mixtures quickly and allowed them to get better results from egg whites and cream than a spoon.
While the whisk was popular in European kitchens for centuries it was a tool largely unknown to the American home cook until Julia Child introduced this essential kitchen tool in her cooking show in the 1960s.
Since that time they have been a staple in the American kitchen.
Cooks can chose from several sizes, shapes, and even materials.
A whisk that is over 6 inches long is usually called a whip but many people use that term interchangeably.
Whether you are using a whisk, or a whip, the technique is the same. Hold the handle lightly in your hand at an angle to your bowl and create a circular or back-and-forth motion from your elbow. The wrist should not control the movement.
The whip would be used for a larger amount of liquid in a bigger bowl but would be held and moved in the same way as a whisk.
What's your favorite type of whisk and why? Leave a comment and let us know!
📚 More kitchen basics