Creamy, sweet, melt in your mouth pralines are great gifts or after dinner treats. This recipe is super easy to make, too!
These creamy pecan pralines aren't hard to make at all. They are rich, sweet, and they just melt away in your mouth leaving a lingering flavor that entices you to take just one more bite. Addictive? Nah... not these -- at least not until you take your first bite! The secret? Toasted pecans.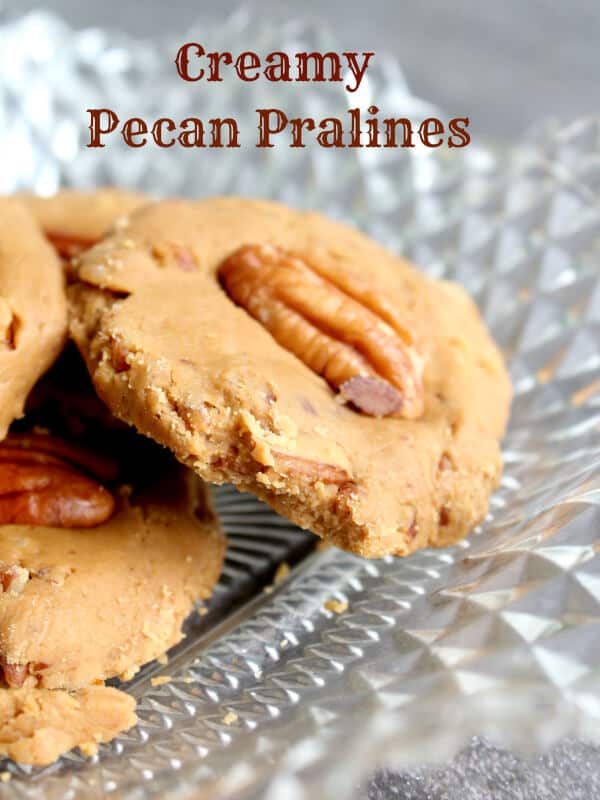 So, pecan pralines. There are numerous ways to make them and the consistencies are all different. I have several recipes, and I'll be glad to post a different kind if this isn't what you're looking for, just let me know -- my family won't mind in the least! These, though. These are the kind that have a texture that is almost like fudge but the candy sorts of melts away in your mouth. Then there is the whole size thing. Some people make teeny pecan pralines but not me. I like 'em Texas sized.
My dad and I used to go to lunch at this tiny, family owned Mexican place. It was a hole in the wall and not normally the kind of place you'd want to eat at but my dad was very adventurous when it came to food and he had a way of getting to know people. You either loved or hated my dad -- there was nothing in between. I am a lot like him in that, I think. People tend to have very intense feelings about me, too. Anyway, once in awhile he'd come check me out of school for the afternoon and we'd go eat somewhere. Mexican, Thai, Japanese, African, Korean.... it didn't matter. He wanted to try everything. Usually they were small places and he'd strike up a conversation with the owners and before long they'd know who he was. Next time we went they'd greet him by name and he'd get family treatment.
It was weird, too. He wasn't a real open person and under normal circumstances he was very hard to get to know. Hand him a bowl of something yummy and he'd open right up.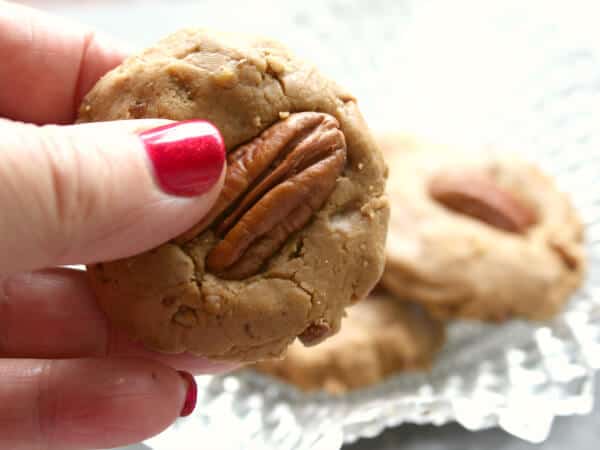 Anyway, so there was this tiny little Mexican place that had the best food ever.
Their personal best was something that they called Texas Pralines.
They were these huge, thick, patties of melt in your mouth goodness, studded with toasted pecans, and with one pecan half stuck on the top.
Sometimes they dipped half in chocolate but the main thing was once the praline had melted away on your tongue you felt the bite. Chipotle...
Abuelita always brought me one as we left because she thought I was too skinny. If she could only see me, now.
I will probably be posting some of my other praline recipes over the next few months but this one is my favorite and I am willing to bet it will become your favorite, too.
Next time try these peanut butter pretzel bites.
📖 Recipe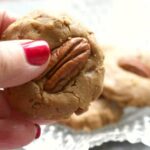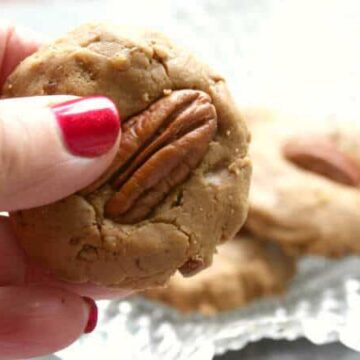 Creamy Pecan Pralines Are Easier than You Think
Print
Save
Saved!
Creamy, sweet, melt in your mouth pralines are great gifts or after dinner treats. This recipe is super easy to make, too!
Ingredients
¾

cup

chopped

,

, toasted pecans

1 ½

cups

packed dark brown sugar

1 ½

tablespoons

light corn syrup

3

tablespoons

salted butter

½

cup

heavy cream

1 ½

teaspoons

vanilla

¼

teaspoon

chipotle powder

,

, optional
I earn a commission from Instacart from qualifying purchases.
Instructions
Toast pecans in the oven by spreading them in a baking pan and bake at 350° until golden brown, stirring often for 6 minutes or so.

Add the sugar, corn syrup, butter, and

cream

to a heavy sauce pan. Stir until the sugar is melted and the mixture is liquid.

Add the pecans and heat, stirring occasionally, until the temperature reaches 238F.

Remove from heat and allow to cool until the temperature reaches 110F.

Add the vanilla and chipotle and stir like crazy until it becomes creamy and changes color to a light tan. (I spray my kitchenaid with baking release and use the paddle on high for a minute or so.)

Scoop out tablespoon sized portions of the mixture and form into patties.

Press a pecan half on the top of each.

Let cool completely -- overnight if possible. The texture gets creamier.

Store in an airtight container in a cool, dry spot.
Notes
If the mixture cools to much and you can't

beat

it add a tablespoon of boiling water and

beat

it in. That should fix it.
You'll find more helpful tips and variations in the body of the post.
Nutrition information is estimated as a courtesy. If using for medical purposes, please verify information using your own nutritional calculator. Percent Daily Values are based on a 2000 calorie diet.
Sign up for the emails and never miss another recipe!!
We'll never share your email or send you spam. Pinkie swear.