Fudge, like many other treats, was something that was only made at Christmas in my house. My mom was a practical cook except at Christmas and then she went all out with fruitcakes, fudge, cookies, and things I cannot replicate to this day. The month of December was a flurry of epicurean activity which stopped abruptly on January 2.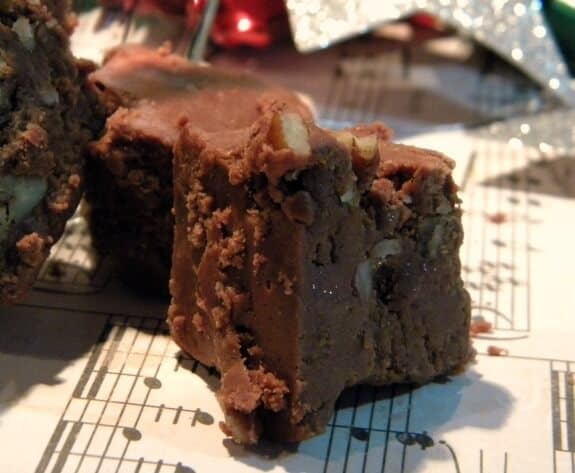 At that point we went back to broiled chicken and wedge salad.
To say that I enjoyed the month of December would be an understatement of such gigantic proportions that it would be equal to saying that I simply dislike Monsanto, or somewhat disagree with the direction the government is taking. I lived for Christmastime. By the time my elementary school teachers began sending home math worksheets with reindeer and Santa hats on them I was a quivering mass of anticipation fueled by those enticing aromas that wafted out of my mother's kitchen.
Fudge was the star of the show, the item that created a release of saliva that nearly dripped from your chin and pooled at your feet. My mother's fudge was legendary in the neighborhood. My father and I encouraged her to take naps, go to movies, and visit friends so that we could carefully shave off the sides of that creamy chocolaty confection without being detected. Being caught was certain death or at least a well placed whack with the wooden spoon. Dad and I were terrified of the Kitchen Nazi that my mother channeled in December - but not terrified enough to stay away from the fudge. It was that good.
And the experience later served me well when we did recon and other war games in boot camp.
The secret was in the mixture of chocolate used. One type of chocolate will give a one dimensional flavor but three or four will create waves of chocolaty pleasure that the Aztecs could not even imagine.
I am sure that this will become a standard in your house, if it isn't all ready. It is quite expensive but so worth it. Remember that the fudge will only be as good as the chocolate you put into it so use the best you can afford. Ghiradelli, Scharfen-Berger, etc.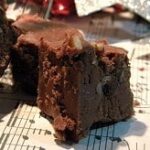 Best Chocolate Fudge – and It's Easy, Too!
Print
Add to Collection
Go to Collections
Rich, creamy fudge that is easy to make with or without pecans. If you grew up in the 1960s this is probably the stuff your remember.
Servings:
5
lbs fudge/ 80 1-ounce servings
As an Amazon Associate I earn from qualifying purchases.
Ingredients
4

c

. sugar

½

cup

unsalted butter

,

, cut into pieces

1 ½

c

evaporated milk

½

lb

bittersweet chocolate

,

, chopped

½

lb

milk chocolate

,

, chopped

2

cups

semisweet chocolate chips

,

(one bag)

2

cups

marshmallow creme

1

tsp

vanilla

½

tsp

salt

1

cup

chopped pecans

,

, toasted
Instructions
In a large heavy kettle, combine the sugar, butter and milk.

Cook the mixture over moderate heat, stirring, until it comes to a full boil.

Boil the mixture, stirring constantly and making sure that it doesn't scorch, for 5 minutes exactly.

Remove the kettle from the heat and quickly stir in the chocolate marshmallow cream, vanilla, pecans, and the salt.

Stir the mixture until it is combined thoroughly. Pour the mixture into a greased pan, 15 ½ x 10 ½ x 1 inch for thinner and 13 x 9 for thicker fudge.

Chill the fudge for 3 hours, or until it is firm.

Cut it into squares.

Store the fudge in an airtight container lined with wax paper, separating the layers with wax paper, in a cool place.
Notes
To toast the pecans: Toss with a tablespoon of melted butter. Toast at 350F for about 5 minutes, stirring once in awhile to keep from scorching, and let cool. You can do this ahead and keep them ready to be used in any recipe
Sign up for the emails and never miss another recipe!!
We'll never share your email or send you spam. Pinkie swear.