Next time try this bourbon cake!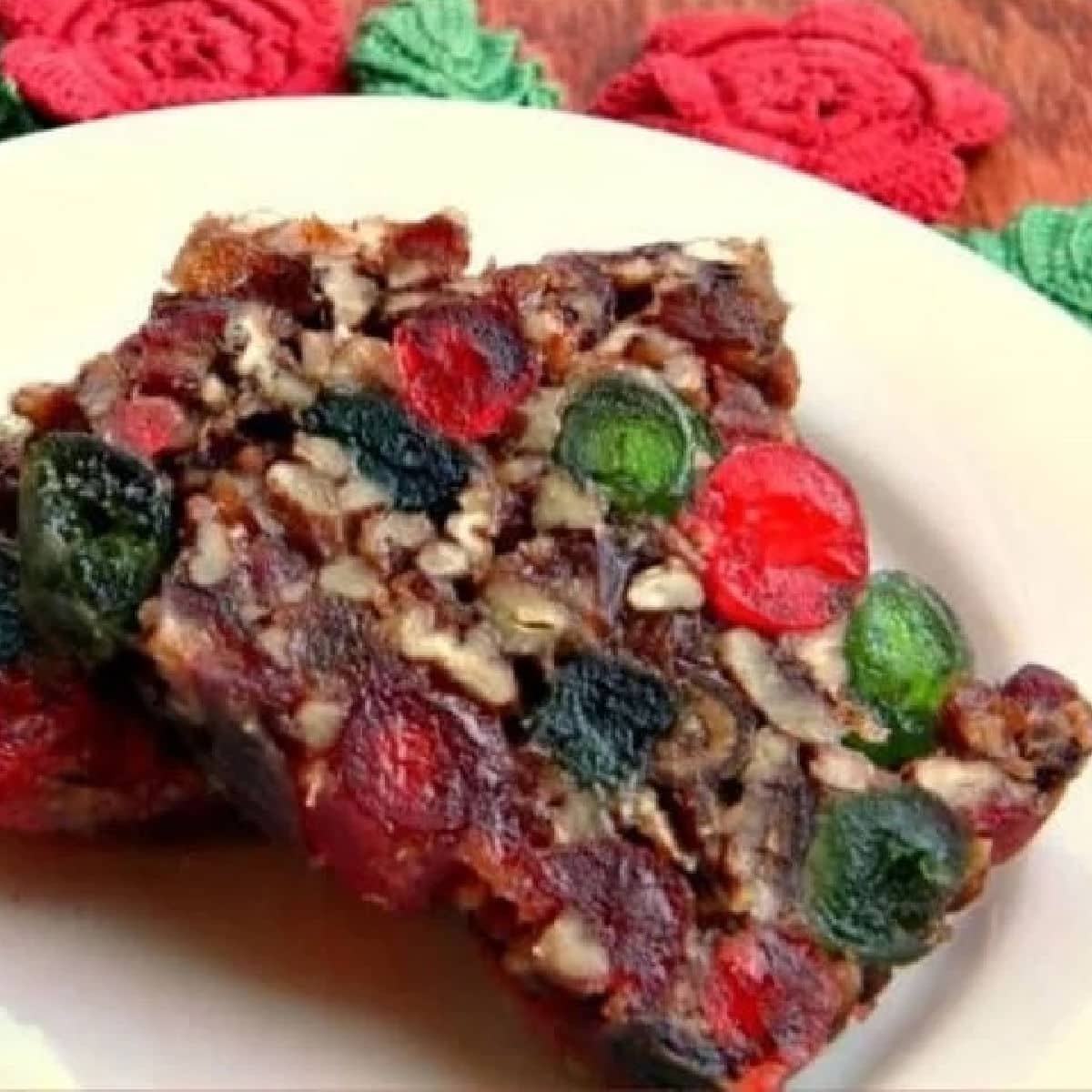 This easy fruit cake recipe is full of pecans, candied pineapple, candied cherries, dates, and just enough batter to hold it all together.
It's moist and sticky - more like a candy than a cake! It's a traditional fruitcake with old fashioned flavor and it's been a family favorite for generations.
Jump to:
Ingredients for Old Fashioned Fruit Cake
The one thing that always amazes me about this old-fashioned fruitcake recipe is that there is almost nothing holding all of that sweet, sticky fruit together. Make sure you DO NOT buy fruitcake mix - you want to get each type of fruit called for individually.
Candied Pineapple chunks are called for but sometimes I haven't been able to find it and used the rings instead. Just cut them in chunks. Red and green are the most festive if you can find them.
Candied cherries are usually pretty easy to find. If you can use part red ones and part green ones it's prettier.
Pitted dates are what makes this cake sweet and sticky. I prefer to get the diced dates but you can get pitted whole dates and dice them yourself.
Pecans don't need to be toasted but I think they add more flavor.
Sugar is just granulated sugar.
All-purpose flour is what creates the batter that holds this together.
Baking powder is one ingredient that I add because mom always did - but honestly I have no idea what it does here.
Salt helps to balance the sweetness of all the candied fruit.
Vanilla adds a rich dimension.
Large eggs work with the flour to create the batter.
Fruit Cake Recipe: Love It or Hate It
I grew up loving dark fruitcake. To be honest, I could never figure out why people didn't like it.
To me, there was nothing more delicious than a piece of my Mom's fruit cake - moist, chewy, and candy-like; thickly slathered with cream cheese or butter. Even better if it was sitting next to a cup of hot chocolate. Mmmmm - Christmas!
...And sugar overload.
That is, I didn't understand it until the fateful day when I tasted someone ELSE'S version of this traditional holiday cake. EWWWW!
I finally understood the jokes..the grimaces..the gagging. Right then I felt sorry for anyone who wasn't me, who didn't have access to this amazing stuff.
I mean, how could it be Christmas without it?
I used to sell this homemade fruitcake on eBay for $30 ...and that was twenty years ago or more! No one that has tasted this recipe doesn't like it...It is moist..and more chewy than cakey...there are no golden or dark raisins in it and no "junk" mixed candied fruit...
A few years ago I had the opportunity to interview the folks at Collin Street Bakery in Corsicana, Texas. I think they make the SECOND best fruitcake in the world. 😉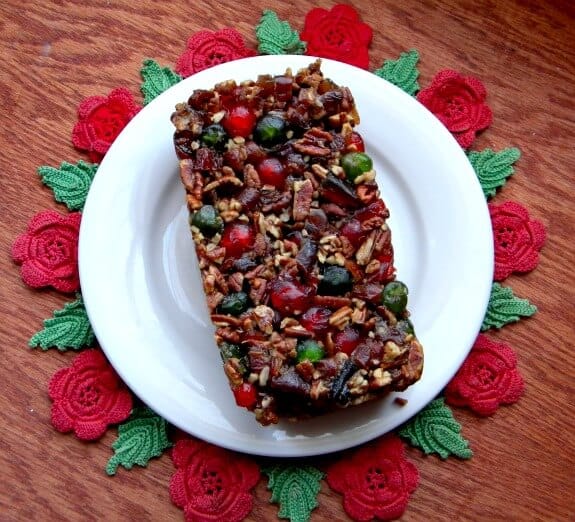 Fruit Cake FAQs
This recipe is rated: Easy
Here are the questions I am most frequently asked about this recipe.
Can you ship fruitcake?
Short answer: yes!
I have no clue where my mom got the recipe but she made it for her 6 siblings every single year.
Numerous fruitcakes were wrapped in waxed paper, then boxed, then covered with brown postal paper and tied with a string. It happened just after Thanksgiving just like clockwork. My job was holding my finger on the string so Mom could make the knot tight.
This Christmas cake was mailed overseas to my uncles during World War II ... it has been mailed overseas to my kids in the military. It always arrives perfectly intact and fresh.
Can you make this recipe ahead of time?
You can make in November and let it sit in a cool place or make it closer to Christmas..either way it will be great.
How long does a fruitcake last?
A fruitcake that's stored properly can last for years - not at our house though because we eat it long before it has a chance to go bad.
Does fruitcake have to be refrigerated?
Fruitcake will last a month or so at room temperature if it's properly wrapped. It will also keep for up to about 6 months in the refrigerator.
How do you keep a fruitcake moist?
This traditional fruit cake recipe is moist because of the baking technique and we've eaten the last few bites of it a month or so after making it - it's not dry. Just keep it wrapped. Some people wrap it in a cheesecloth that's been soaked in rum or brandy - and that's a good way to ensure it doesn't mold if you are storing it at room temperature for a long time.
Is this recipe healthy?
Short answer: nope. Fruit cake is high in calories and sugar so you probably shouldn't make a habit of having it for breakfast. Generally it's considered a holiday treat so whether or not it's healthy isn't usually a concern.
How do you store fruitcake?
et the cake cool and remove it from the pan. Leave the waxed paper on it and then wrap it in plastic wrap, then foil.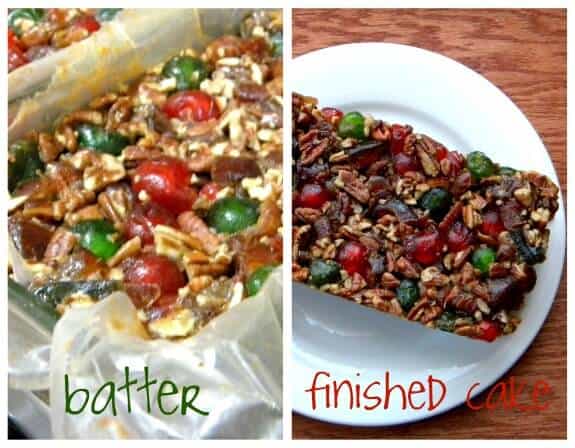 Why Is Fruit Cake a Christmas Tradition?
Fruitcake dates to ancient times when the Romans ate a satura cake, a mixture of barley mash, raisins, nuts, pomegranate, and wine.
Over time it evolved into fruitcake - with the candied fruit added to help preserve the finished cake during a season when fruit was not normally available.
It was popular in Victorian England, where it was called a "Christmas Cake" and the tradition was brought to the United States.
Fruitcakes were used as wedding cakes during Victorian times, as a matter of fact, partly because they could be made well ahead of time.
More Holiday Recipes from Restless Chipotle
One of the things I absolutely love about the holiday season is all of the holiday baking! Here are some of my favorites -
And if you are thinking of parties you'll definitely want to take a look at these -
Gingerbread House Party is so much fun for the kids! I've been doing it since the early 1980s. You make easy houses out of graham crackers and let them decorate with all kinds of candy. SO much fun.
50 Best Red Velvet Recipes because what's Christmas without red velvet? Seriously!!
You May Need...
The following are affiliate links. We are a participant in the Amazon Services LLC Associates Program, an affiliate advertising program designed to provide a means for us to earn fees by linking to Amazon.com and affiliated sites.
What's new? A brand new store full of things to help you make the recipes, celebrate the days, and create the memories! Check out Restless Chipotle & Co. As always, thanks so much for being a part of Restless Chipotle!
I use these Pyrex glass loaf pans for all of my bread baking whether I'm making yeast bread, quick breads, or loaf cakes like this fruitcake recipe. I love that they're easy to clean and last forever.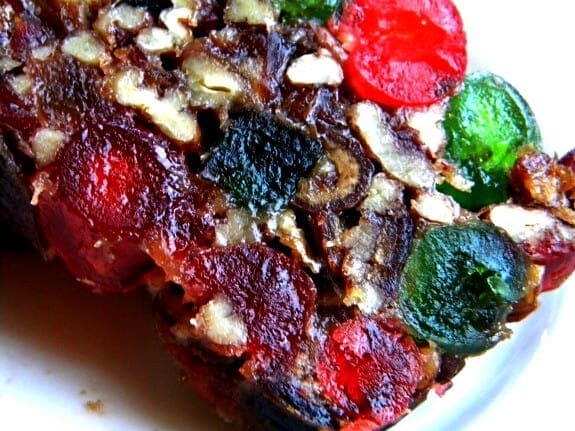 📞 The last word
This is the exact holiday cake my mom made. I have no idea where she got the original recipe but I do know that everyone who's tried it loves it!
I can't imagine a Christmas dinner without it and a batch of her homemade fudge.
If you're a fruitcake lover, or you know someone who is, give this recipe a try.
If you click on the number of servings in the recipe card you can adjust the measurements up or down for the exact number of servings you need. Don't forget that you can click on "add to collection" to save it to your own, private recipe box!
If you love this recipe please give it 5 stars! ⭐️⭐️⭐️⭐️⭐️
📖 Recipe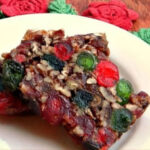 Old Fashioned Fruitcake Recipe
Print
Pin Recipe
Save
Saved!
This easy fruitcake recipe has been in our family for years. It's full of dates, candied cherries, candied pineapple, and pecans that make it more like candy than a cake! No need to let it "ripen" it's great the same day it's made! This recipe makes 2 (5x9-inch) loaves.
As an Amazon Associate I earn from qualifying purchases.
Ingredients
1

pound

pecans

1

pound

dates

,

pitted and chopped

½

pound

candied cherries

,

(red and geen)

½

pound

candied pineapple

,

(red and green or yellow)

¾

cup

sugar

¾

cup

flour

½

teaspoon

baking powder

½

teaspoon

kosher salt

3

large eggs

1

teaspoon

vanilla extract,

or 1 tablespoon rum, bourbon, or brandy
I earn a commission from Instacart from qualifying purchases.
Instructions
Preheat oven to 250° degrees (that is not a typo-TWO HUNDRED AND FIFTY degrees)

Place a pan ⅓ filled with boiling water in the oven to create steam. Put it on the rack under the rack where the fruitcake pans will got.

Fill the pan with hot water as needed during baking.

Spray two 9-inch loaf pans with cooking spray and line with wax paper or parchment paper.

Spray wax paper with cooking spray.

Add them to a large bowl.

Sift dry ingredients over fruit and nuts and mix in with your hands.

Beat eggs until light, add vanilla and pour over fruit, mixing well. (you will probably need to mix with your hands - it's messy.)

Spoon fruit cake batter into prepared pans, pressing down gently to remove large air bubbles and spaces.

Place the filled loaf pans onto the rack above the pan with hot water.

Bake at 250 for 1 hour and 45 minutes.

Let cool.
Notes
This is one of our favorite holiday cakes! During the Christmas season I'll even serve it with a little cream cheese for brunch. Watch the full video on YouTube - click here.
To store: let the cake cool and remove it from the pan. Leave the waxed paper on it and then wrap it in plastic wrap, then foil. Store in a cool dark place.
This fruit cake ships well. Just wrap it in waxed paper, then in aluminum foil.
You can brush this with rum or brandy if you like but I never do - it's good without it.
No need to let fruitcake age. It's delicious the same day it's baked.
Don't use the "mixed candied fruit". It isn't moist enough and your cake will be dry and tasteless.
You'll find more helpful tips and variations in the body of the post.
Nutrition Facts
Calories:
350
kcal
|
Carbohydrates:
49
g
|
Protein:
4
g
|
Fat:
17
g
|
Saturated Fat:
2
g
|
Polyunsaturated Fat:
5
g
|
Monounsaturated Fat:
10
g
|
Trans Fat:
1
g
|
Cholesterol:
25
mg
|
Sodium:
68
mg
|
Potassium:
266
mg
|
Fiber:
4
g
|
Sugar:
37
g
|
Vitamin A:
51
IU
|
Vitamin C:
2
mg
|
Calcium:
39
mg
|
Iron:
1
mg
Nutrition information is estimated as a courtesy. If using for medical purposes, please verify information using your own nutritional calculator. Percent Daily Values are based on a 2000 calorie diet.
Sign up for the emails and never miss another recipe!!
We'll never share your email or send you spam. Pinkie swear.
First published December 22, 2011. Last updated October 16, 2021 for structure and editorial fixes.