This easy fruitcake recipe is full of pecans, candied pineapple, candied cherries, dates, and just enough batter to hold it all together. It is moist and sticky – more like a candy than a cake in a lot of ways. It's a traditional fruitcake with old fashioned flavor and it's been a family favorite for generations.
For this recipe you'll need: Candied pineapple (red and green), candied cherries (red and green), pitted dates, pecans, sugar, flour, baking powder, salt, eggs, vanilla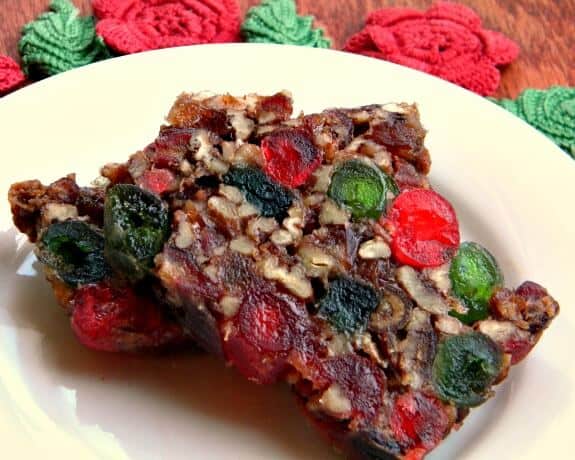 Fruitcake Recipe Backstory
I grew up loving fruitcake. To be honest, I could never figure out why people didn't like it. To me, there was nothing more delicious than a piece of my Mom's fruitcake – moist, chewy, and candy-like; thickly slathered with cream cheese or butter. Even better if it was sitting next to a cup of hot chocolate. Mmmmm – Christmas!
That is, I didn't understand it until the fateful day when I tasted someone ELSE'S fruitcake. EWWWW! I finally understood the jokes..the grimaces..the gagging. Right then I felt sorry for anyone who wasn't me, who didn't have access to this amazing stuff.
I mean, how could it be Christmas without it?
I used to sell this cake on eBay for $30 …and that was ten years ago or more! No one that has tasted this cake doesn't like it…It is moist..and more chewy than cakey…there are no raisins in it and no "junk" candied fruit…
A few years ago I had the opportunity to interview the folks at Collin Street Bakery in Corsicana, Texas. I think they make the SECOND best fruitcake in the world. 😉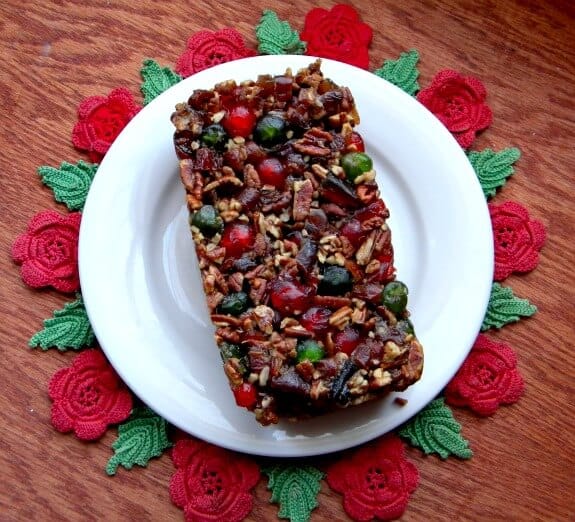 Can You Ship Fruitcake?
I have no clue where my mom got the recipe but she made it for her 6 siblings every single year. Numerous fruitcakes were wrapped in waxed paper, then boxed, then covered with brown postal paper and tied with a string just after Thanksgiving just like clockwork. My job was holding my finger on the string so Mom could make the knot tight.
It was mailed overseas to my uncles during World War 2… it has been mailed overseas to my kids in the military. I'm telling you… it's unbelievable… and it's a tradition.
You can make in November and let it sit in a cool place or make it closer to Christmas..either way it will be great.
Fruitcake FAQs
This recipe is rated: Easy
How do you make a fruit cake in the oven?
This fruitcake recipe bakes slowly in a slow oven which helps keep it moist and delicious. A pan of boiling water is also added to the oven to create steam during the baking process.
Is fruitcake healthy?
Fruitcake is high in calories and sugar so you probably shouldn't make a habit of having it for breakfast. Generally it's considered a holiday treat so whether or not it's healthy isn't usually a concern.
How do you keep fruit cake moist?
This traditional fruitcake recipe is moist because of the baking technique and we've eaten the last few bites of it a month or so after making it – it's not dry. Just keep it wrapped. Some people wrap it in a cheesecloth that's been soaked in rum or brandy – and that's a good way to ensure it doesn't mold if you are storing it at room temperature for a long time.
Why does my fruitcake crumble?
The butter and sugar must both be present in the correct ratio to keep a fruitcake just right. If you use too much sugar or don't cream the butter and sugar together sufficiently the cake may be crumbly. In THIS fruitcake there isn't enough batter to require that ratio – there's no butter because the candied fruit to batter ratio is so high that it's more like candy.
How long does a fruitcake last?
A fruitcake that's stored properly can last for years – not at our house though because we eat it long before it has a chance to go bad.
Does fruitcake have to be refrigerated?
Fruitcake will last a month or so at room temperature if it's properly wrapped. It will also keep for up to about 6 months in the refrigerator.
How do you store a fruitcake?
Let the cake cool and remove it from the pan. Leave the waxed paper on it and then wrap it in plastic wrap, then foil.
Why Is Fruitcake a Christmas Tradition?
Fruitcake dates to ancient times when the Romans ate a satura cake, a mixture of barley mash, raisins, nuts, pomegranate, and wine. Overtime it evolved into fruitcake – with the candied fruit added to help preserve the finished cake during a season when fruit was not normally available. It was popular in Victorian England, where it was called a "Christmas Cake" and the tradition was brought to the United States.
Fruitcakes were used as wedding cakes during Victorian times, as a matter of fact, partly because they could be made well ahead of time.
You May Need…
The following are affiliate links. We are a participant in the Amazon Services LLC Associates Program, an affiliate advertising program designed to provide a means for us to earn fees by linking to Amazon.com and affiliated sites.
What's new? A brand new store full of things to help you make the recipes, celebrate the days, and create the memories! Check out Restless Chipotle & Co. As always, thanks so much for being a part of Restless Chipotle!
I use these Pyrex glass loaf pans for all of my bread baking whether I'm making yeast bread, quick breads, or loaf cakes like this fruitcake recipe. I love that they're easy to clean and last forever.

More Holiday Recipes from Restless Chipotle
One of the things I absolutely love about the holidays is all of the holiday baking! Here are some of my favorites –
Best Fruitcake Recipe Ever
If you are looking for the best fruitcake recipe ever this traditional family recipe definitely gets my vote. Try this fruitcake recipe at least once! I think you'll like it. If you're looking for a more "cakey" fruitcake give this Brandied Fruitcake with dried fruit from Country Cleaver a try.
If you love this recipe please give it 5 stars.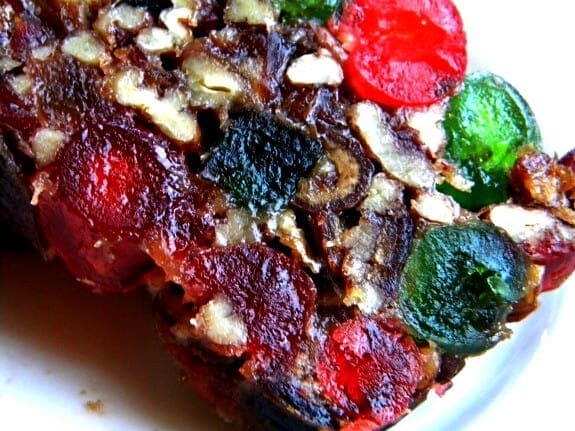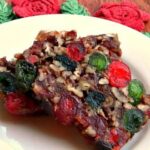 Fruitcake Recipe
Print
Add to Collection
Go to Collections
This easy fruitcake recipe has been in our family for years. It's full of dates, cherries, pineapple, and pecans that make it more like candy than a cake! No need to let it "ripen" it's great the same day it's made!
Cook Time
1
hour
45
minutes
As an Amazon Associate I earn from qualifying purchases.
Ingredients
1

lb

pecans

1

lb

dates-pitted and chopped

1/2

lb

candied cherries

,

(red and geen)

1/2

lb

candied pineapple

,

(green and yellow)

3/4

c

sugar

3/4

c

flour

1/2

tsp

baking powder

1/2

tsp

salt

3

eggs

1

tsp

vanilla or 1 tablespoon rum

,

, bourbon, or brandy
Instructions
Preheat oven to 250 degrees (that is not a typo-TWO HUNDRED AND FIFTY degrees)

Place a pan with boiling water in the oven to create steam.

Fill the pan as needed during baking.

Spray two loaf pans with cooking spray and line with wax paper.

Spray wax paper with cooking spray.

Chop dates and nuts.

Sift dry ingredients over fruit and nuts and mix in.

Beat eggs until light, add vanilla and pour over fruit, mixing well. (you will probably need to mix with your hands)

Spoon into prepared pans, pressing down gently to remove large air bubbles and spaces.

Bake at 250 for 1 hour and 45 minutes.

Let cool.
Nutrition
Calories:
685
kcal
|
Carbohydrates:
99
g
|
Protein:
7
g
|
Fat:
32
g
|
Saturated Fat:
2
g
|
Cholesterol:
0
mg
|
Sodium:
132
mg
|
Potassium:
533
mg
|
Fiber:
8
g
|
Sugar:
73
g
|
Vitamin A:
25
IU
|
Vitamin C:
4
mg
|
Calcium:
72
mg
|
Iron:
2.4
mg
Sign up for the emails and never miss another recipe!!
We'll never share your email or send you spam. Pinkie swear.
Part of the Meal Plan Monday #92 Link Up!