There's nothing better than a classic Irish Coffee recipe unless it's this over the top Bailey's Irish Temper! Irish Cream, spiced rum, and espresso are topped with a thickened, slightly sweetened cream, and garnished with a little cinnamon -- and some green sugar crystals for St Patrick's Day! It's a delicious way to linger over brunch or contemplate life at the end of the day.
For this Irish coffee recipe you'll need: Bailey's Original Irish Cream, spiced rum, Italian roast coffee beans - ground, heavy cream, sugar, and cinnamon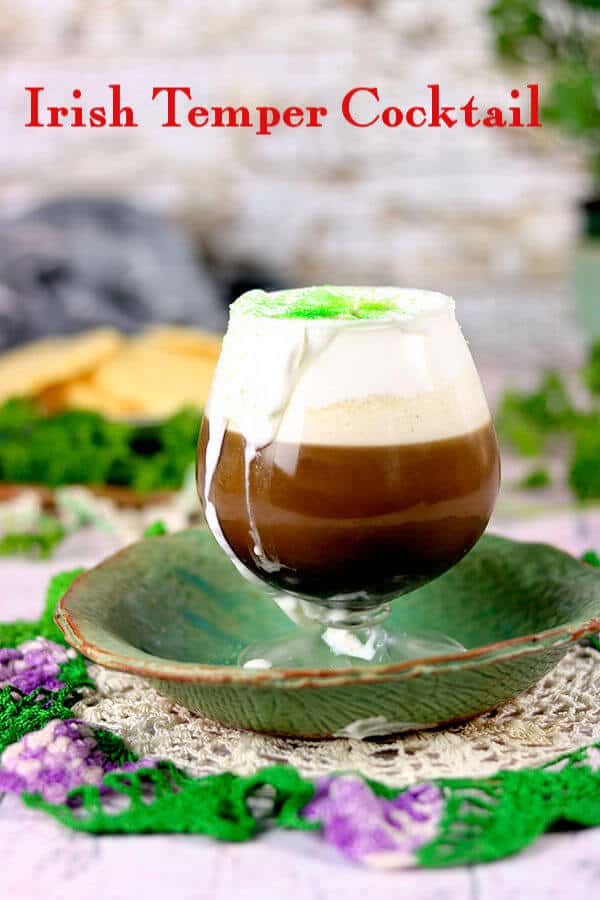 How Irish Coffee and I Became Friends
I'd love to say that I met Irish Coffee in a cozy little restaurant on a chilly, rumbly, rainy day, in early spring while I was staying at a cute B&B in Ireland -- it would be a total lie but the potential for a good story is SO much better.
However, I did not meet Irish Coffee there. Instead I met this deliciously coffee-creamy-sweet cocktail with a kick in a bar in 1978, when I was 18 and had just started my second (or was it third?) business.
In 1978 the legal drinking age was 18, by the way...
Anyway, I was dressed to meet a client to discuss a painting I was doing for one of his clients. I wore a black pencil skirt with a Victorian style ruffly blouse and black heels. I looked very professional and I wished I was as confident as I looked. A $2,000.00 commission was on the line.
But, I had that butterflies in the stomach feeling and I knew my voice was going to crack so I asked the bartender what I could get that would calm me down a touch without making me tipsy or sleepy.
And... it was Irish Coffee.
The client came in and, to my surprise, he ordered an Irish coffee as well. We sipped, negotiated, signed, and then talked about life for a couple of hours.
From that day on I was very, very sure that Irish Coffees made one look and feel professional and confident.
Irish Coffee Cocktails FAQs
Irish Coffee is an easy cocktail recipe to make and just about everyone loves it. Here are some of the most frequently asked questions:
When Should I Drink Irish Coffee
Really anytime but I think Irish Coffee cocktails are especially appropriate for winter/early spring brunches and cozy evenings. The best one I've ever had was a twist on the classic that I enjoyed in the mountains near Las Vegas on a snowy day.
Is Irish Coffee Served Cold?
Not usually but it would be really good iced on a hot, summer day!
What's In an Irish Coffee?
Strongly brewed coffee, Irish whisky, a little sugar, and cream is the basic recipe. This Irish Temper recipe uses Bailey's Irish Cream and spiced rum.
Is Irish Coffee Really Irish?
Irish coffee was first created in a small, west Irish town sometime in the 1950s. So yes, it IS Irish but not that old of a recipe.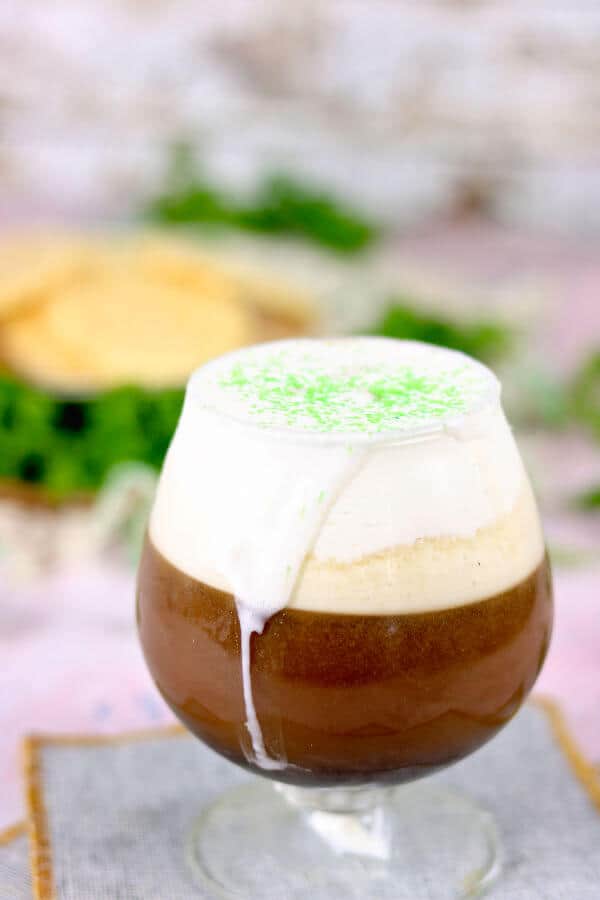 More Great Cocktails
I love a good cocktail, whether it's an Irish coffee recipe like this or something else. Here are some of my favorites.
I'm also looking longingly at this Iced Coffee Margarita from Kudos Kitchen!
You May Need...
The following are affiliate links. We are a participant in the Amazon Services LLC Associates Program, an affiliate advertising program designed to provide a means for us to earn fees by linking to Amazon.com and affiliated sites.
What's new? Check out my Restless Chipotle & Co. Store on Amazon where you'll find all kinds of nostalgic goodness! Thanks so much for being a part of Restless Chipotle!
I am absolutely in love with this gorgeous Claddagh Irish Coffee Mug! The design is unique and unforgettable - would make a great gift as well.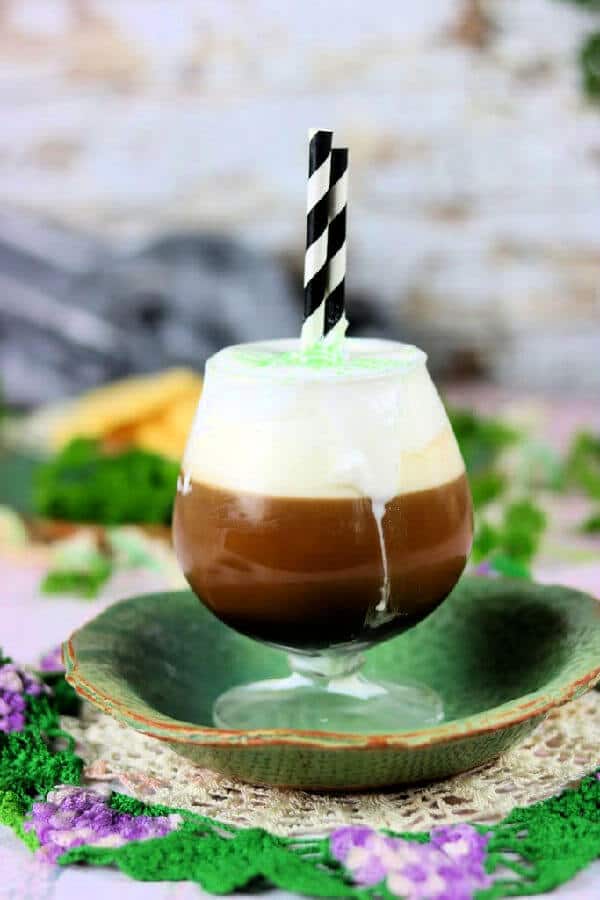 Irish Temper Cocktail Recipe
Give this Irish Temper coffee a try - rich, creamy goodness with a kick from spiced rum. It's an amazing twist on the classic Irish Coffee recipe. Sipping the hot coffee through the cold cream is pure heaven!
If you love this recipe please give it 5 stars!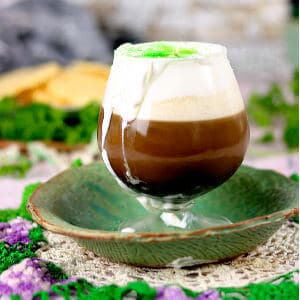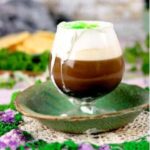 Irish temper
Print
Add to Collection
Go to Collections
When it's blustery outside all you need is the Hallmark channel, a roaring fire, and a cup of this steaming coffee cocktail.
As an Amazon Associate I earn from qualifying purchases.
Ingredients
2

ounces

Baileys Irish Cream

1

ounce

spiced rum

1

tablespoon

sugar

4

ounces

espresso,

, freshly brewed and strong

2

tablespoons

heavy cream

1

teaspoon

sugar

Cinnamon to dust on top
Instructions
Whisk the cream with a teaspoon or two of sugar just until thickened but it doesn't hold peaks.

Warm a cup and add the baileys, rum, and sugar.

Pour in the hot coffee and mix well.

Carefully spoon two tablespoons of the cream over the top and dust with cinnamon or sugar crystals.
Notes
You can make a non-alcoholic version of this by using some Irish Cream coffee syrup and a little rum extract.
Nutrition
Calories:
426
kcal
|
Carbohydrates:
32
g
|
Protein:
2
g
|
Fat:
18
g
|
Saturated Fat:
11
g
|
Cholesterol:
41
mg
|
Sodium:
27
mg
|
Potassium:
130
mg
|
Sugar:
27
g
|
Vitamin A:
440
IU
|
Calcium:
19
mg
Sign up for the emails and never miss another recipe!!
We'll never share your email or send you spam. Pinkie swear.
Submit Your Own Images