There's nothing like a chocolate cake and this sumptuous dark chocolate layer cake recipe with Irish cream buttercream is absolutely the best. Ever. Two layers of velvety fudgy cake are separated by a light, fluffy buttercream that's kid friendly and easy to make. If you love whipped icing you'll be smitten with this decadent frosting for sure!
For this recipe you'll need: sugar, brown sugar, flour, dark cocoa powder (I used Hershey's Special Dark), baking soda, baking powder, salt, eggs, buttermilk powder, strong brewed black coffee, vegetable oil, vanilla, Bailey's Irish Cream liqueur or your choice, heavy cream, vanilla instant pudding powder, almond extract, butter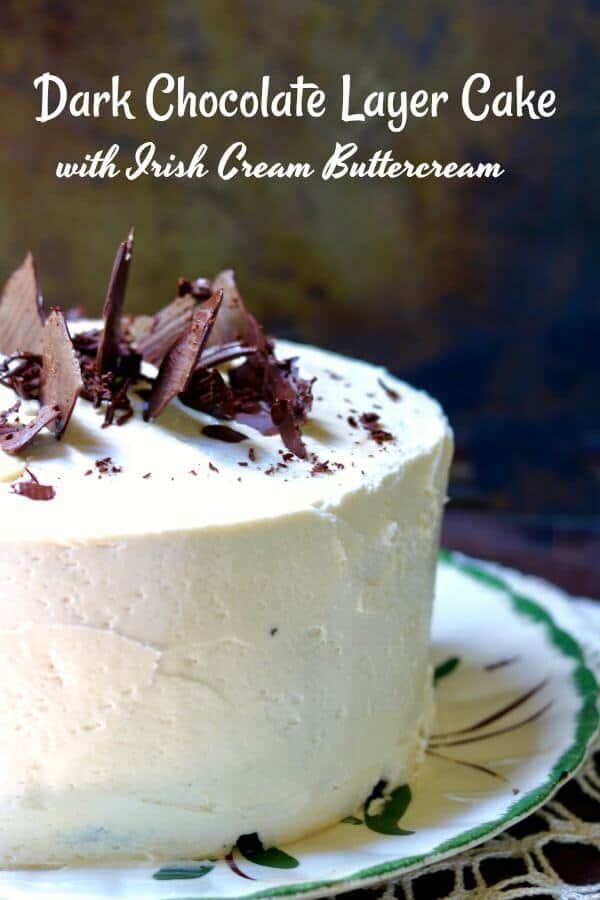 Jump to:
Dear Aztec Kings... Thank You
Isn't a really dark chocolate layer cake just the best thing in the world?
There's something about that moment right before you take that first bite, watching the fork cut down through the layers of cake and buttercream, that is almost holy. I don't blame the Aztec kings for saving the chocolate for themselves.
So, there are chocolate cakes and then there are chocolate cakes that defy description. Honestly I think I have four or five recipes JUST for chocolate cake here on Restless Chipotle (like this chocolate black lager bundt cake)and this one might just be my favorite -- at least until next time.
This one is super-fatted to be tender and there's not one thing in it that detracts from the pure chocolate flavor. The layers are sturdy without being dry and they hold together well for layering and frosting. I absolutely hate when I'm carefully moving a cake layer and it cracks or breaks.
I glue it together with frosting and put it on the bottom but you know what? I know it's a broken layer even if no one else is aware of it and it bothers me. I'm kinda OCD like that. THIS cake won't do that - just make sure you've cooled it completely.
Seriously THE Perfect Birthday Cake
I have two "in real life" friends that stuck with me through my divorce when everyone else fell away. They've been there for me through bad times and good times and I love them even more for it. Well Edye's birthday is in August -- and every year I throw her a surprise party on the weekend before her birthday. You'd think after so many years she'd be expecting it but every year she's surprised.
Crazy girl.
I usually try to do chocolate layer cake because.... duh... chocolate. I do try to make them a little differently every year so as not to be too predictable. This year I made a homemade cinnamon gelato along with the cake. Needless to say she loved the cake and went nuts over the Irish cream buttercream.
It is not too sweet but it's very rich so smaller slices are probably better than bigger slices. For an 8-inch, 2 layer cake I'd guess you could get 12 to 16 servings rather than the 8 to 10 I usually suggest.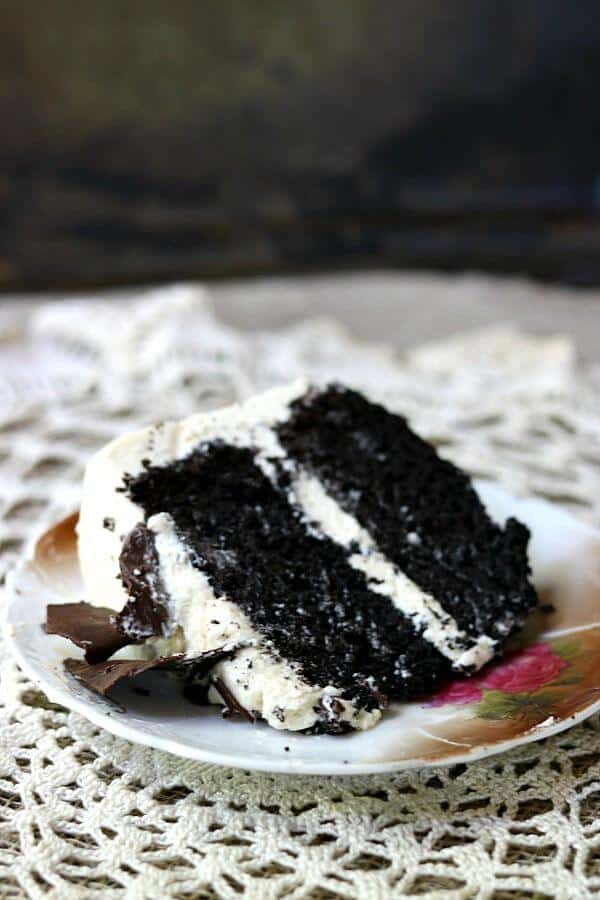 Tips for Perfect Layer Cakes
I've found, over the years, that layer cakes are easy to make IF you know how. Here are some tips that should make your caking successful. 🙂
Always have your ingredients at warm room temperature before using them unless your recipe says something different
Use heavy baking pans. Your cake will cook more evenly and the outer crust won't get too dark or burn.
Grease the pans, then put a round of parchment paper or waxed paper on the bottom, then grease again and flour the pan, tapping any excess flour out.
Use cocoa instead of flour for flouring the pans before baking a chocolate cake -- no white streaks!
Make sure your oven is completely preheated.
Don't crowd the cakes. There needs to be space between the pans for good air flow.
Let the cakes cool completely before trying to work with them.
Use a fine toothed serrated knife for trimming.
Trim the cooled cake so that the top is even if it rounds up over the pan - which it probably will.
Put a smear of frosting on the cake plate before putting the first layer down to keep the cake from sliding.
If you want to make it really easy to assemble your cake cool the layers and then freeze them before using.
I like to run a couple (usually 4) of straws down through the filled cake about halfway between the center and the edge. I do this after I've stacked them but before I've frosted. It keeps the layers from sliding around - if you've made cakes in Texas in August you know what I mean.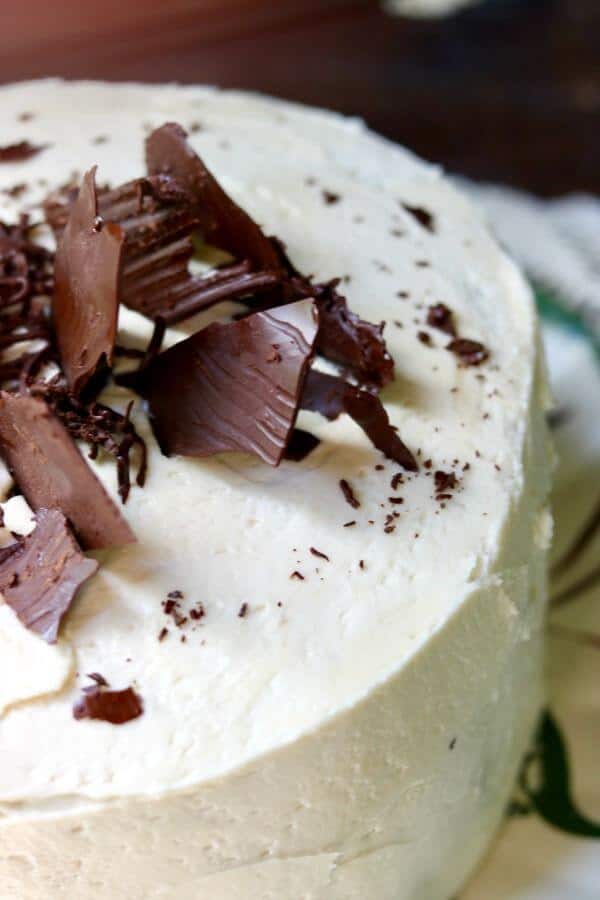 Supplies You May Need
The following are affiliate links. We are a participant in the Amazon Services LLC Associates Program, an affiliate advertising program designed to provide a means for us to earn fees by linking to Amazon.com and affiliated sites. Thanks so much for being a part of Restless Chipotle!
I love the gold 8-inch round cake pans with handles from Wilton. These are what I use and I'll never go back to any other kind.
Dark Chocolate Layer Cake Recipe
I used Hershey's Special Dark Cocoa in this cake because I wanted it to have an extra blast of chocolate flavor. It's why there is no milk in the cake - there's really nothing to interfere with you just tasting all of that yummy chocolate. I don't suggest making any substitutions in this recipe - you can't substitute buttermilk for the buttermilk powder, for example. You'll end up with a completely different cake. Same thing with the cocoa - take the time to get the dark cocoa. Hershey's Special Extra Dark Cocoa Powder is available in most grocery stores or Amazon has it, as well as several other varieties, available.
This chocolate layer cake recipe would make great cupcakes, too. I'd guess it would make 24 and you'd need to bake them for 20 minutes at 375F.
This is deliciously decadent with a cup of Irish coffee, by the way.
📖 Recipe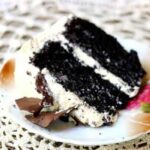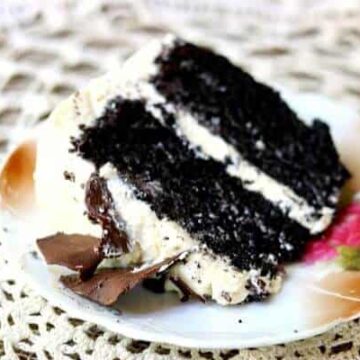 Dark Chocolate Layer Cake
Print
Save
Saved!
Deep, dark chocolate layer cake recipe has an airy, smooth-as-silk Irish cream buttercream frosting. Tender and delicious!
As an Amazon Associate I earn from qualifying purchases.
Ingredients
Dark Chocolate Cake Layers
1

cup

sugar

1

cup

dark brown sugar

1 ¾

cups

all-purpose flour

1

cup

dark cocoa powder,

extra dark plus more for dusting pans

½

cup

buttermilk powder

,

sifted if necessary to remove any lumps.

2

teaspoons

baking soda

1

teaspoon

baking powder

1

teaspoon

kosher salt

2

cups

hot black coffee

,

brewed strong

½

cup

vegetable oil

2

teaspoons

vanilla extract

2

eggs

1

egg yolk
Irish Buttercream Frosting
4

cups

confectioners' sugar

½

cup

Bailey's Irish Cream liqueur

,

, or your favorite

2

teaspoons

vanilla extract

¼

teaspoon

almond extract

2

cups

salted butter

,

cut into cubes and brought to room temperature

½

cup

heavy cream

1

tablespoon

vanilla instant pudding powder
I earn a commission from Instacart from qualifying purchases.
Instructions
Dark Chocolate Cake Layers
Preheat the oven to 350F.

Butter two 8-inch round cake pans with high sides

Place an 8 inch-round piece of parchment or waxed paper on the bottom of each pan.

Butter the parchment (or waxed paper) and dust the pans with a few tablespoons of cocoa powder

Stir the dry ingredients together in a large mixer bowl.

Whisk the coffee and vegetable oil together in another bowl.

Stir it into the dry mixture with the mixer on low speed.

Beat the eggs and egg yolk with the vanilla and add to the bowl.

Beat on low speed until the mixture is smooth and well blended.

Divide evenly between the two pans (if your pans don't have high sides like WIlton you might need 3 pans).

Bake for 30 minutes or until a toothpick inserted in the center comes out clean and the cake pulls away from the sides of the pans.

Remove from the oven and cool for 15 minutes.

Run a butter knife around the pans between the cake and the pan side to loosen the cake.

Carefully invert onto a wax paper covered surface and let cool completely.
To Assemble
Put a smear of buttercream on the cake plate.

Trim cakes as needed to make them level.

Gently place the cake, trimmed side down, on the cake plate and press gently.

Smooth a thick layer of the buttercream over the top of the cake.

Carefully place the remaining layer (cut side down) on the top of the buttercream.

Press gently.

Push 4 straws vertically through the cakes to hold the layers into place.

Freeze for 1 hour.

Remove the cakes from the freezer and put a thin coat of buttercream over the whole thing.

Return to the freezer for 30 minutes or until the buttercream is firm. This is the crumb coat and will keep the cake crumbs from showing in the lighter frosting.

Trim the straws the same level as the top of the cake.

Finish covering the cake with the remaining buttercream.

Decorate as desired.
Irish Cream Buttercream
Sift the Confectioner's sugar to remove any lumps.

Fit the stand mixer with a paddle attachment.

Place the Confectioner's into the bowl.

Bring the Irish cream just to a boil.

Remove from heat.

Put the mixer on low speed and carefully pour the hot liqueur over the Confectioner's sugar in a steady stream.

Stop the mixer and scrape down the sides and bottom of the bowl

Turn the mixer to medium speed and beat until the sugar dissolves and the mixture is smooth and has cooled to room temperature.

Add the butter and the vanilla and almond extracts.

Beat until creamy and well blended, scraping down the sides and bottom of the bowl as needed.

Add the heavy cream and the vanilla pudding powder and beat on medium-high speed until the mixture is light and fluffy.
You'll find more helpful tips and variations in the body of the post.
Nutrition Facts
Calories:
821
kcal
|
Carbohydrates:
100
g
|
Protein:
6
g
|
Fat:
45
g
|
Saturated Fat:
30
g
|
Cholesterol:
114
mg
|
Sodium:
694
mg
|
Potassium:
291
mg
|
Fiber:
2
g
|
Sugar:
81
g
|
Vitamin A:
1120
IU
|
Vitamin C:
0.2
mg
|
Calcium:
118
mg
|
Iron:
2.1
mg
Nutrition information is estimated as a courtesy. If using for medical purposes, please verify information using your own nutritional calculator. Percent Daily Values are based on a 2000 calorie diet.
Sign up for the emails and never miss another recipe!!
We'll never share your email or send you spam. Pinkie swear.