Resistance is futile. Look at this chocolate bundt cake. Shiny, rich chocolate, slowly caressing the moist surface of the most intense cake you have ever put in your mouth. It's sensual. It's sexy.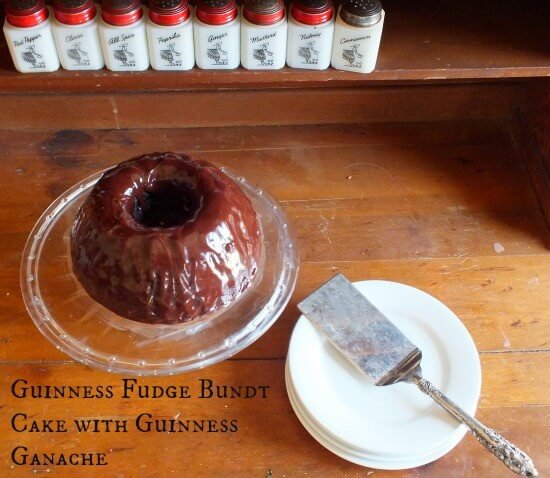 It's OMG. And you want it. Bad.
And so you shall have it. This is an easy, mistake proof bundt cake. You really can't screw it up unless you forget about it in the oven or something like that. If you do, don't feel bad. I have been known to do that myself.
In fact it's getting worse. I really have been losing my reading glasses lately - on top of my head. I was rushing to fix supper last night and rushing around looking for them because I couldn't read the recipe in one of my old cookbooks. Here I was frantically searching counters and shelves when I heard a delicate cough - a clearing of the throat, if you will.
My husband was sitting at the table, looking at me with an expression somewhere between pity and hysterical laughter. He pointed to the top of his head...and I suddenly felt them up there on my head. Yes, I walk away from the kitchen and totally forget about the stuff in the oven. It's ok.
But try not to with this because scorching a cake this magnificent would be a travesty of the worst type. Extra stout, double dark ales, and other really dark beers often have a chocolaty note that just works beautifully with chocolate. Just accept it as the gift that it is!The cake is deep, rich, dark chocolate and the beer adds almost a coffee flavor to it. It keeps the cake moist, for sure. The ganache also has beer added to it. The richness of this cake is hard to describe - even for me and I love adjectives.
It really is a basic chocolate bundt cake recipe - it's the beer that takes it out of the blue ribbon state fair category and up to a you can't touch this category. I think it is perfect for Valentine's Day, birthdays, or as a small snack when you have had a particularly difficult day - yes I do mean the entire thing.If you have a PMS play list add this to the required food list.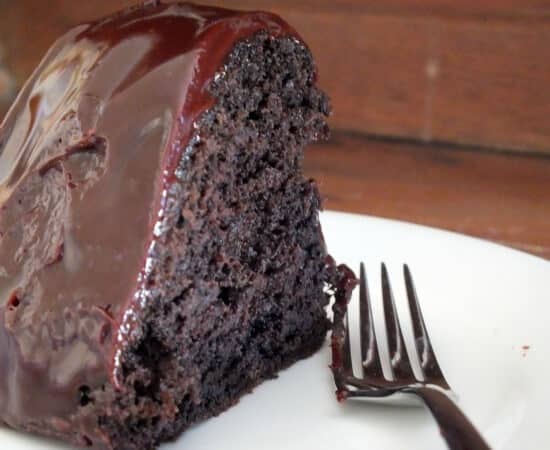 Couldn't you just run your finger through that glaze?
The only thing about bundt cakes is that you need to let them cook at their own pace. Don't try to hurry them or you will have something that is dry, flavorless, and can be bought from most bakeries. Bundt cakes also generally are better the second day. Or so I have been told. This cake didn't last 6 hours in my house. If you manage to keep it around until day two let me know if it really is better the second day - not that that would ever happen but it would be nice to know.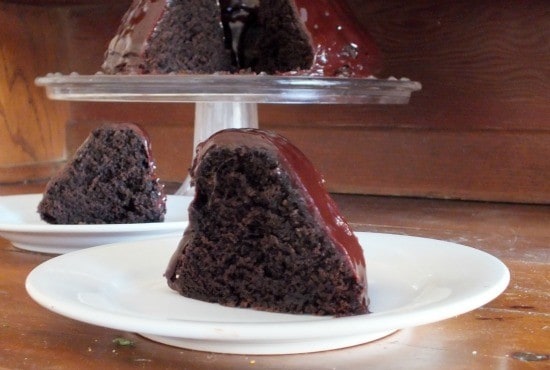 📖 Recipe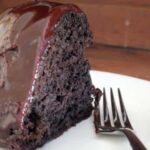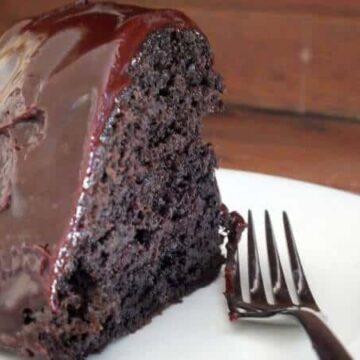 Guinness Fudge Bundt Cake with Guinness Ganache
Print
Save
Saved!
A moist chocolate cake that gets its deep flavor from two types of chocolate and a splash of Guinness. Then the cooled cake is slathered in a silky Guinness ganache
As an Amazon Associate I earn from qualifying purchases.
Ingredients
Cake
2

sticks

,

(1 cup) unsalted butter

2

cups

sugar

2

large eggs

1

teaspoon

vanilla

4

ounces

of bittersweet chocolate

,

, melted

2

cups

all-purpose flour

1

cup

dark cocoa powder

1 ¼

teaspoons

baking soda

½

teaspoon

cinnamon

½

teaspoon

salt

¾

cup

buttermilk

¾

cup

Guinness Extra Stout or a double dark ale
Guinness Ganache
4

ounces

bittersweet chocolate

½

cup

heavy cream

2

tablespoons

Guinness Extra Stout
I earn a commission from Instacart from qualifying purchases.
Instructions
Cake
Preheat oven to 325F

Butter and flour a bundt pan. If you use cocoa to flour the pan your cake will not have white streaks.

Beat butter and slowly add sugar.

Beat until the sugar is dissolved and the mixture is light and fluffy.

Add eggs one at a time, beating well after each addition.

Add vanilla and cooled chocolate.

Beat until evenly mixed.

In a large bowl mix flour, cocoa, baking soda, cinnamon, and salt.

In a 3 cup measuring cup or large bowl mix the buttermilk and the Guinness.

Add the flour mixture in three batches, alternating with the buttermilk mixture.

Spoon into a 3 quart bundt pan.

Bake for 40 to 50 minutes, or until a toothpick comes out clean.

Let cool completely.

Loosen with knife and turn out from pan, carefully.
Ganache
Heat the cream up until bubbles form around the edges and the cream begins to steam.

Remove from heat and stir in the chocolate until smooth

Heat the Guinness in the microwave until it is just warm. Pour it into the ganache.

Mix until smooth and then spoon over cake.
You'll find more helpful tips and variations in the body of the post.
Nutrition information is estimated as a courtesy. If using for medical purposes, please verify information using your own nutritional calculator. Percent Daily Values are based on a 2000 calorie diet.
Sign up for the emails and never miss another recipe!!
We'll never share your email or send you spam. Pinkie swear.