A good bourbon cake recipe is one of those things that's handed down from generation to generation here in the south. I found this unusual bourbon pecan pound cake in one of my early 20th century cookbooks with a hastily scrawled star next to the title in faded blue ink. It's so buttery and moist, and it is bursting with bourbon flavor. The pecans add texture and that smooth buttery pecan flavor. I think you'll love it as much as that long ago baker did! This post has been updated from the November 2016 original. Last updated November 2018.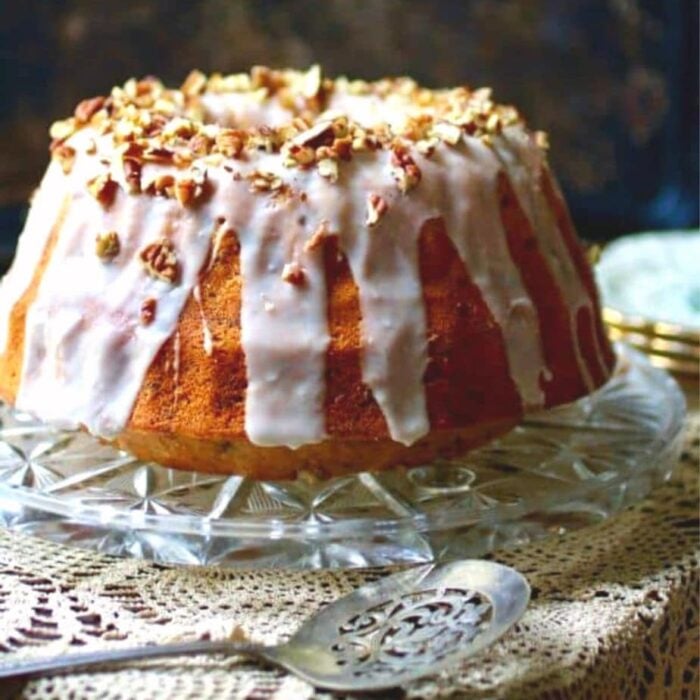 For this recipe you'll need: butter, sugar, eggs, all-purpose flour, cinnamon, baking powder, salt, whole nutmeg, pecans, bourbon, Confectioner's sugar, bundt pan
How I Learned About Bourbon Cake
Few holidays in Texas aren't celebrated with copious amounts of alcohol. This Southern bourbon cake certainly has that. It's a dense cake that has a strong bourbon flavor mellowed with the addition of buttery chopped pecans. Then more bourbon is poured over the warm cake, and finally a bourbon butter glaze is drizzled over the top.
Be sure to get a good bourbon because that's where all the flavor is going to come from. I use one or another that's distilled in Texas like Garrison Brothers or Firestone & Robertson. Use something you like.
My very first experience with bourbon cake was when I was about 17 and working in the Jr. Department of Joske's. It was just before Christmas and I was invited to a Christmas party at the home of one of my co-workers. That table was laden down with all kinds of appetizers, cookies, desserts… you name it. It looked like something out of a Dicken's novel. Right smack in the center of the table was a crystal cake dish with a bundt cake on it. It all looked scrumptious.
Now, most everyone there was an adult. I started working at 14 by lying about my age. I worked from 3:30 to 11 pm after school and worked a 40 hour week. By the time I was 16 I was working full time and making a bit more than minimum wage (which was 2.25 an hour, by the way). I looked older and I think people forgot that I was so young. Anyway, back to the cake.
I took the slice I was offered and sat on the fireplace, carefully balancing punch and cake on my knee. Trying very hard to look sophisticated I took a took a bite of the cake. Right then and there my sinuses cleared up, my head blew off, and my eyes probably bugged out.
So much for sophistication.
By the time the party was over I had sampled the cake as well as numerous rum balls and bourbon balls. You've just gotta love Southern hospitality. Being rather mature I decided to call my dad to pick me up rather than try to drive home myself. I decided this after I tripped off the edge of the dining area into the sunken living room and landed on my face. Honestly, I am not excessively graceful so that could have happened without the rum balls, bourbon balls, and bourbon cake but I wasn't taking any chances.
Bourbon Cake Cook's Notes
Now, most of the alcohol in the actual cake bakes out but it's soaked in bourbon after it comes out of the oven. Then an uncooked bourbon glaze goes over the top. In other words, I would have something "kid friendly" on the menu as well.
Please make it a day ahead of time – it's just so much better.
It's good without the bourbon, if you don't drink. Just substitute a good, spicy ginger beer or ginger ale for the bourbon if you don't imbibe. Apple cider will work, too.
This bourbon cake tastes better the second or third day so it's great to make ahead!
To store, wrap tightly and store at room temperature.
It freezes well for up to 3 months.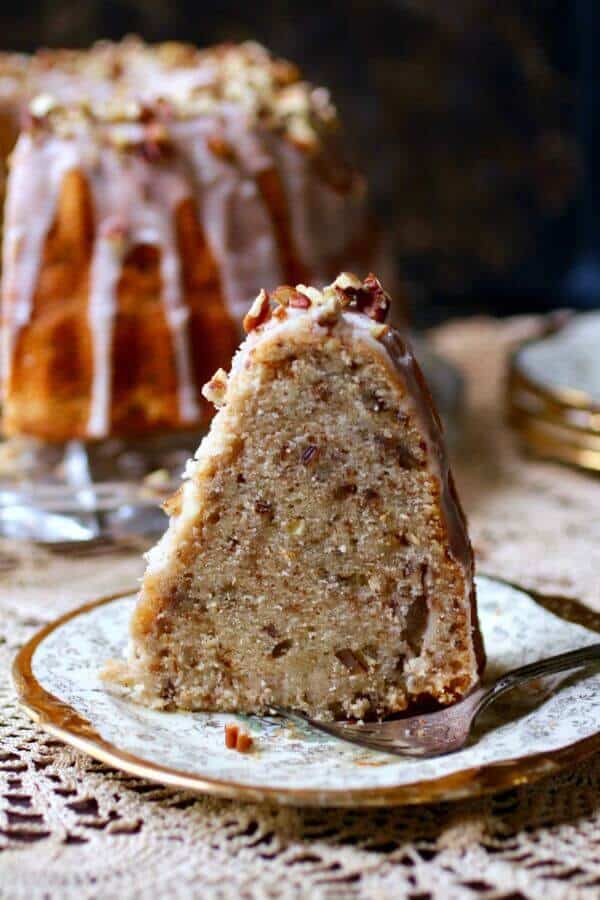 Products you might need…
The following are affiliate links. We are a participant in the Amazon Services LLC Associates Program, an affiliate advertising program designed to provide a means for us to earn fees by linking to Amazon.com and affiliated sites.
What's new? Check out my Restless Chipotle & Co. Store on Amazon! Thanks so much for being a part of Restless Chipotle!
I love this bundt pan by Nordic Ware. It's simple and elegant – perfect for any occasion. Nordic Ware produces heavy bakeware that lasts just about forever. It's my pick as far as manufacturers go – and they have some fabulous designs. This is just one of them.
More Favorite Cakes from Restless Chipotle
This bourbon pecan pound cake is SO good. I just love it… but here are some more of my favorites!
Southern Bourbon Cake Recipe
Here's that easy bourbon cake recipe! Remember to use a good bourbon and let it sit at least overnight. If you love this recipe please give it 5 stars.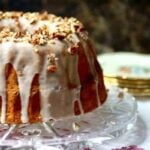 Bourbon Cake
Print
Add to Collection
Go to Collections
Homemade bourbon cake recipe from a vintage cookbook. This easy recipe is about as Southern as you can get! Pecans add a buttery richness to the moist bundt cake and top the sweet bourbon glaze. Soaked in bourbon, too! The baking technique is what makes it so good.
Cook Time
1
hour
40
minutes
Total Time
1
hour
55
minutes
As an Amazon Associate I earn from qualifying purchases.
Ingredients
Butter for greasing pan

Sugar for pan

2

cups

butter

2

cups

sugar

6

eggs

3

cups

flour

2

teaspoons

cinnamon

1

teaspoon

baking powder

1/2

teaspoon

salt

1/2

teaspoon

freshly grated nutmeg

2

cups

chopped pecans

3/4

cup

bourbon

3

tablespoons

of bourbon for pouring
Glaze
1-1/2

cups

Confectioner's sugar

3

tablespoons

melted butter

1

tablespoon

bourbon

1/4

cup

chopped pecans
Instructions
Have all ingredients at room temperature before beginning.

Grease a bundt pan and add about 1/4 cup sugar.

Move the bundt pan around and gently shake until the sugar coats the pan.

Pour out any excess sugar.

Preheat the oven to 325F.

Cream the butter and 2 cups of sugar together until light and fluffy.

Add the eggs, one at a time, beating after each addition.

Beat in 1/2 cup of the bourbon.

Blend the flour, cinnamon, baking powder, salt, and nutmeg together.

Add to the creamed mixture a little at a time.

Stir in the remaining 1/4 cup bourbon and pecans.

Spoon into the prepared bundt pan.

Bake at 325F for 1 hour 40 minutes or until a toothpick inserted halfway between the side and the center has just one or two crumbs attached to it.

Remove cake from oven.

While still hot pour the 3 tablespoons of bourbon over the cake along the outside edge.

Let cool in the pan.
Glaze
Add the Confectioner's sugar to a bowl.

Stir in the melted butter until well blended.

Add enough bourbon to make a thick glaze.

Spoon the glaze over the cooled cake and sprinkle with more chopped pecans.
Nutrition
Calories:
566
kcal
|
Carbohydrates:
49
g
|
Protein:
5
g
|
Fat:
36
g
|
Saturated Fat:
16
g
|
Cholesterol:
66
mg
|
Sodium:
313
mg
|
Potassium:
138
mg
|
Fiber:
2
g
|
Sugar:
29
g
|
Vitamin A:
780
IU
|
Vitamin C:
0.2
mg
|
Calcium:
36
mg
|
Iron:
1.5
mg
Sign up for the emails and never miss another recipe!!
We'll never share your email or send you spam. Pinkie swear.