This old fashioned chocolate sheet cake recipe is moist and full of classic fudgy flavor. It's an easy birthday cake, perfect for a church potluck dinner, or a great way to end a family meal. This is one of my go to recipes that I think you're going to love.
Don't confuse Chocolate Sheet Cake with Texas Sheet Cake - they are not the same at all! Not even close!
First Published: April 12, 2016... Last Updated: July 1, 2019
Ingredients for this recipe: unsweetened cocoa powder - extra dark, flour, baking powder, salt, butter, sugar, eggs, vanilla, sour cream, heavy whipping cream, chocolate pudding mix, Confectioner's sugar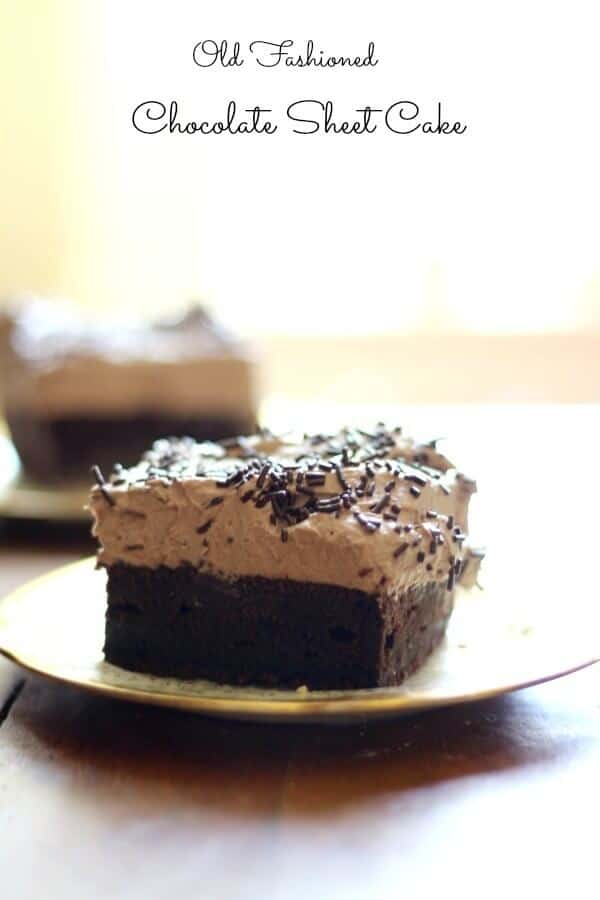 The Humble Sheet Cake
There isn't anything more homemade than a chocolate sheet cake — at least that's how I see it.
Layer cakes are fancy and they show you've gone to some trouble but a sheet cake?
Well now, that's just an every day kind of dessert that you feed family. So, servings a big ole honkin' slice of one of these old fashioned cakes just lets everyone know that they're family.
It's kinda like telling them to use the kitchen door. And that's a real good feeling.
An Easy, Every Day Kind of Dessert
I grew up in a family that never, ever, ever locked doors except at night. You know, people only commit crimes after dark…:::rolls eyes:::
Anyway, it was also a family that never, ever, ever used the front door unless it was a delivery or a stranger. If you were family or friend you used the kitchen door or garage door — never the front door.
And… while I do lock doors, rarely do people come to the front door. Oh, we might go through the front door to sit out on the porch and drink some wine or tea but thats it. Friend or family - kitchen door it is.
I know that it's just a mental thing but I do think that there is something about welcoming someone into your kitchen that creates an instant bond and a special kind of intimacy.
It just says, welcome home.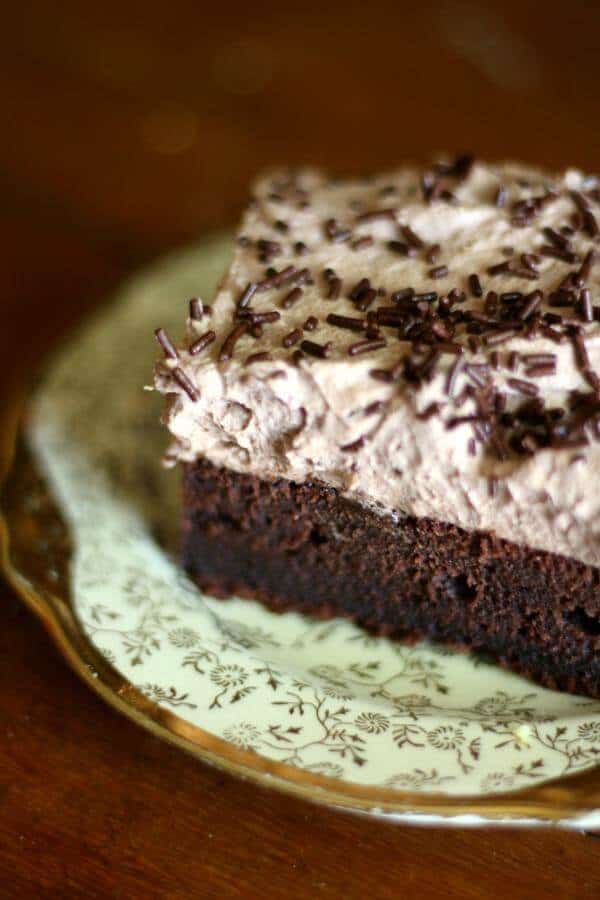 But That Whipped Chocolate Frosting Though
This deep chocolate sheet cake does the same thing.
I don't know that I would make it for a fancy occasion, although you could, but it's real comfort food. I like to make it when I'm taking a meal to someone who's just had a baby or has a family emergency, when the kids come home for a visit, and for low key birthday parties.
The cake is tender and springy with deep chocolate flavor in every bite. The frosting is light, creamy, and literally melts away on your tongue – almost like French Silk.
Make it when someone has had a bad day or someone has gotten an A in a hard class, or a promotion, or anytime a family celebration or cheering up session is needed. This is one of my favorites and I hope it will be one of yours, too.
Tips for Success
Here are some tips to help you make this cake perfectly the first time - and every time after!
Don't over-bake the cake. It's ready when a toothpick comes out clean with a couple of crumbs hanging on for dear life.
I use dark cocoa for more dark chocolate flavor. You can use regular cocoa for more of a classic chocolate cake flavor.
Don't use margarine. Not now. Not ever.
Keep everything at room temperature, roughly 65 degrees or more. It makes a huge difference in the way things blend together.
Cream the butter and sugar thoroughly. It will get fluffy and lighter in color. It could take 2 to 5 minutes.
Stop and scrape the mixing bowl a couple of times.
Don't overbeat - it will make the cake tough.
Please don't call this a Texas Sheet Cake. That's completely different and it makes Texans twitch a little.
More Great Cakes from Restless Chipotle
I love a good cake and if you've been reading Restless Chipotle very long you know that I make them a lot. Here are some of my favorites!
If you have a little time on your hands try these chocolate eclairs with espresso filling. OMG so good.
Sheet Cake FAQs
These easy, single layer cakes are the perfect starter cake for anyone who is new to cake baking. Here are some questions that are commonly asked.
How many people does a sheet cake feed?
Officially a 13x9-inch sheet cake (pretty standard size) makes 30 2-inch squares. Let me tell you, if I tried to hand one of my kids a 2-inch square of cake they'd look at me like I'd suddenly developed a taste for :::shudder::: unsweet tea. I'd say you'll get about 16 good sized cake servings... maybe 12 if your kids are related to mine.
Can you freeze a sheet cake?
You can! I'd leave it unfrosted, though. Just wrap it up tight and freeze it for up to 3 months.
Can I substitute Greek yogurt for the sour cream?
Sure. That works really well. It's not exactly the same but close enough to be cousins, for sure.
Can I make this sheet cake in layers?
Yep. You can use 2 greased and floured 8-inch round pans. Baking time will be about 20 to 25 minutes.
You May Need
The following are affiliate links. If you click through and buy something I will get a small commission used for keeping the blog up and running smoothly. Thank you for being a part of Restless Chipotle!
Hershey's Special Dark Cocoa
is one reason this cake is so full of flavor. You can use any cocoa you wish but try it just once with the dark and see what happens. I swear, you'll love it. I am totally smitten with this 1960s-looking
turquoise oblong cake pan
. ANY cake would be beautiful in it and it's nonstick, too!
Chocolate Sheet Cake Recipe
Try this easy cake once and I am sure you'll have a new favorite! Tender, fudgy, and miles of whipped frosting makes it the perfect bite!
Need to adjust for high altitude? Check out the instructions from Utah State University.
If you love this recipe please give it 5 stars!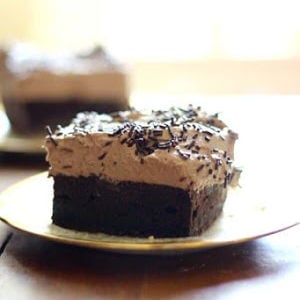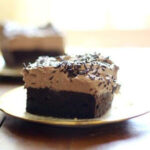 Old Fashioned Chocolate Sheet Cake
Print
Add to Collection
Go to Collections
This moist, chocolate sheet cake is easy to make for birthdays, potlucks, and any time you want a quick dessert. Dark chocolate cake is topped with a light, whipped chocolate frosting.
As an Amazon Associate I earn from qualifying purchases.
Ingredients
1 ½

cups

unsweetened cocoa powder,

I used Hershey's extra dark

1 ½

cups

flour

1

teaspoon

baking powder

1

teaspoon

salt

1 ½

cup

butter

,

room temperature

2

cups

sugar

6

eggs

2

teaspoons

vanilla

1

cup

sour cream
Frosting
1

quart

heavy cream

1

package

chocolate instant pudding mix

,

4 serving size

3

tablespoons

powdered sugar
Instructions
Cake
Preheat the oven to 350F.

Grease and dust with cocoa a 13x9-inch pan and set aside.

Combine the cocoa, flour, baking powder, and salt in a bowl and set aside.

Beat the butter and sugar until light and fluffy - about 2 minutes

Add egg, one at a time, and beat well after each.

Stir in the vanilla.

With mixer on low blend in ⅓ of the flour mixture.

Add ½ the sour cream.

Blend in ⅓ of the flour mixture.

Add the rest of the sour cream.

Stir in the remaining flour mixture.

Spoon into the prepared pan.

Bake for 30 to 35 minutes, or until done.

Cool.
Frosting
Add the cream, pudding mix, and powdered sugar to the bowl of a mixer.

Whip until light and fluffy.

Spread thickly on cooled cake.
Nutrition
Calories:
556
kcal
|
Carbohydrates:
42
g
|
Protein:
6
g
|
Fat:
43
g
|
Saturated Fat:
27
g
|
Cholesterol:
134
mg
|
Sodium:
354
mg
|
Potassium:
249
mg
|
Fiber:
3
g
|
Sugar:
27
g
|
Vitamin A:
1490
IU
|
Vitamin C:
0.5
mg
|
Calcium:
83
mg
|
Iron:
1.7
mg
Sign up for the emails and never miss another recipe!!
We'll never share your email or send you spam. Pinkie swear.
Share Your Images