This burnt sugar fudge layer cake with peanut butter mousse is O-M-Wonderful. Moist, fudgy cake is stacked up three layers high with peanut butter mousse in between. What does the commercial say? Sometimes it's good to be bad.
Warning; Reading further may result in the following symptoms:
Drooling
Sighing
Cravings
Speechlessness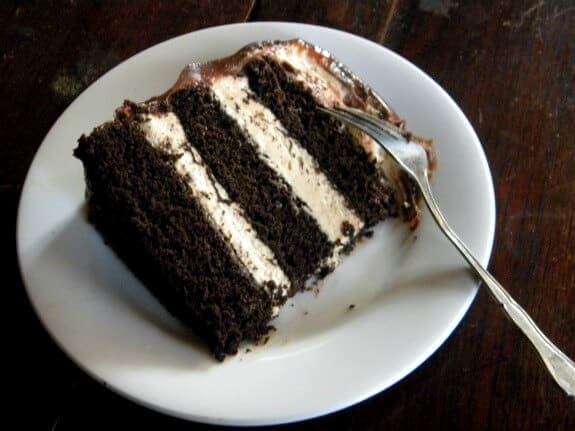 Please read further at your own risk.
This is the cake I decided to make for Marc and Ethan's birthday party. Ethan had asked me to make a chocolate peanut butter cake I made several years ago but I hate making the same thing twice so I played around and came up with one that is more elegant and just as delicious if not more so.
The fudge layer cake goes together pretty fast and although there are a lot of steps you can make it over several days. You will  need to chill the cake overnight once the layers and mousse are together and then the ganache glaze goes on at least an hour before serving. Each step only takes a little time - it is the chilling that takes the most.. Really, it looks much more complicated than it is.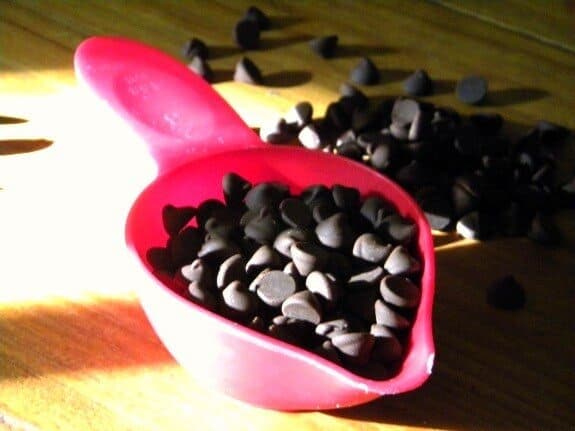 The burnt sugar fudge layer cake part is made with my favorite cocoa, Hershey's Special Dark. I used caramelized sugar in the batter to add another layer of flavor. It is delicate but definitely there. Other than that the cake is pretty standard.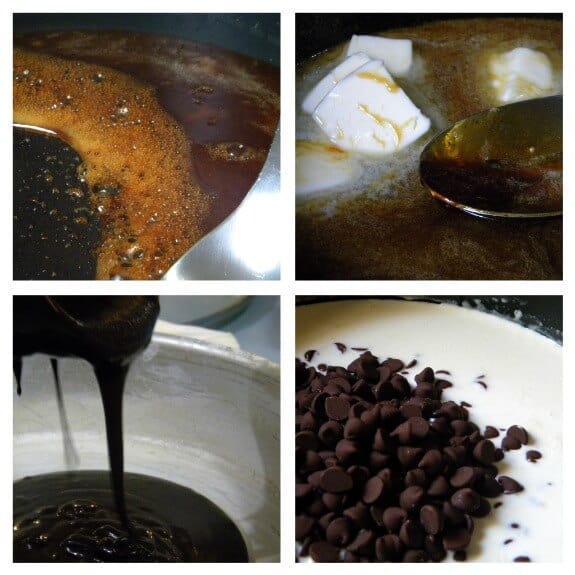 You can choose to brush a simple sugar -caramel vodka glaze over the cake before before assembling but it is not required.. There is not enough of the alcohol left in the sugar syrup to even consider. The glaze will add moistness and flavor to the cake but it is not necessary unless you overbaked the cake a touch or it seems dry to you.
The mouse is simple and it is stabilized by the cream cheese and peanut butter. It really is much lighter than you would expect - not heavy or thick but rather light and airy. It is based on a recipe in Dorie Greenspan's From My Home to Yours.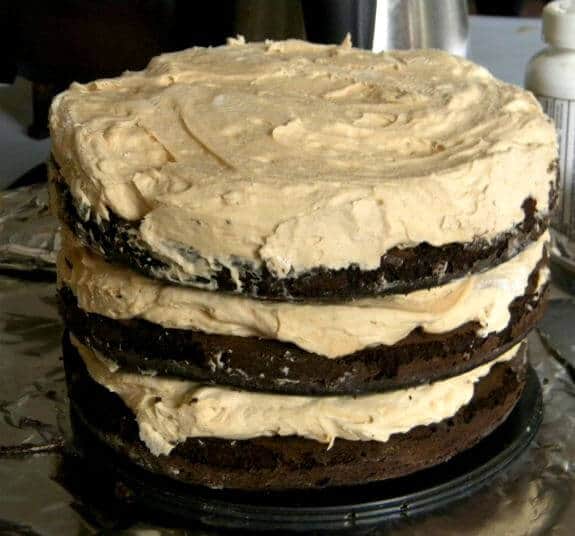 The ganache is just ganache.. standard, every day yumminess. You pour part of it over the chilled cake, smoothing it all around. It is messy but you do get to lick your fingers. The benefit to that is no one wants to fight over who gets to lick the utensils when you use your hands - you get them all to yourself.
After the first coat of ganache goes on and is chilled for a few minutes you pour the rest over. This makes the cake look perfectly smooth and, best of all, adds more chocolate... And let's face it... that can't be bad!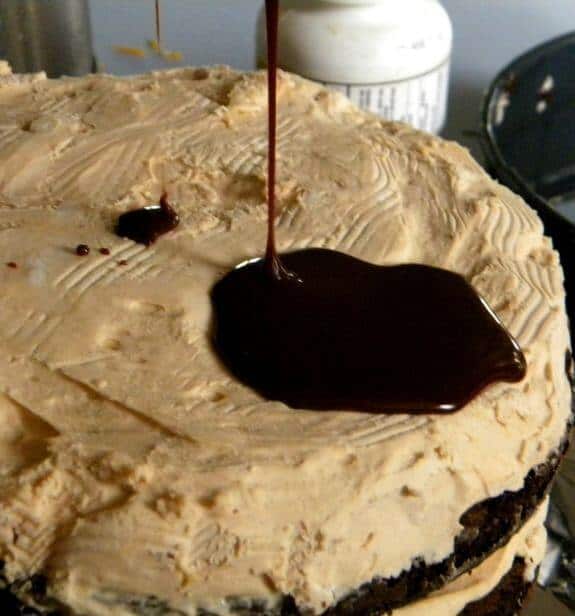 I cut the pieces rather thinly because it is rich. Very rich. Donald Trump rich. Out of an 8 inch  3 layer cake I got 16 pieces. Be careful as you cut though because the cake may start to tip. I think that if I was to do this again I would cut the cake while it was frozen and then let it thaw and use it as a plated dessert. It would certainly be easier.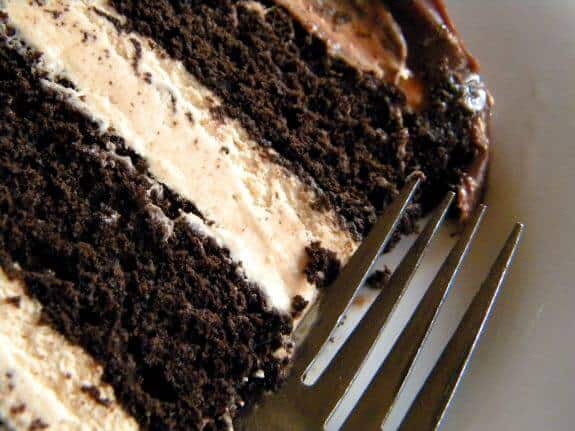 Again, it might look like a long process but it really isn't. Give this special fudge layer cake a try and let me know what you think.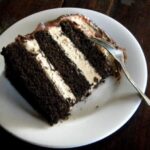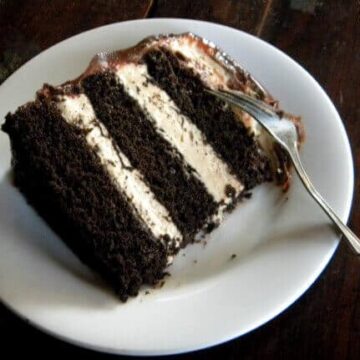 Burnt Sugar Fudge Layer Cake with Peanut Butter Mousse
Print
Save
Go to Collections
A moist, fudgy chocolate cake with an airy peanut butter mousse filling. A must for chocolate-peanut butter fans.
As an Amazon Associate I earn from qualifying purchases.
Ingredients
Cake
1

cup

sugar

½

cup

boiling water

1 ¾

cup

flour

¾

cup

dark cocoa powder

1

cup

brown sugar

1 ½

teaspoon

baking powder

1 ½

teaspoon

baking soda

1

teaspoon

salt

2

eggs

,

beaten

1

cup

milk

½

cup

unsalted butter

½

cup

boiling water
Sugar Syrup
¾

cup

water

2

cups

granulated sugar

¼

cup

caramel vodka
Peanut Butter Mousse
1

cup

creamy peanut butter

2 ½

cups

heavy cream

1 -¼

cups

confectioners sugar

¾

cup

cream cheese

2

tablespoons

heavy cream
For the Ganache
1

cup

of chocolate chips

1

cup

heavy cream

2

tablespoons

unsalted butter

1

tablespoon

corn syrup

,

this is optional but it keeps the ganache shiny
I earn a commission from Instacart from qualifying purchases.
Instructions
Cake
Preheat oven to 350

Grease and flour 3 8-inch round cake pans

Add the white sugar to a heavy pan on medium heat

Let it melt, stirring, until it becomes a liquid and becomes golden brown

When it reaches a golden brown color carefully add ½ cup boiling water to the sugar and stir to combine.

Add the butter, cut in small pieces, and stir until melted.

Set aside to cool slightly

Mix the flour, cocoa, brown sugar, baking powder, baking soda, and salt in the bowl of a mixer.

Add eggs to milk and whisk until combined.

Add the egg mixture to the flour mixture on low speed just until mixed.

Add the caramel mixture along with the boiling water and beat at medium speed for 2 minutes.

Divide mixture between the three cake pans.

Bake for 25 to 30 minutes, or until a toothpick comes out clean.

Cool in pans for 10 minutes and turn out to cool completely on racks.

(End of step 1 - stop here if you are making it in stages over a period of time)
Sugar Syrup
Bring the water to a boil in a large pot.

Reduce to medium heat and add the sugar, stirring until it completely dissolves.

Reduce the heat to low and simmer for 10 minutes or until the mixture reduces and has the consistency of syrup.

Add the vodka, mix well, and allow to cool.

Store leftover in the fridge in a glass jar.

(End of Step 2 - May be done ahead. Just warm the syrup before using)
Peanut Butter Mousse
Whip the cream with ¼ cup of the confectioners sugar until it holds peaks - don't overbeat.

Set whipped cream in the refrigerator.

Beat the cream cheese, remaining confectioners sugar and peanut butter until well combined and smooth.

Add 1 -2 tablespoons of heavy cream to the peanut butter mixture to loosen the it.

Whip.

Add one-fourth of the whipped cream and fold it gently into the peanut butter mixture.

Add the remaining whipped cream and fold in gently until well combined.

Refrigerate in an airtight container until needed.

(end of step 3 - May be done up to 2 days ahead)
Assemble the Cake
You will need to make a wide collar for the top of the springform to keep all of the cake and mousse in place. Do this by folding heavy duty aluminum foil in half and taping it around the outside of the springform to make the pan higher. Easy to do, hard to explain.

Place the first layer in a 8 inch springform pan.

Brush with sugar syrup.

Add ⅓ of the peanut butter mousse.

Place the next layer over the mousse gently.

Brush with the sugar syrup.

Add ⅓ of the peanut butter mousse.

Place the last layer over the mousse.

Brush with the sugar syrup.

Add the remaining mousse and freeze overnight.

(end of step 4 - Must be done 1 day ahead but can be done up to one week ahead of time)
Make the Ganache
Heat the cream to simmering and add the chocolate chips, butter, and corn syrup.

Remove from heat.

Stir until well blended and smooth.

Cool slightly.
Finish the Cake
Remove collar and springform from cake.

Spoon ganache over cake spreading gently with a spoon to cover top.

Add more ganache to the edges and let it drip down the side, spreading it to cover the sides as it does.

It will look horrible at this point. Really messy.

Chill a few minutes until the layer of ganache is set.

Finish with the remaining ganache, keeping it as smooth as possible.

Chill for 20 minutes before serving.
Nutrition Facts
Calories:
745
kcal
|
Carbohydrates:
84
g
|
Protein:
9
g
|
Fat:
43
g
|
Saturated Fat:
23
g
|
Cholesterol:
128
mg
|
Sodium:
406
mg
|
Potassium:
318
mg
|
Fiber:
2
g
|
Sugar:
67
g
|
Vitamin A:
1235
IU
|
Vitamin C:
0.4
mg
|
Calcium:
122
mg
|
Iron:
1.9
mg
Sign up for the emails and never miss another recipe!!
We'll never share your email or send you spam. Pinkie swear.