Double fudge Coca Cola cake? Yes please!
Putting salted peanuts in your coke is a southern thing. No one really know how the practice started but it is brilliant - that perfect salty sweet taste with the added blast of fizz. Anyway, back in the 1970s it was a pretty cool thing to do, and being the cool person I was - I did it. I also put them in my beer but that is an entirely different story.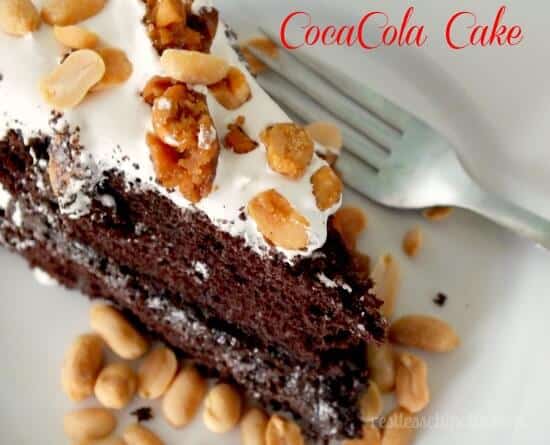 Back then Coke and everything else was made with sugar and served up in thick, greenish glass bottles. I know it might sound stupid but I think that cokes of any sort taste best in glass bottles. The plastic just doesn't do the job. You used to be able to walk into a little gas station or little corner store and grab a coke out of a bucket filled with crushed ice. The drink was so cold that when you opened it up there was slush on the top of it - and nothing tasted better on a 110 day than one of those cold cokes - with a bag of peanuts floating on the top.
I think Coke tasted different back then. It was peppery and so full of fizz that the bubbles tickled when you took a swig. Although I worked quite a lot, whenever I got a Saturday off I headed for Kiest park, a local park where we all hung out. I had a 77 Monte Carlo with a T-top and cruising around in that was pure hotness and I don't mean the temperature. Halter tops, cut-off shorts, Farrah Fawcett big hair, and Kissing Potion lip gloss in Cola flavor were standard items for these no-holds-barred weekend parties.
I got started thinking about those days and realized I hadn't had Coke and peanuts in decades. Then I started thinking about cake. This is what happened.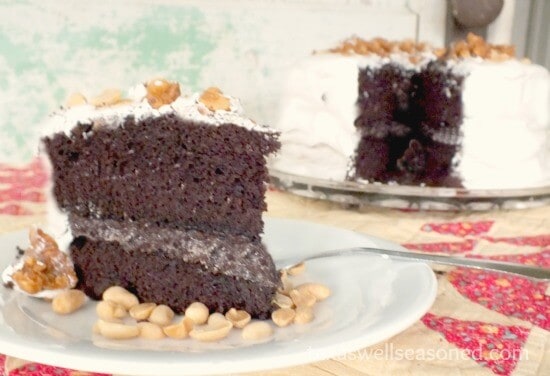 Double fudge Coca Cola cake, Yes, I went there. Oh my gosh, it is so chocolaty, moist, and addictive. You get the rich chocolate, the intense sweetness, and then the salt. Give this a try. It isn't difficult to do. You can use either homemade peanut brittle or use some good quality brittle from the store. If you make it homemade add a sprinkle of salt crystals while it is cooling.
By the way - yes I do know that the watermark on the second image says Texas Well Seasoned... Remember? I am condensing two blogs into one. 🙂
This cake is moist and rich. The layers are brushed with Coca Cola when they are still warm. You make both a fudge filling and a marshmallow type frosting - both with cola flavor... No Coca Cola cake has much cola flavor but this one has more than most. I think you will enjoy it. And, the next time you pop the top of an ice cold "Co-Cola" pour ya in some salted peanuts.
Welcome home.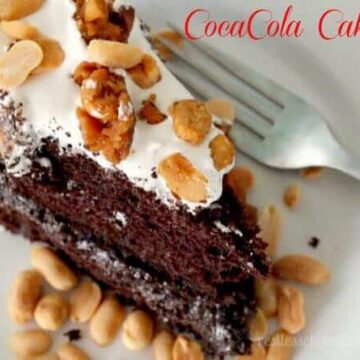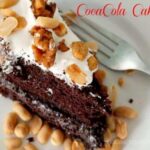 Coca Cola Chocolate Cake with Salted Peanut Brittle
Print
Save
Go to Collections
Moist, fudgy chocolate cake with a touch of cola flavor filled with a thick, rich chocolate and cola filling and then frosted with a light cloud of cola flavored marshmallow icing. Top it with crushed peanut brittle for a new twist on an old fashioned treat.
Servings:
8
to 10 servings
As an Amazon Associate I earn from qualifying purchases.
Ingredients
Cake
2

cups

flour

1 ½

teaspoons

baking soda

1

teaspoon

salt

1 ⅓

cups

sugar

½

cup

dark cocoa powder

½

cup

unsalted butter

,

, room temp

⅔

cup

buttermilk

⅔

cup

Coca Cola

,

(do not use diet)

1

egg

,

, room temp

2

egg yolks

,

, room temp

1

cup

bittersweet chocolate chips

,

, cparsely chopped
Frosting
2

egg whites

¾

cup

sugar

⅓

cup

light Karo syrup

⅓

cup

Coca Cola

¼

teaspoon

salt

¼

teaspoon

cream of tartar
Finishing
Coca Cola for brushing on layers

½

cup

coarsely crushed peanut brittle
Instructions
Preheat oven to 350°F.

Grease and flour two 9-inch round cake pans.

Mix the flour, baking soda, salt, sugar and cocoa into the bowl of a stand mixer.

Using low speed add the butter, buttermilk, and Coke.

Mix for 2 minutes, scraping the sides of the bowl often.

Add the egg and egg yolks and beat until well incorporated.

Fold in the chocolate.

Spoon the batter into the cake pans.

Bake at 350 for 30 minutes or until cake tester comes out clean.

Remove from oven and brush the tops quickly with Coca Cola - make them moist but don't soak them.

Cool.
Filling
Bring first 3 ingredients to a boil in a large saucepan over medium heat, stirring until butter melts.

Remove from heat; whisk in sugar and vanilla.

Beat until cool and thick.
Frosting
Combine all ingredients in top of double boiler.

Cook over rapidly boiling water, beating continuously with a hand held electric mixer, until mixture will form peaks.

Remove from heat, and continue beating until thick enough for spreading.
Finishing
Put a thick layer of filling between the two layers.

Frost with the marshmallow frosting.

Sprinkle the top with coarsely crushed peanut brittle.
Notes
Do not make substitutions in this recipe.
Sign up for the emails and never miss another recipe!!
We'll never share your email or send you spam. Pinkie swear.
If you like Double Fudge Coca Cola Chocolate Cake with Salted Peanut Brittle, you may also like...
Black Forest Cake with Rum Roasted Cherries Restless Chipotle
Chocolate Mayonnaise Cake Restless Chipotle