This sweet and salty homemade bourbon peanut brittle recipe is easy to make and it goes from measuring cup to mouth in about 20 minutes! A few simple ingredients, a heavy pan, and a candy thermometer and you'll be eating this foolproof candy in no time.
I may have mentioned one or a thousand times that I have a growing collection of vintage cookbooks and recipes. I pick them up whenever I see one that strikes my fancy, read that whenever I see one.
Now, to me vintage means prior to 1970. I will accept that the dishes I ate in the 1960s could maybe be called vintage but the 70's were just a few years ago. My cookbooks range from the 1920s to the 1960s but I have family recipes that date much further back than that... A lot of the recipes that show up on this blog are those recipes that I have adapted and updated. This is from a 1940s cookbook... except the bourbon part. That's something I did all by myself.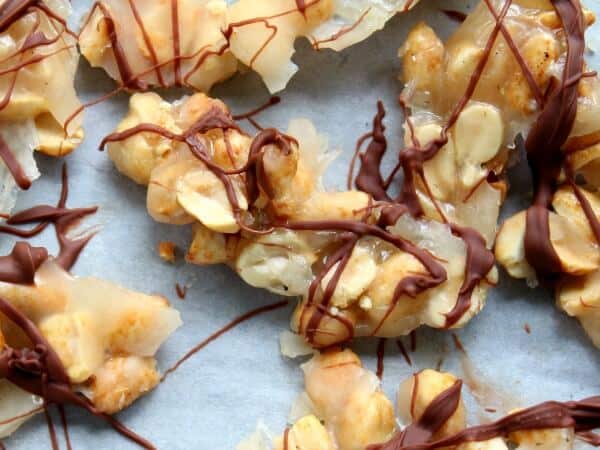 OK. I am going to stop right here and tell you that my computer hiccuped and I've lost almost this entire post. I was just about finished and I lost an hour's worth of work. I am sure that y'all would have loved the wonderful story I shared but apparently the universe wanted to keep it short and sweet. SO....
Let's get on with it, shall we?
Let me just say that I usually won't make candy on a humid day -- it just doesn't work out. Well, we have had a month of rain here in Dallas-Fort Worth and cloudy, humid days when it isn't raining. Don't get me wrong -- I love the rain! My tomato plants are GINORMOUS! But it is not good for candy making. Still, I had been putting off making a batch of this homemade bourbon peanut brittle (is there any other kind?) for a month and decided to just make it and hope for the best. This recipe worked beautifully in this humid weather so I think you should be just fine no matter what the weather is at your place. I'm looking at you, Seattle.
📖 Recipe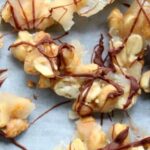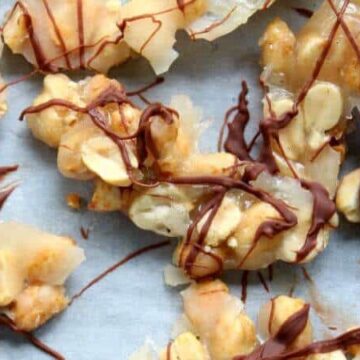 Bourbon Peanut Brittle in 20 Minutes
Print
Save
Saved!
This easy peanut brittle has just a hint of bourbon. You can make it in under a half hour -- great for gifts or to fill your own candy dish!
As an Amazon Associate I earn from qualifying purchases.
Ingredients
1 ½

cup

peanuts

1

cup

sugar

½

cup

corn syrup

½

cup

water

½

teaspoon

kosher salt

,

(omit if the peanuts are very salty)

2

tablespoons

bourbon

1

teaspoon

vanilla

3

tablespoons

butter

,

, cut in small pieces

Pinch of vanilla sea salt

,

, optional

Melted milk chocolate for drizzle

,

, optional
I earn a commission from Instacart from qualifying purchases.
Instructions
Cover a large cookie sheet with parchment paper. Do NOT used waxed paper.

Set aside.

Bring the sugar, corn syrup, water, and salt to a boil in a heavy saucepan, stirring constantly.

Once the mixture boils stop stirring and let the temperature reach 295F to 300F.

Add the bourbon, vanilla, butter, and peanuts and remove from heat.

Stir it until the butter melts and is mixed in.

Quickly pour out on the parchment, spreading it as thin as possible with a spatula.

Sprinkle with the vanilla sea salt if desired -- a little goes a long way!

Let cool just until you can stand to touch it and pull the candy as thin as possible.

Let cool completely.

Drizzle with melted chocolate if desired and break into pieces.

Store in an airtight container in a cool, dry spot.
You'll find more helpful tips and variations in the body of the post.
Nutrition information is estimated as a courtesy. If using for medical purposes, please verify information using your own nutritional calculator. Percent Daily Values are based on a 2000 calorie diet.
Sign up for the emails and never miss another recipe!!
We'll never share your email or send you spam. Pinkie swear.