One of my favorite ways to use chocolate is to create some sort of creamy, rich chocolate truffle recipe like these peanut butter pretzel truffles. The saltiness of the peanut butter and crushed pretzels balances the sweet richness of the chocolate so that you never get that sick feeling of biting into something that's just too sweet. These homemade candies are SO easy that they're perfect to have on hand for parties and to give for gifts. This post was updated October 25, 2018
For this recipe you'll need: peanut butter, butter, brown sugar, Confectioner's sugar, pretzels, graham crackers, milk chocolate, vegetable shortening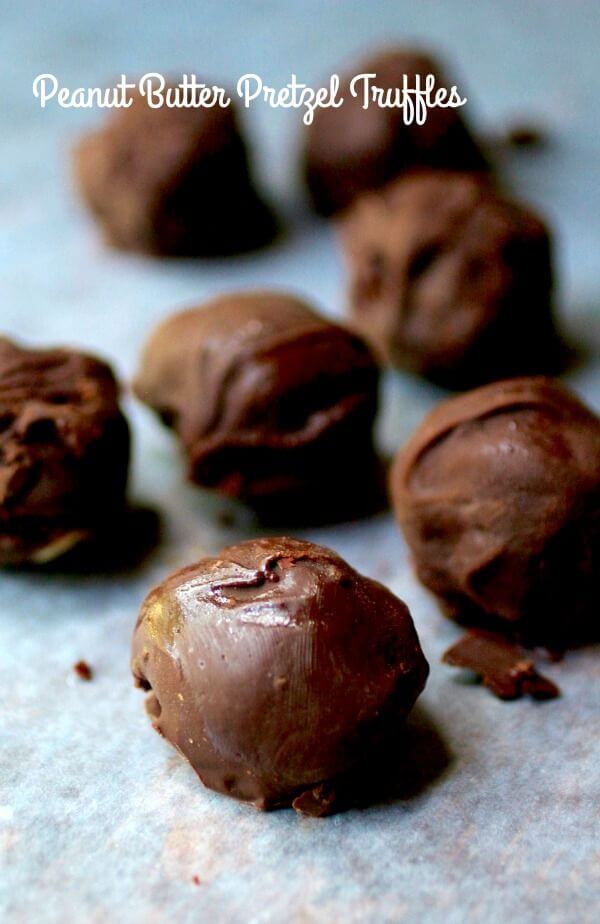 Peanut Butter Pretzel Truffles for Choctoberfest
What do you think of when you read (or hear) the word, chocolate? Well, by the end of this month you'll be thinking #Choctoberfest! #Choctoberfest is basically a two week long chocolate extravaganza where bloggers from all over the world share their favorite chocolate recipes and give you the opportunity to win some pretty amazing prizes.
And... this year? I am totally in, y'all. Chocolate all week long here on Restless Chipotle! There will be recipes here as well as links to other blogs with chocolate recipes. So, settle in with a cup of hot chocolate and prepare yourself for chocolate nirvana because today is the first day of #Choctoberfest 2016!
Thank you to the sponsors who make #Choctoberfest possible! This year, Imperial Sugar is back as our Gold Sponsor. They have been a trusted name in kitchens since 1843, and their website is home to thousands of sweet recipes tested in the Imperial Sugar Kitchen. You can find Imperial Sugar on Pinterest, Facebook, Instagram, Twitter, and Youtube, or join their Sweet Community so you can share your own recipes, save recipes to a virtual inbox, print Imperial Sugar coupons, and connect with other sugar lovers.
Peanut Butter Pretzel Truffles Tips
My first treat for #Choctober is this easy peanut butter pretzel truffles recipe. Chunks of salty pretzel are surrounded by creamy peanut butter and then covered in milk chocolate. They don't take very long to make, either.
For many people truffles seem about as unapproachable as a skunk with his tail in the air. They are sold for high prices in some of the most high end shops in the world so how could anyone make them at home?
Well, I'll tell ya. It's so easy that anyone can do it with a glass of wine in one hand and the other tied behind their back.
No, really.
Just take your time and let the peanut butter mixture chill thoroughly once you form it into balls. I put mine in the freezer for about 30 minutes. It makes them easier to dip in the chocolate.
Peanut butter pretzel truffles taste a lot like a Butterfinger bar for some odd reason. They are creamy and crunchy at the same time. You can make up a batch and freeze them so you've got them on hand when company comes or you need a little hostess gift.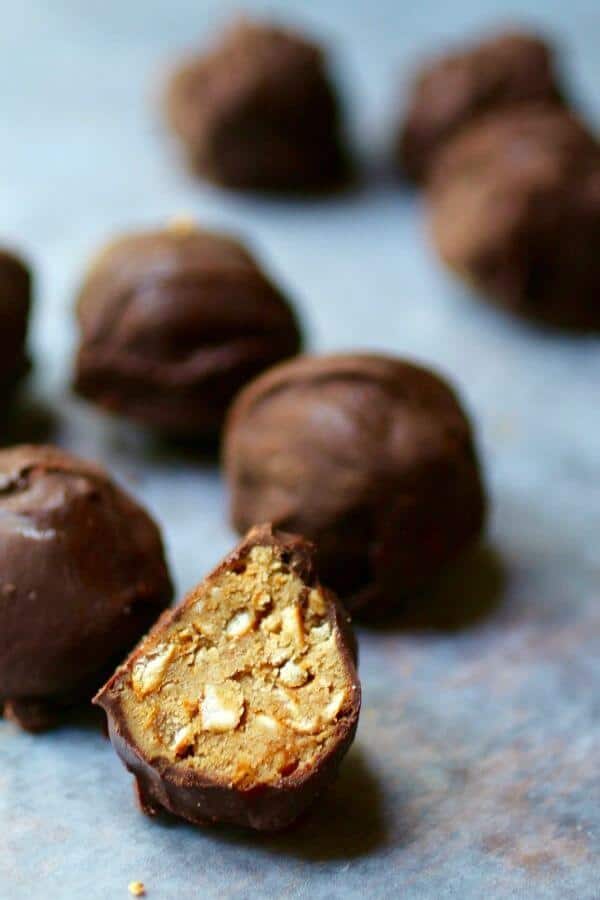 YOU MAY NEED…
The following are affiliate links. We are a participant in the Amazon Services LLC Associates Program, an affiliate advertising program designed to provide a means for us to earn fees by linking to Amazon.com and affiliated sites.
These pretty gift boxes from Wilton are a great way to package your truffles, cookies, and other homemade gifts. Paper candy cups give your candy gifts a professional look.
Peanut Butter Pretzel Truffles Recipe
Chocolate and peanut butter fans you're going to love these peanut butter pretzel truffles! Be sure to check back every day this week to see the newest recipe for #Choctoberfest! If you love this recipe please give it 5 stars.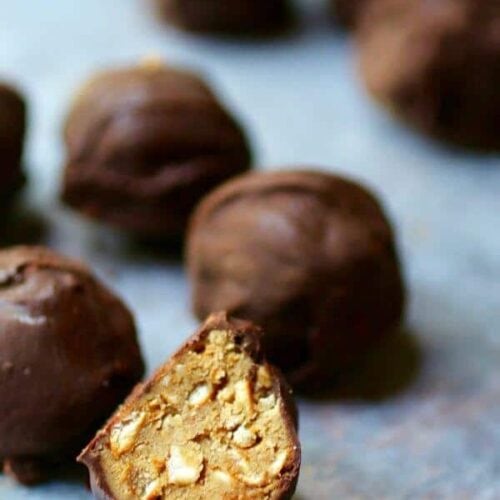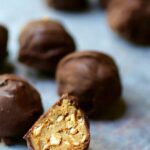 Peanut Butter Pretzel Truffles
Print
Save
Go to Collections
If you love love chocolate covered pretzels or potato chips dipped in chocolate then these peanut butter pretzel truffles are for you. They are reminiscent of a Butterfinger bar.
As an Amazon Associate I earn from qualifying purchases.
Ingredients
Truffles
1

cup

peanut butter

,

creamy or crunchy, your choice

1

tablespoon

unsalted butter

,

room temperature.

¼

cup

light brown sugar

2

tablespoons

Confectioner's sugar

1 ½

cups

finely chopped pretzels

½

cup

graham cracker crumbs
Chocolate Coating
2

cups

milk chocolate

,

chopped

1

tablespoon

vegetable shortening
Instructions
Truffles
Blend the peanut butter, butter, brown sugar, and Confectioner's sugar in the bowl of a stand mixture until smooth and well mixed.

With the mixer running on low speed, slowly pour in the pretzels and graham cracker crumbs.

Blend until smooth and you can form balls of it with your hands.

Form tablespoon sized balls and place on a cookie sheet.

Freeze until very firm, about 30 minutes.

Dip the balls in the melted chocolate.

Store in the refrigerator in a tightly covered container.
Chocolate Coating
Add the chocolate and the vegetable shortening to a microwave safe bowl

Melt on 50% power for 2 minutes, stirring every 30 seconds. (you may not need the whole 2 minutes.)
Notes
Make sure there's no water in the bowl or on the utensils you're using when melting chocolate. It will seize up and you'll have to throw it out.
Sign up for the emails and never miss another recipe!!
We'll never share your email or send you spam. Pinkie swear.
More Favorite Homemade Candy
I love making candy! It's one of those old fashioned activities that almost NO ONE does anymore! If you're looking for something quick and easy that's not truffle related try my microwave sea salt caramels recipe!
Click to go to the recipe. From left to right: Dark Chocolate Truffles, White Chocolate Lavender Truffles, Boozy Chocolate Covered Cherries