Creamy and elegant, these dark chocolate truffles have a soft, melt-in-your-mouth filling and a rich chocolate coating. Beautiful enough to give as gifts or serve to guests, this truffle recipe is unbelievably easy, too! Post updated September 2018 from the original 2016 version.
For this recipe you'll need: heavy cream, dark chocolate, butter, vegetable shortening, white chocolate for garnish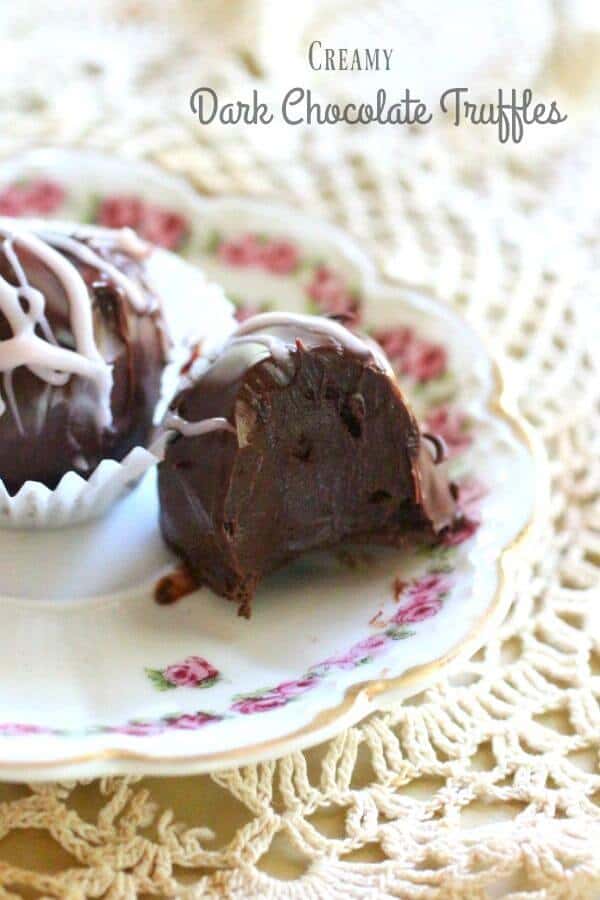 Homemade Truffles: The Backstory
Dark chocolate truffles are elegant, there's no way around it. When I see them I think of fancy chocolate shops, special occasions, and Paris. They are the macarons of the candy world but the funny thing is homemade chocolate truffles are super easy to make. In fact, they're just as good (or better) than the ones you can buy at the chocolatier.
Yep, even in Paris.
It's the funniest thing — I don't think I bought one chocolate truffle while we were in France. I ate all kinds of other things but for some reason truffles weren't on my mind. Ah well, I guess I'll have to go back!
I first learned to make chocolate truffles early in my first marriage. We didn't have much money and I had to come up with homemade gifts that family members and friends would actually like. I had a cookbook that happened to have a ganache recipe in it and there were instructions for rolling the ganache into balls and then covering the balls with cocoa.
Over the years I experimented with different coatings and flavors. Sometimes I tried adding other ingredients like crushed toffee. I learned what worked and what didn't. I also figured out pretty quickly that my family and friends really liked chocolate!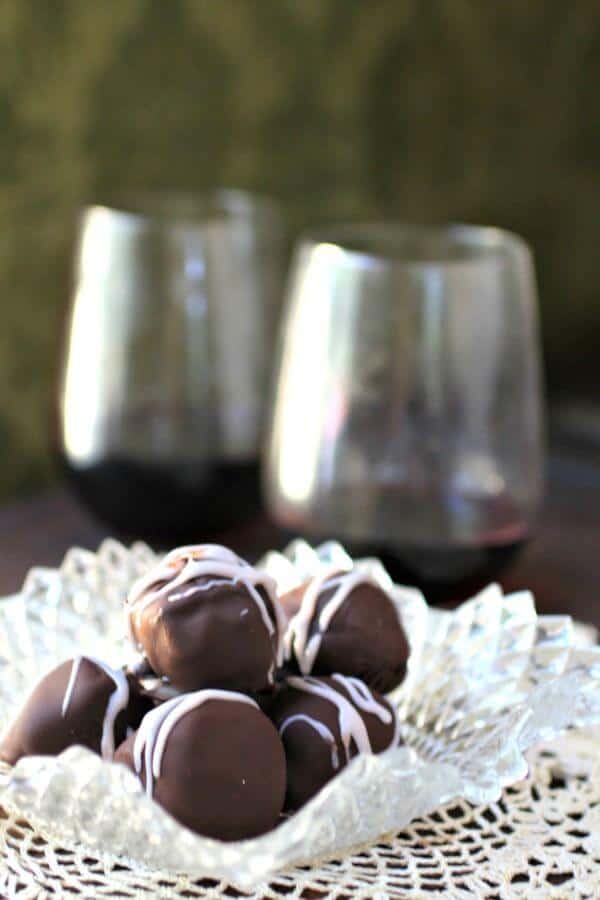 My dad especially did. His appetite for all things chocolate (except pudding and pie) was legendary. My two oldest kids used to make him a chocolate basket for Christmas every year. It was huge and filled with all kinds of homemade chocolate from brownies to truffles. My dad loved it and looked forward to it every year. The Christmas after he passed away the kids made a chocolate basket in memory of him and we devoured it. There was some laughter and some tears as you can imagine. Still, what better than chocolate to celebrate someone's life and ease the pain of missing them?
And by the way… yes, these dark chocolate truffles are literally easy enough for kids to make by themselves with a little supervision.
Tips for Perfect Dark Chocolate Truffles
The one thing to remember about making dark chocolate truffles is that you'll need really high quality chocolate. There are just a few ingredients so you have to make them count!
Get the best chocolate you can. Some brands to look for are Valhrona, Scharffen Berger, or Callebaut. They are more expensive than Nestle or Hershey but the difference in flavor is massive. Try to use a chocolate with at least 60% cocoa solids.
BUT don't let the lack of high end chocolate stop you. If you can't afford the premium brands go for what you can afford and have access to. Let's face it, it's chocolate. How bad can it be?
You can freeze these dark chocolate truffles in a food grade plastic container with waxed paper between each layer of candy. They'll last a long, long time and it's nice to be able to pull a couple out of the freezer to serve with coffee.
Make sure everything is very dry. Even a drop or two of water will cause the chocolate to seize up and be grainy. If that happens you'll just need to throw it out and start over.
When you're stirring the chocolate into the cream be careful not to stir air into the mixture. Too much air will make it fluffy instead of the creamy texture you're looking for.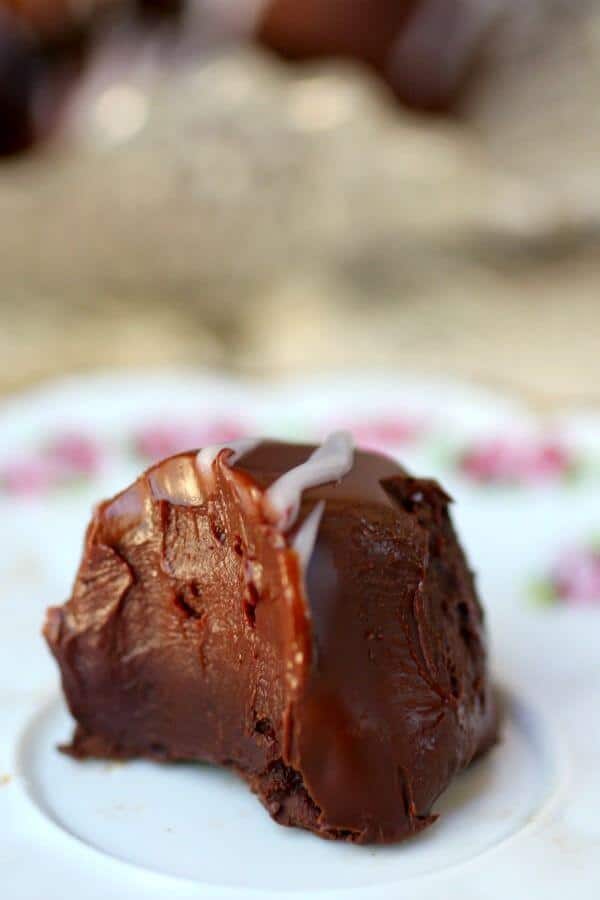 Supplies for Making Perfect Homemade Chocolate Truffles
The following are affiliate links. We are a participant in the Amazon Services LLC Associates Program, an affiliate advertising program designed to provide a means for us to earn fees by linking to Amazon.com and affiliated sites.
What's new? A brand new store full of things to help you make the recipes, celebrate the days, and create the memories! Check out Restless Chipotle & Co. As always, thanks so much for being a part of Restless Chipotle!
Scharffen Berger, Valhrona, or Callebaut are the best chocolates that I've found for truffle making but I'm not adverse to using Ghirardelli when the budget is tight. If you're going to dip your truffles in a chocolate coating then these dipping tools make it SO much easier (and less messy).
Dark Chocolate Truffles Recipe
Here's that homemade truffles recipe. It's classically rich and creamy. If you are making a collection of truffles as a gift try these peanut butter pretzel truffles as well – perfect for those who love sweet and salty! Love this recipe? Please give it 5 stars!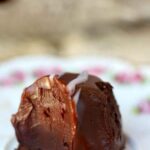 Dark Chocolate Truffles Are Irresistible and Easy
Print
Add to Collection
Go to Collections
Creamy and elegant these easy dark chocolate truffles make perfect gifts. Add them on a saucer next to your after dinner coffee or just savor one to stave off the blues. They are a burst of dark chocolate flavor.
Servings
24
truffles (depending on size)
As an Amazon Associate I earn from qualifying purchases.
Ingredients
Chocolate Ganache
½

cup

heavy cream

8

ounces

bittersweet chocolate

,

chopped

3

tablespoons

butter at room temperature
Chocolate Coating
2

cups

bittersweet chocolate

,

cut into pieces

1

tablespoon

vegetable shortening
White Chocolate Drizzle
½

cup

white chocolate

,

chopped

1½

teaspoons

vegetable shortening
Instructions
Chocolate Ganache
Cut the butter into squares and set aside.

Bring the cream just under a boil – bubbles will form around the sides of the pan.

Remove the pan from the heat and add the chopped chocolate.

Let stand 2 minutes.

Carefully stir the mixture until smooth.

Add the butter.

Stir until smooth and well mixed.

Refrigerate until cold and firm, about 1 hour.

Form the mixture into tablespoon sized balls.

Place the balls in the freezer for about 10 minutes.

Dip in the melted coating and drizzle with the white chocolate.

Store in the refrigerator in a tightly covered container.
Chocolate Coating
Add the chocolate and the vegetable shortening to a microwave safe bowl.

Melt on 50% power for 2 minutes, stirring every 30 seconds. (you may not need the whole 2 minutes.
White Chocolate Coating
Melt the white chocolate and shortening as above.

Stir until blended.
Sign up for the emails and never miss another recipe!!
We'll never share your email or send you spam. Pinkie swear.
More Truffle Recipes from Restless Chipotle
From left to right: lavender white chocolate truffles, boozy chocolate covered cherries, no cook billionaires. Click on the image to go to the recipe
Truffle Recipes from some of my favorite bloggers…
Salted Caramel Mocha Truffles Shugary Sweets
Chocolate Chip Cookie Dough Truffles Garnish with Lemon
Pumpkin Spice Truffles Sally's Baking Addiction
Part of the Meal Plan Monday Christmas Candy Round up!