If you are looking for the best chocolate French silk pie recipe ever you've found it! Using dark cocoa instead of chocolate in the filling not only makes it unbelievably creamy it gives a deeper chocolate flavor. This recipe does use raw eggs - if this concerns you then feel free to use an equal amount of pasteurized egg product or try this decadent chocolate chess pie. The flavor and texture will not be the same, however. Pregnant women, very young children, and people with weak immune systems are cautioned by the FDA to not ingest raw eggs. Please research carefully and come to your own conclusions. This post was originally published in December 2009. The recipe and images have been updated.
For this recipe you'll need: dark cocoa, unsalted butter, sugar, vanilla, eggs, baked 9-inch pie crust or crumb crust, sweetened whipped cream for topping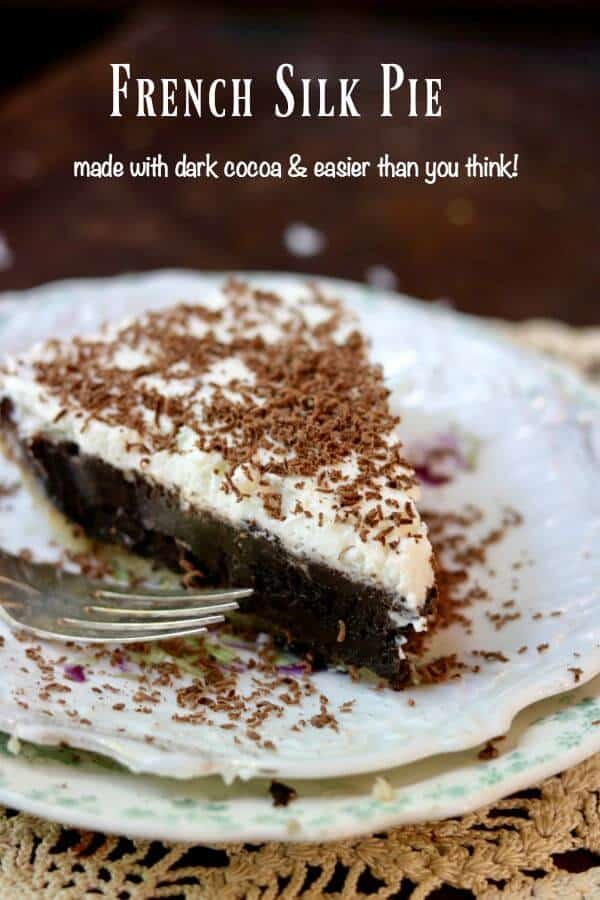 Chocolate desserts are about my favorite of anything. The rich, deep, chocolate flavor coupled with the melt-in-your-mouth creaminess of French Silk is nearly impossible to resist. Believe it or not this chocolate French Silk pie recipe is easy to make and it is a great basic recipe that allows you to experiment with flavor. There are so many ways to add interest to this recipe! I've made a red velvet French Silk pie and I even use it in tortes, cakes, and other items.
Although I normally use a pastry crust numerous other crusts can be used. Try an Oreo crumb crust, a peanut butter cookie crust, or even a gingersnap crust for a change. Experiment with different flavorings, if you like. This pie takes about 1 ½ hours start to finish and then is ready to serve.
Why Cocoa Powder Is Best for This French Silk Pie
You don't hear this much but cocoa powder is the best thing to use when you want a deep, dark chocolate flavor. Chocolate squares have other ingredients in them in various amounts. These other ingredients all add their flavors and textures to the chocolate and, although it is subtle, changes the flavor. Cocoa just gives that deep chocolate flavor that you're looking for.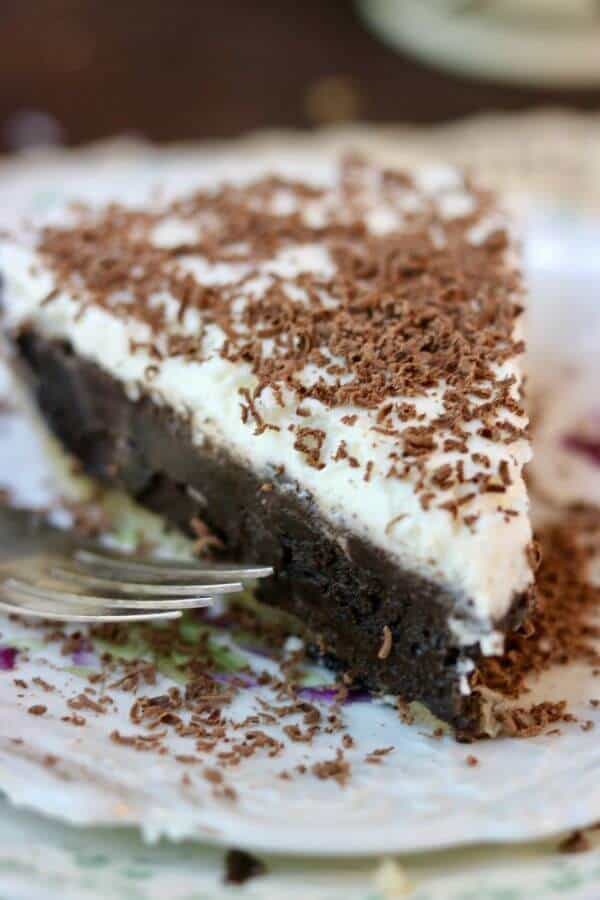 Are All Cocoa Powders the Same?
Nope. Since cocoa is a major part of this homemade French Silk pie recipe it's important to use the right kind.
Cocoa powder is made of roasted cacao beans that have been ground into a fine powder. In that way all cocoa powders are the same but that's where it ends.
Natural Cocoa Powder
Natural cocoa powder is lighter in color and retains the natural acids in the cocoa. It's usually paired with baking soda in a recipe because the acids act with the baking soda to help the cake or quick bread rise. Natural cocoa powder is usually what you'll find in the store - Hershey's Cocoa is one brand.
Dutch-Processed Cocoa Powder
Dutch process cocoa powder is darker and lacks the acids found in natural cocoa powder. The acids are neutralized through a process that includes washing in a potassium solution. You'll always want to use baking powder with it in cakes and such. Dutch process cocoa powder is, in my not-so-humble-opinion, the best for puddings, sauces, and pies. You want the darkest Dutch cocoa powder you can find for this recipe.
Tips for the Best French Silk Pie Recipe Ever
Deep, dark, chocolatey French Silk pie recipe is SO much easier than you may think but there are a few things you can do to guarantee great results.
Make sure the butter is at room temperature
Add the sugar slowly - whipping constantly.
The butter and sugar must be whipped together until the sugar crystals disappear. Keep checking the texture by rubbing a little between your thumb and forefinger until you can't feel any crystals or roughness remain. This could take 10 minutes or even a little more.
Make it even easier by whirring the sugar in the blender before adding it to the butter.
Use room temperature eggs
Add the yolks one at a time and make sure you beat for at least 3 minutes between each.
Use a good butter - different brands make a difference. I use either Kerrygold, Plugra, or Challenge for the high fat content and flavor. If you live in Texas Braum's used to have a European style butter that was nice as well.
Be sure to let the pie chill for at least an hour and keep any leftovers refrigerated.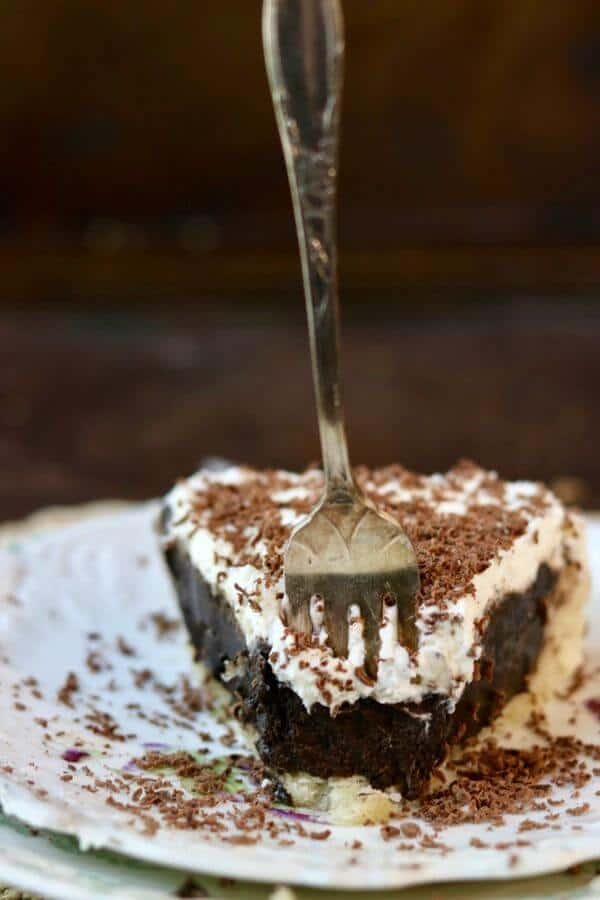 YOU MAY NEED…
The following are affiliate links. We are a participant in the Amazon Services LLC Associates Program, an affiliate advertising program designed to provide a means for us to earn fees by linking to Amazon.com and affiliated sites.
There are a lot of expensive Dutched cocoa powders out there but I find that the Hershey's Special Dark works just fine.

French Silk Pie Recipe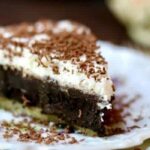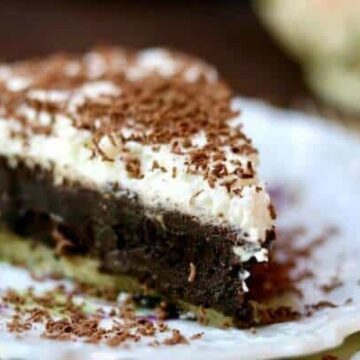 French Silk Pie
Print
Save
Go to Collections
Deep, dark, chocolate chocolate silk pie filling melts in your mouth with each luscious bite. This is much easier than you might thing.
As an Amazon Associate I earn from qualifying purchases.
Instructions
Beat butter and sugar until no graininess remains

Add cocoa powder and pepper and beat well.

Add eggs, one at a time, beating several minutes after each

Beat in vanilla

Spoon into crust and smooth top. Chill for 1 hour, at least

Serve with whipped cream, chocolate shavings or other garnish
Nutrition Facts
Calories:
486
kcal
|
Carbohydrates:
49
g
|
Protein:
4
g
|
Fat:
31
g
|
Saturated Fat:
17
g
|
Cholesterol:
142
mg
|
Sodium:
321
mg
|
Potassium:
105
mg
|
Fiber:
1
g
|
Sugar:
37
g
|
Vitamin A:
830
IU
|
Calcium:
27
mg
|
Iron:
1.4
mg
Sign up for the emails and never miss another recipe!!
We'll never share your email or send you spam. Pinkie swear.
If you like this French Silk pie you may also like...
From left to right: pecan pie, candy apple pie, coconut pie – Click on the image to see the recipe.