Homemade chocolate chocolate chip ice cream is easy, creamy, and super-chocolatey… and you don't need Oompa Loompas to make it.
Homemade ice cream is rich, creamy, and without the random mammalian anal gland that could be present in commercial brands. Best of all it is uber easy to make and really doesn't take much time. It's not like ya hafta hand crank it anymore… altho, I think there was a benefit to that because by the time your ice cream was frozen you had worked off the calories.
What most people don't know is that cocoa powder gives a richer, deeper chocolate flavor than melted chocolate. It really is the secret to intense flavor. Talk about your magic powders…Cocoa is it. And, although I prefer organic cocoa I have to say that Hershey's Extra Dark is the cocoa of choice around here because it has more chocolate flavor as far as I am concerned. I know, I know…and ethical lapse.
Sue me.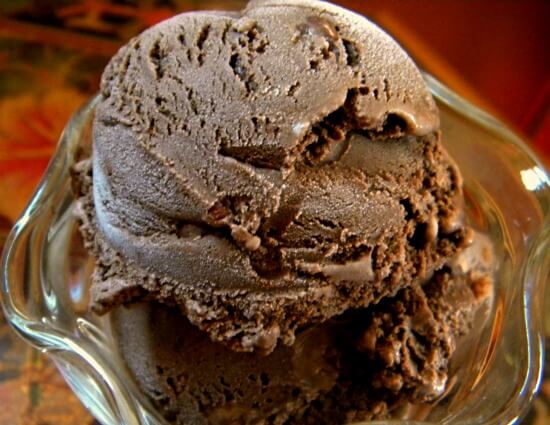 Chocolate ice cream is my favorite. My dad always said that vanilla ice cream was like kissing your sister… and I guess I agree most of the time…
This particular homemade chocolate chocolate chip ice cream recipe is perfect for putting in ice cream cones or making into sundaes, or snuggling next to a piece of chocolate fudge cake. Like all ice cream it will have the best texture if you let it "season" overnight in the freezer. I know it will be difficult but really, you are an adult, you can do this.
I'd suggest using the mini chocolate chips because the regular sized ones get hard when frozen and they add a little too much texture for me. You can also use a chunk of good chocolate and just chop it up.
Either way… make this. You will like it, I promise. And if you don't have an ice cream freezer that's no excuse.. you can have one at your door in a couple of days from Amazon… just in time for the weekend. And get lots of the cocoa… you'll need it.