This easy homemade mango tango ice cream is rich and decadent with bits of mango and lime sandwich cookie in each bite. It's packed full of mango flavor and so addictive that you'll want to keep the ingredients on hand so you can make it often. Best of all, no churn needed!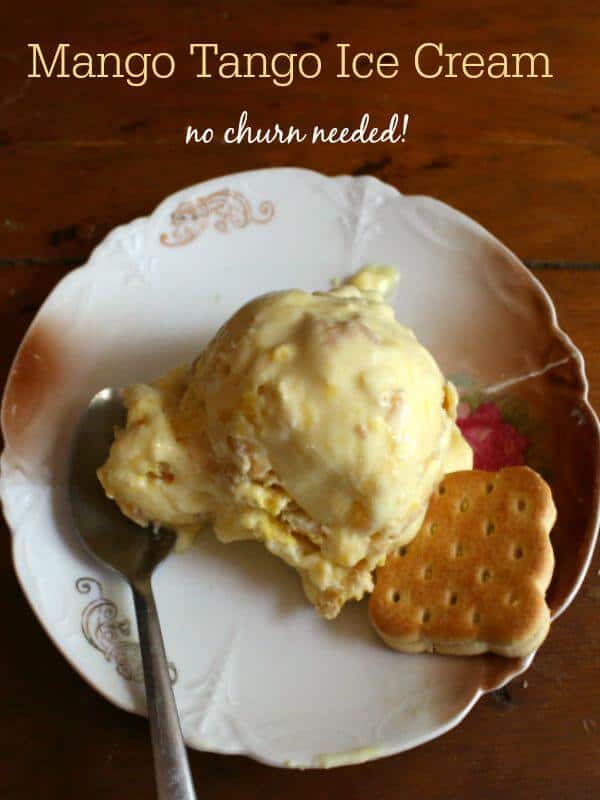 I was thrilled when I was asked to partner with DOLE Canned Fruit and create a mango dessert. I've used DOLE products all my life, my mom used DOLE products, and my daughter uses them, too! This is a sponsored post but all the opinions are purely mine.
We spent last week down in Port Aransas for our family vacation. We rented a condo right on the beach and spent a week picking sand out of our teeth and dodging Portuguese Man-o-Wars that had washed up on the beach. It was seriously the most relaxing week I've had since... well since our last vacation! I'll be sharing more about that later but today I want to talk about DOLE canned fruit and homemade ice cream.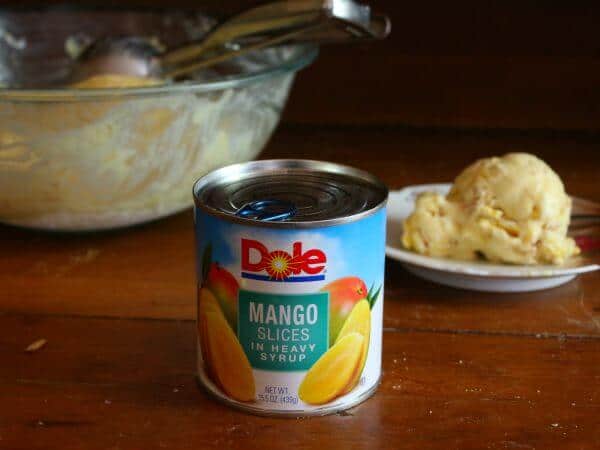 There was a small ice cream shop that we visited that literally had lines out the door. It was at least a ten minute wait just to get to the place where you could pick out the ice cream you wanted. When we finally got there I decided on a bright mango cone. It was good but I felt like the flavor was too... ummm.... for lack of better word -- flat and one dimensional. I felt sure that I could improve it.
Mango is so very sweet that I think it needs something with a little tang to it to balance the flavors. Ice cream is so rich that I like something a little crunchy with it to balance the texture -- the perfect addition? Lime sandwich cookies. The cookie bits stay crispy and add that random blast of lime that makes this mango ice cream so amazing. Deep mango flavor is created by using mango puree and chopped mango.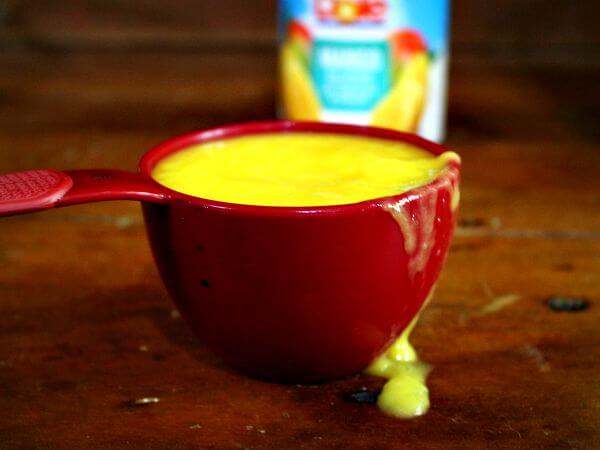 You know I like using fresh ingredients in my recipes but I like to keep a couple of cans of pineapple, mango, and mandarin oranges in the pantry -- just in case I need them. DOLE canned fruit is available with the other canned fruit at your grocery store. It  comes in a lot of different varieties so a couple of cans on the pantry shelf means I can make a tart, a cake, or ice cream whenever I am in the mood. It's great to add to the kid's school lunches, too. I have little containers to make fruit cups or layer fruit and granola for them. You know, blast their lunches with all of that extra vitamin A and C!
But I digress...
Anyway, the hardest thing about this mango tango ice cream was opening the cans! DOLE canned mango is best for this homemade ice cream recipe because it tends to consistently have a good, ripe mango flavor. There's nothing worse than buying a mango that is insipid and then trying to make it taste good in a recipe.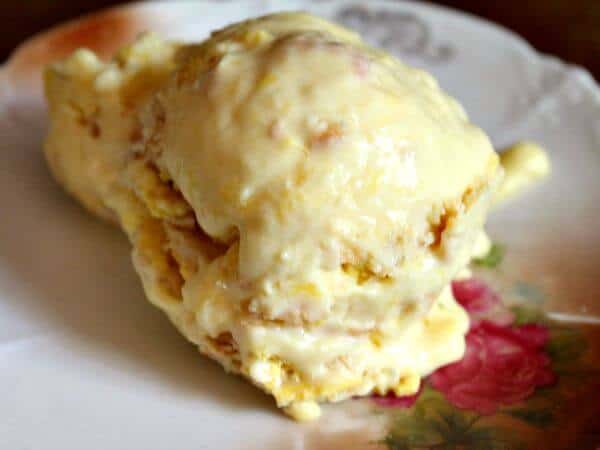 You'll want to drain the mango well. My mom used to save the juice for making jello and sometimes I add club soda to drained fruit juice to make a homemade fizzy drink for the kids. I've also been known to add it to cocktails. You know, waste not want not! You won't be using the juice so you can pour it out if you like. The drained mango goes into the blender and pulsed until it is smooth. That's what is going in the ice cream base. You need to reserve one can of the mango because you are going to drain that and chop it up to stir into the ice cream. That way you get the creamy mango ice cream plus a bit of sweet mango in each spoonful. It makes it so good!
The lime sandwich cookies were on the Mexican food aisle of my store. I realize that I am in Texas and you may not be able to find lime cookies -- if not just use lemon sandwich cookies. No problem.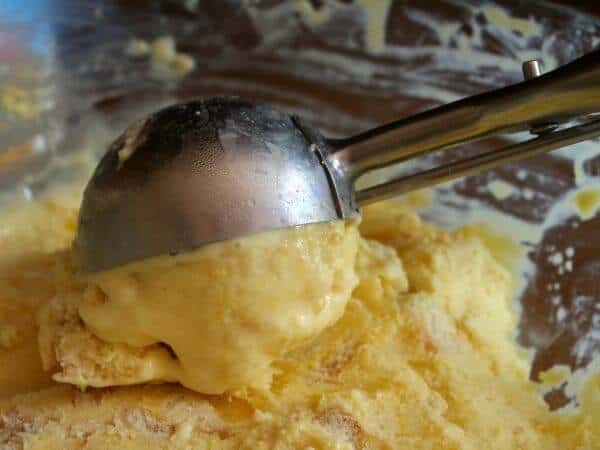 Because of the high fat content in the sweetened condensed milk and cream you don't need a churn to make this mango ice cream. I am not going to say that this is just as creamy as churned ice cream -- it's not. It is VERY creamy but if you want to take the time to freeze it in an ice cream maker it will be even creamier. Just pour it in and freeze according to manufacturer's instructions.
What are you waiting for? Grab a spoon!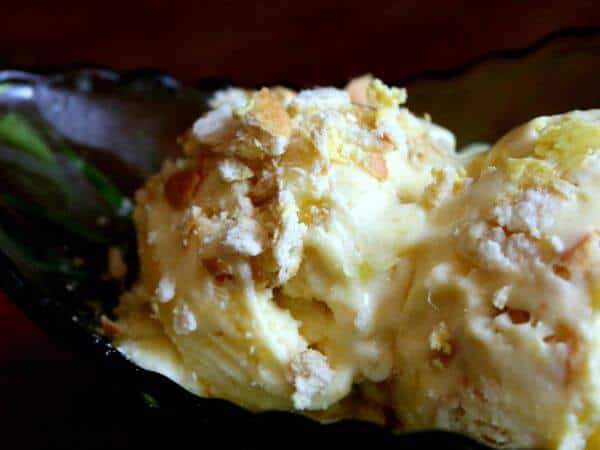 This is a sponsored post written by me on behalf of DOLE Canned Fruit.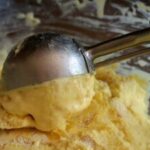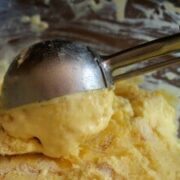 Homemade Mango Tango Ice Cream -No Churn Needed
Print
Save
Go to Collections
Creamy, sweet, and tropical this homemade mango ice cream has pieces of chopped mango and lime cookies throughout. It's super easy - no ice cream maker needed!
As an Amazon Associate I earn from qualifying purchases.
Ingredients
3

cans Dole Mango Slices in Heavy Syrup

1 14-

oz

can sweetened condensed milk

1 ½

cups

heavy whipping cream

½

cup

broken lime sandwich cookies

,

(lemon can be substituted)
I earn a commission from Instacart from qualifying purchases.
Instructions
Open the cans of mango, drain them, and set one aside.

Add the remaining cans of mango into a blender.

Blend until a smooth puree is formed.

Add the mango puree to a large bowl.

Pour in the entire can of sweetened condensed milk.

Whisk to blend.

Now, add the heavy cream to a chilled bowl of your mixer.

Beat until soft peaks form.

Fold the whipped cream into the mango mixture.

Take the remaining can of drained mango and chopped the fruit in small pieces.

Fold the fruit and the cookies into the mango mixture, cover with plastic wrap, and freeze for 6 hours.
Sign up for the emails and never miss another recipe!!
We'll never share your email or send you spam. Pinkie swear.