'Tis the season for all things red velvet! This homemade hot fudge sauce is thick and rich. Take a look at that beautiful red velvet color! It also has the unique flavor of red velvet cake . This homemade hot fudge keeps in the refrigerator for a week or two. When you're ready to serve warm it in the microwave and drizzle it over ice cream, cake, or my favorite, a spoon!
For this recipe you'll need: unsweetened cocoa, buttermilk, sweetened condensed milk, corn syrup, butter, cream cheese, red food coloring, salt, vanilla

If you are in a hurry click here to go straight to the red velvet homemade hot fudge sauce recipe!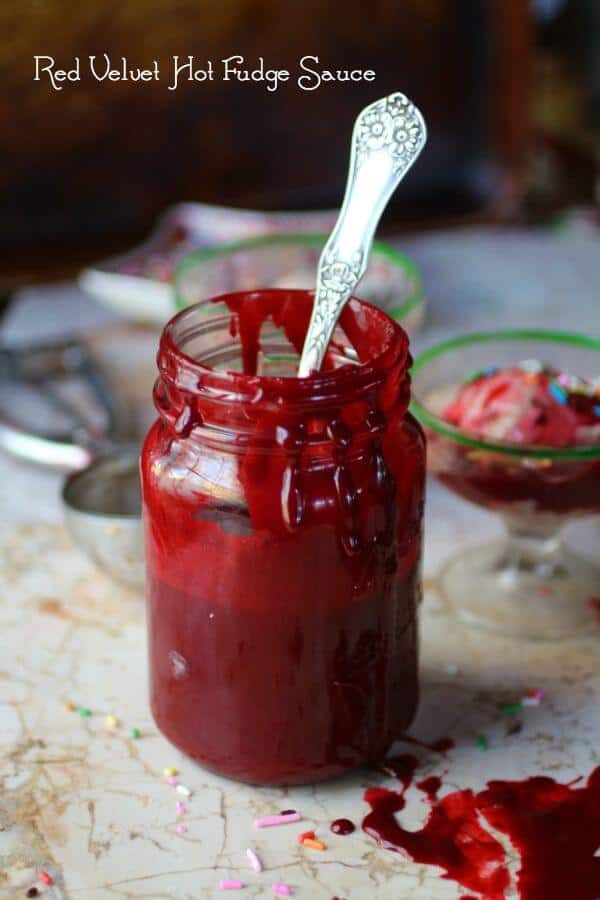 Red velvet is trendy right now and has been for a couple of years. You'll find recipes for red velvet cookies, fudge, cake, and even hot chocolate. In my area, red velvet has always been a Christmas tradition as well as a wedding tradition. In between times we just eat it because it's so good!
Thanks to Steel Magnolias the rest of the country has learned to enjoy red velvet in all of its mouthwatering glory, too.

The Restless Chipotle Channel
The buttermilk and cream cheese give this red velvet hot fudge sauce a slight tang. It's  just like a big bite of red velvet cake. I've used a small amount of extra dark unsweetened cocoa because I think it gives the best flavor. Of course, you can try it with regular unsweetened cocoa and see which you like best.
Adjust the color by adding more red food coloring but if you add too much it will have a bitter aftertaste. It's beautiful on vanilla ice cream or spooned over an angel food cake. I imagine it will last about 2 weeks in the fridge but mine's never lasted more than a day – we eat it up pretty fast.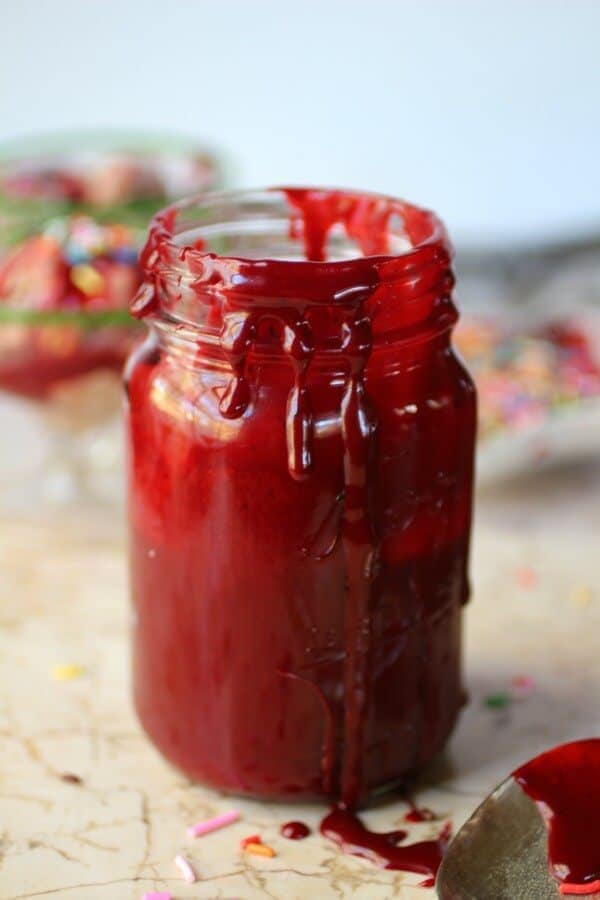 This homemade hot fudge makes a great gift. Just keep it in a jar in the fridge until you're ready to present it. I wouldn't try to mail it anywhere without dry ice and overnight shipping though. It's perishable.
YOU MIGHT NEED…
The following are affiliate links. We are a participant in the Amazon Services LLC Associates Program, an affiliate advertising program designed to provide a means for us to earn fees by linking to Amazon.com and affiliated sites.
I think that the touch of dark cocoa is what gives this red velvet hot fudge sauce its authentic flavor. If you use too much cocoa it throws the color off so getting the most flavor from the least amount of cocoa is important. This does the trick.

Here's that amazing red velvet hot fudge recipe!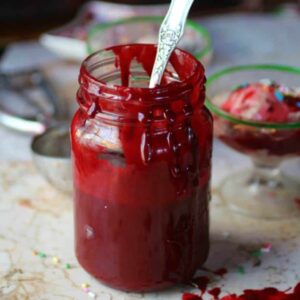 Homemade Hot Fudge Sauce: Red Velvet
Easy homemade hot fudge recipe is rich and creamy with a gorgeous crimson color and tangy red velvet flavor.
Ingredients
1

tablespoon

cocoa

1/3

cup

buttermilk

1 14-0

unce can sweetened condensed milk

2

tablespoons

corn syrup

4

tablespoons

butter

2

tablespoons

cream cheese

2

tablespoons

or more red food coloring

1/8

teaspoon

salt dissolved in 1 tablespoon boiling water

1/2

teaspoon

vanilla
Instructions
Whisk the cocoa and buttermilk together in a pan over medium heat.

Continue to whisk until smooth.

Add the sweetened condensed milk and corn syrup.

Bring to a simmer, stirring often.

Add the butter and cream cheese.

Whisk until smooth.

Add remaining ingredients and simmer until the mixture thickens slightly, about 5 minutes.

Remove from heat.

Store in a covered jar in the refrigerator for up to 2 weeks.
If you liked this homemade hot fudge you may also like these Restless Chipotle favorites…
From left to right: 50 Red Velvet Recipes, Red Velvet Sandwich Cookies, Red Velvet Bourbon Chocolate Chip Cookies