This Red Velvet Martini tastes like red velvet cake in liquid form with a very adult kick to it. It has a beautiful color and is perfect for Christmas or Valentine's Day... or people like me who just really like red. The flavor is definitely cake and chocolate with just a hint of citrus that makes this cocktail totally a girlie cocktail that the guys will love.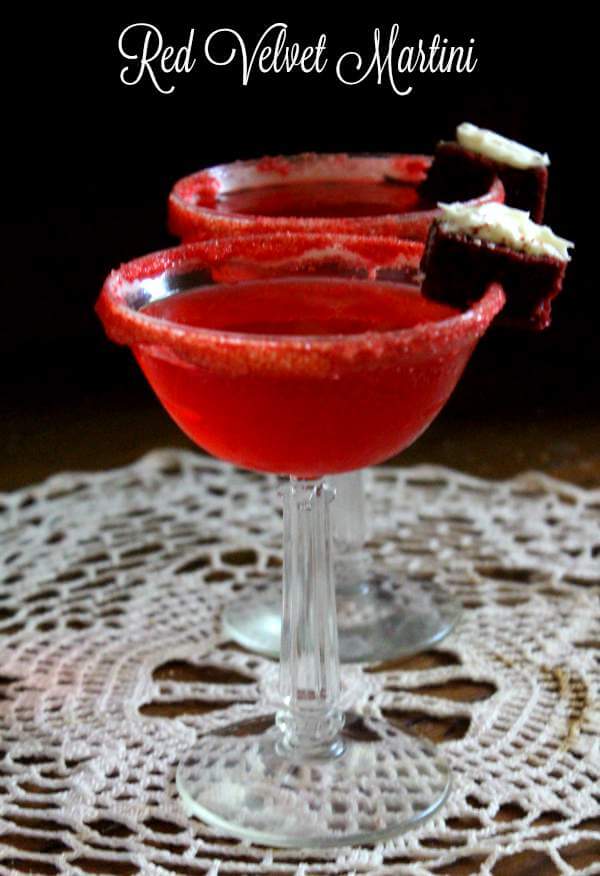 I was planning on having this up on Friday in time for the weekend. When that didn't happen I promised I'd have it up Saturday... because... weekend. So here I am, at nearly 8 pm on a Sunday night frantically trying to get it published before it's Monday. It's just been that kind of week, you know? I am loving the income right now but my schedule is just killer. In fact, I am totally tempted to go make one of these things before I go any further.
Isn't it gorgeous?
Red Velvet is a big favorite at my house. My eldest son and my son-in-law are tied for the title of "Loves Red Velvet Best" but really I don't think any of the kids would turn it down. My red velvet cakes are always really crimson and I am so disappointed when I see something called Red Velvet whatever and it has a dull brown color to it.
Nope. I'm sorry but if you want red velvet you have to dump that icky food coloring in there. That's just the way it is. Well, except with this cocktail. You see, you totally don't need the icky food coloring (although you could add it to make it redder) because you'll use grenadine and Aperol to get the color. The Aperol also gives it that little hint of citrus and balances out the sweetness of the various vodkas. I tried to decorate the rim of the glass a couple of ways and ended up liking the red sugar crystals best.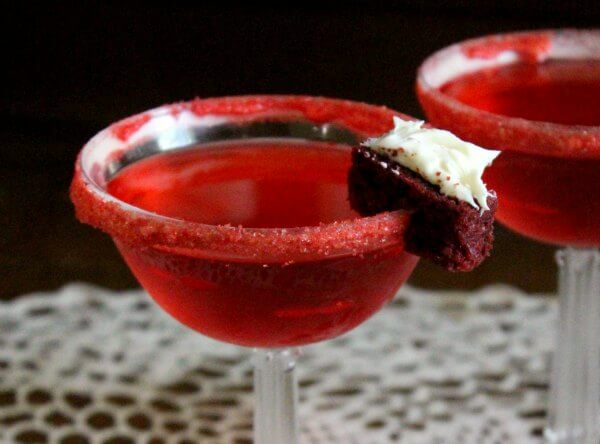 I had also tried red velvet cake crumbs but I didn't like the texture when I took a sip -- it was just too weird. I did end up putting little squares of red velvet cake on the edge for garnish. I have to tell you that I grabbed a red velvet cupcake from the store and used it because I was in a time crunch. If you feel like making a red velvet cake go ahead but if not either buy a cupcake or forgo the garnish.
What's new? Check out my Restless Chipotle & Co. Store on Amazon where you'll find all kinds of nostalgic goodness! Thanks so much for being a part of Restless Chipotle!
One of the important parts of this cocktail is the real grenadine syrup. It's hard to find real grenadine in the store -- most of it is colored sugar water. Real grenadine is made from pomegranate and it adds a distinctive flavor. Really try it. You don't use a lot but it makes a huge difference.
Stirrings Authentic Grenadine Syrup - 12 oz
Red Velvet Martini Recipe
If you love red velvet this is the martini recipe for you!
📖 Recipe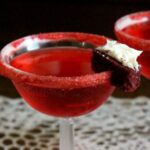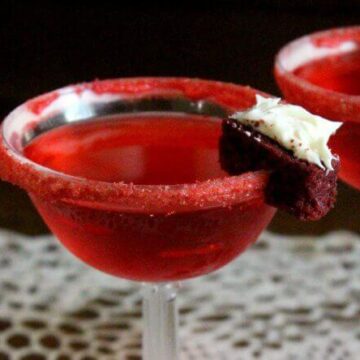 Red Velvet Martini
Print
Save
Saved!
Sweet red velvet cake flavor with a gorgeous crimson color and a kick of alcohol. Perfect for celebrating Christmas or Valentines day -- beautiful on any table.
As an Amazon Associate I earn from qualifying purchases.
Ingredients
For the rim of the glasses
1

can of cream cheese frosting

,

( you only need 2 teaspoons of the frosting)

Red sugar crystals
For the Martinis
2

ounces

cake vodka

1

ounce

Creme de Cacao

½

ounce

vanilla vodka

½

ounce

whipped vodka

¼

ounce

aperol

½

ounce

grenadine

¼

teaspoon

of powdered sugar
I earn a commission from Instacart from qualifying purchases.
Instructions
Take about 1 teaspoon of the cream cheese frosting for each glass.

Spread the frosting in a thin line around the outside rim.

Roll in the red sugar crystals.

Set the glasses aside.

Measure the cake vodka, Crème de Cacao, vanilla vodka, whipped vodka, Aperol, grenadine, powdered sugar, and ice into a cocktail shaker.

Shake until well blended.

Strain evenly into the two glasses.

Serve.
You'll find more helpful tips and variations in the body of the post.
Nutrition information is estimated as a courtesy. If using for medical purposes, please verify information using your own nutritional calculator. Percent Daily Values are based on a 2000 calorie diet.
Sign up for the emails and never miss another recipe!!
We'll never share your email or send you spam. Pinkie swear.
If you liked this Red Velvet Martini you may also like...
Red Velvet Cookie Bars A Simple Pantry
Pink Starburst Cocktail Happy Food Healthy Life