Who doesn't like French Silk Pie? This Red Velvet French Silk Pie is smooth, rich, and creamy but with a beautiful color and unique Red Velvet flavor that you can't turn down. Definitely an attention getter at any party or potluck!
I don't know about y'all but we love Red Velvet around here. In fact, you can go through the recipe index here on the blog and you'll see a lot of recipes that are some form of Red Velvet from cheesecake to cookies... and even a real cake or two. It's popular for a variety of reasons, Steel Magnolias not withstanding.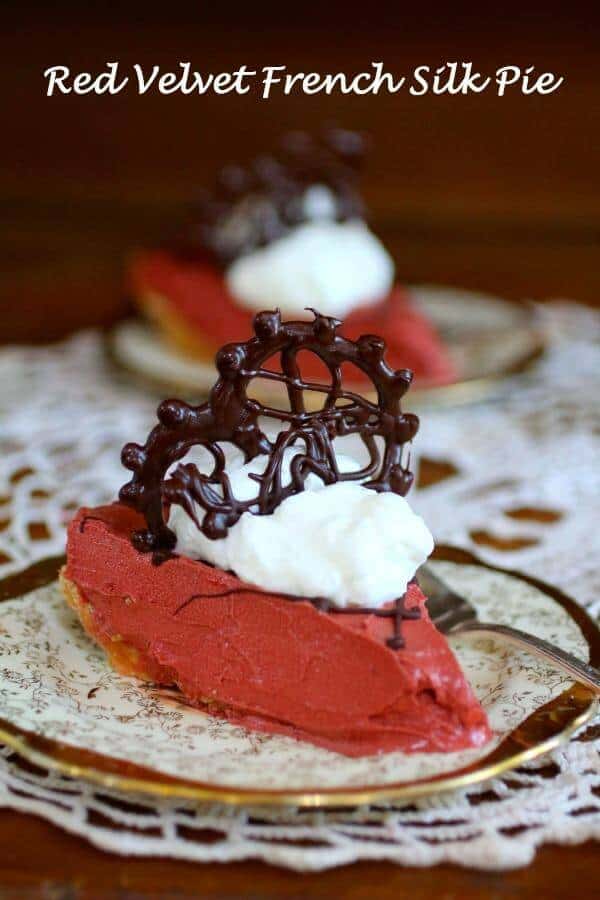 First of all, the flavor. It's chocolate but it has some other flavor in there that nobody can really describe. It's just "red velvet" flavor and that's enough to make it desirable, right? Second, it's a gorgeous crimson color -- at least when it's done right. Red Velvet Cake is not meant to be healthy, it's just meant to be good so don't try to "healthy it up" with beets or some sort of natural coloring. It will be brown and there is nothing worse than a brown Red Velvet cake.
Red Velvet has a following, a fan base, and maybe in the most generous sense of the term, groupies. All you have to do is mention Red Velvet and people come running. Side note, if I ever write a book about superheroes one of them is going to be named Red Velvet... and I guess with a name like that she'll have to be a villain, albeit a lovable "good-girl gone bad" kind of one.
Anyway. Perhaps it's time to step away from the wine and get back to my blog post?
This pie has the melt-in-your mouth texture of a really good French silk but the flavor is definitely Red Velvet. It's not just a French Silk pie with red food coloring in it, I promise! It's perfect anytime but especially so on the red holidays like Christmas or Valentine's Day.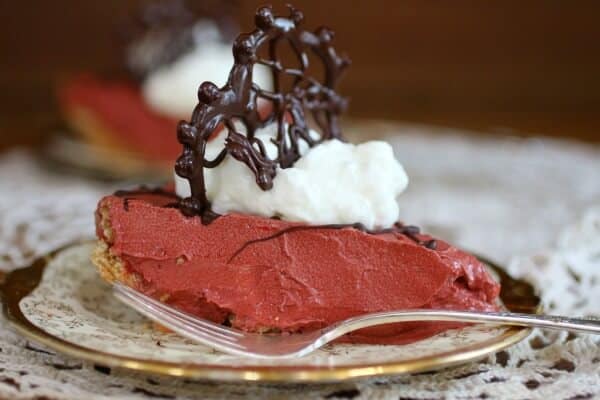 I use raw eggs in this. If using raw eggs concerns you feel free to use pasteurized eggs but please don't try to use some fake egg product or, God forbid, try to heat this up. You'll have Red Velvet ooze. I make it in a 10-inch pie plate and get 10 slices from it. You may even be able to get 12 because this stuff is super rich.
The following is an affiliate link. If you click through and buy then I get a small commission that's used to keep the blog up and running. It doesn't affect your cost at all. Thanks for being a part of Restless Chipotle!
I use vanilla bean paste in this recipe because I feel that it doesn't "water down" the pie filling mixture. It's my personal preference -- I am sure either paste or extract would work. If you'd like to give it a try this is what I use -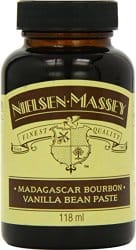 Nielsen-Massey Vanillas 4-oz. Madagascar Bourbon Vanilla Bean Paste
📖 Recipe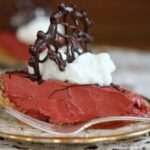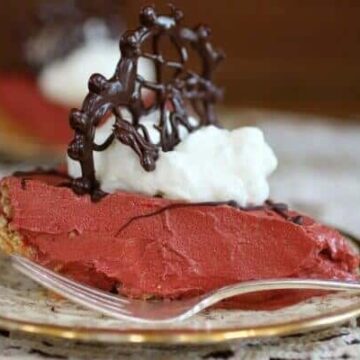 Red Velvet French Silk Pie
Print
Save
Saved!
Silky and decadent with a gorgeous red color and that classic red velvet flavor, this French silk pie is the perfect end to any dinner.
As an Amazon Associate I earn from qualifying purchases.
Ingredients
¾

cup

butter

,

, softened

4

tablespoons

cream cheese

,

, room temperature

1 ½

cups

white sugar

5

tablespoons

dark cocoa powder

1

tablespoon

red food coloring

1

teaspoon

vanilla bean paste or extract

4

eggs

,

, room temp.
I earn a commission from Instacart from qualifying purchases.
Instructions
Beat butter and sugar on high speed until no graininess remains, about 10 minutes.

Add the cream cheese and beat until smooth.

Add the vanilla and the red food coloring; beat well.

Beat in the cocoa powder.

Add eggs, one at a time, beating several minutes after each

Spoon into crust and smooth top.

Cover with a piece of waxed paper sprayed with cooking spray.

Use plastic wrap to cover the pie and the waxed paper.

Chill for 3 hours or more.

Serve with whipped cream, chocolate shavings or other garnish
Notes
I suggest caution in consuming eggs due to a slight risk of salmonella or other food-borne illness. To reduce this risk, I recommend you use only fresh, properly refrigerated, clean grade A or AA eggs (preferably pasture raised) with intact shells, and avoid contact between the yolks or whites and the shell. For recipes that call for eggs that are raw or undercooked when the dish is served, you can use eggs that have been treated to destroy salmonella, by pasteurization or another approved method.
You'll find more helpful tips and variations in the body of the post.
Nutrition information is estimated as a courtesy. If using for medical purposes, please verify information using your own nutritional calculator. Percent Daily Values are based on a 2000 calorie diet.
Sign up for the emails and never miss another recipe!!
We'll never share your email or send you spam. Pinkie swear.