Unique homemade red velvet cheesecake recipe is absolutely the best! It's made with a New York Style  cheesecake batter swirled with tender pieces of crimson red velvet cake - beautiful, delicious, and totally different from anything you've had before. This cheesecake is SO easy to make and even easier if you take a couple of days to do the steps. In fact, you could use a red velvet cake from a bakery if you were really short on time. This recipe was originally published in June 2011. 
For this recipe you'll need: cake flour, unsweetened cocoa powder, baking powder, baking soda, kosher salt, buttermilk, red food coloring, white vinegar, vanilla, sugar, butter, eggs, cream cheese, sour cream, eggs, heavy cream, white chocolate instant pudding mix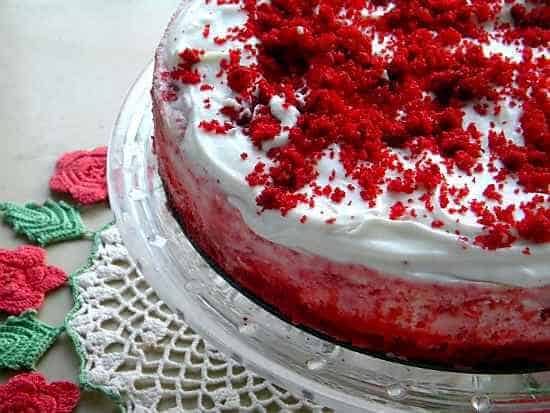 Red Velvet Cake Backstory
June 2011
My son is home for the first time in three years. He is in the  Air Force, stationed in Northern Japan, and it is difficult for him to get leave time. A lot has changed in past three  years for both of us.
Excited? Me? Yeah!
So, as a result...as I told my Facebook readers... I won't be online as much, nor will I post as much. Do you blame me?
One of Chris's favorite desserts is Red Velvet Cake. I wanted to make him something special to welcome him home...and I think I succeeded.
I made a cheesecake. A red velvet one.
I had seen a lot of Red Velvet Cheesecakes that were based on the cake but I wanted pieces of the cake to be nestled in a rich, creamy cheesecake batter. I wanted it to be cheesecake with pieces of cake randomly in it, and I think I succeeded. It comes out creamy and rich with a nice textural contrast from the cake pieces. Chris loved it, the whole family loved it...and I think you will, too.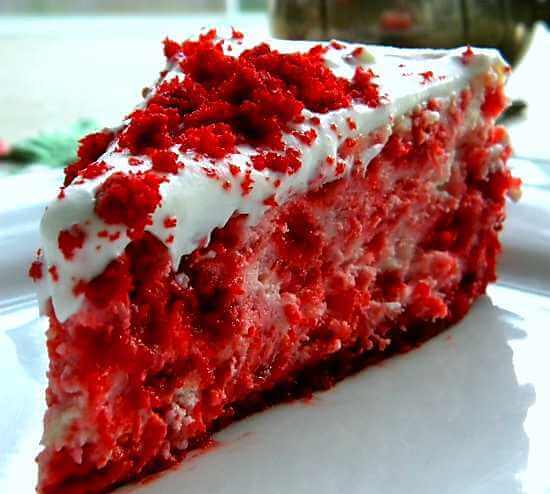 November 2016
Updating this post brought back so many wonderful memories. Today that son and the gorgeous wife he married in 2013 are expecting their first baby in December. I can't wait for my 4th grandchild to make his or her appearance! He has been with the Thunderbirds for the last couple of years so I've gotten to see him a LOT more often than when he was in Japan!! He'll be getting a new assignment in 2017 but I'm hoping it won't take them too far away. Of course, I am praying what ever is best for his family because that's what moms do, right?
How to Make This Easy Red Velvet Cheesecake
I used my favorite Red Velvet cake recipe for the cake and my foundation cheesecake recipe for the rest. I used a thin layer of the batter to line the springform pan and baked it in the oven right along with the rest of the red velvet cake batter. Keep an eye on it though - it gets done much sooner! You can bake the rest of the batter in any size pan that's convenient because you are going to break it up anyway.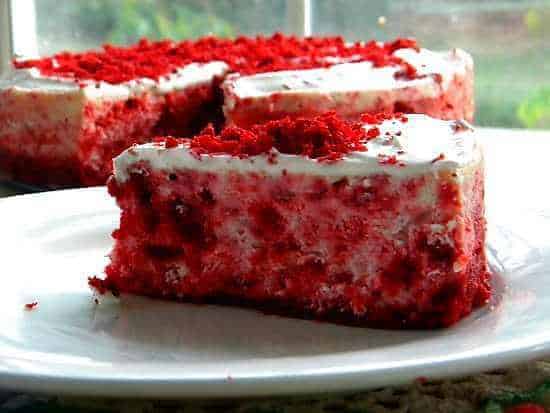 The cheesecake itself  is  a rich vanilla, classic New York cheesecake. While it bakes the pieces of cake sort of soak up some of the cheesecake flavor. An added plus was that the red velvet cake helped break up the richness of the creamy cheesecake. It was nothing short of fantabulous. Fantabulous is totally a word.
Just before serving top the finished, chilled cake with white chocolate flavored whipped cream and cake crumbles for a little added drama. 🙂 Isn't it gorgeous?
If you have time give yourself three days to make this red velvet creation. Bake the cake on the first day, the cheesecake on the second, and serve it the third day. Get it out of the refrigerator about ½ hour before serving for the best texture and flavor.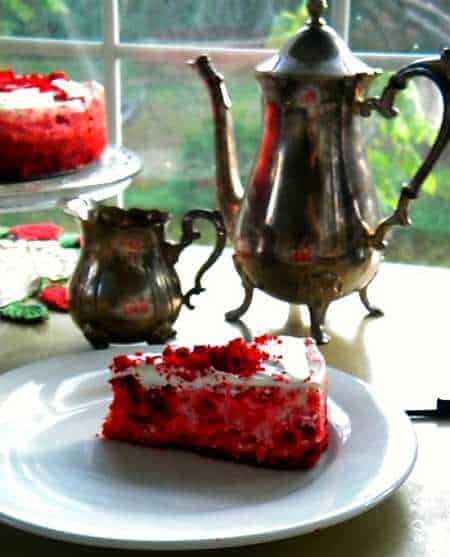 This red velvet cheesecake is just beautiful for Christmas or Valentine's Day. Or, add some blueberries and serve it on the 4th of July!
Tips for Perfect Cheesecake
Be sure and get the crust layer no more than ¼ inch thick with batter or you will have too much cake on the bottom.
Follow all the directions carefully.
All ingredients should be at room temperature.
The water bath is important so don't skip it.
Make sure your aluminum foil is wrapped securely around the bottom of the springform and up the sides to prevent leaking.
Do NOT peek at the cheesecake while it is baking or resting because it  makes it cranky.
Let the cake come to room temperature before chilling.
Place paper towel over the top of the cake before wrapping with plastic wrap and chilling. This will keep the top dry and help guard against cracking.
The Red Velvet Cake recipe is my favorite. I know you have seen it before. It's always a gorgeous crimson red - never that ugly brown color I've seen on so many red velvet cakes. I did leave out the rosewater in this one. It wouldn't work with the other flavors.
YOU MIGHT NEED…
The following are affiliate links. We are a participant in the Amazon Services LLC Associates Program, an affiliate advertising program designed to provide a means for us to earn fees by linking to Amazon.com and affiliated sites.
Y'all know how I feel about Nordic Ware. It's such a high quality product. I love this springform pan because it's heavy and has a nonstick coating AND because it's red. 🙂
More Cheesecake Recipes from Restless Chipotle
I love cheesecake! It's so rich and creamy! Here are some more great cheesecake recipes from Restless Chipotle.
From left to right: Southern Banana Pudding Cheesecake, Holiday Hot Buttered Rum Pecan Pie Cheesecake, Pecan Praline Cheesecake
Red Velvet Cheesecake Recipe
Honestly, this is one of my favorite holiday desserts. It's so pretty and festive!If you are doing a Christmas dessert buffet consider adding this fruitcake as well. I know  - it's got a bad rep but THIS fruitcake is truly amazing. Sticky and candylike. It's another holiday classic around here. If you love this recipe please give it 5 stars.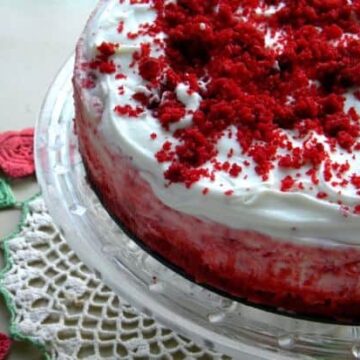 Red Velvet Cheesecake
Print
Save
Go to Collections
Bright pieces of red velvet cake are stirred in to a creamy cheesecake batter and then poured onto a red velvet crust.
As an Amazon Associate I earn from qualifying purchases.
Ingredients
Red Velvet Cake
2 ¼

cups

sifted cake flour

,

(sifted, then measured)

2

tablespoons

dark cocoa powder

1 ¼

teaspoon

baking powder

1

teaspoon

baking soda

½

teaspoon

kosher salt

1

cup

full fat buttermilk,

, room temperature

2

tbs

red food coloring

,

(one bottle)

1

teaspoon

distilled white vinegar

1

teaspoon

vanilla extract

1 ½

cups

sugar

½

cup

(1 stick) unsalted butter, room temperature

2

large eggs

,

, room temperature
Cheesecake
32

oz

cream cheese

16

oz

sour cream

2

cups

sugar

2

teaspoon

vanilla

6

eggs
Topping
½

cup

heavy cream

1

teaspoonful white chocolate instant pudding mix

2

tablespoons

of sugar as needed
Instructions
Cake
Preheat oven to 350°F.

Sift sifted flour, cocoa powder, baking powder, baking soda, and salt into a bowl.

Blend the buttermilk, food coloring, vinegar, and vanilla in another bowl .

Beat the sugar and butter in large bowl until light and fluffy.

Add eggs 1 at a time, beating well blended after each addition.

Beat in dry ingredients in 3 additions alternately with buttermilk mixture in 2 additions.

Put about ¼ inch of cake batter in the bottom of a greased and floured 10 inch springform.

Use the rest of the batter in a 13x9 or 9 inch cake pan.

Bake both pans for about 20 minutes or until a toothpick comes out clean.

Cool in pans about 5 minutes and turn out to cool completely.

Break the larger cake (NOT the one in the springform) into large chunks and set aside.

(can be done a day ahead)

Preparation time: 10 minute(s)
Cheesecake
Preheat oven to 375F

Beat the cheesecake ingredients together until smooth.

Reserve about ½ cup cake crumbs for the top.

Fold the remaining cake chunks into cheesecake batter.

Pour into pan.

Cover the bottom of the springform (the one with the cake layer in it) with aluminum foil, bringing it up the sides.

Place pan in larger pan of hot water. Water should come halfway up the sides.

Bake for 45 minutes.

Turn oven off and leave door closed for 1 hour. Don't PEEK!

Remove from oven, take out of bain marie.

Let come to room temperature and cover tightly.

Refrigerate overnight.
Topping
Whip the heavy cream until it starts to thicken.

Add the teaspoon of instant pudding mix and 1 tablespoon of sugar.

Whip until soft peaks form.

Taste and add more sugar if needed.

Spoon on top of cooled cheesecake.

Sprinkle with reserved red velvet cake crumbs.
Notes
If you're in a hurry use a store bought red velvet cake. Not as good but it works fine in a pinch!
Nutrition Facts
Calories:
590
kcal
|
Carbohydrates:
62
g
|
Protein:
8
g
|
Fat:
34
g
|
Saturated Fat:
20
g
|
Cholesterol:
124
mg
|
Sodium:
442
mg
|
Potassium:
228
mg
|
Fiber:
0
g
|
Sugar:
48
g
|
Vitamin A:
1280
IU
|
Vitamin C:
0.2
mg
|
Calcium:
131
mg
|
Iron:
0.6
mg
Sign up for the emails and never miss another recipe!!
We'll never share your email or send you spam. Pinkie swear.