This holiday hot buttered rum pecan pie cheesecake with toffee is flat out amazing. it's a thick, rich, sinfully creamy rum flavored cheesecake studded with a generous amount of toffee baked over a pecan pie. It is a showstopper dessert and not difficult to make — just a litte time consuming.
I have a hard time naming recipes and I don't think I am the only one. Whereas decades ago people gave cakes imaginative names like:
Orange Kiss Me Cake
Hummingbird Cake
Shoofly Pie
Nowadays they are more likely to give it a string of names that describe the ingredients – a sad loss of creative verbiage in my opinion. So, in the spirit of the Holidays which are, even as we speak, ringing the doorbell I wanted to give this cheesecake a name that represented everything it is.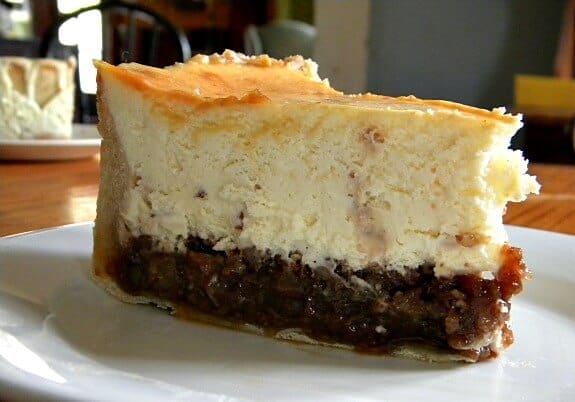 From now on it shall be known as –
Old Fezziwig's Holiday Cheesecake, the epitome of lush, grandiose, extravagant, holiday gluttony. And it's so dang good, too.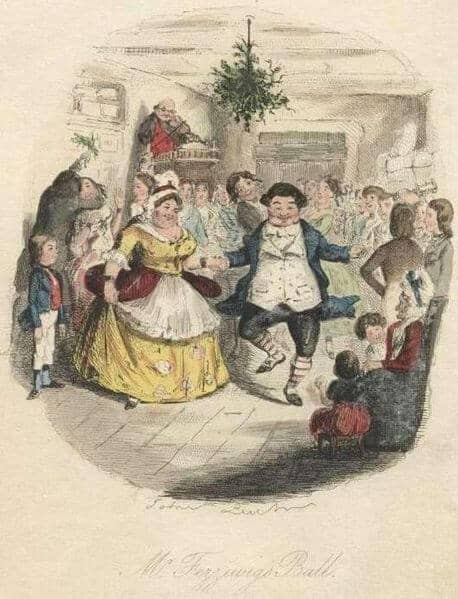 This cheesecake has a buttery, flaky pie crust, a layer of rich pecan pie – cloyingly sweet and rich just as pecan pie should be.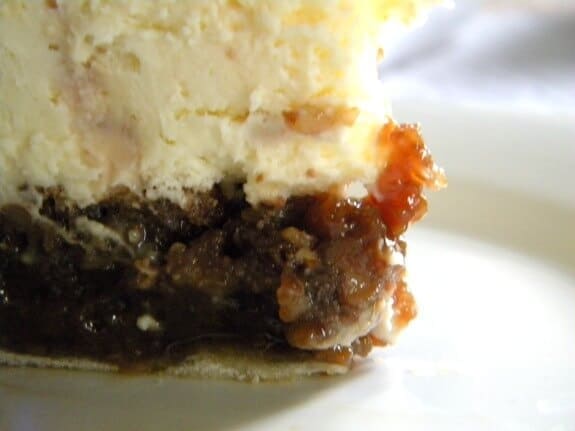 On top of that is a thick layer of creamy, not too sweet cheesecake flavored with spiced rum and toffee bits. There is just no way you can go wrong with this… Unless your guests are all on diets, in which case you are screwed. Totally and irrevocably screwed.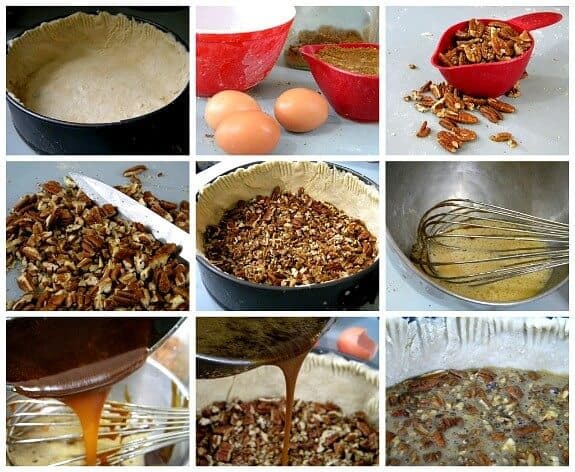 I used a pie crust when I made it but I didn't care for the texture. From now on I will use a crumb crust made from pecan sandies cookies. I have given directions for both… Everything else will be the same no matter which crust you use.
This cheesecake does have a few more steps than normal but the result is worth it. A creamy, rich, sweet conglomeration of deliciousness that helps your guests by not making them choose between two desserts.
I have looked at a ton of pecan pie cheesecake recipes over the past week but I didn't like any of them because they used premade pecan pies and the cheesecake was just cheesecake. I love the combination of pecans and bourbon or rum and it added just enough kick to cut through the sweetness of the pie.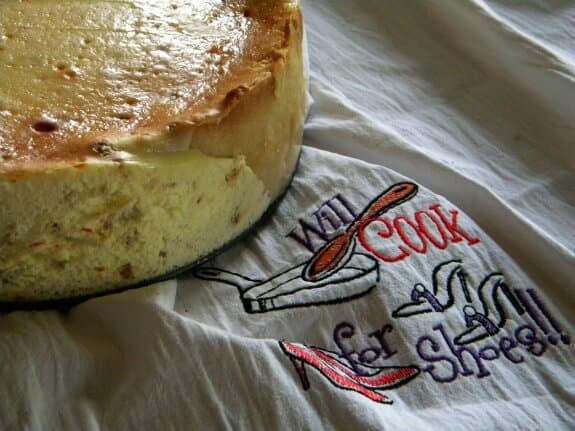 Make sure that you seal the bottom of your springform pan with foil because any leaks will really ruin this. The crust gets really soggy if water gets into the pan. just wrap the aluminum foil over the bottom and up the sides nearly to the top.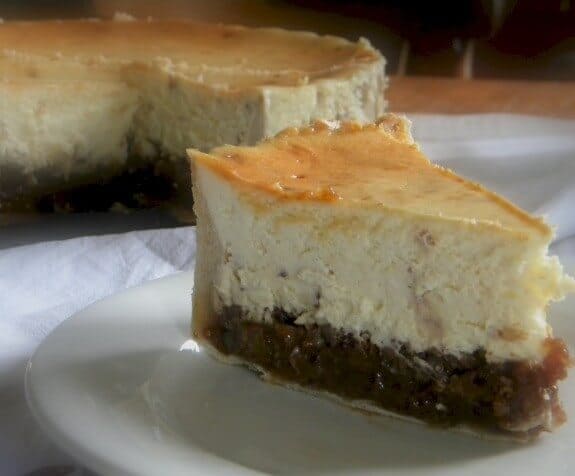 The following are affiliate links. We are a participant in the Amazon Services LLC Associates Program, an affiliate advertising program designed to provide a means for us to earn fees by linking to Amazon.com and affiliated sites.

This set of three springform pans will allow you to make any size you need. This is the first springform I bought and I am still using it.

Norpro Nonstick Springform Set Of Three
I know you are busy this week but this is easier than it sounds and will be a great addition to your Thanksgiving table. I didn't add a thing to it but if you want to dress the plate up a little then a zig zag of caramel syrup over the top should be just right.
NOTE: I've had a lot of people say that there was too much batter for a 9-inch pan and I couldn't figure out what was going on. In talking to someone recently I realized that my pans have VERY high sides compared to other pans. SO I'd suggest using a 10.5-inch pan or one with VERY high sides.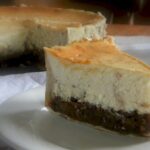 Holiday Hot Buttered Rum Pecan Pie Toffee Cheesecake
Print
Add to Collection
Go to Collections
A creamy, dense, rum and toffee cheesecake sits on top of a sweet, traditional pecan pie for a showstopping holiday dessert that will fit everyone's tastes.
Cook Time
1
hour
40
minutes
Total Time
2
hours
10
minutes
As an Amazon Associate I earn from qualifying purchases.
Ingredients
Pecan Pie Layer
Pastry dough for a double crust pie

,

(un-needed if using a crumb crust for the cheesecake)

3

cups

pecan cookie crumbs and 2/3 cup melted butter if you are using a crumb crust

1/2

cup

(1 stick) unsalted butter

1

cup

brown sugar

3/4

cup

corn syrup

2

teaspoons

vanilla

1/2

Teaspoon

salt

3

eggs

2

cups

pecans

,

, toasted and chopped
Cheesecake Layer
32

oz

cream cheese

,

, softened

2

cups

sugar

6

eggs

1/3

cup

spiced rum

1/2

tsp

vanilla

1/4

cup

browned butter

,

(melt in pan over medium heat until deep golden brown, do not burn)

1

cup

toffee bits

1

cup

sour cream
Instructions
Pecan Pie Layer
Preheat oven to 350F

Roll out the dough and fit it into the bottom of a high sided 9 inch springform pan (or a larger springform if sides aren't very high) and up the sides OR add the melted butter to the cookie crumbs and press on the bottom and up the sides of the springform

Melt the butter until it is golden and then whisk in brown sugar until it is smooth

Remove from heat and add the corn syrup, vanilla and salt.

Whisk beaten eggs into corn syrup mixture.

Sprinkle pecans on the bottom of the springform and then carefully pour the filling mixture over them.

Bake for 50 minutes.
Cheesecake Layer
Preheat oven to 375F

Beat the cream cheese on low speed with the paddle attachment.

Add the sugar and continue beating until the sugar is well mixed in and no longer grainy.

Add the eggs one at a time, beating well after each addition (keep it on low speed)

Add the rum, vanilla, browned butter, toffee, and sour cream.

Mix well.

Pour over the pecan pie layer.

Wrap the springform pan in heavy duty aluminum foil that goes all the way up the sides.

Place springform in a large roasting pan and add hot water until it is halfwayu up the sides.

Bake for 50 minutes.

Turn oven off and leave door closed for one hour.

Remove cheesecake from the oven and let it cool to room temperature.

Cover tightly and refrigerate overnight.
Notes
Can be made up to 2 days ahead. Store well covered in the fridge. Do not freeze.
Nutrition
Calories:
560
kcal
|
Carbohydrates:
49
g
|
Protein:
7
g
|
Fat:
37
g
|
Saturated Fat:
17
g
|
Cholesterol:
164
mg
|
Sodium:
348
mg
|
Potassium:
179
mg
|
Fiber:
1
g
|
Sugar:
47
g
|
Vitamin A:
1125
IU
|
Vitamin C:
0.2
mg
|
Calcium:
98
mg
|
Iron:
1
mg
Sign up for the emails and never miss another recipe!!
We'll never share your email or send you spam. Pinkie swear.
If you liked this Pecan Pie Cheesecake you may also like…
Pineapple Upside Down Cheesecake