Here's a plain cheesecake recipe that's the perfect foundation for all your favorite variations. If you've been intimidated by the idea of a homemade baked cheesecake in the past give this New York Style recipe a try - it comes out right every time.
In fact this is the recipe I developed when I was catering and it's the only one I ever use.
First Published: July 21, 2017... Last Updated: June 14, 2019
Recipe Ingredients: crumbs for crust, butter, sugar, cream cheese, sour cream, vanilla, eggs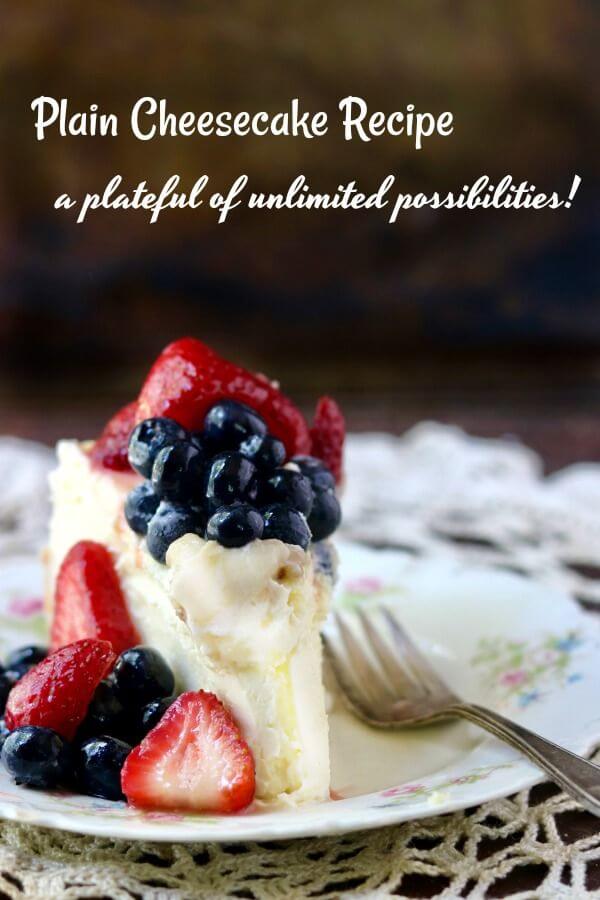 Homemade Cheesecake
I love cheesecake. I can't tell you whether it's the flavor or the texture or a combination of the two that makes it so addictive to me but I can tell you that I will eat cheesecake until either the cheesecake is gone or I explode. It's the first thing I look for on the dessert menu of any restaurant I'm visiting and woe be unto the restaurant that serves me a commercially made frozen cheesecake and tries to pass it off as house-made.
I've shared tons of easy cheesecake recipes here on Restless Chipotle but never my plain cheesecake recipe - the one that all the others are based off of. As long as you keep the basic measurements the same and follow directions exactly this plain cheesecake recipe will never ever let you down. No cracks, no tough edges...
The only problem I've ever had is when I don't leave it in the oven long enough and the middle isn't done all the way. Even with that it's delicious - just a little more creamy in the center.
Recipe FAQs
Here are the questions I am most often asked about cheesecake recipes.
What is the difference between New York style cheesecake and regular cheesecake?
A New York cheesecake is always baked and is made in a 5-6 inch tall springform so it's high, dense, and firm while still being creamy.
What makes a cheesecake crack?
A couple of things contribute to cracked cheesecakes. Over-mixing or whipping the batter incorporates air which makes the cheesecake rise and then collapse - causing cracks. Another possibility is that it sticks to the sides of the pan and the middle settles during cooling but the sides don't.
How do I keep my cheesecake from cracking?
I always use a water bath while baking. It keeps moisture in the oven and keeps the heat even.
How do I fix a cracked cheesecake?
Chill the cheesecake and then gently press the sides to close the crack. Use a heated knife to smooth over the crack. You may need to do this a couple of times. You can also use ganache or other thick glaze just to cover it up.
Tips for Perfect New York Cheesecake
I don't know why cheesecake recipes are considered to be so intimidating. It's one of the simplest desserts you can make. When done right the top never cracks and the filling is always dense and creamy!
Here are my tips for success with this recipe.
Follow the recipe exactly the first couple of times you make it so that you've got the basics down.
Make sure all your ingredients are at room temperature.
Don't whip the cream cheese, use a paddle attachment and the lowest speed of your mixer. Whipping adds air which keeps this cheesecake from being dense.
Use high quality ingredients - there aren't many ingredients in a cheesecake so the flavor is very dependent on what you use.
As soon as you take the cheesecake out of the oven, run a knife along the edge to prevent it from sticking to the sides of the pan while cooling.
Always let it come to room temperature before chilling.
Place a couple of paper towels folded on the top of the cheesecake before covering and chilling overnight.
Gorgeous, isn't it?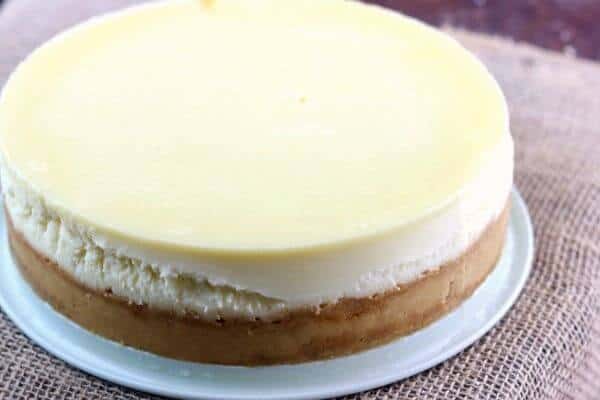 More Cheesecake Recipes
I have a ton of cheesecake recipes here on Restless Chipotle because they are probably one of my favorite things to make. Here are a few of my favorites.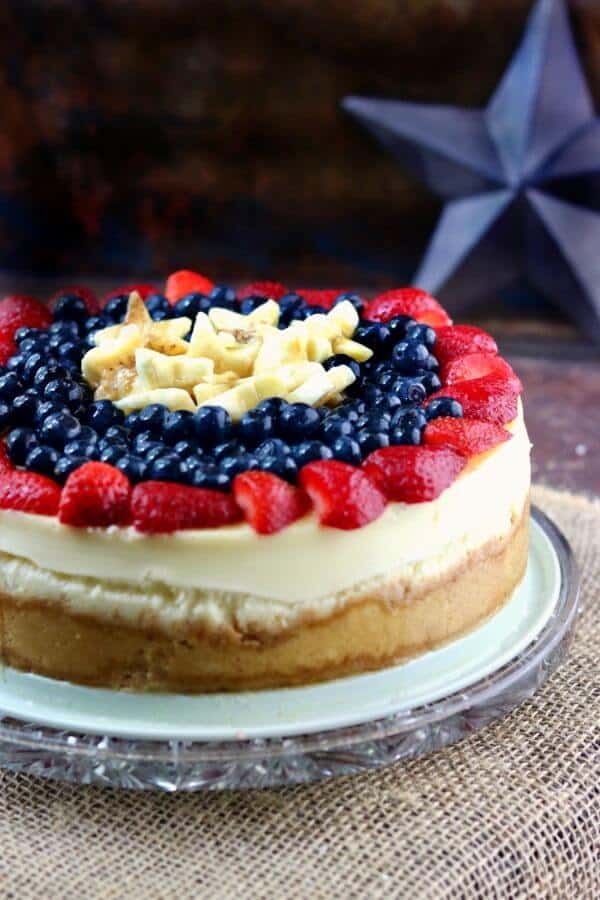 Learning to Bake Cheesecake in Summer of '75
This part of my post was originally written in 2017. Normally, when I update a post, I take out anything that no longer seems appropriate to the post, or is out of date... I know this is long but it is also very close to my heart... so I am leaving it in... feel free to skip, of course.
I learned to make cheesecake the summer that I learned to bake bread. I think it was 1975 and I was 15. My Dad had moved out to a nearby apartment (my parents had a very rocky, on again/off again 50 year marriage that ended with Dad's death. Umm... not by Mom's hand) which meant I had access to a kitchen that my mother wasn't in control of.
I'm not sure what all circumstances led to the changes in my life that summer, only that there were changes and they were immeasurable. It was the summer of my freedom - I was old enough to ride my 10 speed to Dairy Queen for ice cream with my friends, or Winchells for donuts and coffee. I was old enough to stay at Dad's by myself and pretend that I was even older and it was my very own apartment.
It was the summer of halter tops and cut off jeans, of feeling like I might be getting pretty after all, and knowing that, despite my thick, muscular thighs and frizz-prone hair, I owned every male eye at the local pool when I walked out of the women's dressing room in my tiny bikini. It was a feeling of confidence and power that I've rarely had the opportunity to experience but remember with a smile and a burst of ... pride? ... once in awhile.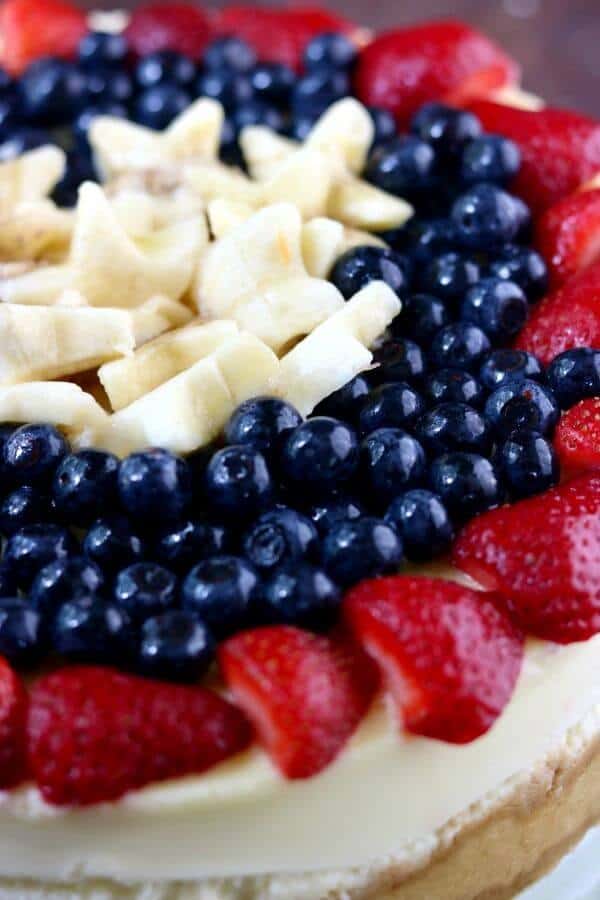 It was the summer I was seriously in love for the first time.
Glenn and I dated for two years. He was artistic, angsty, and brooding - I imagined he was a modern day Heathcliff striding across the moors in his Levis and calvary boots, pushing his long hair out of his dreamy eyes. We spent every waking moment together and many of those moments were shared with Danny, our third Musketeer, the one that had introduced us and was a best friend to both of us.
I never was sure why Glenn broke up with me - I was devastated when it happened. I was positive that it was because I wasn't attractive enough or interesting enough or fill-in-the-blank enough. Anyway, not long after that he quit school and disappeared from my life.
Just before my divorce Danny, Glenn, and I caught up with each other again on Facebook. We talked about that magical summer and laughed over some of the crazy stuff that we'd done. Glenn was out of state and we talked about him coming down and the three of us getting together for real.
He and I talked through Messenger on Facebook often. We talked about his life, which hadn't gone well overall, and my life which had it's ups and downs but was pretty sweet overall.
He told me he was proud of who I'd become and what I'd done with my life. Proud but not surprised. I asked why we'd broken up and he just said he didn't think he was good for me and felt he was holding me back... and then he said, "and see, I was right. Look at you now!"
I could see that slow, lazy smile spread across his face in my mind and read it in his words.
The Message You Never Want to Get
I guess we talked a couple of times a week until I got the message from Danny. Glenn is dead. He committed suicide last night.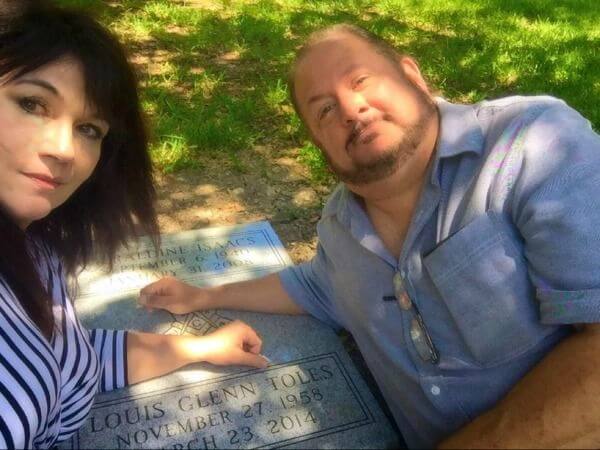 What? No way! We had just talked!
He felt like his situation was hopeless. He didn't want to be a problem for anyone. He didn't want to pull anyone down so he didn't talk to Danny or I or anyone about the real, gritty details of his life.
He didn't give us the opportunity to be there for him. He did the only thing he could think of to do.
And maybe he didn't realize it but he left behind a small group of shell shocked friends and family that would have moved Heaven and Earth to make his life better if we had only known.
His headstone was finally set and Danny and I headed out there yesterday to say goodbye, to tell him what an ass he was for what he'd done, and to try to get some closure, to make sense of something that would never make sense.
In the years since high school we've lost parents, family members, and friends. We've grown and changed but yesterday, for just a couple of hours in the hot Texas summer, we were 15 and 16 again and in a weird way the three of us were together.
If You Skipped Everything Else Read This....
Y'all know I ramble on. It's what old people do. There's something about telling our stories that not only brings them back to life but gives them some sort of immortality. But this story has a point and here it is.
Everybody goes through things - hard things, things that make you feel like your gut is going to burst open and spew all of your emotions out. Often when we're going through those things we feel like we need to keep them to ourselves so as not to burden someone else with the knowledge of it. We seek to protect our loved ones - our friends and family.
And, sometimes in that protecting, the weight of it all becomes too heavy for us to carry.
Don't do it. Don't carry it by yourself. Don't leave your friends wondering what they could have done differently. Reach out no matter how hard it is. Tough times are temporary but death is pretty permanent - there's no coming back from that.
So y'all, there's no good or cute or funny way to transition back into this plain cheesecake recipe after that story. I wish there was.
You May Need…
The following are affiliate links. We are a participant in the Amazon Services LLC Associates Program, an affiliate advertising program designed to provide a means for us to earn fees by linking to Amazon.com and affiliated sites.

What's new? Check out my Restless Chipotle & Co. Store on Amazon where you'll find all kinds of nostalgic goodness! Thanks so much for being a part of Restless Chipotle!
This leakproof springform pan is the exact one I use to make this plain cheesecake recipe. See, it's even red! I love it and it makes this cake perfectly.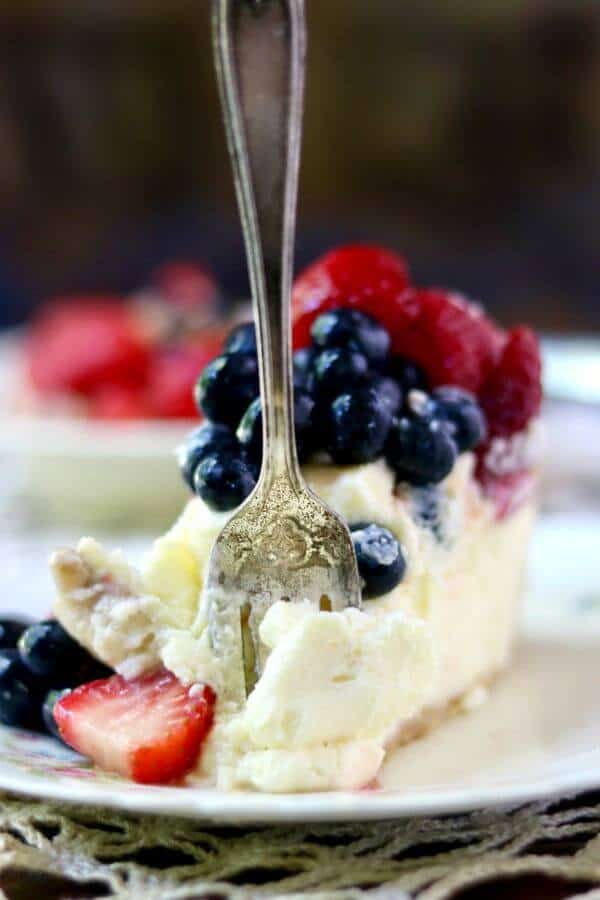 Plain New York Cheesecake Recipe
If you love cheesecake as much as I do and want to move on to something a little more challenging than this plain cheesecake recipe check out my post, 50 Best Cheesecake Recipes on the Internet!
Make this plain cheesecake recipe. Invite someone over. Share it. Tell them you are there for them no matter what. Life is short. Eat the cheesecake. Often.
📖 Recipe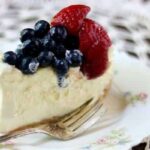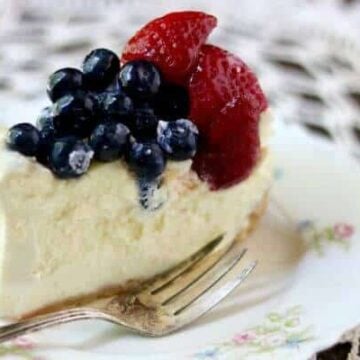 Plain Cheesecake (New York Style)
Print
Save
Saved!
Creamy and rich, this luxurious New York style cheesecake comes out a perfect balance of tangy and sweet. It's a great base for any kind of topping or a foundation for fancier cheesecakes.
As an Amazon Associate I earn from qualifying purchases.
Ingredients
Crust
2

cups

graham cracker crumbs

,

, or cookie crumbs

½

cup

butter

,

, melted
Cheesecake Filling
32

ounces

cream cheese

,

, original not low fat or no fat - 4 8-ounce packages, room temperature

2

cups

sugar

6

eggs

,

, room temperature

1

tablespoon

vanilla

16

ounces

sour cream

,

, room temperature - not reduced fat or low fat or fat free
I earn a commission from Instacart from qualifying purchases.
Instructions
Crust
Cover the outside bottom and sides of a high sided, 9-inch springform pan with aluminum foil. Make sure it's tight.

Pulse the graham crackers in the bowl of a food processor until they are crumbs.

Press the crumb mixture over the bottom and half way up the sides of the springform pan.
Cheesecake
Place the cream cheese and sugar in the bowl of a mixer.

Beat with the paddle attachment until light and creamy on low speed for 8 minutes. DO NOT ever use a whisk or beat on medium or high speed.

With the mixer still on low speed add the eggs, one at a time, beating 1 to 2 minutes after each.

Fold in the vanilla and sour cream with a rubber spatula, folding until the sour cream is completely mixed in.

Pour the filling into the prepared crust and place in a large roasting pan.

Pour enough boiling water into the roasting pan to come halfway up the sides of the cheesecake.

Turn the oven off and let the cheesecake sit for 1 hour. DO NOT OPEN THE OVEN DOOR.

Remove from the oven, take out of the water bath, and remove the foil.

Let the cheesecake sit away from drafts until it cools to room temperature.

Place a folded paper towel on the top of the cheesecake and cover the top of the pan with aluminum foil.

Chill overnight or at least 8 hours.

Just before serving remove the aluminum foil and paper towel from the top; run a knife around the edge of the springform pan to loosen the cake.

Remove the springform pan.

Top with desired topping and serve.
You'll find more helpful tips and variations in the body of the post.
Nutrition Facts
Calories:
622
kcal
|
Carbohydrates:
48
g
|
Protein:
9
g
|
Fat:
44
g
|
Saturated Fat:
24
g
|
Cholesterol:
204
mg
|
Sodium:
464
mg
|
Potassium:
212
mg
|
Sugar:
40
g
|
Vitamin A:
1605
IU
|
Vitamin C:
0.3
mg
|
Calcium:
141
mg
|
Iron:
1.3
mg
Nutrition information is estimated as a courtesy. If using for medical purposes, please verify information using your own nutritional calculator. Percent Daily Values are based on a 2000 calorie diet.
Sign up for the emails and never miss another recipe!!
We'll never share your email or send you spam. Pinkie swear.